Feature
Cosmoscow brings a new milieu of Russian collectors into stark relief
Image: Cosmoscow 2016. Courtesy Cosmoscow.
The most memorable conversation I had during the Cosmoscow international contemporary art fair, which opened on 9 September and ran through the weekend, was with a cab driver in the early hours of the morning after the preview soiree on 8 September. Like so many Muscovites, Arshak originally hailed from a peripheral republic of the former Soviet Union—Armenia in his particular instance—and he quickly picked up from my unsteady command of Russian that I was foreign, too. He inquired about the nature of my own extraction and business in Moscow, and upon hearing that I was in town to see an art exhibition, he announced: 'Art is wonderful! Culture is very important'. To the extent that his statement echoed the self-serious tone of a party bureaucrat, it was a play on official Soviet-era rhetoric extolling the virtues of high culture. The sardonic scope of Arshak's words became clear when he asked where my article would be published, I then enunciated the Ocula name slowly and deliberately (and then he dead-panned a reply that everyone had—but of course—heard of this publication in Hollywood movies).


Image: Cosmoscow 2016. Courtesy Cosmoscow.
Nor could I hold it against Arshak that he assumed I had arrived in the Russian capital not to visit Cosmoscow but rather The State Tretyakov Gallery's Ivan Aivazovsky exhibition, a major retrospective celebrating the 200th anniversary of the Crimean-born seascape painter. Abroad, the exhibition has been dogged with controversy for showing works on loan from Crimea without so much as acknowledging Ukrainian claims to sovereignty over the peninsula, which Russia annexed in 2014; but in the capital, the show is wildly popular, attracting upwards of 5,000 visitors per day since it opened on 29 July 2016. To a degree, the local enthusiasm for this 19th century naturalist's work reflects an abiding preference for representational, two-dimensional art that has so long and so incontrovertibly been ensconced in the Russian population. Contemporary art can't yet hold a stick to this kind of mass devotion, for various reasons. 'People in general hate contemporary art', quipped Mikhail Piotrovsky, director of the State Hermitage Museum in Saint Petersburg, when Manifesta 10 organised the largest contemporary art exhibition that city had ever seen at his museum in 2014. In Russia, he had observed, many people are conservative and they hate it in particular. A traditionalist and reactionary himself, Piotrovsky was projecting. Yet his utterance inadvertently underscored the reality that experimental visual art had largely been a dissident, underground practice in the post-war USSR. That is, contemporary art discourse only began to enter the public sphere with the dissolution of the Soviet Union. By that point, its formal language and critical methodologies had already been represented and entrenched as alien to the public writ large.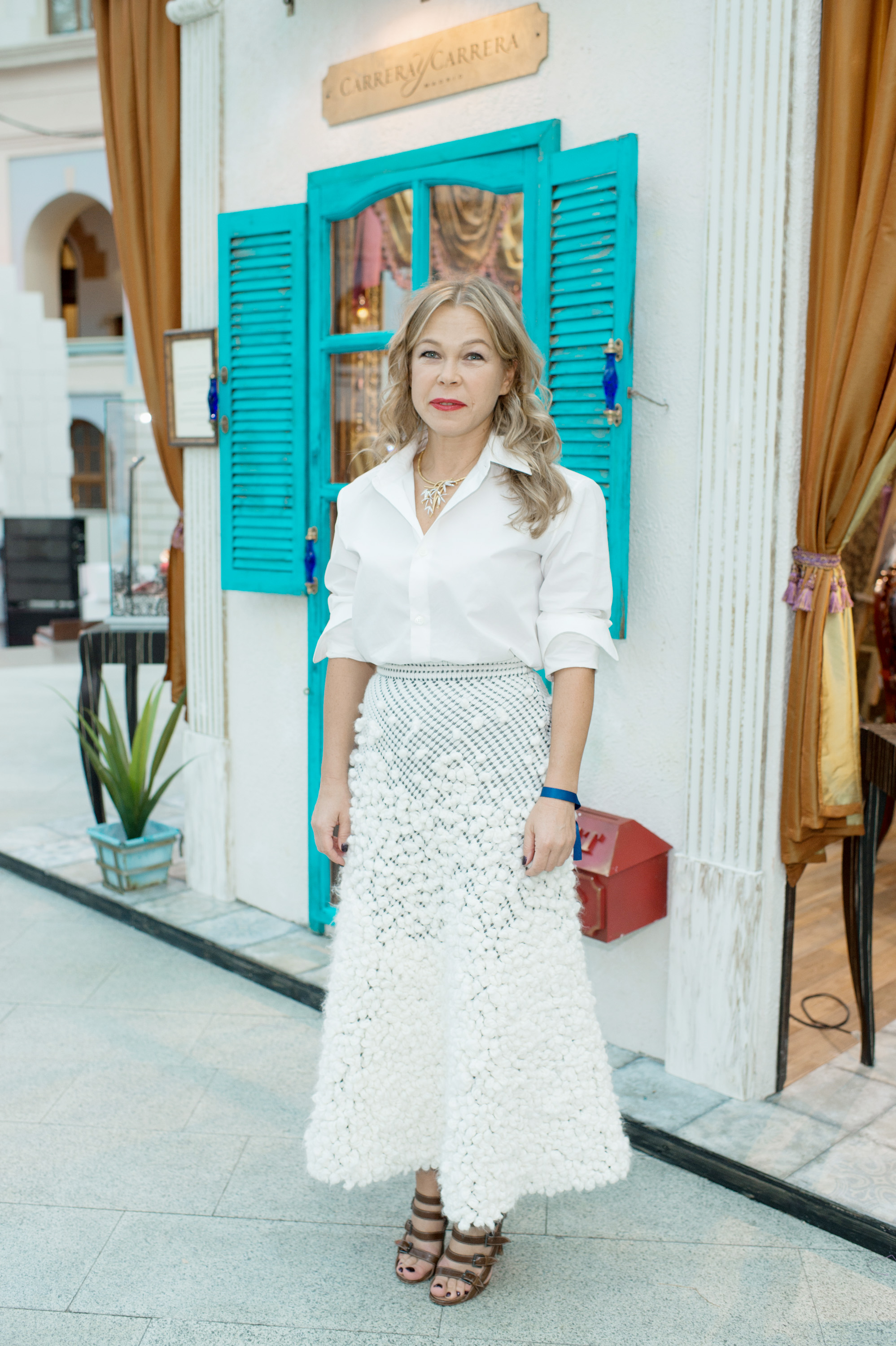 Image: Margarita Puskinam, founding director Cosmoscow. Courtesy Cosmoscow.
The Cosmoscow art fair—which founding director Margarita Pushkina and co-director Sandra Nedvetskaia relaunched in 2014 after a four-year hiatus—is part of an effort to remedy the public's supposed disinterest in contemporary art. In Moscow, relatively young organisations like the Garage Museum of Contemporary Art, the Multimedia Art Museum, and the V-A-C Foundation are purpose-built as institutions devoted to educating urban denizens about 20th and 21st century art, produced in the former Soviet Union and internationally. Their ever-growing popularity is proof of widening artistic predilections in the capital, and Cosmoscow has positioned itself as a coda of sorts to this trend: the fair's intent is not merely to foster an appreciation of contemporary art, but to grow and educate a local collector base. In that expansionary regard, the 2016 edition was an incontrovertible success.
It's not that Moscow lacks noted contemporary art collectors; the likes of Dasha Zhukova and Leonid Mikhelson have secured a notorious reputation for the wealthiest Russian art connoisseurs as prestige-driven and cash-flush oligarchs who gravitate toward blue-chip artists and dealers. Tellingly, they were nowhere to be seen among Cosmoscow's booths earlier this month. With average price points between €4,000 and €15,000 per work, the fair instead provided an outlet for the enthusiasm and purchasing power of a burgeoning middle sector of Russian collectors: they might not make tri-annual visits to Art Basel, but they're eager to participate in a market that caters to their cultural ambitions closer to home.
Whereas the inaugural edition of the revived fair in 2014 included Michael Werner Gallery from New York; Massimo De Carlo of London, Milan and Hong Kong; and several other British and German galleries, this year's lineup skewed heavily domestic—due in part to the low value of the ruble. Of the fair's 39 galleries, all but seven were based in Russia. Ultimately this regional specificity proved an advantage, directing attention to the exceptional domestic galleries and emerging artists that might otherwise jostle for attention at larger, more diverse regional fairs like Art Dubai and viennacontemporary. Moscow-based Pechersky Gallery, for example, presented one of the most compelling booths at the fair, a joint display of photographer Danila Tkachenko and artist Evgeny Antufiev. Both artists deal with the material inheritance of Soviet socialism. Tkachenko with its cosmic ephemera in a series of high-contrast photographs called 'Lost Horizon', which document decaying monuments to the Soviet space program long after its utopian ambitions to colonise other planets have been discredited. Antufiev's approach, subtler, wittier and fixated on earth-bound effects, made his some of the strongest work at the fair: a series of embroidered kerchiefs that imitate Russian folk crafts feature purposefully accentuated needlework errors, so as to emphasise the cognitive dissonance between these gingerly framed artworks and the homemade exemplars they draw from. It was testament to a growing local interest in conceptual work that numerous embroideries—priced between €4,000 and €10,000—had sold by the fair's close on 11 September.


Image: Danila Tkachenko, Monino, Russia. Glory of the Space Explorers monument, 2016. Archival pigment print, 72 х 92 cm. © Danila Tkachenko.
The educational element of Pushkina's vision for Cosmoscow was most heavily concentrated in a comprehensive program of on-site exhibitions and lectures for the fair-going public. 'Collector's Eye', a curated selection of works for viewing rather than sale, had a didactic (and contradictory?) mission at its core: 'This is the kind of work you should appreciate and buy', it all but read in the accompanying wall text. Antufiev's embroideries were featured here, as were Hiroshi Sugimoto and Vik Muniz photographs, alongside a 1988 Timur Novikov Sunrise painting. In a similarly instructive vein, a nearby display of exemplary works chosen for the Off White charity auction to benefit Natalia Vodianova's Naked Heart Foundation featured self-portraits of the irreverent Vladislav Mamyshev-Monroe, the Russian performance artist known best for his impersonations of prominent figures from Hitler, to Putin, to Marilyn Monroe, and who was found drowned in Bali in 2013. Much of the best work at the fair—made by the first generation of experimental post-Soviet artists like Novikov and Mamyshev-Monroe, or by the milieu of young Russian conceptual and video artists currently rising to prominence—was in these two sections, and a third devoted to finalists for the Credit Suisse Cosmoscow Prize for Young Artists. That is to say: most of it wasn't for sale.
By contrast, the main gallery program was geared toward the more pabulum impulses of a population weaned on 19th century landscape painting. Several galleries that deal in figurative painting and photography attested to enthusiastic sales for brightly hued forest scenes and abstracted cityscapes—artwork to suit a variety of aspirational home interiors. Moscow-based auction house Vladey had success with kitschy, large-scale pieces: sales included a monumental photograph of the Kremlin by Sergey Bratkov, Eternal peace (2016), and a Socialist Realism-inflected painting by Ivan Razumov, Selfportrait (2016), of a girl peering at the Moscow skyline from a perch atop one of the citadel's iconic red star finial ornaments. Both pieces struck this reporter as decidedly retrograde and more than a bit maudlin, but they evidently garnered a more enthusiastic response from local audiences.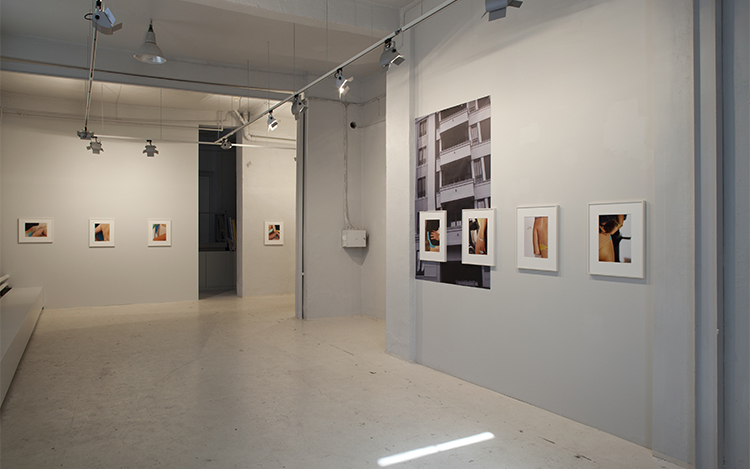 Image: Merike Estna, Your turquoise eyes are hovering in my mind, 2016. Acrylic on canvas. 135 x 90 cm. © Temnikova & Kasela Gallery and the artist.
Cosmoscow is by no means sprawling but the fair hosts a variety of exhibiting galleries, wide enough to ensure that the wares for sale were comparably diverse. The booth of Estonian outfit Temnikova & Kasela, another highlight of this year's fair, reflected as much: the gallery brought prints by Estonian artist Sigrid Viir from her recent 'Sweet Smiles and Golf Clubs' series that depicts isolated body parts as dramatic instances; gradient canvases by Estonian painter Merike Estna that simultaneously reference internet art and the history of painting; and abstracted, anthropomorphic printed works on linen by German-born Finnish artist Mikko Hintz, articulated in asymmetrical forms and with color schemes that reference Constructivism as much as Japanese minimalism (and taken directly from his current solo show at the gallery's Tallinn space). The gallery sold several pieces by each artist, which is to note that most visitors to the fair did not leave with only nostalgic or anodyne canvases in tow. Increasingly, collectors' tastes here run the gamut.
Pushkina has a third goal for Cosmoscow, perhaps a more long-term undertaking: to establish the fair as a destination on the international art world calendar. It's hard to say just yet how the fair should go about raising its international profile—inviting more international collectors and galleries would hardly work if their wares don't appeal to the critical mass of local buyers. Perhaps then, the best option—at least for now—is to cultivate the idiosyncratic tendencies of a growing collector base that is learning to love contemporary art, in spite of itself. —[O]