Feature
Dilijan or Bust: The launch of the first Dilijan Arts Observatory
Image: David Galstyan, Impuls Factory, Dilijan, 2016. Courtesy of RVVZ Foundation.
The launch of the Dilijan Arts Observatory—the first major international art event organised by the Dilijan Art Initiative in Armenia, which took place between 22 August and 11 September 2016—had everything a global art platform needed. There was a decommissioned factory (the remarkable, post-Soviet Impuls Factory complex), a 'global' curator (former director of Frankfurt's Weltkulturen Museum, Dr. Clémentine Deliss), a diverse mix of national and international artists, scientists, musicians, and intellectuals (including artists Haig Aivazian and Christoph Keller, curator Joanna Sokolowska, and art historian Angela Harutyunyan), and a public mission funded with private interests (the Dilijan Art Initiative is an offshoot of the IDeA Foundation, otherwise known as Initiatives for Development of Armenia).


Image: Dilijan Arts Observatory Public Final Weekend, Saturday 10 Septemeber 2016. Photo David Galstyan. Courtesy of RVVZ Foundation.
Indeed, the philanthropists behind the Dilijan Arts Observatory—Ruben Vardanyan and Veronika Zonabend—founders of the United World College Dilijan, the RVVZ and IDeA charitable foundations, and co-founders of the Dilijan Development Foundation—have put a lot of faith (and capital) in the intended revival of Dilijan. This is an impoverished town in the mountains of Armenia, after all: once a central node in the Silk Road, a 19th century resort for wealthy Armenians, Georgians and Azerbaijanis (the town is but a drive from both Yerevan and Tbilisi), and the site of famous 20th century Soviet retreats for artists, composers, filmmakers, and writers. Today, these retreats are in various states of dis/repair, albeit continued use. Only four people live on the grounds of the near-untouched composer's retreat where such luminaries as Benjamin Britten and Dmitri Shostakovich stayed; while The Getty Foundation recently donated funds towards the conservation of the Writer's Union of Armenia guesthouse on Lake Sevan, a heritage of Soviet modernism built between 1932 and 1965. So loved and popular was this resort that a famous 1977 Soviet comedy, Mimino, mentions it; a monument—erected in 2011—commemorates this honour at the town's entrance.
At the heart of Dilijan's 20th century identity is the Impuls Factory, constructed first in the 1960s and again following the devastating earthquake of 1988. Soviet communication equipment—telephones, for instance—were produced here—75% for popular and commercial consumption, the rest for top-secret purposes (under the order of the Soviet Defence Ministry). At one point, the factory employed 4000 people—three quarters of which were women—and it formed the social heart of the town, which fell into rapid decline after the Soviet Union's collapse, when Impuls was decommissioned. In recent years, attempts have been made to reverse the deterioration. In 2004, the Tufenkian Hotel began restoring Sharambeyan Street, a historical district with the 19th century architecture typical of Dilijan, including intricately carved wooden balconies. In 2013, the Central Bank of Armenia founded a branch here in anticipation of plans to turn the town into a financial centre, and a place of knowledge and cultural production. The IDeA foundation is a key player in this total regeneration. The United World College, for instance, was launched here in 2014, and now hosts around 200 students from some 73 countries on campus, 60% of which receive full scholarships with the rest receiving partial funding. This is all part of the Armenia-2020 initiative, launched by Ruben Vardanyan and Noubar Afeyan in the early 2000s, which seeks to find alternative and sustainable models for Armenia, so that it might switch from a mode of survival to one of prosperity.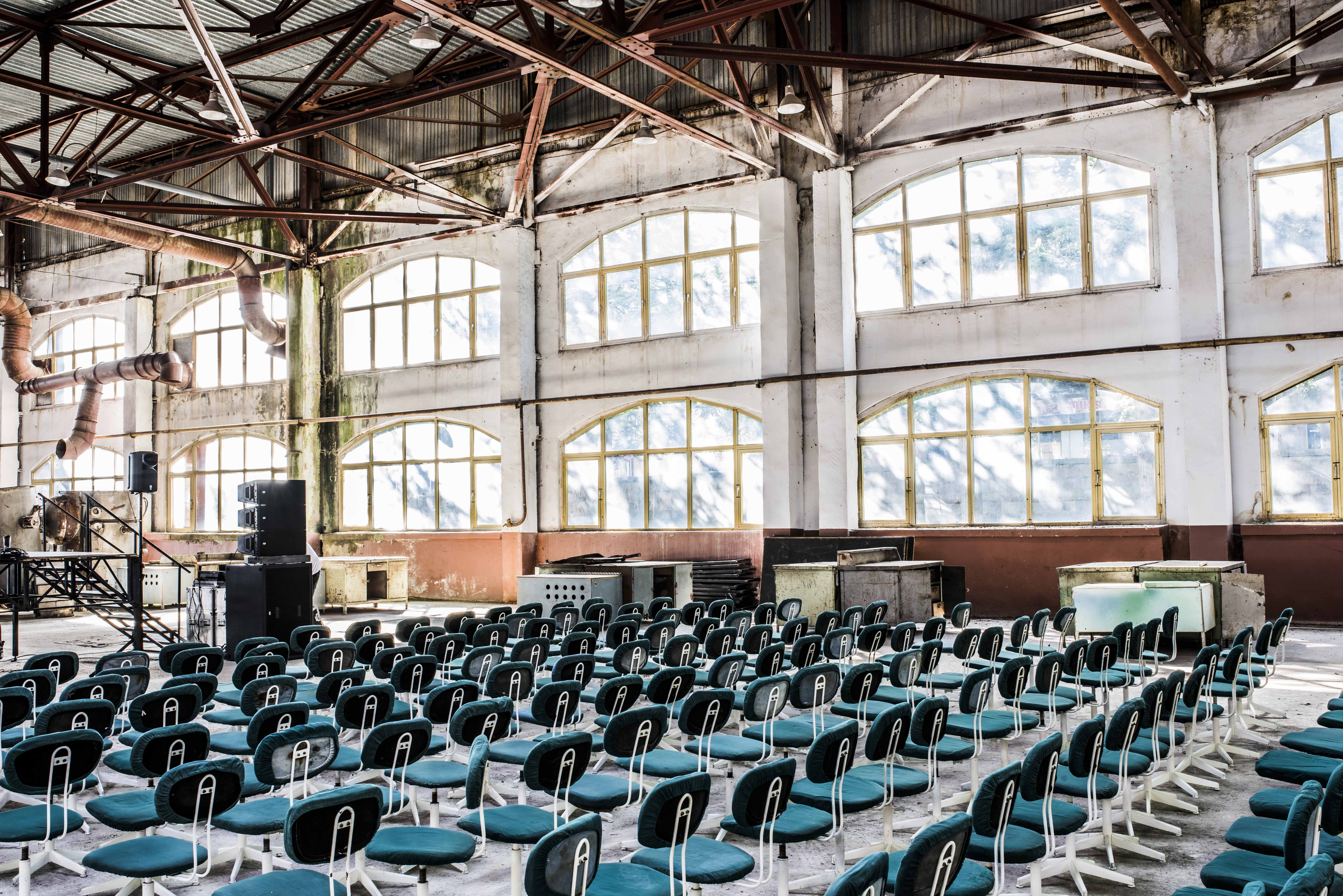 Image: Dilijan Arts Observatory Public Final Weekend, Saturday 10 Septemeber 2016. Photo David Galstyan. Courtesy of RVVZ Foundation.
The Dilijan Arts Observatory is part of this plan. The project involved a three-week intensive residency project, with roughly 40 curators, artists, scientists, musicians, and historians working alongside Clémentine Deliss and curatorial assistants Nairi Khatchadourian and Asya Yagmurian to form links with the local community. The intention of this pilot edition was to find ways to bolster what is essentially an ongoing regeneration project, by exploring the productive potential Dilijani culture has. Excursions, lectures, and workshops took place throughout the three weeks, during which Deliss published and printed a newspaper in the city in Armenian and English. The paper introduced Deliss and the project to the Dilijan locale, and invited former factory workers of Impuls to come to the factory and share, as Deliss described it, their stories and memories. Part of the reason for this invitation was to embark on the process of building a community archive with the help of the Central Library System at Dom Kultury (the Dilijan Culture House)—a project that forms the core of the Observatory's first phase.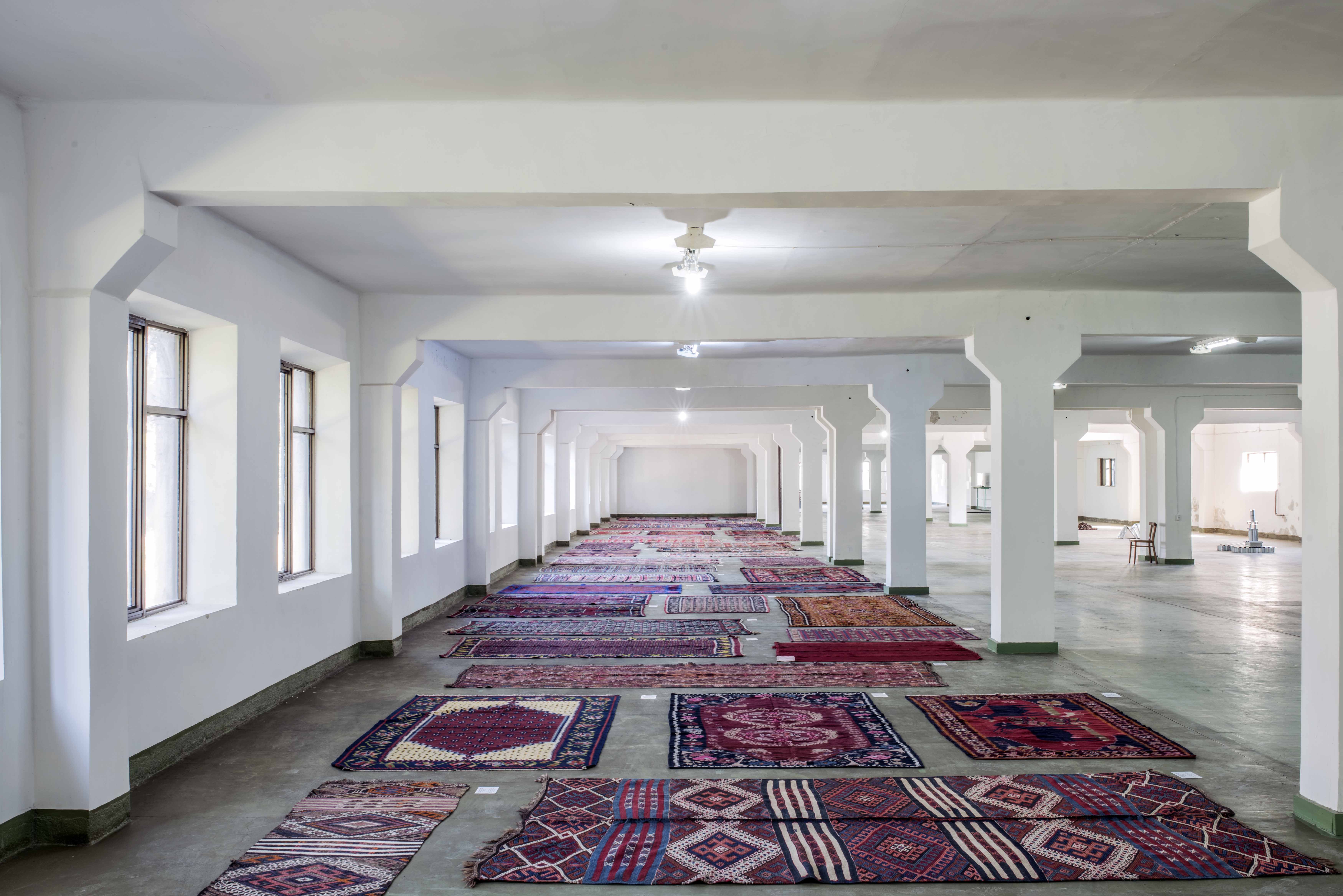 Image: Dilijan Arts Observatory Public Final Weekend, Saturday 10 Septemeber 2016. Photo David Galstyan. Courtesy of RVVZ Foundation.
Between 10 to 11 September, the results of these three weeks were shown on two floors of the Impuls Factory. The first floor consisted of an historical exhibition of Armenian kilims (traditional handwoven carpets) from all over the country, as presented by the Postoyan family, as well as object responses to the Observatory by participating artists, all produced on site. These included a series of corrugated metal sculptures by Jasmine Werner, a group of factory chairs assembled in front of a blocked window by Vigen Galstyan, and a video work by Mathilde Rosier, Gesture Chain, in which gestures from Armenian folk dances were performed by dancers of the Dilijan Community Centre within the Impuls factory, as choreographed by Artur Grigorian. (The work explores the debt high culture has to folk traditions.)


Image: Dilijan Arts Observatory Public Final Weekend, Saturday 10 Septemeber 2016. Photo David Galstyan. Courtesy of RVVZ Foundation.
The second floor presentation offered a proposal towards a community archive, as assembled by the Observatory group. These included video interviews conducted with various local figures (including several local librarians) as part of Ioana Mitrea's Collect, Update, and Create project, which were presented on monitors placed on old factory work desks. Also included were largescale photographs of former factory workers by David Galstyan; and an installation of found items taken from the abandoned Sahakyan house in central Dilijan (one of the best preserved examples of early 20th century vernacular architecture in the town) and assembled by Eric Aghajanyan, Davit Hovakimyanm, Lia Ghazaryan and Hasmik Mnatsakanyan. (The installation was aptly titled, Things That Got Left Behind.) Aside from this, there was a presentation of the factory library, with books mostly in Russian, as well as a factory room that was left as it was found. Positioned at the bottom of the stairwell leading to both exhibition floors was Contemplation, Contemplation, a collaborative work by Mohamad Deeb, Raphaela Grolimund, Marc Norbert Hörler in the form of a video shot from a home balcony and from the sidewalk around the factory itself. The intention was to capture the day-to-day life that exists around the factory, which has been left empty and unused for decades.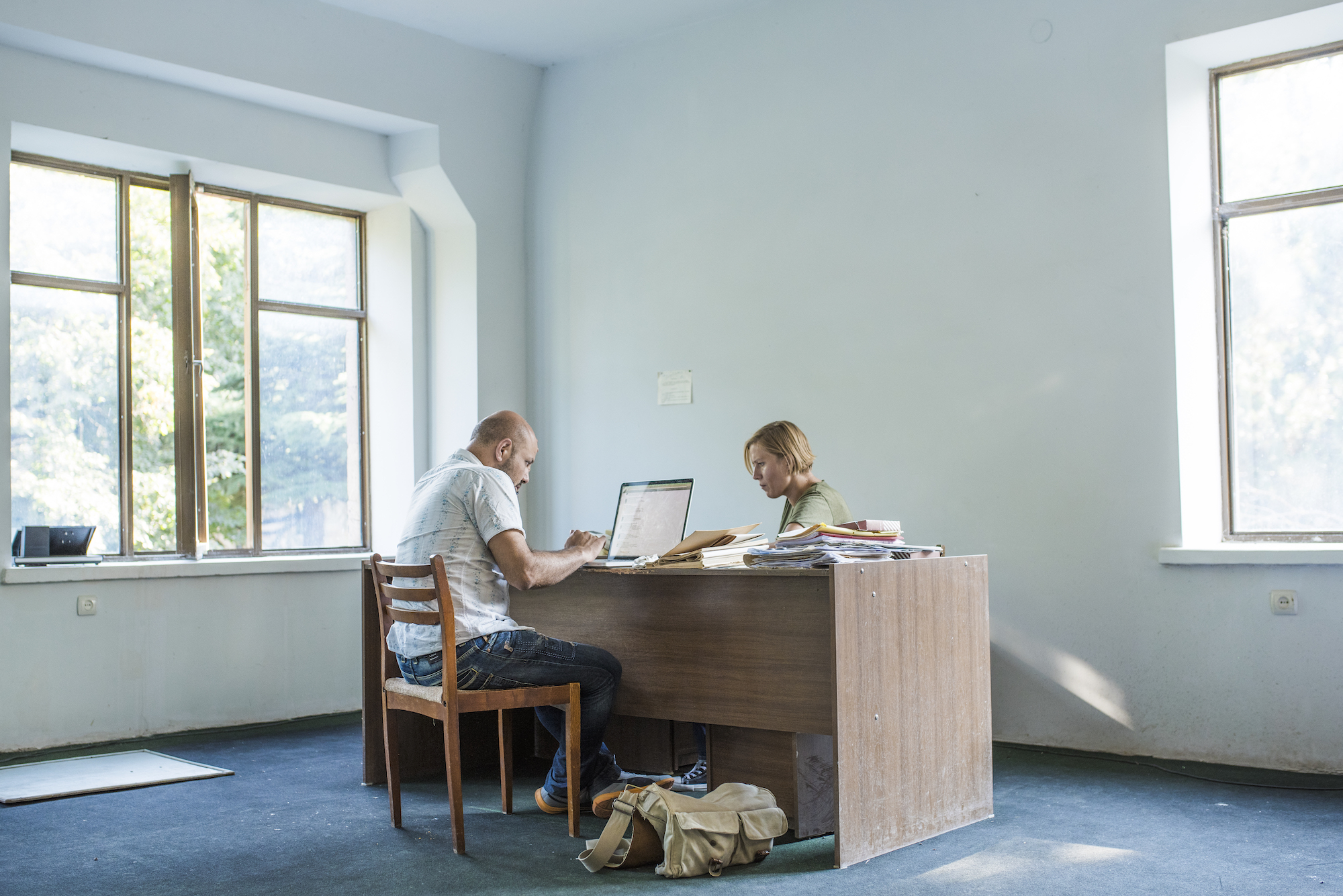 Image: Vigen Galstyan and Joanna Sokolowska while working. Photo by David Galstyan. Courtesy of RVVZ Foundation.
With this 'fieldwork', as Deliss—herself an anthropologist—describes it, the intention is to lay the foundations towards developing new educational and production models, with Deliss placing emphasis on employment as an important part of this endeavour. Of course, the Dilijan community would approve of this message—employment is a crucial issue in the town. In fact, when the first call out was made to former Impul factory workers, most arrived looking for work, believing that the factory would be re-opened. As a result, a sense of hope was inflamed in what many described as a hopeless place. This pointed to an undeniable sense of trauma inscribed into the factory's decaying shell: one that reviving old memories undoubtedly reignited, for better or for worse.


Image: Silvina Der Meguerditchian while working, Impuls, Seminar room. Photo by David Galstyan. Courtesy of RVVZ Foundation.
Thus, some one of the most successful of interventions were those by Silvina Der Meguerditchian, who produced a new kind of wall kilim made from old circuit boards found in the factory, and a quilt-like wall hanging created from knitting laminated archival photographs depicting life at Impuls together. During the public days on 10 and 11 September, Der Meguerditchian staged a quilting workshop, in which women from the local community sat together knitting borders on more of these laminated photographs, oftentimes with their grandchildren, sharing stories, poems, and singing songs. In the evenings, a musical performance conducted by Augustin Maurs was also effective: it comprised of various participants making music from the machines and materials left in the factory itself—an immediate and accessible intervention that was appreciated by all who entered the factory to experience it.
In the end, the results of the Dilijan Arts Observatory were mixed, and unclear—where is this going? What is its purpose? What will be shown in the museum exhibitions that were announced before the project even began? (These are slated for the National Gallery of Contemporary Art, Hamburger Bahnhof, Berlin, in November 2017, and the Centre Pompidou, Paris in summer 2018.) Furthermore: what is at stake if the works produced here, created out of a community that desperately wants to see a revival in a once bustling town, are then shown abroad? (Some former Impuls workers preferred not to be pictured or interviewed, apparently, lest they become nothing more than objects in a game that promises to deliver, but never does—they have experienced people coming in from the outside before, and then disappearing, I was told.) Then there is the obvious question: who will benefit from this in the end?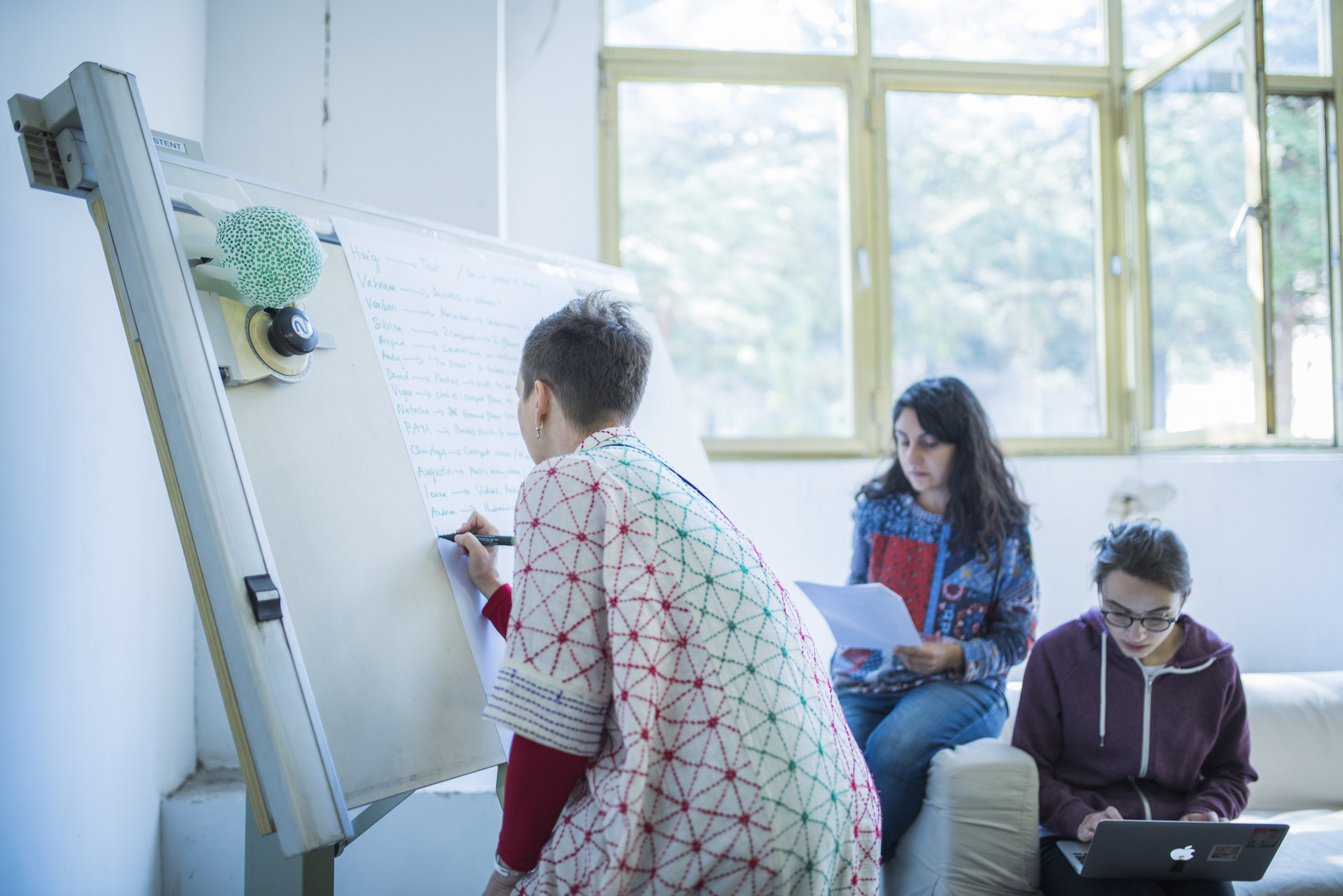 Image: Working process, Impuls. Photo by David Galstyan. Courtesy of RVVZ Foundation.
For some participants, the links the Observatory has to an obvious regeneration project—Armenia-2020—proved too much, while for others, the sense of having been co-opted into aims and desires that perhaps were not clear created a palpable tension, particularly when considering the impact such activities would have on the local community. This was especially palpable in the Observatory's purpose (in its association with the Dilijan Arts Initiative) of exploring new models for regeneration intended not only for Dilijan and Armenia, but in future, for the world. (This is one of the ideas behind the abovementioned Armenia-2020 initiative.) During a roundtable discussion between Deliss, director of the Sandberg Institute Jurgen Bey, materials scientist Erik Van Buuren, art historians Angela Harutyunyan and Nini Palavandishvili, as well as Arman Jilavian of the RVVZ/IDeA Foundation, for instance, artist Varam Aghasyan cautioned the pace with which things appeared to be moving. 'For me, things are happening very fast, and we are missing a lot of these changes that are imposed on us', he noted. 'My suggestion, within this context, which feels a little bit off, would be to slow down a bit'.
Of course, while these cautions are wholly valid, and might explain why the Observatory chose to start by including the older generations in creating a community archive in order to avoid the art world tendency to parachute into a place and then leave it as quickly as it came, there is something else to remember when it comes to the problems this project raises.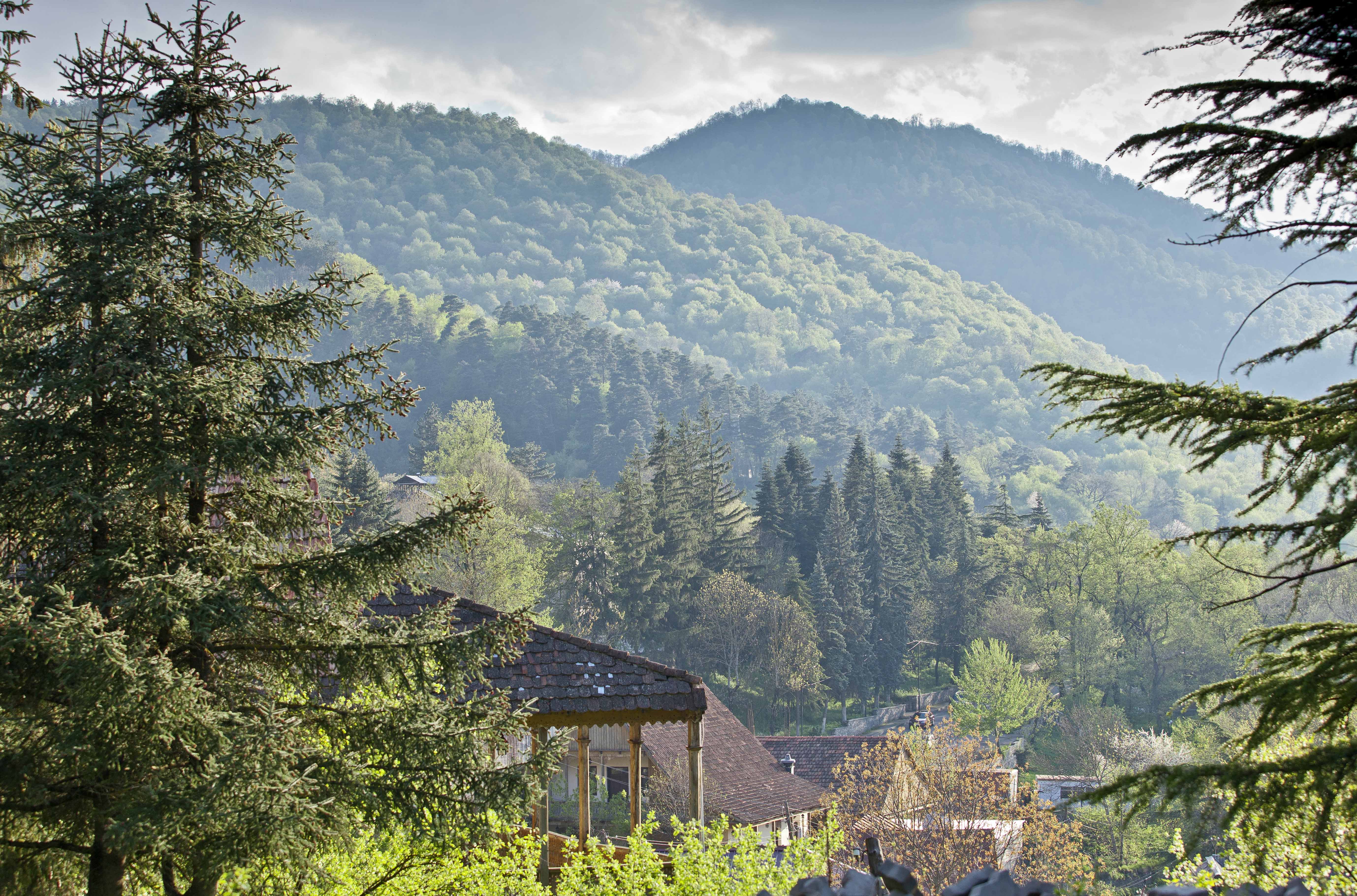 Image: Dilijan. Copyright RVVZ Family Foundation.
In a country with a population of just under 3 million people, and which Global Finance magazine ranked the 70th poorest country in the world, out of a list of 185, the notion of regeneration has a wholly different meaning than in places like the United States, or the United Kingdom. In this light, it is important to consider the fact that the initiatives being launched in Armenia aim at tending a very different wound—the collapse of the USSR, and the impact this has particularly had on the post-Soviet Republics. But this is by no means a defence of the Dilijan Art Observatory and its problematic work, since time will tell how successful the initiatives surrounding Armenia-2020 will be.
All of this complexity aside, however, there is one important note to make when gauging the immediate impact of the Dilijan Arts Observatory's pilot edition. The majority of the children who came to see the exhibitions and the performances during the public launch at the Impuls factory absolutely loved it, and they are the very future the Observatory seeks to impact most. Let's hope they won't be disappointed. —[O]