Feature
'Do you know anything about me? Do you understand me?': A love letter to M+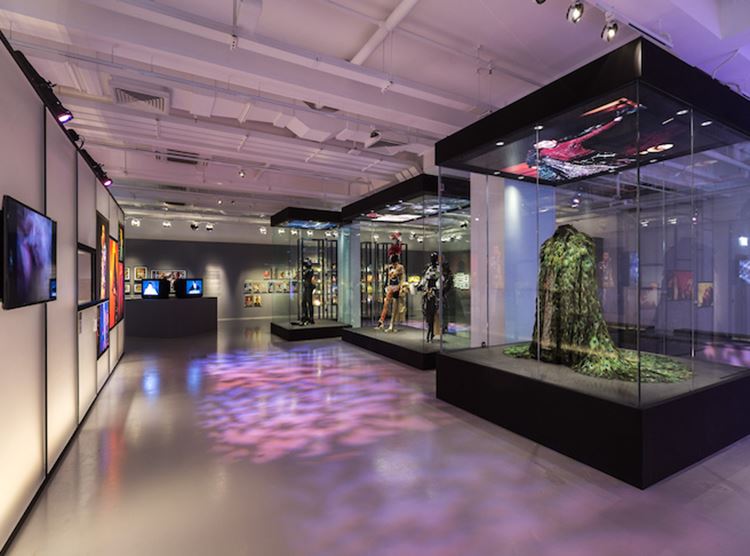 Installation view: I Am What I Am: Performing Cantopop at Ambiguously Yours: Gender in Hong Kong Popular Culture, M+ Pavilion, Hong Kong (17 March–21 May 2017). Courtesy M+.
Dear M+,
Forgive me if this letter surprises you. We have never met, but this is the only way I could reach you after years of longing. Nearly 19 years have gone by since the Hong Kong government announced its plans for a West Kowloon Cultural District.
Our relationship was bound to be turbulent. The government's original plan, made not long after Hong Kong's transfer of sovereignty in 1997, was to create an Asian centre of entertainment and boost tourism through this allotted 40 hectares of land. Having survived the financial crisis and with the Guggenheim as an example, the government expanded this plan into a 'Cultural District' with four thematic museums and four theatres (one big and three small) under a giant canopy that would serve as a landmark. The government's 'single developer approach' (which granted building rights for the entire zone to one developer) sparked controversy as the public was suspicious of collusion between the government and the property sector. In 2006, the government decided to scrap the plan, and consultation was re-launched, resulting in a new project with 15 performance venues and one visual art organisation. Had we been compliant, what we might have got now would be just a 'Guggenheim Hong Kong' or 'Centre Pompidou 2.0'. When the professional consultants christened you 'M+', it meant that visual art, architectural design, moving images and pop culture would blend seamlessly in a multi-dimensional, multi-disciplinary space, rather than making you yet another thematic or medium-oriented museum. And instead of just acquiring and displaying your collection, you, the future M+, would trigger, communicate and inspire ideas and projects of visual culture in Hong Kong and throughout Asia. Although pop culture has fallen from favour among the management, I see your efforts to keep a strong foothold in Hong Kong's local culture: you have acquired some of our city's almost extinct classic neon signs (as a last record of the 'Pearl of the Orient') and held a symposium on activism after the Umbrella Movement. While the museum as a physical entity is still a blueprint, you have already won the admiration of young, hip art lovers, as your workshops and art camps have successfully turned bystanders into active participants.
Costume for Denise Ho's HOCC Live in Unity 2006 concert, designed by Eddie Lau (2006).
 Donated by Eddie Lau to Hong Kong Heritage Museum Collection, Leisure and Cultural Services Department. Exhibition view: Ambiguously Yours: Gender in Hong Kong Popular Culture, M+ Pavilion, Hong Kong (17 March–21 May 2017). Courtesy M+.
Sorry for prattling about your past. I just want you to understand why I have placed such high hopes on you. With great expectations, I came to your newly completed Pavilion last September, but what I saw was Tsang Kin-Wah's somewhat cryptic solo exhibition that draws inspiration from Nietzsche, the Bible and Kurt Cobain in its video installation. After this, we got Shifting Objectives: Design from the M+ Collection. The list of treasures included, among other artefacts, a poster of the 1964 Tokyo Olympics, Japanese furniture that brings together modernity and tradition, a concrete lamp that symbolises the construction of India as a modern nation, and an anti-consumerism propaganda poster from China during the Cultural Revolution. But I still could not see any connection between Hong Kong and M+ as a museum of visual culture.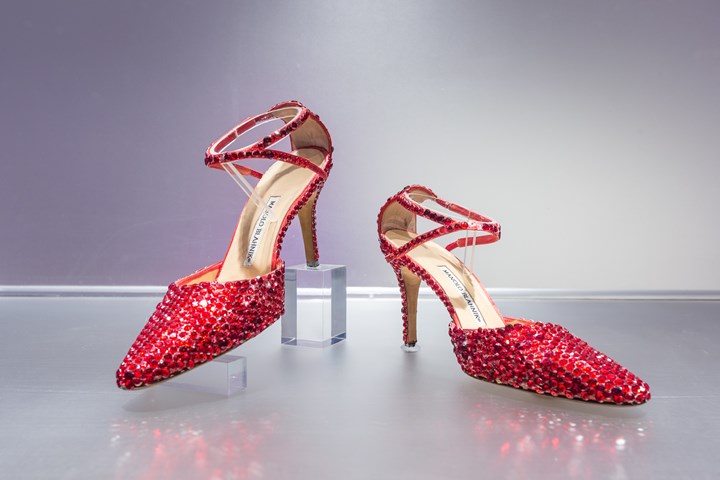 High heels worn by Leslie Cheung in Live in Concert 97' (1997). Exhibition view: Ambiguously Yours: Gender in Hong Kong Popular Culture, M+ Pavilion, Hong Kong (17 March–21 May 2017). Courtesy Nansun Shi and M+.
Hong Kong finally came into view with your third exhibition. The title Ambiguously Yours was appealing enough, while the subtitle Gender in Hong Kong Popular Culture promised an inspiring and generative approach instead of a reflective one as seen in retrospective exhibitions. I blissfully anticipated revisiting the fin de siècle glory of Cantopop legends Leslie Cheung and Anita Mui, as well as the cinematic aesthetics of William Chang, Wing Shya and Tina Liu. I wanted to see how you would interpret camp, cross-dressing, transvestism and androgyny in Hong Kong at the time, and how you would address the issue of gender as something chosen and enacted. To my disappointment, in the four zones titled 'I Am What I Am', 'He's a Woman, She's a Man', 'Graphically Yours', and 'Pop Goes Culture', I saw nothing more than a random pastiche of gender representation, and estrangement from pop culture on the part of the curators. Artefacts worn by our idols—Leslie Cheung's red sequined heels, and the concert costumes of Anita Mui and Denise Ho, to name two examples—brought back vivid memories, and previously unreleased test photos from City Magazine conjured intimate fantasies. But Cheung's heels, worn during a concert as part of his cross-dressing attempt, were sealed in a glass case in a way that made it no more than a fetish of nostalgic idolatry. The exhibition was hesitant in addressing the politics of gender roles, and any hopes of knowing more about how pop culture was produced to both please its audience and subvert the mainstream were futile.
Exhibition view: He's a Women, She's a Man: Role Play at Ambiguously Yours: Gender in Hong Kong Popular Culture, M+ Pavilion, Hong Kong (17 March–21 May 2017). Courtesy M+.
M+, I see your intentions to break with convention as you tried to present pop culture and fine art as equals. Contemporary artworks by Ho Sin-tung, Ming Wong, Wilson Shieh and Keiichi Tanaami were placed alongside the abovementioned exhibits, including magazine and album covers. Yet, in my opinion, such an act of 'diluting' fine art with pop brought the exhibition even further away from visual culture. The exhibition still dwelled on visual similarities and aesthetic qualities of artefacts instead of bringing out the social relationships they created, missing the point aboout how the creative industry in Hong Kong was highly dependent on visuality, and how it both subverted and reinforced power relationships in terms of gender, class and ethnicity. From this exhibition, the dazzling gender representation of our late pop stars was reduced to a clichéd tale of the metropolitan luxury of Hong Kong in all its metrosexual Asian chic-ness, while free-spirited gender fluidity was locked up in glass cases as visually harmless fetishes. M+, I actually wouldn't mind if you put contemporary art high up on a pedestal; but I do mind the fact that you don't really know us. What was embarrassing about Ambiguously Yours was that it exposed the museum's awkward position between the global and the local, and the elite and the popular. I hope that, in these two years ahead of your inauguration, we can overcome this together.
Yours Truly,
Leung Po Shan