Feature
Exercises of Freedom? A review of documenta 14's Public Programs launch in Athens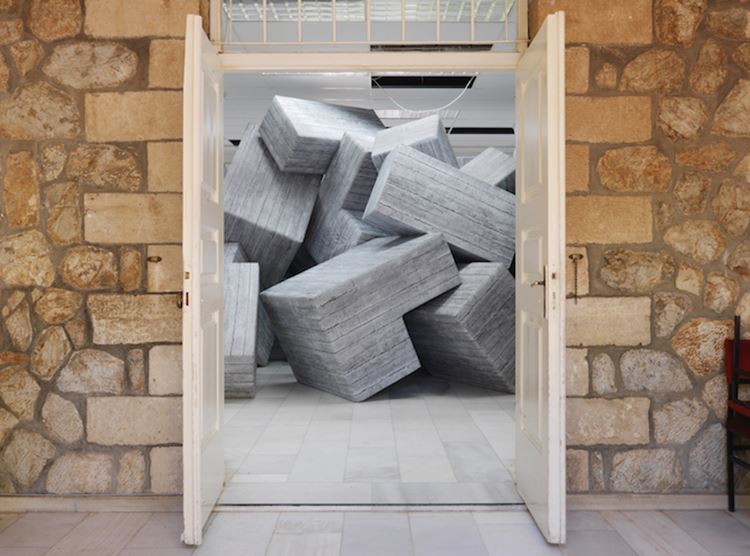 Andreas Angelidakis, DEMOS, 2016. Installation view, Athens Municipality Arts Center at Parko Eleftherias. Dimensions variable. Photo: Stathis Mamalakis.
documenta 14's Public Programs, launched in Athens between 14 and 24 September 2016, is a precursory introduction to the main exhibition scheduled to take place in Athens and Kassel next year, and is planned to continue on a more occasional basis until then. For ten days, an intensive marathon programme of lectures, performances and films took place in the former headquarters of the dictatorship's military police (in operation from 1967 to 1974), which is now part of the City of Athens and operating as an art and cultural centre.
Titled The Parliament of Bodies: 34 Exercises of Freedom, the programme was curated by professor of Political History of the Body, Gender Theory and History of Performance at the University of Paris VII, Paul B. Preciado, and featured a range of artists, academics, indigenous activists, and thinkers including Naeem Mohaiemen, Candice Hopkins, Neni Panourgia, Judith Revel, Ana Longoni, Niillas Somby and Jack Halberstam.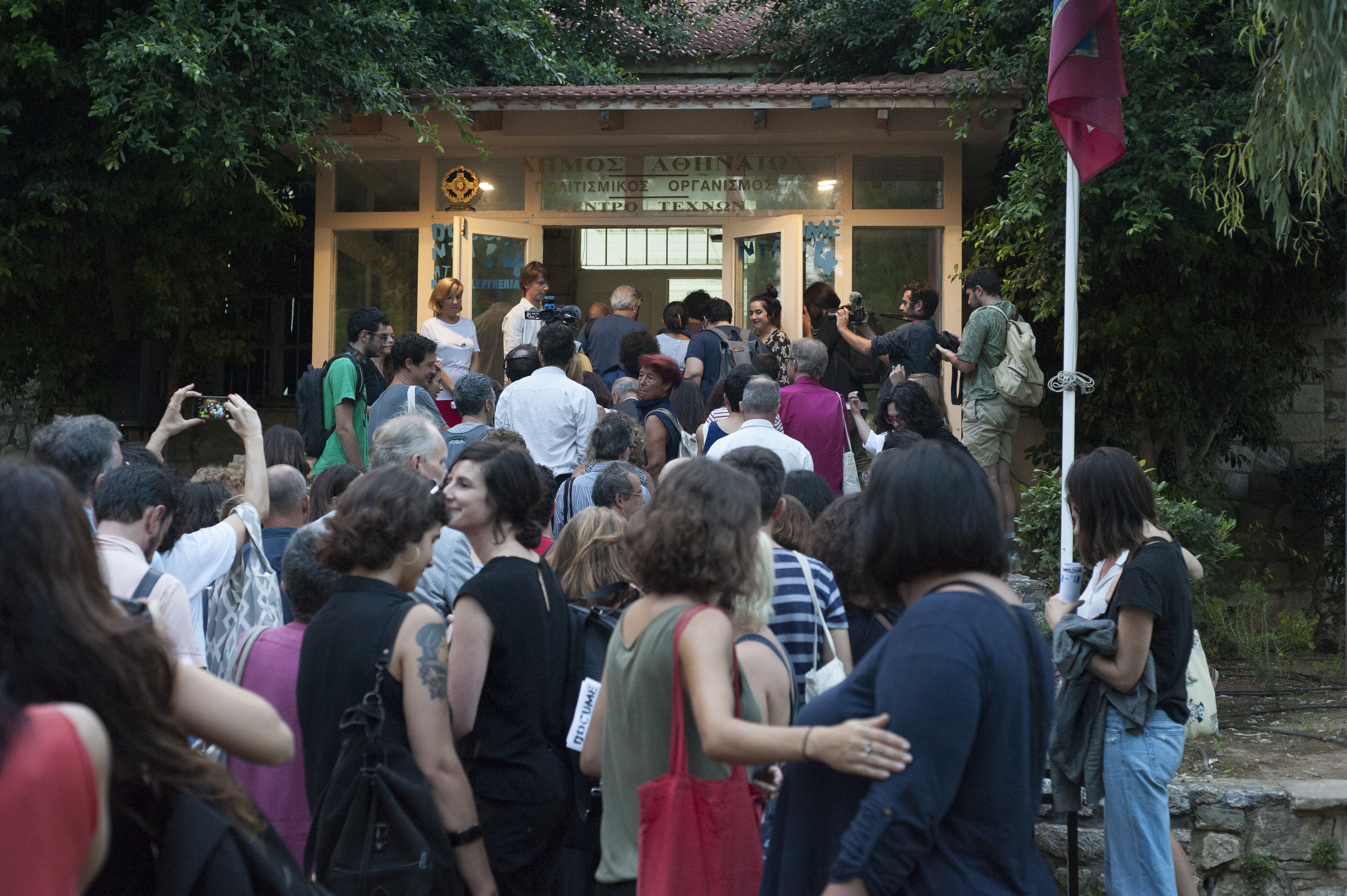 Opening of the Public Programs of documenta 14 at Parko Eleftherias. Photo: Stathis Mamalakis.
Overall, the programme took an aggressively political approach by integrating themes ranging from dictatorial regimes to feminist, indigenous and queer activism in an effort to not only redefine the interpretation of history through a contemporary perspective, but also present applied manifestations to terms like 'freedom' and 'democracy'. The intention was to 'introduce contemporary languages of resistance from the Kurdish revolution to indigenous struggles' in order to reform new practices in a framework that was posed 'neither as an exhibition nor a conference', but rather a 'political theatre' that visitors were 'invited to actively construct daily by interrogating location, hierarchy, visibility and scale'.
The premise certainly fits with documenta's historical tendency for experimentation. Illustrative of this was the curatorial approach that allowed complete freedom to presenters to occupy as much space and time as was needed for uncensored presentations, as was the case in Antonio Negri's hour-long narration of his exile and life in prison, and Georgia Sagri's 24-hour performance, in which the artist danced in a white robe to the beats performed by a drummer.
The attempt to collapse boundaries between two seemingly opposing formats—a public programme and exhibition material—was also successful, given the subtle integration of artistic content with educational, or more academic, content. There were works such as the performance Ojo de gusano: Don't Look Down by artist Regina José Galindo, where dug-up holes could be found around the building with wooden planks placed over them, through which visitors could witness a naked body; and presentations such as Transgressive Listening by Stathis Gourgouris, professor at the Institute for Comparative Literature and Society at Columbia University, who shared the story of Prometheus as a poetry reading, accompanied by slides with drawings, and audio of piercingly loud monotonous noises.
Regina José Galindo_, Ojo de gusano: Don't Look Down_ (2016). Performance. Photo: Stathis Mamalakis.
Yet, despite the intentions behind the theoretical framework, a certain disconnect occurred when ideas were put into practice. In their opening statements, for example, both Adam Szymczyk, documenta 14's artistic director, and Paul B. Preciado, underlined the significance of the terminology behind the title Parliament of Bodies in connection to the past and contemporary history of Athens, with referenced terms including 'agora' (assembly), 'equality', 'dialogue' and 'participation'. These ideas attempted to initially manifest themselves through Andreas Angelidakis' architecturally designed pseudo-ruins that were spread around the room serving as a moveable and modular seating arrangement in an effort to invoke ancient notions of applied democracy and prepare viewers for a discursive event, where the audience was supposed to play a key role.
Unfortunately, the well-intended idea and conceptual plan failed to correspond with its execution on a number of levels: the application of equality, dialogue and participation in the programme was left to theory, as opportunities for any kind of discursivity were limited to questions and answers at the end of each day's events, and the option to voice one's opinion after each presentation was non-existent. On an average day, a viewer might have to sit through lectures, a performance, and sometimes a ritual, which in total occupied on average four to five hours, rarely allowing time for discussion. Mostly, the core thematic of the entire programme was based on different formatted testimonies on torture and violence, many resembling lectures on group therapy, like artist Bonita Ely's workshop on post-traumatic stress disorder which covered a day's schedule.
Regina José Galindo, Ojo de gusano: Don't Look Down (2016). Performance. Photo: Stathis Mamalakis.
Indeed, the concentration, lack of coherent structure, and density of The Parliament of Bodies made it nearly impossible for the organisers to create what they had intended: an accessible and discursive experience. Of course, a few participatory occasions took place during various workshops and peripatetic exercises, such as group tours around the city in search of historical traces and places of torture led by Greek academics including Katerina Labrinou and Tasos Sakellaropoulos, but in the end, nothing in these programmes came close to activating the authentic sense of the democratic 'agora' nor 'the visitor-constructed political theater' mentioned in the press conference.
The result was a programme that failed to reach a wide audience, and instead ended up preaching to the converted: confirmed by numerous statements and comments from visitors and staff, it soon became obvious that apart from the art world's insular art crowd, there was a major issue in attracting a diversified audience, which was so central to the programme's thematic core.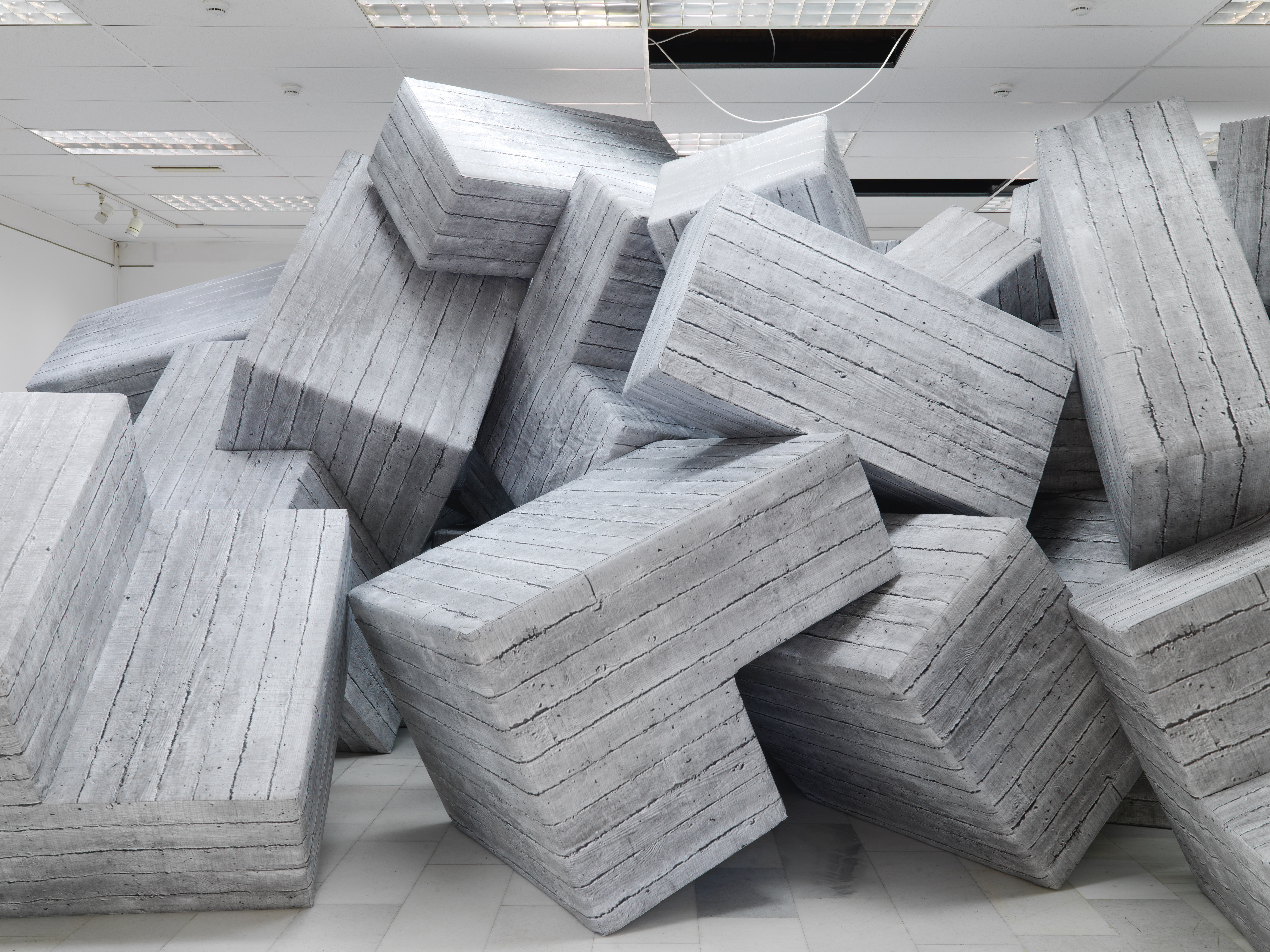 Andreas Angelidakis, DEMOS (2016). Exhibition view, Athens Municipality Arts Center at Parko Eleftherias. Dimensions variable. Photo: Stathis Mamalakis.
One of the faults lies in the limited information available surrounding the event, even to foreign press, which always comes at the last minute, as well as the secretive way documenta has been conducting itself in Athens since it landed, with special workshops and collaborative events taking place unannounced behind closed doors, with information becoming available after the fact. The official lack of publicity aimed at protecting any information related to the main show next April clearly compromised the success of the public programme's launch, and its ability to speak to the 'public' it claims to be so intent on reaching. Characteristic is Preciado, in an interview, calling refugees desired visitors and participants when it didn't appear any refugees were aware of the event taking place. This meant that any desired participation from other segments of society was doomed to fail. In that respect, with the serious lack of opposing views and dialogue throughout the event, and taken that the present audience was more or less familiar with the nature of the content and position of the presenters, the programme was rendered somewhat redundant.
Further to this, the insularity surrounding the operations of documenta, and the institution's colonialist presence in Athens, where it appears that no studio visits have taken place and where Greeks in their team are limited to administrative positions rather than having any official curatorial authority, stands against any supposed claim for inclusivity and audience diversity, further compromising the integrity of its intended objectives. Consequently, it was only natural that the lack of contribution from local sources, would result in misinformation of content and context. A disconnect between documenta and its context was in fact commented on throughout in reports on the The Parliament of Bodies from the Greek press. On the programme's intentions to document the failed transition from dictatorship to neoliberalist democracy not only in Greece, but Spain, Argentina and Chile, for example, Kathimerini's Paschos Mandravelis, in his accurate analysis on the unease that the programme created, wondered: 'where on earth did they locate neoliberalism in a country like Greece, which is ranked 138 in the World Economic Freedom Index, between Bangladesh and Mozambique?'
Andreas Angelidakis, DEMOS (2016). Exhibition view, Athens Municipality Arts Center at Parko Eleftherias. Dimensions variable. Photo: Stathis Mamalakis.
Indeed, while the effort to document the failed transition from dictatorship to neoliberalist democracy via accounts of violence and testimonies from South America and southern Europe was certainly laudable, The Parliament of Bodies was unable to formulate concrete spatial knowledge concerning the current or relevant historical socioeconomic and political conditions in Athens and Greece, and instead offered an all-round condescending geopolitical empathy. By referencing two historic and contextual paradigms that were too broad to cover—dictatorship and freedom—it failed to address and discuss the set of relations that epitomise, resonate with and define the specificity and temporality of Athens' contemporaneity in relation to the world at large. Perhaps the event's only possible connection to the contemporary Greek condition was its resemblance to the government's disjunction between their proclaimed leftist party ideology and their conflicting capitalist policy.
Thus, if 'knowledge production happens on the level both of discourse and practice', as curators and writers Bruce W. Ferguson and Milena M. Hoegsberg note, the disparity between documenta's theoretical position and practice in its public programmes, apart from having documenta fail to deliver on its ambitious mission, testifies further to—and agrees with—the disjunction between documenta's presence in Athens, and its ideas for a leftist policy of inclusivity.
All of which raises an important question: With the intention to subvert the spectacularism of previous documenta editions, and with a purpose to transform the artistic imaginary of contemporary practices through groundbreaking non-institutional applications of creative methodology, participation, dialogue and democracy, what has documenta presented to us that it has learned from Athens so far? Based on The Parliament of Bodies, which sought to draw 'a different political and poetic map of Europe than the one designed by the European Union', it appears that documenta is actually more interested in 'teaching' Athens rather than 'learning' from it... —[O]