Feature
Fair Play: Reflections on Art Brussels, 2016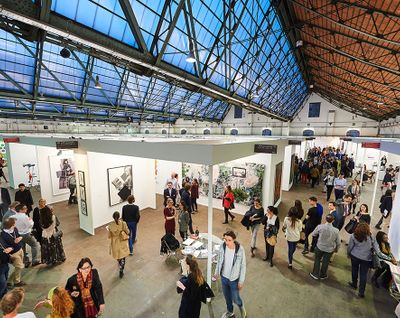 Art Brussels, 2016 at Tour & Taxis, photo by David Plas.
The Independent art fair launched in Brussels this year, concurrent with Art Brussels, one of Europe's oldest fairs, and it was a fitting disruption to
Brussels
' art week. Art Brussels, after all, was founded as Art Actuel in 1968, just one year after Art Cologne launched the first modern art fair as Kunstmarkt Köln. The same year Konrad Fischer and Hans Strelow invited galleries to Düsseldorf for the
Prospect '68
show, which opened just a few days before the 2
nd
edition of the Cologne fair.
This does seem to be the art fair effect. Competition, after all, is what keeps the market thriving. Take Miami, which has seen the number of art fairs taking place during December Art Week mushroom since Art Basel landed in 2001. Or even
Hong Kong
, where Art Central was launched in 2015 to coincide with Art Basel's Asia edition. (Art Basel itself launched in 1970, partly as a response to the perceived exclusivity of Kunstmarkt Köln).
Art Brussels 2016 installation, photo by David Plas.
And so, in 2016, Independent launched its Brussels edition (its first edition resides in New York), with 60 international galleries and non-profit institutions drawn from 30 cities. Much was said about the Independent roster (from
David Zwirner
to Galerie Isabella Bortolozzi and Carlos/Ishikawa) and the building it was staged in: the beautifully renovated former Dexia Art Center, built in the 1930s, and where the Dexia bank's art collection previously resided. The space is gorgeous, as was the balance within the fair, which felt more like a curated installation, since the renovation within the space offered a kind of deconstructed white-cube setting for each participating gallery.
Art Brussels, by contrast, was a different fair altogether. Staged in its new location, Tour & Taxis, a turn of the 20th century customs house, which consists of a series of handsome, brick warehouses in the inner-city. The number of galleries was over twice of Independent, standing at 141 galleries from 28 countries, a number reduced from the 191 galleries that participated the previous year. Its design was standard fair format: row upon row of booths in grids that stretched out over five sections: DISCOVERY, PRIME, REDISCOVERY, SOLO, and NON-PROFIT.
Of the galleries showing, highlights included Athens-based gallery Bernier/Eliades, presenting Dionisis Kavallieratos' crowd-pleasing ceramic pyramid of world philosophers, and an example of Rallou Panagiotou's
Eyeliner
series (eyeliner marks rendered in marble as sculpture); London's, Arcade showing a tapestry by Caroline Achaintre and large paintings by John Finneran; Rossi Contemporary offering a beautiful presentation of mid-sized ceramics by Eric Croes and small, square paintings by Thomas Mazzarella. In Croes' work, we see narratives expressed through the assemblage of recognisable forms rendered in ceramics, composed in the form of masks or an emblem. In one, a skeleton, visible from his skull and his one arm, holds an apple on its head, behind which we see a table, on which a dice rests, with a large sword offering a base for the entire composition, which is hung on the wall. In Mazzarella, we see candy-coloured geometrically abstract cityscapes humanised through the inclusion of little people positioned among the forms.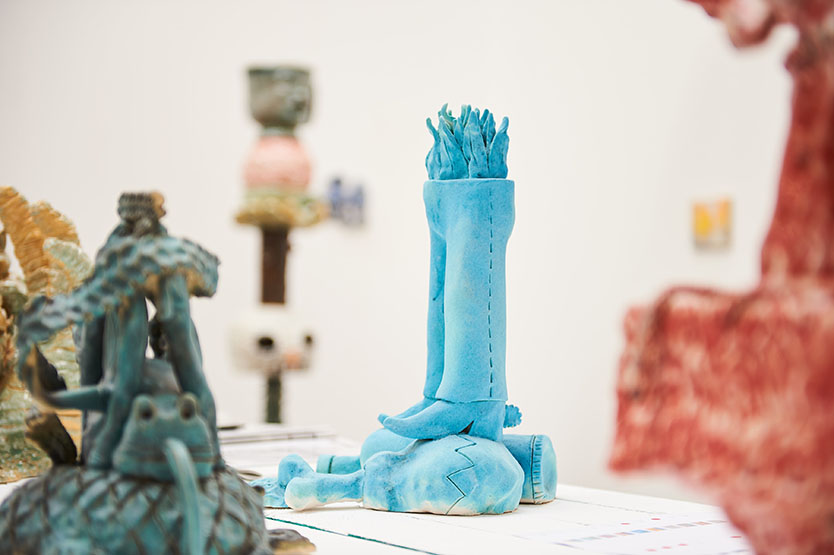 Rossi Contemporary at Art Brussels 2016, photo by David Plas.
Ceramics were a popular form at Art Brussels, as were references to the classical past. Busts abounded, and other references to classical sculpture, such as at the DISCOVERY prize-winning booth, BWA Warszawa Gallery, where uncanny sculptures by Ewa Axelrad were presented, including a black anorak moulded to resemble the body of a gorilla, and paintings by Karol Radziszewski, depicting fragments from the neoclassical bodies of Hitler's favourite sculptor Arno Breker. Classical imagery was also a feature of a two-man show at the Lyles & King booth, showing paintings by Chris Hood and sculptures by Phillip Birch, which included a flesh-coloured bust in which the eye and mouth sockets are holes through which screens present electrical currents shooting across black, digital screens. The tone of the bust recalled another installation by Hannah Levy at Galerie Parisa Kind—epoxy resin and fibreglass slabs coloured flesh pink, slumped on the floor.
BWA Warszawa gallery booth at Art Brussels 2016, Winner of Discovery prize, photo by David Plas.
The NON-PROFIT sector offered a standout presentation by Anahita Razmi at State of Concept, for which the artist installed a shop to sell undergarments made in Iran as part of the project
do fard
, which is the name of a label which has been producing and selling underwear in Iran for more than 50 years.
do fard
was a clever intervention into the art fair space: a market stall within a market place, within which the dynamics of what an art fair is are made most transparent. It was this sense of the market place that added to Art Brussels's charm in the face of Independent's sophisticated presentation.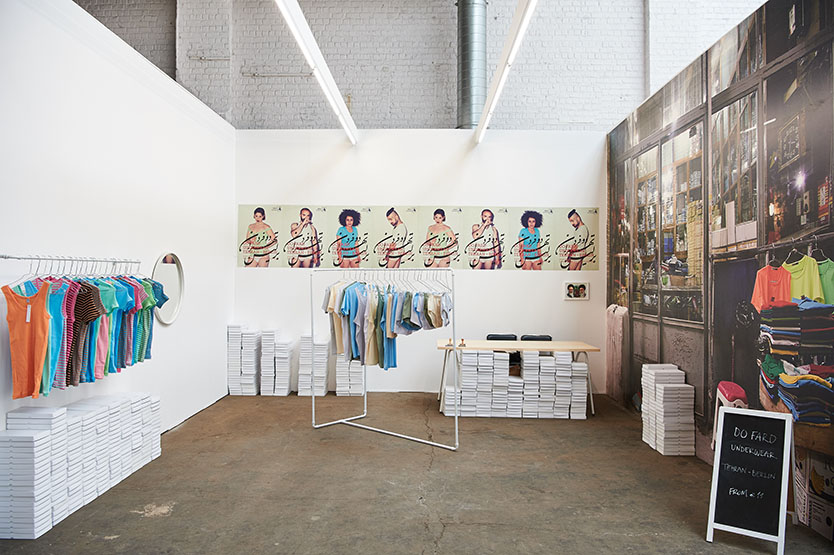 Anahita Razmi, Do Fard, State of Concept, Art Brussels 2016 photo by David Plas.
Interestingly, it was the noise of Art Brussels that heightened a sense of discovery among the different booths. In many ways, this is where Art Brussels won out. The sheer volume of galleries presenting, and the application process itself (Independent is by invitation), guarantees a sense of diversity among the participating galleries. As Vesselina Sariev of
Sariev Contemporary
pointed out (presenting Pravdoliub Ivanov, Vikenti Komitski, Valio Tchenkov, and Şakir Gökçebağ at Discovery), Art Brussels offers a platform for galleries that exist outside of traditional centres to engage within the region. (Sariev is the first Bulgarian gallery to have participated in Art Brussels, joining in 2015, the fair's 33
rd
edition.)
Even among the majority of Brussels spaces there was a lack of uniformity, from Rodolphe Janssen, showing an excellent booth including works by
Gert & Uwe Tobias
and ceramics by Dan McCarthy, to Sorry, We're Closed, showing a unique installation of green works, by artists including
Sam Falls
, Brian Rochefort and
Eddie Martinez
, with a wall text emblazoned at the booth entrance: GREEN DOESN'T SELL.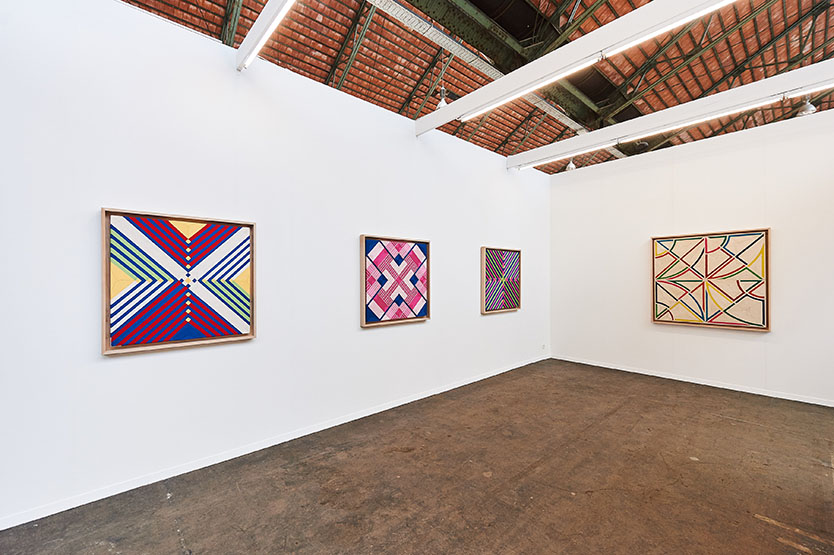 Eduardo Terrazas installed at Timothy Taylor at Art Brussels 2016, photo by David Plas.
The result was an art fair experience punctuated by moments of discovery when it came to encounters within the din of artists, galleries, and works, unknown. Of the 14 participating galleries at REDISCOVERY, for instance, one standout presentation was of Romanian-born artist Liviu Stoicviciu at Jecza Gallery. Stoicviciu has an astounding body of work dealing with geometric abstraction from the 1970s, and it spoke to the work of another REDISCOVERY artist, albeit more widely known, Mexican artist
Eduardo Terrazas
showing at
Timothy Taylor
.
It was interesting that, during the press conference, outgoing Art Brussels artistic director
Katerina Gregos
told reporters to 'Please, please, please' not 'overstate' the Brussels art scene. As
The Observer
reported, she didn't 'want the 'highbrow gentrification that follows in the wake of the art parade'. Herein lies the main difference on which Art Brussels staked its claim when it came to standing apart from Independent—this is first and foremost a Brussels fair, and not an international pop-up.
As Gregos rightly pointed out, there is a strong artistic history not only within Belgium, but also within the entire region, reflected in the regional slant of Art Brussel's halls, from Vienna's Galerie Krinzinger, to Paris's Galerie Bugada & Cargnel, whose canvases from the 1970s by Salvatore Emblema, created from tinted soil pushed through raw burlap canvas, offered an intriguing connection to the canvases from the 1990s by
Ha Chong-Hyun
at
Tina Kim Gallery
.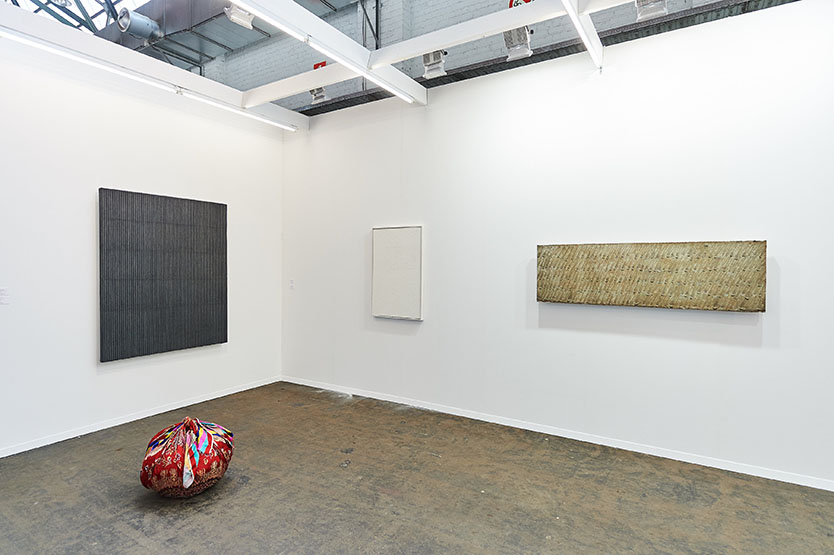 Tina Kim at Art Brussels 2016, photo by David Plas.
In this environment where fairs beget fairs, the ultimate question is whether there is room in Brussels for these two fairs to overlap. And the answer appears to be yes. (there is already crossover between the two, since
Almine Rech
found a loophole to show at both events.) Both fairs offer different experiences and cater to different collector bases. Independent seems to have launched with the aim of being a high-end boutique fair featuring a carefully selected roster of spaces, while Art Brussels throws out a wider net that seeks out not only the established, or even the new, but also the overlooked. Not only is there room for both, but the different approaches make for a more interesting marketplace.
—[O]
Almine Rech at Art Brussels 2016, photo by David Plas.