Feature
Fall Exhibitions in Vancouver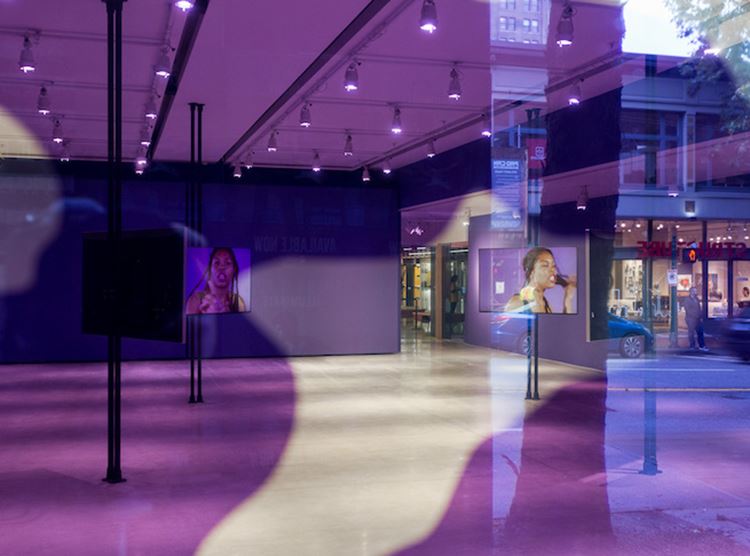 Martine Syms, Borrowed Lady. Installation view, Audain Gallery, 2016. Photo: Blaine Campbell.
With an art scene replete with artist-run centres, commercial galleries, a major municipal art institution, and university-backed galleries, the fall season in Vancouver is always fully booked with openings, talks, and performances. Comprising the core of this dynamic activity are critical exhibitions that engage with the social fabric of the city, forming connections between the concerns found in the Pacific Northwest with issues that resonate in urban centres around the world. The urgency of these encounters is what characterises the creative atmosphere of Vancouver, whose international reputation is often bound to the Vancouver School, early proponents of Photoconceptualism.
The following exhibitions are must-sees in this rainy, misty city. The processes of gentrification, identity formation, and the unreliability of memory are but a few issues addressed by artists who employ strategies that are both intimate and disquieting.
Morris and Helen Belkin Art Gallery
Julia Feyrer and Tamara Henderson: The Last Waves
Until 4 December 2016
The exploratory, surrealist films of Julia Feyrer and Tamara Henderson reach their third and final stage at the Belkin Art Gallery in an exhibition that traces the arc of their collaboration since 2009. The Last Waves features sets the artists will use to shoot a related film, but in the interim functions as an archive of their shared practice. The installation works are almost entirely of found objects, much of which was scavenged from the demolition of the University of British Columbia's former student union building. The exhibition is dense, layered with historic, literary, and personal references that lie embedded across the show.
The exhibition begins with a screening of two films, Bottles Under the Influence (2012) and Consider the Belvedere (2015). Shot on 16mm film in Stockholm and Vancouver respectively, the works deconstruct film noir tropes while conjuring images of liminal dream space. Glass bottles are anthropomorphised into characters, inspired by the artists' visit to the Historical Museum of Wine and Spirits in Stockholm. Bottles Under the Influence introduces the varied personalities before violently shooting each character in an intensive process of desensitisation. Consider the Belvedere deploys deep shadows and dramatic electronic music to create a narrative set against the backdrop of the historic Belvedere Court in Vancouver. The century-old apartment building set in the neighbourhood of Mount Pleasant, known for being an artists' hub, exemplifies the type of space that is now disappearing with the rapidly gentrifying city landscape.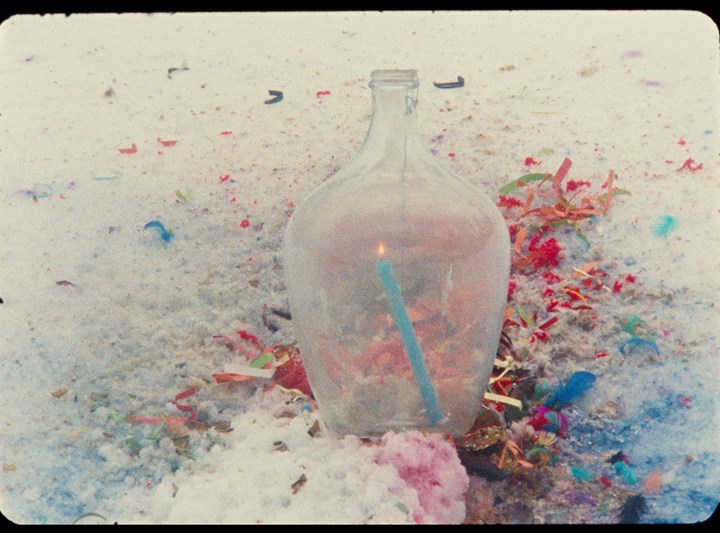 Still from Julia Feyrer and Tamara Henderson's Bottles Under the Influence, 2012, 16mm film, color, optical sound, 9:42 min. Courtesy of the artists; Walter Phillips Gallery, The Banff Centre; and Catriona Jeffries, Vancouver.
The Night Times Press Bar for Dreamers (2015-2016) incorporates a model of the building with 52 rooms that can be peered into through miniature windows. The roof has been topped to become a bar and a set of ergonomic keyboards with which visitors can anonymously share their dreams. The typed recollections are displayed briefly in a projection, before disappearing off-screen. Across from the bar is WAVES (2016), a reproduction of the eponymous chain coffee shop that once stood across from the Belvedere. The pastry display cases have been filled with food, aged with rot.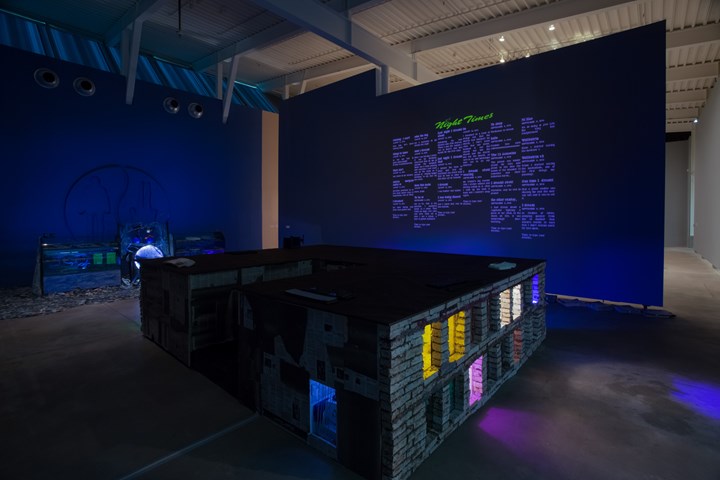 Julia Feyrer and Tamara Henderson, The Night Times Press Bar, 2015-16, Exhibition view at the Morris and Helen Belkin Art Gallery. Photo: Michael R. Barrick.
The next space features the installation The Lab (2016), which discloses the work that went into the characters, or 'vessels'. At the centre are the final bottles, each filled with a different alcohol and accompanied by a genealogy of character research. Visitors can see how the 'Old Hag' and the 'Secretary' blend into a hybrid entity, while 'Pest Detective' is a riff on a ubiquitous mascot for a local exterminator business. Referencing Duchamp's 1942 Sixteen Miles of String installation, 'Chance' is filled with twine and complemented by an amorphous sand sculpture made by dragging a magnet along a beach.
It is these hidden histories that give depth to the exhibition outside of their alluringly surrealist quality. A hotel reception desk can be traced to a local architect and most of the glass works in the show were made by Brian Ditchburn, a glass blower in UBC's Department of Chemistry, to whom the artists were drawn for his skills reminiscent of the protagonist in Philip K. Dick's 1969 novel Galactic Pot-Healer. The dreamy, if apocalyptic, film sets rest uncertainly between worlds, destabilising narrative archetypes while traversing noir spaces. The dimly lit bar, the hotel room, the laboratory, are sites of transformation, captured in this soon-to-be film that is yet just imagined.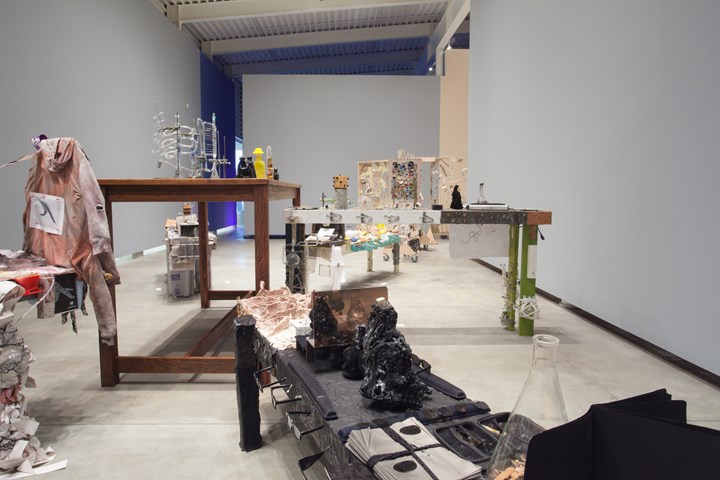 Julia Feyrer and Tamara Henderson, The Lab, 2016, Exhibition view at the Morris and Helen Belkin Art Gallery. Photo: Michael R. Barrick.
Audain Gallery
Martine Syms: Borrowed Lady
Until 10 December 2016
Martine Syms's first solo exhibition in Canada presents an elaborated iteration of her 2015 video Notes on Gesture. Expanding from a single-channel video to a four-channel work that has been installed in-the-round, Borrowed Lady surrounds the viewer in an environment of isolated idiosyncrasies. A hand motion, a flick of the hair, a spoken phrase, are spliced together and repeated like Vines—short, looping video clips. Each gesture is a grammatical element of language, formulating a system of expression and identification. The model, Diamond Stingily, becomes an all-encompassing embodiment of the way representations of blackness and womanhood are formed. Her micro-expressions speak to the way in which cultural images are reified into lasting social frames.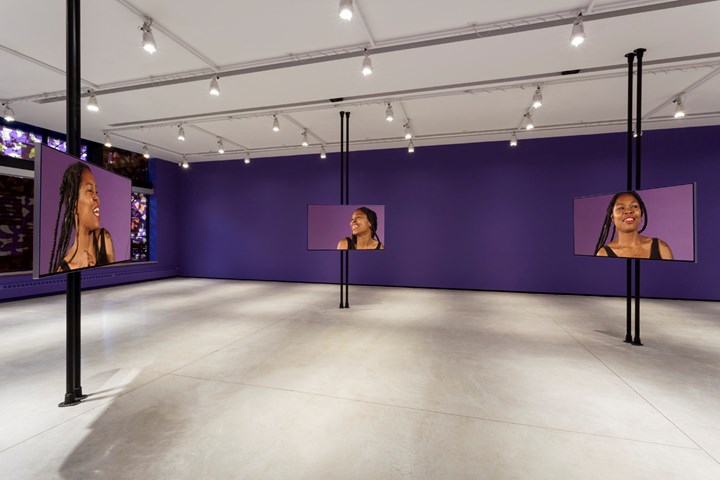 Martine Syms: Borrowed Lady. Installation view, Audain Gallery, 2016. Photo: Blaine Campbell.
Although Syms referenced Italian philosopher Giorgio Agamben's 1992 essay on film in her original title, she takes this iteration's name from Samuel R. Delany's 1988 autobiography, Motion of Light in Water. Referencing Provençal poetry, Delany writes of the 'dompna soisebuda,' or the borrowed lady, an ideal composite of physical and physiological features. This is but the outermost layer of many allusions and influences that that encompass Syms's practice. Incorporating disparate references as smoothly as Stingily's motions, the L.A.-based artist pulls together threads from 17th-century chirologia (the natural language of the hand), art historian Alison Landsberg's concept of prosthetic memory, and the quickly cycling lifespans of contemporary internet memes.
Martine Syms: Borrowed Lady. Installation view, Audain Gallery, 2016. Photo: Blaine Campbell.
Each channel shows a video that is almost the same, but not quite. When taken individually, a single screen rotates through gestures that are repeated a dozen or more times. But it is impossible to focus on individual screens, as the audio bleeds into one another in an alternately harmonious and cacophonous manner. 'Check yourself,' 'stupid ass,' 'real talk,' and 'I don't know' become dramatic entry points into a scene. At times, the same gesture is staggered across the four screens in a relay. At others, a seemingly organic call-and-response takes place, as slight variations in gestures seem to engage with one another.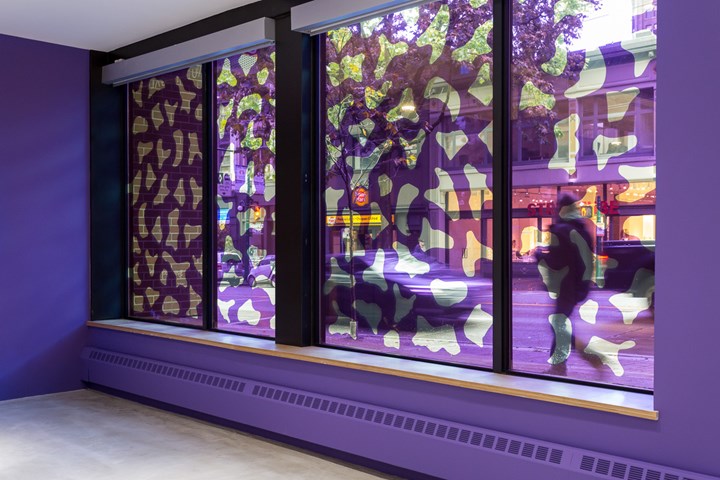 Martine Syms: Borrowed Lady. Installation view, Audain Gallery, 2016. Photo: Blaine Campbell.
Apart from a brief introduction at the gallery's entrance, there is a noted lack of text. Syms's original Notes included title cards that divided her video into thematics. The walls have been painted in her signature purple colour, in reference not only to Alice Walker's 1982 novel, but also Spielberg's film adaptation. Syms is fascinated by the prominence of that pop culture reference, honing in on the problematic issue of Spielberg's name overshadowing the powerful narrative itself. The large ground-floor windows are taken over by cellophane that incorporate the same shade of purple, in a pattern that recalls camouflage—the experience of the black woman is fragmented and blended into a texture designed to disguise.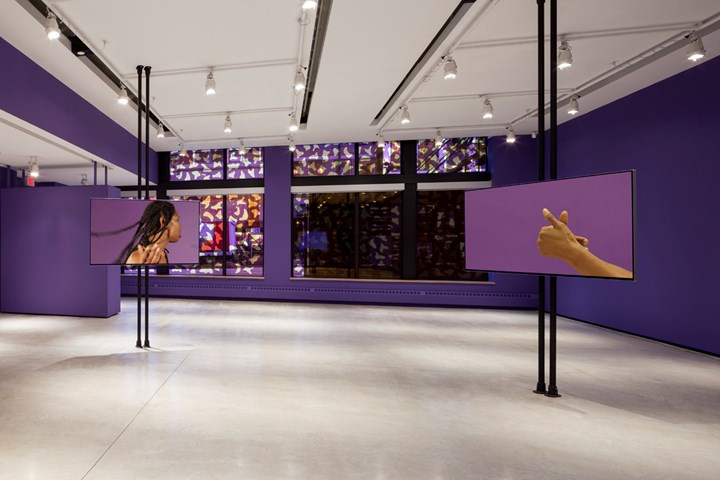 Martine Syms: Borrowed Lady. Installation view, Audain Gallery, 2016. Photo: Blaine Campbell.
Ultimately, the atmosphere of Syms's installation is an anxious one, characterised by a compulsive process of re-articulation. It's an experience that is overwhelming and unsettling, but also difficult to tear your eyes away from. In the aftermath of the experience, visitors are left with only a recommended bibliography. The artist once ran a project book space and recently founded Dominica, a small press dedicated to exploring blackness in visual culture. With a practice entangled in words, she deconstructs language and lays bare the components that comprise the vocabulary of race and identity. She highlights a potential for re-composition, providing words as tools for re-inscription.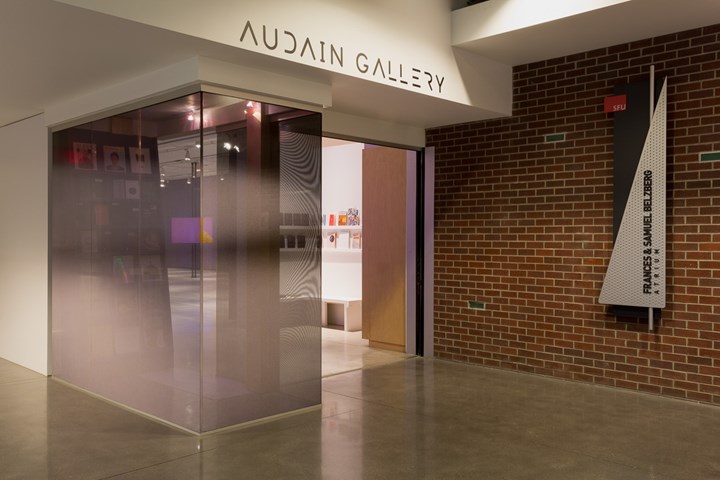 Martine Syms: Borrowed Lady. Installation view, Audain Gallery, 2016. Photo: Blaine Campbell.
Contemporary Art Gallery
Guillaume Leblon: Untangled Figures
Until 1 January 2017
In his debut solo museum show in Canada, French artist Guillaume Leblon continues his practice of totalising interventions even as he takes a new direction with material and technology. The two gallery spaces of the Contemporary Art Gallery are transformed into landscapes of plywood. Though more uniform in terrain than previous Leblon's installations of found objects, they persist in disorientating the space with sloping angles that destabilise the viewer's physical experience. The environment is further defined by the distantly-situated sculptures, each of which is given wide berth to navigate.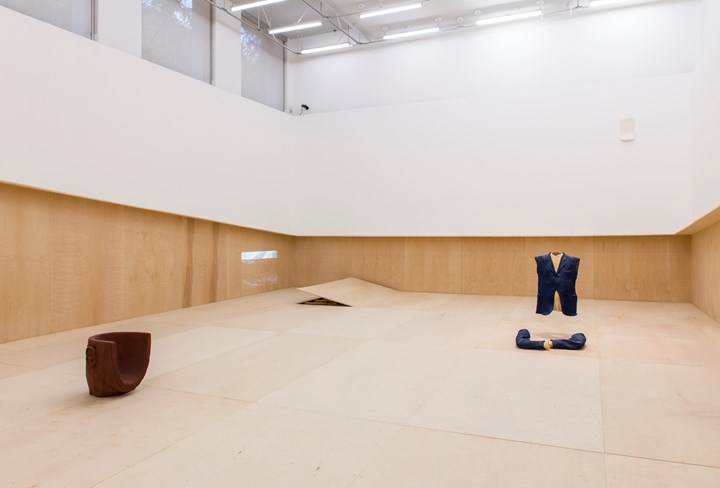 Exhibition view, Guillaume Leblon,Untangled Figures, at Contemporary Art Gallery, Vancouver.
In the larger B.C. Binning Gallery, the 3D-printed Brother and Brother I (both 2016) are the most obvious points of engagement. The two over-scaled, hollowed and faceless human heads look away from entering visitors, as if in invitation to be worn and looked through. In a gesture reminiscent of Charlie Kaufman's novel and film Being John Malkovich, Leblon speaks to the subversions of memory while remaining rooted in the materiality of the human body. This sense is further heightened in Rio Solimoes (2014), a video titled after the northernmost stretches of the Amazon River in Brazil. The video fixates on the form of a reclining woman, transforming the curves of her hips into a seemingly rolling landscape. Not quite a still shot, the work stirs with the model's very breath, furthering the sense that the surrounding gallery space is not quite rooted on firm ground. In contrast, a subtle work in plaster,She (2013), is a single sheet that flexes against the back wall; too high to reach or approach.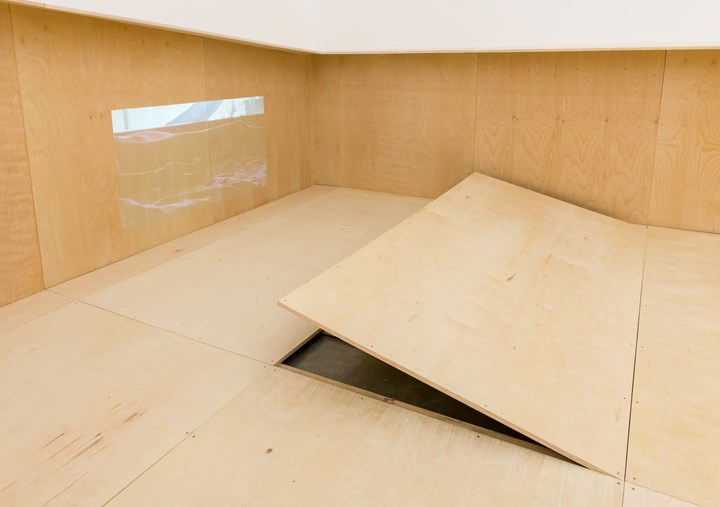 Guillaume Leblon, Rio Solimoes (2014). Digital video, 2 minutes 31 second. Courtesy the artist and Galeries carlier | gebauer, Berlin and Galerie Jocelyn Wolff, Paris.
Traces of the body are further scattered: Portrait (2016), a disjointed ear in pink hand-blown glass, is hung from the wall stranded; the shape of a single breast is spotted lying on top of Tristram Shandy, Laurence Sterne's 18th-century novel about humour, sex and narrative digression. The overt reference to primal functions create a tension with Likely Political Circumstances (2013), another 3D-printed work that sheds the physical body in lieu of the worn disguise of a suit. Again hollowed, and this time separated from its arms—the limbs that can hold, grasp, control—the literal 'suit' becomes a detached stand-in. The memories of its wearer have long dissipated; it is a material shell that becomes a site of reflexive representation.
Guillaume Leblon, Likely Political Circumstances (2016). 3D print, PMMA. Courtesy the artist and carlier | gebauer, Berlin.
The Alvin Balkind Gallery is dedicated to a single work. A sculpture of a young boy, caught in mid-yoga plank, is suspended in the centre of the room. The form, made after the artist's own son, becomes a signifier of youth, strength, and physicality. But, being named Nature of Duration (2016), it also alludes to ephemerality, the fleeting era of the past, and memories of what once was.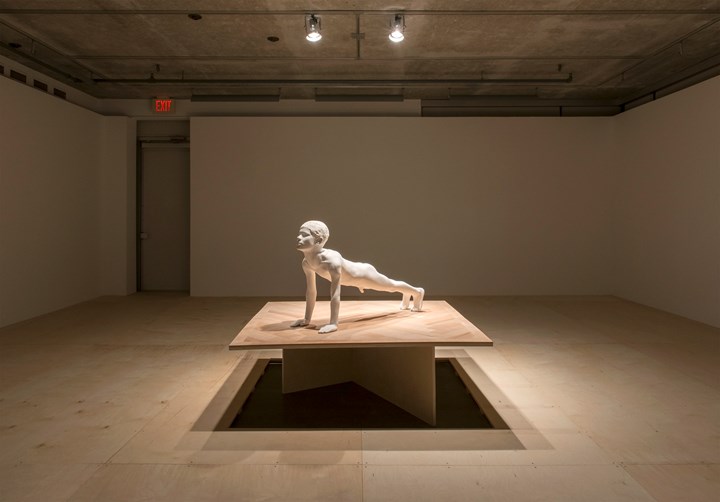 Guillaume Leblon, Nature of Duration (2016). Cast plaster. Courtesy the artist and Galerie Jocelyn Wolff, Paris.
Untangled Figures examines threads of materiality through human bodies and measures of time. Leblon's deconstructive practice references both minimalism and surrealism, but maintains a contemporaneous quality in medium and technology. His investigation of the fragile relationship between body and space-time addresses both the animal and the transcendentqualities in humans.—[O]