Feature
Five must-see exhibitions in London this spring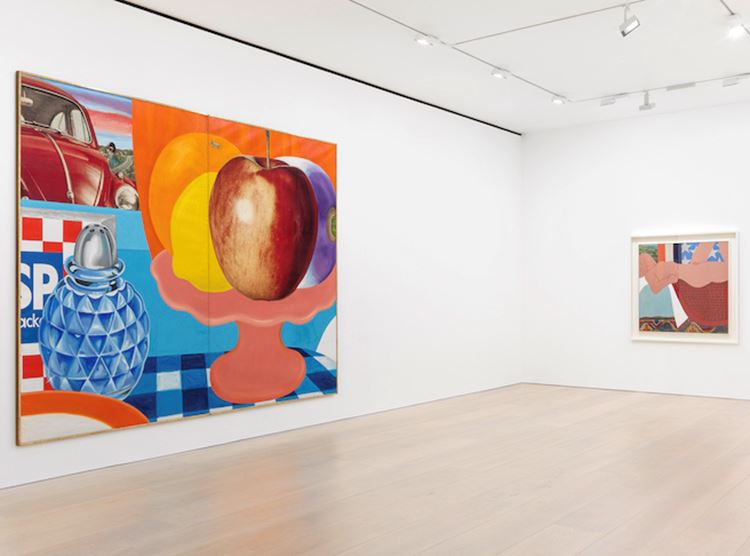 Image: Installation view, Tom Wesselmann at David Zwirner, London.
This spring five exhibitions in London take us on a journey to a domain of spatial and time-related inspirations. Human presence, intervention or absence appear as a unifying subject.
Ronchini Gallery
Jan Fabre: Knight of the Night
Until 12 March 2016
At Ronchini Gallery in Mayfair, Belgian artist Jan Fabre has created one of his unique eerie environments featuring sculptural works, drawings made with ball point pens and a video. This is the artist's first solo show in the United Kingdom, and in it he presents an early body of work, produced between 1992 and 2013. Always attracted by conceptual diptychs or, if you wish, antithetical meanings such as life and death, spiritualism and corporeality, his works are charged with symbolism, vigorous anthropocentrism and energy. Known for his unconventional interest in insects, the exhibition includes a series of his suits of armour, begun in 1997, which employ the colourful shell of the scarab beetle to embellish the entire surface of these sculptural works. Apart from the visually pleasing effect where the scarab's shells appear as multi-coloured jewels [Armour (Leg), 1997], the work suggests a narrative that bridges notions of lifecycle, rebirth and regeneration. Going a step further, covering human skulls with scarabs and introducing taxidermied magpies (Skull with Magpie, 2001), an omen of bad fortune in European folklore but also a bird that is drawn to shiny items, the artist playfully intermarries the well known symbol of mortality and memento mori from the sixteenth and seventeenth century Flemish and Dutch painters with ideologies of more recent popular cultures. The actual living body is also another of Fabre's favourite subject matters. His eight-minute film Lancelot, 2004, is a compact narrative of the five-hour battle of the artist with his own self, a multiple layered combat conveying a never ending exploration of existentialism and other key philosophical questions encapsulating a theoretical discourse on the fragility of the body and the power of spirit and soul.
Image: Jan Fabre, Skull with Magpie, 2001, mixture of jewel beetle wing-cases, polymers, stuffed bird, 39 x 23 x 34cm. Photo Claudio Abate. Courtesy the artist and Ronchini Gallery, London.Parasol unit for foundation contemporary art
Julian Charrière: For They That Sow the Wind
Until 23 March 2016
Swiss born, Berlin based artist Julian Charrière has occupied Parasol unit foundation for contemporary art to create an assemblage of curious topographies. Curated by Ziba Ardalan and spanning Parasol's ground floor and upper gallery spaces, the show presents recent and new multidisciplinary works ranging from sculpture to film and photography. Having explored different parts of the planet, Charrière focuses on notions of ideas of time and transformation, ecology, climate change, exploitation of natural resources and the annihilation of habitats. Future Fossil Spaces, 2014, encompasses totemic structures of bulky salt bricks originated from Bolivia's Salar de Uyuni, the world's largest salt flat and lithium reserve, heavily exploited for the industrial production of electric batteries. The 15-minute long film Somewhere, 2014 and the accompanying photographic series Polygon, 2015, investigate through imagery referencing Kiefer-like debriscapes the degree of destruction in Semipalatinsk, Kazakhstan, as a result of hundreds of nuclear tests conducted by the Soviet Union between 1949 and 1989. In The Blue Fossil Entropic Stories, 2013, Charrière pronounces the frailty of icebergs through the prism of global warming while his installation We Are All Astronauts, 2013, featuring a number of globes suspended over a flat surface, romantically voids all country borders and creates a trans-global situation by wittingly fading all continents with his 'international sandpaper'. The sandpaper was created from mineral samples taken from all over the world, and the dust from the sanding process lies on surface underneath the hanging globes. The new metaphorical inter-continental landscape is in conversation with his work Tropisme, 2015: four display cabinets containing plants apparently known to have existed 65 million years ago. They are stored in liquid nitrogen and displayed refrigerated at -20˚C in a semi-fossilised condition. Charrière's works are a documentation of modern human history juxtaposed against earth's long past and nature's struggle to exist.
Image: Julian Charrière, We Are All Astronauts (2013). Exhibition view at Parasol unit foundation for contemporary art, London. Photograph: Jack Hems. Courtesy of Parasol unit foundation for contemporary art.Chisenhale Gallery
Park McArthur: Poly
Until 3 April 2016
In East London, Chisenhale Gallery plays host to the first UK solo show of New York based artist Park McArthur. With a keen interest in materials that can absorb large amounts of liquid and the parallelism of this characteristic with the properties of human skin, the artist presents a new body of work comprising sculpture and mixed media installations. Sculptures in the shape of large blocks or containers made with sound-absorbing high-density acoustic polyurethane foam and a series of other works that utilise superabsorbent polymer powder are in the epicentre of McArthur's show. Water absorbing polymers are products developed in the US in the early 1960s and were further technologically advanced in the following years. These substances can absorb up to 400 times their own weight. The artist's fascination with this medium and its use by the medical industry is reflected on a series of installations engaging a synthesis of ready-made disposable hygiene products such as examination gloves, condoms and catheters, placed in stainless steel trays set on plinths. All made to assist humans with everyday life practicalities as well as medical needs, McArthur's survey highlights the process and sustainability of fluidity between living beings and manmade substances. Revealing the two antithetical functions of discharge and absorption, the exhibition confronts viewers with elements of human nature not always easy to be openly talked about. At the same time, the works on display and medium repertoire bring space and sound to the forefront and become critical components of McArthur's narrative interlinked with aspects of life and human nature.
Image: Park McArthur, Poly (2016). Exhibition view, Chisenhale Gallery, 2016. Courtesy of the artist and ESSEX STREET, New York and Lars Friedrich, Berlin. Photo: Andy Keate.David Zwirner
Tom Wesselmann: Collages 1959-1964
Until 24 March 2016
Back in Mayfair and in a different visual context and vocabulary, 30 works by American artist Tom Wesselmann, (1931-2004) are on display at David Zwirner gallery. Organised in collaboration with The Estate of Tom Wesselmann, all works on display were produced between 1959 and 1964. This period represents the artist's early career years leading the way to his emergence as a key figure of American Pop Art despite the fact that he never actually liked to be associated with this movement. His stance was that his artistic practice focused on the aesthetic value of everyday objects freed from any criticism on consumerism. Enticed by home interiors, textiles, furniture, still lifes and female nudes, Wesselmann began engaging with the medium of collage in his student years, and continued producing works based on further exploration of this technique throughout the 1960s. His collage topography is constructed with a combination of magazine images, fabric pieces, wallpaper, poster fragments, postcards, stickers and mixed media paintings. The works at David Zwirner embrace three chapters mirroring the artist's favourite subject matters. The Portrait Collages is a series of small sized works made in 1959-1960 where female protagonists frequently appear nude and in numerous poses, sometimes depicted in an abstract manner vacant of facial characteristics (Judy Putting on Stockings, Red Fish on Table, 1960) and other times expressionistically rendered (Judy and Her Woodcut, 1960) referencing Fauvism artists such as Henri Matisse, Henri-Charles Manguin and Jean Puy. Naked women continued to be the focal point in Wesselmann's Little Great American Nudes series starting in 1961 and soon accelerated the production of larger scale works known as Great American Nudes (Great American Nude #1, 1961), where he launched a palette of patriotic colours (red, white, blue). Still life was yet another of his favourite subjects. His Little Still Life series departed in 1962 and was also developed into larger works; it gradually incorporated depictions of contemporary culture objects such as bottles of drinks, cigarette packs, processed food and fruit, engaging them all in arresting dialogues (Still Life #2, 1963). For those art enthusiasts interested in this particular period of art production, the exhibition gives the unique opportunity to view a good selection of Wesselmann's output.
Image: Tom Wesselmann, Judy Putting on Stockings, Red Fish on Table (1960), Art © Estate of Tom Wesselmann/Licensed by VAGA, New York, NY, Photo Credit: Jeffrey Sturges.Lisson Gallery
Line
Until 12 March 2016
The subject matter of one of Lisson Gallery's running exhibitions is based on the notion of line and how this is perceived by a group of 15 diverse artists. Curated by Mary Doyle and Kate Macfarlane of the Drawing Room, a recently founded non-profit gallery in the UK solely committed to the role of contemporary drawing, the works on show span a wide period, from the late 1960s to today. Embarking from One Second Sculpture, 1969, a documentary photograph by American artist Tom Marioni, we witness the capturing of the airborne course of a metal tape and the process of it being reshaped by natural forces, from a coiled formation into a straight line. With Sol LeWitt's Wall Drawing 157: A diagonal line centered between the upper left and lower right corner, 1973, viewers are introduced to the mental process of production following sets of guidelines conceived by LeWitt in the earlier years of his career. British artist Richard Long with his Long Four Day Walk, 1980 employs vinyl text language on the wall to signify the documentation of a 94 mile trip on a straight line. Encountered landmarks and other geographical reference points became a list of words and it was in turn fabricated into a piece of writing reflecting upon time and experience. K. Yoland's series of inkjet prints and a 6 minute video (Red line through land, 2013), which she produced during her artist residency at Marfa Contemporary in West Texas, inspects the complication of borders as geographical and cultural dividers between nations. The installation of Monika Grzymala's Raumzeichnung (outside/inside), 2016, involving a structure (or a 'spatial drawing' as she calls it) is formed by a 3.7km combined black and clear tape manifesting potential interrelations between spaces as well as visible and invisible human trajectories. Other site specific works by Susan Hiller, Julian Opie, Jorinde Voigt and Ceal Floyer, visualise the line in an abstract, minimalist and conceptual context emphasising ideas of reaching and breaching boundaries, the creation of new landscapes with the help of technological means, and initiating movement with the stimulation of esoteric impulses. —[O]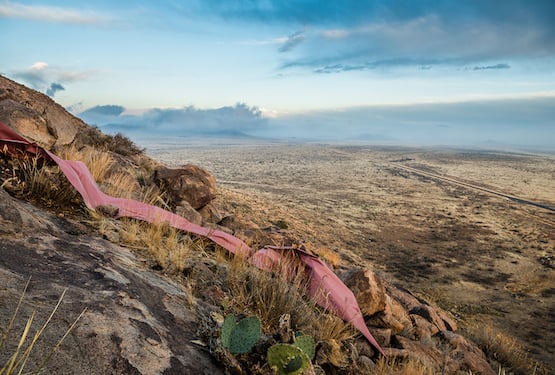 Image: K. Yoland, Red Line through Mountain (Point of Rocks, West Texas), 2013. Courtesy the artist and Lisson Gallery, London. Dr Kostas Prapoglou is an archaeologist-architect, art critic and curator based in London, UK and Athens, Greece.