Feature
Francesca Woodman At Victoria Miro Mayfair, London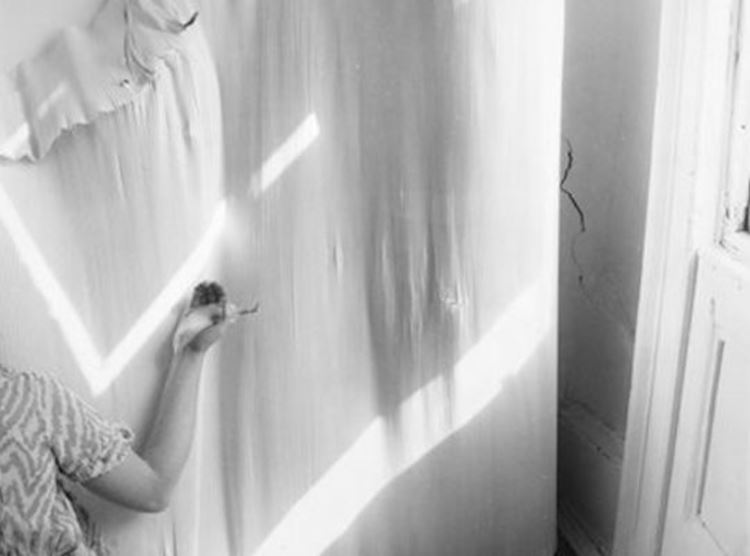 At Victoria Miro Mayfair, a new exhibition by the late Francesca Woodman entitled Zigzag examines abstract lines and zigzags within the artist's work, while reflecting many of the familiar idiosyncrasies of Woodman's wider practice, such as her treatment of the body and her use of light, shadow and motion.
Significantly, this exhibition includes ten images newly released from the estate of the artist, managed by her parents since her tragic suicide in 1981 at the age of just 22, thus creating not only a new angle to her previously exhibited works, but also a closer glimpse at the wealth of images still yet to see release.
The majority of the images on show are small, most just 20.3 x 25.4 cm, installed in a tight line around the main gallery space. They act almost like small vignettes, tiny moments captured on film where the subjects within the image appear to line up, if only for moment, to reveal these elusive shapes. Certain motifs or elements appear in several of the images, including the way the human body is framed. This can be seen either through the pose or by the juxtaposition of other elements like a black pelt hung up on a hook like a coat, or tree bark wrapped around the model's wrists to blur the lines between her arms and the trees directly behind. Obscuring certain features like the face or torso by turning away from the camera, quick motion or the cropping out entirely parts of the body are also common features, creating an engaging sense of play between the photographer and her subject, where the shape or line itself is the subject and the rest mere context.
The two major exceptions to these smaller black and white works are the works inside the smaller gallery space, entitled Zig Zig Study (1980) and the diptych Zig Zag (1980). The first is a line of several prints, some connected by black pen line, which speak to Woodman's focus on the zigzag as a symbol of continuity. In a letter written to a friend in 1980 (and quoted as part of the accompanying press release) Woodman talks about creating "a long string of images held together by a long compositional zig zag." The study contains many of the elements found in other works within the collection, like body parts which feel abstracted and dehumanised, the use of fabric and also movement (such as the scissor-kicking legs hanging mid air in one image, the top half of the body cropped out).
What stands out here in many ways is the controlled abstraction of Woodman's lines and zigzags, evident throughout the exhibition. These images may seem random, or at times to reflect a sense of the mundane or even coincidental, yet a deeper look reveals an incredibly sharp eye for compositional detail. There are also other moments which come into play beyond the wider curatorial arc of the exhibition, like Woodman's ability to capture movement and light, which reinforce this sense of crafted, carefully directed moments. It's difficult to escape a sense of melancholy which comes through as well, no doubt in light of the artist's own tragic death. But beyond that, it's a sense of sometimes playful suggestion and consideration that hovers through the images on show that begs further reflection from the viewer, commanding new attention to momentary detail.—[O]