Feature
Local to Global: Gallery Weekend Beijing 2018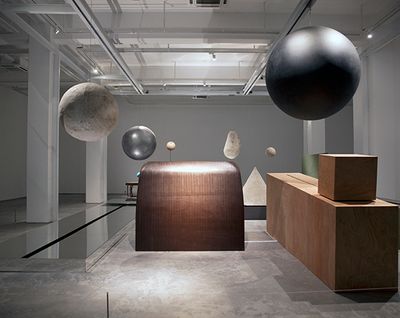 Liu Wei, Period (2018). Mixed media installation. Dimensions variable. Installation view: Shadows, Long March Space, Beijing (18 March–6 May 2018). Courtesy Long March Space. Photo: Jackal Lau.
Gallery Weekend Beijing was first staged in 2017 on a number of premises, including the fact that Beijing needed an annual event with international appeal to maintain its place as an art destination after the rise of successful art fairs, and an increasing number of museums, in other regional cities like Shanghai and Hong Kong. As its title suggests, the event is modelled after Gallery Weekend Berlin, which feels more organic than an art fair given its staging within gallery and institutional spaces rather than in a convention centre or tent, and annually attracts collectors and art world professionals from around the world to Berlin.
Led by new director Amber Wang (former director Thomas Eller left the project shortly after the first edition closed), 22 galleries and institutions participated in the second edition of Gallery Weekend Beijing (23 March–30 March 2018), with a shift in emphasis from showcasing local and regional art to exhibiting art from elsewhere in the world.
Exhibition view: Sarah Morris: Odysseus Factor, Ullens Center for Contemporary Art, Beijing (24 March–17 June 2018). Courtesy UCCA.
To compare, last year's exhibitions focused on established and emerging Chinese artists, including Sui Jianguo at Pace Gallery (Trace, 9 March–1 April 2017), Tan Ping at Pifo Gallery (Decade: Abstract Art 10, 17 March–16 April 2017), and Ai Weiwei, Huang Yong Ping, Zhao Zhao, Sun Yuan and Zhu Jia at Tang Contemporary Art (Nothing is True, Everything is Permitted, 17 March–13 May 2017). This focus was continued in the large-scale group exhibition The New Normal at the Ullens Center for Contemporary Art (19 March–9 July 2017) that year, which featured 23 artists, 17 of which were Chinese, mostly born in the 1980s.
This year saw more solo exhibitions featuring established foreign artists, including Sarah Morris at the Ullens Center for Contemporary Art (Odysseus Factor, 24 March–17 June 2018), Richard Deacon at Beijing Commune (New Sculpture, 17 March–12 May 2018), Paul McCarthy at M Woods (Innocence, 17 March–17 June 2018), and Carsten Höller at Galleria Continua (Method, 23 March–2 June 2018)—the first solo presentations that each artist has staged in Beijing.
Exhibition view: Carsten Höller: Method, Galleria Continua, Beijing (23 March–2 June 2018). Courtesy Galleria Continua.
Even organisations not directly participating in the Weekend opened shows with international artists, such as Olafur Eliasson's The unspeakable openness of things at Red Brick Art Museum (25 March–12 August 2018), and Amalia Ulman's first solo show in China in the CBD area, Privilege, at KWM artcenter (22 March–19 May 2018). Bringing together the artist's first and well-known Instagram project Excellences and Perfections (2014) and the ongoing 'Privilege' series started in 2015, Ulman's exhibition has proven to be a huge sensation for the selfie-addicted Chinese audience, and captured the spirit of this year's Gallery Weekend Beijing brilliantly: more than anything else, it was about importing international art with a middlebrow elegance to a local audience.
Exhibition view: Amalia Ulman: Privilege, KWM artcenter, Beijing (22 March–19 May 2018). Courtesy KWM artcenter.
Naturally, such an all-star line-up created high expectations that lived up to the hype, with important and historical works by each artist on view. Sarah Morris' Odysseus Factor at UCCA, for example, marks the first time the artist has shown all of her film works to date together, while Paul McCarthy's Innocence at M Woods includes 43 video works dated from 1970 to 2013. But while the thrill of discovery felt fresh among local audiences, who got to see good albeit vaguely relevant art as one artist pointed out, the 2000-odd international VIPs who parachuted in, from Jeffrey Deitch to LACMA's Michael Goven, did not seem satisfied with shows focusing on artists they have seen almost everywhere else in the world.
Exhibition view: Sarah Morris: Odysseus Factor, Ullens Center for Contemporary Art, Beijing (24 March–17 June 2018). Courtesy UCCA.
Among the handful of shows by local artists, highlights included Liu Wei's Shadows at Long March Space (18 March–6 May 2018): another grand yet enigmatic statement displaying an unprecedented application of painterly methods to sculptural pieces that incorporate one of the artist's favourite motifs—spherical forms—with kinetic mechanisms, a first for Liu Wei. The controlled movement of the sculptures and the strange sense of a community created among them recalls the artist's early video work Crazy Race (2002), in which a group of people are depicted running in a number of monitors that are arranged in a circle, never meeting each other in their orbital movements.
Around the time of last year's Gallery Weekend, Long March Space staged Marching in Circles, a group show curated by Robin Peckham, where works by both the established (Zhao Gang and also Liu Wei) and the young (Yu Honglei, Asian Dope Boys, and the Hong Kong duo COME INSIDE) were presented in an egalitarian fashion. The move from a carefully curated group show to a solo presentation of new works by an established artist seems to be a rational move, given how the international crowd's attention span can only take in so much during the Weekend's brief time-frame. (Such focus was also reflected in Long March Space's Art Basel Hong Kong booth in 2018, which featured a solo presentation showcasing works from the 1990s to 2017 by Yu Hong, which was retrospective in nature.)
Liu Wei, Period (2018). Mixed media installation. Dimensions variable. Exhibition view: Shadows, Long March Space, Beijing (18 March–6 May 2018). Courtesy Long March Space. Photo: Jackal Lau.
Another notable exhibition is Zhang Yue's solo show at Gallery Yang, If I Could (23 March–13 May 2018), curated by Cui Cancan, was named the 'Best Gallery Exhibition' of the Weekend by a committee that consisted of Hou Hanru, Lin Han and Wanwan Lei. The show is inspired by 'El Cóndor Pasa', a Latin American song that stands for 'the resistance of the South American peoples against colonisation, and their yearning for independence.' Exploring a tradition of resistance, Zhang's work is reminiscent of the contemporary art that was produced in China a few decades ago by people like Ai Weiwei and Zhao Zhao.
Divided into four sections across four rooms, the show's first section is titled 'Firing'. Here, the artist's 65-day experience in a refugee camp in the war-torn Kokang, Myanmar, in 2015 and 2017 is demonstrated in the form of 162 shooting targets, on top of which are a number of first-hand materials that Zhang collected when he conducted 104 interviews in the region. These include a series of gun certificates (Gun Certificate, 2016), a drawing about how to snatch a gun (Snatch a Gun, 2016), and a written announcement from Myanmar (Announcement of the Military Committee of the Myanmar National Democratic Alliance Arm, 2017).
Zhang Yue, Gun Certificate (2016); Target Paper (2016–2017). Exhibition view: If I Could, Gallery Yang, Beijing (23 March–13 May 2018). Courtesy Gallery Yang.
Such works contribute to a narrative that is Chinese socialist and didactic in nature, rarely seen in the local art scene in recent years: it is about being inspired by historical revolutionaries, taking actions, making records and assisting international comrades—Zhang brought 25,000 kilograms of rice to Kokang and gave them away to the local people on his second trip there.
Supplementing these experiential pieces are a number of digital alternatives that virtualise the bloody, bodily experience. In the video installation Welcome (2017), Zhang plays the role of a watcher in the video game Watch Dogs 2, monitoring through hundreds of surveillance cameras every single event in a city. In the single-channel video The Massacre of Los Angeles (2017), we see the artist take on the role of a criminal in the video game Grand Theft Auto 5, slaughtering his way through the landscape.
Exhibition view: Zhang Yue: If I Could, Gallery Yang, Beijing (23 March–13 May 2018). Courtesy Gallery Yang.
Conceptually, Zhang's exhibition compellingly bridges the real with the digital, and champions an activist, artistic approach that rails against the proliferation of soft, polite and politically correct art in China. But sometimes, such softness should be taken at face value. White Space's Wang Haiyang solo exhibition (17 March–2 May 2018), for instance, might seem too pretty, filled as it is with large, colourful, abstract paintings and video installations that are aesthetically pleasing; but these works depart from the artist's suffering—Wang has been having major surgery since 2015 involving the use of Taylor spatial frames (for about four months, his legs had to be fixed with six nails after being internally fractured as part of the surgery, bleeding daily)—and is still in the process of recovering.
Included in the show are a series of small abstract and erotic watercolour drawings the artist created in the hospital bed set, Sex (2017), and a series of paintings, Untouchable (2017), that speak about bodily limits. The theme of mediated experience in the video works Mosquito (2017–2018) and Ravage (2017) interestingly correspond with the artist's contemporary Chang Yun-han's exhibition at the UCCA (24 March–27 May 2018), which also touches on the mediating role of the agent—be it a mosquito in Wang's case, or a magician in Chang's.
Exhibition view: Wang Haiyang, White Space Beijing (17 March–2 May 2018). Courtesy White Space Beijing.
The much-promoted first edition of the Gallery Weekend Beijing's public art project in the 798 Art District reflected a strong focus on the younger generation. Curated by independent curator Jo Wei, a number of artists were commissioned to create public sculptures. Timur Si-Qin showed Forgiving Change (2018), a series of aluminium sculptures modelled after burnt tree branches found in northern California after the Tubbs wildfire in October 2017. Zhang Yue presented a series of old concrete rooms inspired by the artist's experience in prison (Untitled, 2014), which audience members, after signing an agreement, can enter for a fixed period of time. Yet, while exciting as a whole, it was easy to miss a number of the works on view in this public art installment, or even gain access to them.
Nevertheless, Gallery Weekend Beijing's second edition was a definite success, demonstrating that Beijing's infrastructure is open to international exchange. Foreign galleries realised the potential of introducing their artists to China by collaborating with local galleries or museums—Beijing Commune recently announced their representation of Richard Deacon, who is also represented by Lisson Gallery; M Woods worked on the Paul McCarthy show with Hauser & Wirth; and UCCA worked on the Sarah Morris show with White Cube, who also represents Liu Wei and He Xiangyu.
Timur Si-Qin, Forgiving Change (2018). Cast steel. 300 x 430 x 230 cm. Exhibition view: Outdoor Public Project, Gallery Weekend Beijing (23–30 March 2018). Courtesy the artist and Magician Space.
Improvements included better organisation, better traffic—'the local equivalent of Uber is so convenient and so cheap', said one gallerist—and Richard Deacon praised, on more than one occasion, the brilliance of Chinese technicians. The use of popular technologies to enhance the viewing experience throughout the event was also introduced this year, such as an online streaming service: a positive step that, despite the best efforts, proved underwhelming for those who actually prefer to see art offline.
Overall, an apparent rupture has taken place between the first and the second edition of Gallery Weekend Beijing in terms of direction and reception. Internationally speaking, museum directors and trustees from abroad had fun on their field trips—just ask the exhausted artists who had to prepare for presentations and had to wait for hours before the tourists arrived. Locally, while people were uncertain about the first edition, there is now a sense of excitement in the air.—[O]