Feature | Exhibition
Gallery Weekend Beijing 2022: Exhibitions to See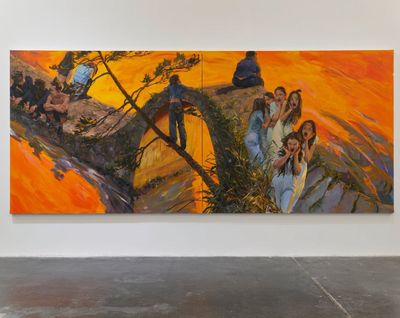 Exhibition view: Epiphany of the Individual, UCCA Center for Contemporary Art, Beijing (16 April–14 August 2022). Courtesy UCCA Center for Contemporary Art. Photo: Sun Shi.
Conceived from the theme 'Sharing', Gallery Weekend Beijing (28 June–3 July 2022) returns for its 6th edition across the 798 Art District and the city. Ocula Magazine presents the exhibitions to see from the Main and Visiting sectors of the event.
---
Main Sector — 798 Art District
Chen Shuxia: Mental Image
Asia Art Center Beijing, No.2, Jiuxianqiao Road
24 June–21 August 2022
Chen Shuxia's understated abstractions are a sight for sore eyes, one cannot be fooled by the soft hues that overlay their decisive statements.
While Chen's works draw from experience, precise inquiries guide their composition. Here, it is the presence of time beyond the canvas—an accumulation of daily stimulus: air, sunlight, breath, which translates to a muted expansiveness in the body of work at Gallery Weekend Beijing.
This draw towards unfolding the minutia is well noted in the oil on canvas Astronomical Phenomenon (2022), in which an astral entity appears to have fallen in the horizon, and yet there is no grandiose gesture. Rather, the contemplative mood suggests an equal consideration for the mundane and spectacular.
Fanny Gicquel, now, and then at Hua International, Beijing (2022). Durational performance with choreographer: Mengfan Wang; dancers: Shuyi Liao, Dan Qian, and Sihan Cai, Ryotaro Harada; composer: Delawhere. Courtesy the artist and Hua International. Photo: Haiyang.
Fanny Gicquel: now, and then
HUA International, D08-3, 798 East Road
24 June–24 September 2022
A holistic exploration of body and space, Fanny Gicquel's work across performance and sculpture—and often in tandem—arrive in China for the first time for the artist's second presentation with HUA International.
Embodying the idea of the world as a fluid constellation of crossovers and interferences, a new body of sculpture inspired by Japanese concepts of ma and wabi-sabi alludes to the distance between things and the beauty of the imperfect, impermanent, and incomplete.
The latter will be shown alongside a performance and a sound piece sourced from recordings in public spaces layered and slowed down by music composer Delawhere.
Exhibition view: A Place for Concealment, Galerie Urs Meile, Beijing (6 June–7 August 2022). Courtesy the artist and Galerie Urs Meile, Beijing/Lucerne.
A Place for Concealment
Galerie Urs Meile, D10, 798 East Street
6 June–7 August 2022
Breaking beyond white cube viewing and traditional pictorial space, a group exhibition reframes the works of 20 artists in a rather unusual way, as an inquiry into artistic subjectivity and spatial perception.
On both sides of gridded storage racks, paintings, photography, videos, and installation works become visible as one moves through the space, while others disappear; a configuration that is at once an homage and a variation of a 2019 project by Chinese conceptual painter Wang Guangle.
Alluding to the growing art business in Beijing at the time, and mass-produced content for the collector's eye, Wang hung works by 30 young artists on a storage rack at the Beijing Contemporary Art Fair, which had to be pulled out to be seen.
Exhibition view: Liu Yefu, Fool's Paradise, Magician Space, Beijing (11 June–23 July 2022). Courtesy Magician Space.
Liu Yefu: Fool's Paradise
Magician Space, 2 Jiuxianqiao Road
11 June–23 July 2022
Reflecting the artist's existing interests in Chinese folk culture and black humour, traditional Chinese society and its mediums find new forms in Liu's video work Fool's Paradise (2022), filmed at the border of Shaanxi, Shanxi, and Inner Mongolia.
Noting similarities between old, inherited ways and contemporary tendencies towards perpetual innovation, the film considers what is 'new' by drawing parallels between the fictional life of old man Liu Huqing and his practice of calligraphy, traditional painting, and culture writing, to Elon Musk's space explorations.
Across beautiful visuals and accompanying ink drawings and pottery, Liu demonstrates that what can be considered 'antiquated' forms preserve, and re-establish themselves throughout time, finding perpetual resonance with the present.
Left to right: Zhao Dajun, 2816 (2019). Oil on canvas. 150 x 150 cm; 201909 (2019). Oil on canvas. 160 x 150 cm. Exhibition view: Red Lines on the Blue, CLC Gallery Venture, Beijing (12 June–16 July 2022). Special acknowledgement ZHAO DAJUN ART FOUNDATION. Courtesy CLC Gallery Venture.
Zhao Dajun: Red Lines on the Blue
CLC Gallery Venture, E02, Qixing East Street
12 June–16 July 2022
Zhao Dajun's fluid calligraphic abstractions made of travelling lilac, canary, and powder blue strokes are like stanzas to a love letter reading: 'Dear abstract expressionism'.
Attesting to a breakthrough for the artist, the present body of work follows from a previously analytical approach, whereby Zhao painted to resolve problems within painting, to favour a more holistic and wandering process. The artist calls resulting works his own 'modernisms'.
Accordingly, oils on canvas like 2816 (2019), are imbued with a natural rhythm, at once contained, and expanding beyond the canvas. Precise strokes of muted pastel tones and their vertical orientation recall intersecting tree branches that could belong to Chinese ink painting.
Gong Chenyu, Waiter (2022). Oil on canvas. 200 x 150 cm. Courtesy Hive Center for Contemporary Art.
Gong Chenyu: Youth in the Otherland
Hive Center for Contemporary Art, 4 Jiuxianqiao Road, Building E06
14 May–3 July 2022
Draped in expressions of defiance, disdain, or ennui, the young contemporary faces in Gong Chenyu's narrative scenes will make you pause and look closer, unsettled by the juxtaposition of figurative realism and the surreal fairytale surroundings.
Rendered in the veins of classical painting, each scene appears to be a cross between an R.P.G. video game capture and Renaissance portraiture—only, here, the sitters find consciousness, and display their existential angst to the painter willingly.
In the 2022 oil on canvas Waiter, a young woman with red hair sits in a prison cell against a backdrop of orange flames, seemingly unimpressed by her surroundings. Her sole company: a fried-chicken burger, a standing slice of pizza, and what appears to be an ice-cream sundae.
Exhibition view: Luo Zhongli, Back to the Beginning: A Luo Zhongli Retrospective Exhibition 1965-2022, Tang Contemporary Art, Beijing (8 June–18 July 2022). Courtesy Tang Contemporary Art.
Luo Zhongli: Back to the Beginning
Tang Contemporary Art, No.2 Jiuxianqiao Road, D06 and B01
8 June–18 July 2022
A major retrospective of realist painter Luo Zhongli known for representing life in migrant communities in rural China gathers over 200 works tracing ideas, personal triumphs, and setbacks during the artist's 50-year-long career across Tang Contemporary's dual gallery spaces.
Centring on shifts in Luo's painting practice following China's 1978 economic reform, which opened the country to the private market, the ten-section exhibition begins by noting the painter's sustained interest in the individual, in times that prioritised the collective.
From the early drawing for Father from 1980, a highly detailed black-and-white portrait, including frown lines and ample shading, later figurations stand in stark contrast. As if taken from story book pages, wide-eyed figures rendered in vivid, but cold palettes are depicted with theatrical flair despite their countryside settings.
Yang Maoyuan, 'Stone Feet' series (2022). Exhibition view: Double Landscape, HdM GALLERY, Beijing (18 June–1 August 2022). Courtesy HdM Gallery.
Yang Maoyuan: Double Landscape
HdM GALLERY, No. 4 Jiuxianqiao Road
18 June–1 August 2022
Known to combine and transform aesthetic genres, Yang Maoyuan's humorous but reflective work across mediums alters the context of known icons to introduce new perceptions.
Double Landscape refers to the duality within nature and the artist as onlooker; the exhibition includes two series, starting with the 2022 'Stone Feet'—small marbled concrete sculptures depicting sky-fallen stones on feet, recalling planet-carrying gods in European mythology.
In the oils on canvas in 'Timeless Era' (2022), time collapses as smiling faces aggregated from isomorphic figures from previous eras and regions collate, suspended on intersecting rainbow-toned air balloons to highlight inherited characteristics.
---
Visiting Sectors — 798 Art District
Andrea Marie Breiling, All The Time (2022). Spray paint on canvas. 172.7 x 233.7 cm. © Andrea Marie Breiling. Courtesy the artist and Almine Rech. Photo: Adam Reich Photography.
Andrea Marie Breiling: Fence, Fall, Touch
Almine Rech, 798 Art District
24 June–24 July 2022
For her first solo exhibition in China, Andrea Marie Breiling will show ten ethereal paintings made with spray paint, all of which—for better or worse—are rendered on a foundation of yellow to symbolise life, energy, and optimism.
Nature-inspired lines and primary colour palettes inspired by Breiling's studio location in the woods of Connecticut, New Haven are prominent, while the artist's explosive energy seems to morph into the canvas, transformed into electric, undulating lines overseen by velvet textures.
In the spray paint on canvas All The Time (2022), different temporalities appear to intermesh like frequencies in an electromagnetic field—ghostly, hopeful, and futuristic.
Chou Yu-Cheng, 'Bibliotheque' series (2022). Exhibition view: Sedimentary Gradient, Kiang Malingue at Gallery Weekend Beijing (28 June–3 July 2022). Courtesy Kiang Malingue.
Chou Yu-Cheng: Sedimentary Gradient
Kiang Malingue, BA07, 798 Art District
28 June–3 July 2022
Known for borrowing museum and factory objects to explore the mechanisms of art production and display, Taipei-based conceptual artist Chou Yu-Cheng will be showing ten distinct abstractions, or contemplations of uncertainty, affect, and sentiment at GWBJ.
Framed by recent and ongoing disorder, abstractions from the 2022 'Moody' series painted during the pandemic evoke anthropomorphic entities given human facial expressions mimicking collapse.
The aggregations of paint are compared to sedimentation and pollution, offering an apt metaphor for the painting process as one of world-making, or its destruction.
Likewise, the near-kinetic 'Bibliotheque' series made the same year begins with the sturdy shape of a bookcase, only to unsettle its balance across the gradient of individual tomes, reflecting how subjective perception can disrupt established forms and representations.
Peppi Bottrop, ConQuad (2021). Charcoal, graphite, metal pigments, rust converter, acrylic on canvas. 210 x 155 cm. Courtesy the artist and Pilar Corrias, London.
Here or there!
Pilar Corrias, 798 Art District
27 May–26 June 2022
As if distinct manifestos against accelerated urbanisation, Pilar Corrias' presentation features three artists working in different mediums, from separate places, yet equally attempting to model, represent, and take in the changes within their environments.
Skeletal industrial relics spread across large canvas surfaces unravel like split wire in Peppi Bottrop's rusted-toned and steel-framed charcoal-and-coal paintings—one may suppose contend with the aftermaths of German manufacturing.
Shanghai-based Cui Jie's modelling of futuristic cities across painting and 3.D. printing combine her experience of China's large-scale urban restructuring with architectural and historical motifs to create mock utopias and dystopias.
Widely known for his participatory installations, Rirkrit Tiravanija will be showing clever conceptual sculptures that opt for silence to make space for other voices. L.E.D. bulbs line the insides of Untitled 2022 (?) (2022), a literal question mark made of polished nickel-plated brass, hollowed to house a moment of silence.
Thomas Bayrle, Teresa Teng VII (2022). Fine art pigment print on cotton. 100 x 115 cm. © Thomas Bayrle, VG Bild-Kunst, Bonn. Courtesy the artist and Gladstone Gallery.
Tomorrow is the Question
Gladstone Gallery, 798 Art District
24 June–23 July 2022
Set in a historic building inside the 798 Art District, formerly known as Joint Factory 718, a fitting presentation by artists Rirkrit Tiravanija and Thomas Bayrle draws inspiration from the functional Bauhaus space built with the help of East Germany in the 1950s.
Referencing a 1971 Cold War ping pong match between China and the United States (among other things), Tiravanija, known to make socially engaged works and push boundaries, has staged an installation of ping pong tables that will invite viewers to participate.
Shown alongside are paintings depicting a grid of local newspapers printed with bold characters reading 'Tomorrow is the question' in Chinese, English, or Chinese pinyin.
German pop artist Bayrle, whose mechanical grids have explored mass production and consumerism since the 1960s, will show wallpaper works from the 1970s for the first time. In the latter, the face of Taiwanese singer and pop icon Teresa Teng emerges from a grid of dancers' membranes, responding to the building's location on 'Speaker Road'.
---
Around Beijing
Exhibition view: Hu Wei, Affairs, DRC NO.12, Beijing (28 March–28 June 2022). Courtesy DRC NO.12.
Hu Wei: Affairs
DRC NO.12, Jianguomenwai Diplomatic Residence Compound, B12, 8F, S082
28 March–28 June 2022
Exploring timely themes of absence and silencing, Beijing-based artist Hu Wei transforms an apartment space into a political crime scene from the Cold War, inviting viewers to witness the insides of a criminal's narcissistic mind and their 'fetishist pleasure'.
In the claustrophobic living room blacked out and lit by a dim red glow, a two-channel video shows separate characters speaking to a hidden interrogator, as sounds from a machine that seems to be recording the testimony interrupt from time to time.
Fetish items, old newspaper advertisements, and archival documents are spread throughout the apartment, referencing the 1993 film M. Butterfly in which a French diplomat sent to Beijing becomes infatuated with an opera singer, whom he later learns is a man.
Wang Youshen, Newspaper – Reading (1993). Performance. Photograph. 185 x 127 cm, 70 x 48 cm. Courtesy Inside-Out Art Museum.
Wang Youshen: Codes of Culture
Inside-Out Art Museum, No. 50 Xingshikou Road
26 March–26 June 2022
Spanning over three decades of practice, this comprehensive survey gathers over 40 bodies of works by conceptual artist Wang Youshen, who has worked in China since the 1980s.
Wang, who was employed as a news editor at Beijing Youth Daily, has sustained an interest in mass media and its influences on thoughts, actions, and feelings with a focus on print imagery.
Working at the onset of new mediums in China, including video and installation, Wang's 1993 series 'Newspaper' saw the artist covering entire walls with the literature in question, printed on fabrics and clothing to evoke the mass propagation of news imagery.
Reflecting how media images shape cultural perception, the silkscreen-and-cotton-cloth work Newspaper – Advertising depicts the Great Wall of China paved in black-and-white headlines, a few carried by the wind to spread their word elsewhere.
Su Yu-Xin, With or Without the Sun (Su'ao-Hualien Roadway) (2021). Sand, coral pigment, ferric oxide, white sugar, crystal dust, sulphur, soil, red ore, tourmaline dust, and other handmade pigments on wood. 130 x 225 x 5.4 cm. Exhibition view: The Rearview Landscape, or a Trip of Ownership, UCCA Dune, Beijing (4 December 2021–21 August 2022). Courtesy UCCA.
The Rearview Landscape, or a Trip of Ownership
UCCA Dune, Aranya Gold Coast Community, Beidaihe
4 December 2021–21 August 2022
A futuristic presentation by nine artists spread around UCCA Dune's open-dome space framed by sandy beaches imagines alternatives to such scenery as static view, as landscape becomes a window into discussions of labour, ecology, and displacement.
In Su Yu-Xin's work, landscape is a medium to visualise sensation and investigate perception, as with the breathtaking With or Without the Sun (Su'ao-Hualien Roadway) from 2021, rendered from a blend of sand, coral pigment, sugar, soil, and crystal dust.
Its surface depicts the layered façades of a mountainscape in the shades of a purple-pink sunset showing a path leading ahead—perhaps, towards an alternative to ecological crisis.
Exhibition view: Persona and Parasite, White Space, Beijing (18 June–14 August 2022). Courtesy White Space Beijing.
Persona and Parasite
White Space Beijing, F1, D7, Jinhang East Road
18 June–14 August 2022
Reflecting on the paradox between being and appearance, this exhibition at White Space looks at the ways ideas and personas propagate, first taking the shape of the dominant ideology, before replacing the latter to eventually nest within collective consciousness.
The exhibition draws from Akira Kurosawa's 1980 film Kagemusha in which a thief is asked to impersonate a late army general during the Sengoku period to uphold troop morale.
The metaphor extends to the artistic process, whereby forms begin from imitation integrating the realm of accepted discourse, to eventually hold their ground and become the dominant mode of representation. —[O]