Feature | Exhibition
Gallery Weekend Beijing: Shows to See in 2021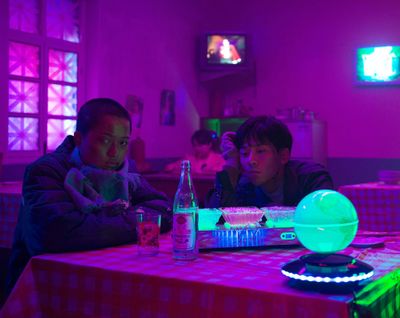 Cao Fei, Nova (2019) (still). Video. 109 min. Courtesy the artist, Vitamin Creative Space, and Sprüth Magers.
Running between 27 April and 2 May, with VIP days from 23 to 25 April, the fifth edition of Gallery Weekend Beijing (GWBJ) imagines art in a sphere where, as remarks the event's director, Amber Wang, 'reality and virtual reality have become seamlessly intertwined.'.
Cao Fei: Staging the Era
12 March–6 June 2021
Silent Thunder
6 March–23 May 2021
UCCA Center for Contemporary Art, 4 Jiuxianqiao Road, Chaoyang District
After a series of solo exhibitions at major institutions including the Serpentine Gallery (2020), Centre Pompidou (2019), and Kunstsammlung Nordrhein-Westfalen (2018), Cao Fei returns to China for her most comprehensive retrospective yet.
Exhibition view: Cao Fei, Staging the Era, UCCA Center for Contemporary Art, Beijing (12 March–6 June 2021). Courtesy UCCA Center for Contemporary Art. Photo: Stefen Chow.
In media ranging from video, virtual reality, and film, the artist distils changes of the last two decades as a result of the country's economic reform, capturing technological and urban developments in a surreal body of work influenced by pop film culture.
Accompanying this is the group exhibition Silent Thunder, comprising a series of works by four artists—Chen Lizhu, Chu Bingchao, Liao Fei, and Shao Yi—exploring the connections between Buddhism and contemporary art, providing another entry point into the nation's social and political landscape.
Exhibition view: Wang Jianwei, Always being, but not the whole, Long March Space, Beijing (20 March–ongoing). Courtesy Long March Space.
Wang Jianwei: Always being, but not the whole
Long March Space, 4 Jiuxianqiao Road, Chaoyang District
20 March 2021–ongoing
Wang Jianwei's latest sculptures and paintings are arranged in a labyrinthine exhibition that plays upon the artist's interest in the relationship between objects and their surroundings, with walls of varying heights emphasising the space between objects, while offering new ways of experiencing and encountering them.
Smooth, candy-coloured and pastel surfaces made from polyester resin and wood are encased in sections of steel armature in Wang's sculptures, resulting in irresistible forms and surfaces.
Exhibition view: Wang Guangle, Waves, Beijing Commune, Beijing (15 April–15 May 2021). Courtesy Beijing Commune.
Wang Guangle: Waves
Beijing Commune, 4 Jiuxianqiao Road, Chaoyang District
15 April–15 May 2021
This beautiful exhibition by Beijing-based painter Wang Guangle encompasses works made between 2004 and 2021. Born in Fujian in 1976, the artist co-founded the painting collective N12 in 2003 alongside fellow China Academy of Fine Arts graduates Shen Liang, Wang Guangle, Ma Yanhong, and Qiu Xiaofei, among others, who sought to bring painting to 'the nth dimension'.
Comprising just a few of Wang's signature geometric gradients of radiating colour, the exhibition mostly focuses on an array of white and cream-coloured works, the occasional use of plaster and wall coating resulting in tactile surfaces.
Rafael Domenech, The plastic river has no corners (2021). Plywood, plexiglass, archival glue, laser-print on various papers, extension cord, vinyl, laser cut construction mesh, plastic film. Unique, 27 × 44 × 7cm. Courtesy Hua International.
Rafael Domenech: Imperfect Fragments of an Uncertain Whole
Hua International, 798 East Street, Jiuxianqiao Road, Chaoyang District
23 April–19 June 2021
First-time GWBJ participant Hua International presents work by Cuban-born, New York-based artist Rafael Domenech, showing in the gallery space as well as the event's public programme area. Continuing the artist's interest in architectural spaces, the works frame buildings as linguistic devices, imploring viewers to touch and engage with the materials as a means of activating different dialogues.
Staged as a process of 'happening and becoming,' the exhibition considers the reflection of socio-economic infrastructures 'in the evolution of urban apparatus.'
Exhibition view: SNAPSHOT, Galerie Urs Meile, Beijing (13 March–2 May 2021). Courtesy Galerie Urs Meile.
SNAPSHOT
Galerie Urs Meile, D10, 798 East Street, No. 2 Jiuxianqiao Road, Chaoyang District
13 March–2 May 2021
In celebration of 15 years since Galerie Urs Meile opened their Beijing outpost, SNAPSHOT is a group exhibition of works by Qiu Shihua, Not Vital, Cao Yu, Ju Ting, Rebekka Steiger, Anatoly Schuravlev, Julia Steiner, and Xie Nanxing, among others, that tap into the gallery's current programming and artist roster.
The exhibition attempts to capture a transitory moment, reflecting the different snapshots that these exciting practices from China and Europe are capturing in their own work.
Charles Sandison, Arcadia (2021). Multi-channel data projection installation, computers, C++ code. Duration infinite. Courtesy HdM Gallery, Beijing.
Charles Sandison: Arcadia
HdM Gallery, 4 Jiuxianqiao Road, Chaoyang District
27 March–8 May 2021
On view at HdM Gallery, Charles Sandison's Arcadia immerses viewers in a series of video projections and large-screen works constructed using unique computer programs written by the artist. Amongst swirling digital patterns, A.I. life forms appear on the walls, coming together as a commentary on themes including memory, identity, morality, and a questioning of how we may harmoniously co-exist with nature.
Zhao Zhao, Buddha Statue (2021). Watercolour paper, watercolours, acrylic, oil pastel. 109.2 x 78.2 cm. Courtesy Tang Contemporary Art.
Zhao Zhao
Tang Contemporary Art, 2 Jiuxianqiao Road, Chaoyang District
20 March–5 May 2021
Xinjiang-born Zhao Zhao, who was an assistant to Ai Weiwei after completing his studies at the Zhezhiang Academy of Arts, followed by the Beijing Film Academy, became associated with the post-80s generation of Chinese artists.
Zhao Zhao's works are concerned with China's political present, and in this latest exhibition—curated by Cui Cancan—the artist presents a layered and fragmentary arena of Buddhist iconography, including graphic swastikas and the busts of gods and goddesses printed beneath scrawls of colourful acrylic, watercolours, and oil pastel.
Zhuang Hui, Qilian Range – 22 (2019). Single channel colour and sound video. Courtesy the artist and Galleria Continua.
Zhuang Hui: Qilian Range, Redux
Galleria Continua, 2 Jiuxianqiao Road, Chaoyang District
24 April–ongoing
Curated by Karen Smith, Chinese conceptual artist Zhuang Hui brings a selection of photography, objects, and installations to Galleria Continua, all providing insight into his decades-long engagement with various landscapes.
Roaming across different territories, his works place 'the frailty of human life' against the vastness of nature, investigating specific communities and social phenomena on the way. The exhibition is a reflection on contemporary turbulence, while tracing the arc of Zhuang Hui's trajectory as an artist.
Guo Hongwei, The Master Practitioner No.1 (2020). Oil on canvas. 60 x 80 cm. Courtesy Magician Space.
Guo Hongwei: The Place of Liveness
Magician Space, No. 798 East Street, Chaoyang District
22 April–6 May 2021
Known for his paintings of natural subjects, these latest compositions by Guo Hongwei capture figures engaged in uncanny activities in urban space. In The Master Practitioner No.1 (2020) painting, for instance, Guo's subject sweeps forward in balletic stance, precariously balancing upon a hoverboard.
In other paintings, Guo frames exercising people swinging their bodies while waving red ribbons, dancing nuns, and ballroom dancers, all demonstration the 'spiritual liberation of individuals in secular life.'
Gao Ludi, Section of A Burger (2020). Acrylic, watercolour, and oil on canvas. 270 × 200 cm. Courtesy White Space Beijing.
Gao Ludi: Journal
White Space Beijing, No. 255 Caochangdi, Airport Service Road, Chaoyang District
13 March–5 May 2021
At White Space Beijing, Gao Ludi's acrylic paintings pop on the canvas, depicting vernacular imagery, such as this section of a hamburger, in graphic aesthetics.
Food regularly features in Gao's visual repertoire, alongside plants and portraits, with his images constructed to perform a cursory glance—a sweeping view that imitates the observations that make up everyday life. This ode to the ordinary is rendered in fluorescent colours, along with geometric dots, lines, and surfaces.
Eva Zhang Yi, Sunset Storm (2020). Mixed media. 80 x 120 cm. Courtesy Tabula Rasa Gallery.
Eva Zhang Yi: Roarrrrr
Tabula Rasa Gallery, 706 North 3rd Street, 2 Jiuxianqiao Road, Chaoyang District
23 April–6 June 2021
Working in methods including tie-dye and collage, Eva Zhang Yi's layered and vibrant portrayals of women are drawn from contemporary sources and historical texts. Their reimagining takes the form of bold, layered works that take up pictorial space as in Sunset Storm (2020), in which a determined figure pins down an anguished lion.
Wang Zhibo, S Shaped (2020). Oil on canvas. 170 x 200 cm. Courtesy Edouard Malinge Gallery. Photo: Andrea Rossetti.
Wang Zhibo: Actor: Talking, Imitating, Teasing and Singing
Edouard Malingue Gallery, D09-8, 798 Zhong'er Street, Chaoyang District
27 April–2 May 2021
China Academy of Art graduate Wang Zhibo brings eight recent paintings to GWBJ with Edouard Malingue Gallery. Based between Hangzhou and Berlin, Wang's approach to painting stretches the limits of two-dimensional space, questioning what is real and what is not.
Wang's works explore the performativity of public space, looking at the relationship between people and society through their physical surroundings—an exploration that has taken on new significance throughout the last year. —[O]