Feature
Go East: The Gene & Brian Sherman Contemporary Asian Art Collection
Jitish Kallat, Public Notice 2, 2007 (installation view). Image courtesy: The Gene & Brian Sherman Collection, and Sherman Contemporary Art Foundation, Sydney Photo: Jenni Carter, AGNSW
Yang Zhichao's Chinese Bible is both unyieldingly monumental and humble. In the latest presentation of the work in Sydney, all 3,000 of the diaries he has collected from Beijing's fleamarkets are placed in neat rows on a large, rectangular plinth. Dated from 1949 to 1999 they record 50 turbulent years in China's history.
"In China any kind of history that we encounter has been through so many processes of revision by approved people," Yang Zhichao told Ocula. "We almost never have access to how people have experienced historical events, so that's what's so precious about it. It's a way of having direct access to individuals and their relationship to history."
Not even photos, he says, provide this sort of unmediated record because they have either been stage managed, carefully selected or destroyed.
Yang Zhichao, Chinese Bible, 2009 (detail). 3,000 found books. Dimensions variable. Image courtesy: the Gene & Brian Sherman Collection, and Sherman Contemporary Art Foundation, Sydney Photo: Jenni Carter AGNSWChinese Bible is part of Go East, an exhibition of contemporary Asian art from the collection of Gene and Brian Sherman, who have figured in Australian cultural life for decades as both collectors and philanthropists. It runs across the Sherman's own non-profit gallery space at the Sherman Contemporary Art Foundation, where Chinese Bible is displayed, and an exhibition of 18 artists at the Art Gallery of New South Wales in Sydney.
Chinese Bible is presented with a video work documenting the diaries being washed and prepared, a metaphorical, if pragmatically motivated, cleansing of history. There are also iPads at the rear of the exhibition that allow a glimpse inside some of the diaries. One reads like a bombastic newspaper report: "6 August 1964: The American imperialists rapaciously invaded Vietnam…"
Yang Zhichao, found book from Chinese Bible 2009. 3,000 found books. Dimensions variable. Image courtesy: the Gene and Brian Sherman Collection, and Sherman Contemporary Art Foundation, Sydney Photo: Jenni Carter AGNSWAnother untranslated passage is clearly a page of sine and cosine notations. Clearly those living under Mao would be unlikely to treat diaries as private confessionals in the same way they are now seen in the west. Instead the texts that make up Chinese Bible are quotidian, useful notes and reminders. It would be no easy task to distil meaning from these diaries, or use them to draw generalisations about the tenor of life at this time of history.
The way Yang Zhichao presents this work is also telling. The eye gravitates to the unusual diaries: a small group of turquoise covers drifting through the red; the lilac cover with a kitschy lenticular print taped to the front; or the four-inch stack of looseleaf tied with a shoelace. But there is no way in. You can only walk around the edges of history, the edges of people's lives.
This is a work that is difficult to hold onto. It is certainly not inviting. The covers are closed and the enormity and mess of 3,000 people's lives is overwhelming—even if it can be condensed into a few square metres. But it's a work that demands examination.
The idea of social justice and the use of text links many of the works in Go East. In the AGNSW exhibition, there is a recent commission from Ai Weiwei which comprises almost 7,000 sheets of paper documenting the artist and activist's social media output over eight years. Each large-format sheet has been individually and carefully designed and the extravagance—as well as the obvious weight of so much paper—gives the commentary new gravitas.
Ai Weiwei, An Archive, 2015. Huali Wood, Xuan Paper Edition of 2 + 1 AP. 100 x 100 x 114cm. Photo: Jenni Carter, AGNSWLi Tianmiao also uses text in her work Badges, which records the explosion of new words for women and women's roles in China, not all of them complimentary, in 266 hand-embroidered pieces suspended from the ceiling of the Art Gallery of New South Wales' entry space.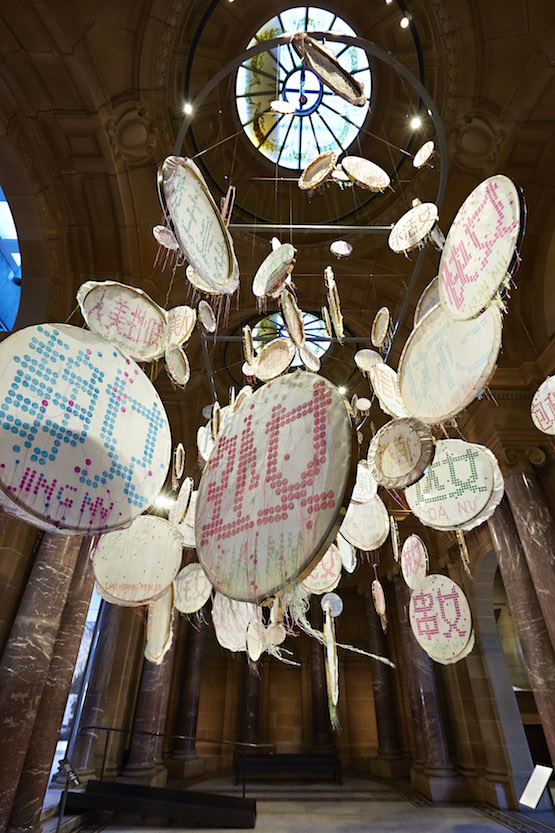 Lin Tianmiao, Badges, 2009. White silk satin, coloured silk threads, gold embroidery frames made of stainless steel; sound component: 4 speakers with amplifier. Dimensions variable, diameters range from 25 cm - 120 cm, 266 badges total. Image courtesy: The Gene & Brian Sherman Collection, and Sherman Contemporary Art Foundation, Sydney. Photo: Jenni Carter, AGNSWBut perhaps the most visually and emotively arresting is the installation of Jitish Kallat's Public Notice 2, the first time the work has been shown in its entirety. The work re-presents the text of Ghandi's historic Salt March speech of 1930, but with each letter cast in the form of a bone. The massed repetition of almost 4,500 pieces is hypnotic, and the pathology of the bent, curved letters is viscerally unsettling. Engaging with the work by following Gandhi's speech from beginning to end becomes an act of reading into death. There is the image of violence even as the words talk about peace.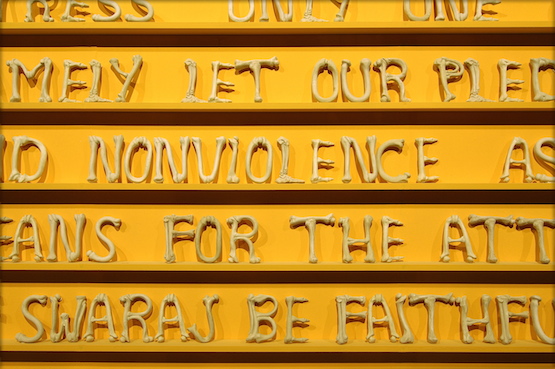 Jitish Kallat, Public Notice 2, 2007 (detail). Resin, 4,479 sculptural units Edition 2/3. Display dimensions variable. Image courtesy: The Gene & Brian Sherman Collection, and Sherman Contemporary Art Foundatioon, Sydney. Photo: Hangar Biocca, MilanThe work went on show in Sydney a week after the Australian Government released its budget: a time of partisan bickering, finger pointing and lamentable rhetoric. In that context, Kallat's work also operated as a memorial to leadership and real conviction. It would be impossible to conceive an Australian politician speaking words like Gandhi's—or of believing in social equity so strongly they would sacrifice their life. But here too, Gandhi's own words point to the capacity and responsibility of the individual. History is the people who make it.—[O]