Feature
Hong Kong Autumn Exhibitions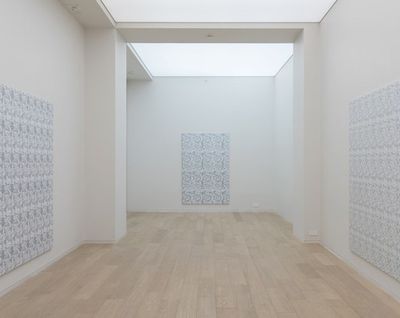 Installation view, Hugh Scott-Douglas at Simon Lee Gallery, Hong Kong. Image courtesy of Simon Lee Gallery and Kitmin Lee Photo.
Summer is finally over. Gallerinas have returned from Portofino/Mykonos/Positano/Ibiza with fresh tans regaling regulars with stories of sailing on collectors' boats; names of new divorcees and fortunes lost; and plans are already being made for the best celebrity-studded parties at Art Basel in Miami Beach in December. Meanwhile, it's autumn exhibition season and art lovers, collectors, and journos are flocking to the champagne and canapes like vultures on Mount Kailash.
The past couple of weeks in Hong Kong saw the opening of over a dozen shows, including: Nam June Paik at Gagosian Gallery; the first retrospective of pioneering American abstract expressionist, Robert Motherwell, at Pearl Lam Galleries; Hugh Scott-Douglas at Simon Lee Gallery; and German abstract expressionist, Raimund Girke, at Axel Vervoordt Gallery. Ben Brown Fine Arts kicked off his season with a group show of German artists, and 10 Chancery Lane gallery closed HKForeword15. The group show introduced seven recent Bachelor and Master graduates from local art institutions, with subtle and quiet works revealing personal stories of family, alienation, loneliness, body politics, disappointment and broken dreams. I popped into Hanart TZ Gallery, to check out the solo show of Hong Kong artist Chow Chun Fai's paintings and photographic collages; Lehmann Maupin Gallery's first Asian solo exhibition of German artist, Matthias Weischer's paintings; and Chinese art star du-jour, Liu Wei, sculptural confections at White Cube gallery.
Chow Chun Fai, I Have Nothing to Say, Hanart TZ
Until 12 September 2015
"When I say I have nothing to say, it's for one of three reasons; either because of my intense frustration with the way things are, or because I have to use metaphors or fables to stand in for the things I'm unable to talk about directly", writes Hong Kong artist Chow Chun Fai in the introduction to the catalogue which accompanied his latest exhibition, I Have Nothing to Say, at Hanart TZ.
Exhibition view, Chow Chun Fai, I Have Nothing to Say, 2015. Image courtesy Hanart TZDon't let the title fool you; Fai, has plenty to say, but he lets his paintings, photographic murals, and drawings do the talking. Along one stretch of wall hang a cluster of pencil drawings of sensationalist headlining news stories the artist captured on his iPhone, related to China: stories of fake eggs, tainted milk and political corruption are scattered across the wall. These images capture moments in the past. By prodding us to examine them they forewarn us about the possible future of Hong Kong, and it's not bright. "It's only by taking a more distant, oblique approach that I can accurately portray the things I see happening in front of me," Fai comments.
Fai continues with his film subtitle painting series, which explore local identity politics, but this time, the message is not as obscure. The scenes he has chosen, and the timing, couldn't be more poignant. Little Cheung, a luminously painted large four panel work that takes up the better part of one gallery wall, presents a scene from Fruit Chan's film of the same title. The painting depicts three Chinese children perched on a bike looking out at the Victoria Harbour skyline on the eve of the handover. The little boy points towards the Tamar site (at the time the headquarters of the British army), while one of the little girls, a mainland Chinese immigrant, points to it too. The sub-title to the work reads: "I know, it will belong to the people's liberation army". In the wake of the Umbrella Movement, which took place a year ago, Fai's message is cutting. There is nothing ambiguous about these paintings.
Exhibition view, Chow Chun-Fai, Little Cheung, "it will belong to the People's Liberation Army", 2014. Acrylic on canvas. 244 x 488 cm. Image courtesy Hanart TZAlthough Fai has been politically active for the better part of his career—he unsuccessfully ran for a cultural post on the Legislative Council of Hong Kong in 2012, and is vocal about Hong Kong politics—his work in the past generally dealt with re-appropriation of art historical narratives and imagery, while his subtitled paintings only hinted at political and cultural commentary. Post Umbrella Movement, the artist's new works shown at Hanart TZ declare their intention loudly, and unashamedly. So they should. Many were left wondering what effect the political movement had on Hong Kong's artists given the little to emerge in the way of artistic critique or commentary. These are works that express the frustration of a generation of young Hong Kongers. They are contemporary, of the time, and of Hong Kong. It's a strong show, addressing Hong Kong identity and culture and political malaise.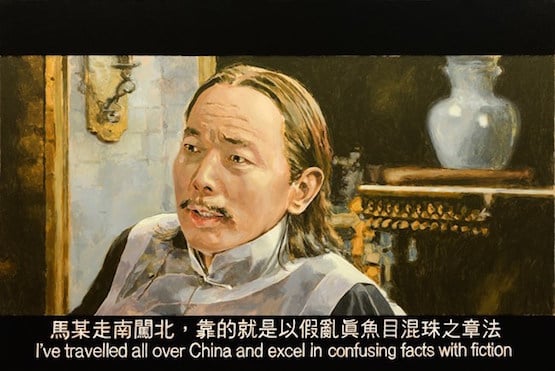 Chow Chun-fai, Let the Bullets Fly, "I excel in confusing facts with fiction", 2014. Acrylic on canvas. 100 x 150 cm. Image courtesy Hanart TZ
Matthias Weischer, Traces to Nowhere, Lehmann Maupin Gallery
Until 3 October 2015
Eight paintings hang in the Lehmann Maupin gallery space. A member of the New Leipzig School of artists that rose to prominence and auction highs in the early 2000s, Matthias Weischer had built his artistic career on enigmatic paintings of abandoned furniture-filled interiors. These new works, however, are unlike the past works for which the German artist had gained renown.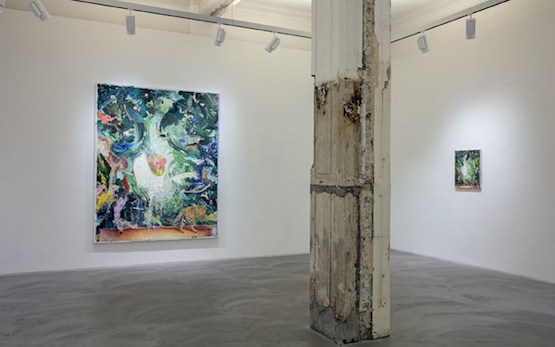 Exhibition view, Matthias Weischer, Traces to nowhere, 2015. Image courtesy Lehmann Maupin, Hong KongInstead of evoking a sense of dread and alienation, all flat surfaces and lines, skewed perspective and discordant surreal composition, the canvases in this new series are encrusted with paint, lending them a sculptural quality. A gestural landscape of chaos and colour floats in the background, while the foreground reveals figurative and detailed animals, and humanoid figures that look like they are collaged into the composition. Surprisingly, the figure has much more of a presence in these works, and gone is the cohabitation of the familiar and uncanny. Weischer is taking his practice in a new direction with this series, moving away from the predicable collector favourites that made his name, to a freer and more experimental approach to painting.
Matthias Weischer, Jäger (Hunter), 2015. Oil on canvas. 23.62 x 19.69 x 1.18 cm. Courtesy the artist and Lehmann Maupin, Hong Kong
Liu Wei, Silver, White Cube
Until 24 October 2015
A jigsaw puzzle of mirrors and metal is pieced together into a tower on the ground floor of White Cube Gallery, Hong Kong. On the walls hang sculptural constructions, collages also pieced together from irregularly shaped mirrors and pieces of sheet metal. The display looks like the work of a particularly bored but creative and hyperactive contractor playing with construction material.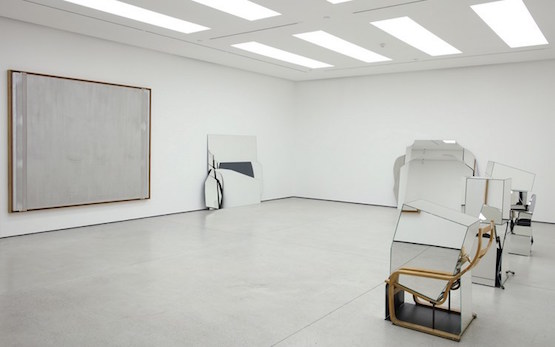 Exhibition view, Liu Wei, Silver, 2015. Image courtesy White Cube Hong KongBut the shards of mirror and metal play with our perceptions, reflecting back the image of the viewer and the environment, fragmenting the space. The result is a disorientating but playful and apt allegory for the shape-shifting schizoid urban environment of Hong Kong and his native city of Beijing. The video- projection of colour on a flat wall-mounted screen, which references both colour field paintings but also neon advertising, are also caught in the reflective surfaces of the mirrors, creating a disorientating carousel of light, movement and colour in the exhibition space.
Exhibition view, Liu Wei, Silver, 2015. Image courtesy White Cube Hong KongUpstairs, visitors are greeted by thickly painted canvases. Initially I mistook one for a work by Chicago based artist Theaster Gates—the two artists share a fondness for the urban landscape, and cheap and easily accessible construction materials—but composed of layer upon layer of fine lines, Wei's canvases have a textural and architectural quality to them, like geometric topographical maps. Liu Wei's recent exhibition builds upon an exhibition with UCCA Beijing earlier this year and revisits familiar themes of urbanisation and architecture, the intersection of design and the political. —[O]