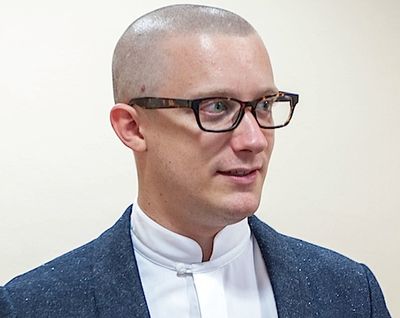 It is a funny thing to return as a visitor to a city one once called home: not so long ago I was a de facto host for the descending hordes during ArtHK and later Art Basel Hong Kong, but this year, for the first time, I am seeing it all through the eyes of an art tourist. As a city and as an art event, Hong Kong has always been a tightly wound machine that appears to have been accelerating for the past several years. Now, finally, enough is happening that one no longer experiences the pressure of trying to do it all, because events have become smaller and more personalized, and more spread out over the city and its increasingly diverse institutions.
In many ways the theme this year is youth—or perhaps the relative maturation of a generation of artists that we only recently called "young." In Central alone, Lehmann Mauphin showcases Hernan Bas, Simon Lee puts the spotlight on Toby Ziegler, and Perrotin turns to Ryan McGinley. After several years in which the international blue chip galleries focused on the household names in their programs, this is a welcome shift, and one that is sure to bring in the new generations of collectors from across greater China and the region who are now beginning to throw their weight around on the global circuit. More locally, Para/Site director Cosmin Costinas and Chantal Tse Yun Wong, in her first curatorial effort, organize Ten Million Rooms of Yearning: Sex in Hong Kong, an exhibition that occupies some dozen such rooms across the city.
Richard Chang and Dee Poon, at their popular afterparty, this year honor Huang Ran, the young Beijing-based video wunderkind whose most recent work has entered the running at Cannes. Also in the realm of video, Chinese art magazine LEAP and the British digital art group Sedition have teamed up to showcase short works by some the brightest stars working in the medium today: Chen Zhou, whose brilliant analysis of Andy Kaufman is currently exhibited with Galleria Aike Dell'Arco in Shanghai; Cheng Ran, who is premiering a major new video project with Leo Xu Projects; Fang Lu, who showed her last multi-channel video piece with Boers-Li Gallery; Guan Xiao, possibly the hottest new commodity in Chinese art with upcoming exhibitions in Antwerp and Berlin; and Kwan Sheung Chi, the surprise winner of the first Hugo Boss Asian Art Prize.
The Absolut Art Bar, which first appeared in Hong Kong with Adrian Wong's Wun Dun last year, this year turns to hometown hero Nadim Abbas, who has gathered a constellation of young collaborators including the animator Wong Ping and the composer Steve Hui. Entitled Apocalypse Postponed, his bunker is situated in a raw new skyscraper in Causeway Bay, and entails serving red cocktails from blood bags while trying to avoid infestations of rice weevils. Finally, young performance figure Ryan McNamara, fresh off his incredibly well-received work for Performa, will debut a new dance piece, Score, during Chai Wan Mei, a weekend-long celebration of the design and photography community on the far reaches of Hong Kong Island.
But make no mistake: Art Basel Hong Kong is not just for the kids. Philip Tinari, director of the Ullens Center for Contemporary Art in Beijing, has used Duddell's, the Central art club, to reconvene the artists of Post-Sense Sensibility, a series of underground exhibitions in Beijing in the late-1990s. While the exhibitions at the time were held provisionally in dank basement spaces, many of those involved are now superstars on the international art circuit and leaders of the Chinese art scene.
Collector and patron Adrian Cheng makes his first turn as a curator with a presentation of work from Zhang Enli, the Shanghai-based painter of trees and hoses who has come to define a particular generational approach to painting in the region. Other notable solo exhibitions of Asian art in Hong Kong this week include Su Xiaobai, the tactile technician of tradition, at Pearl Lam Galleries; and Sun Xun, who is screening a major new animation with Edouard Malingue Gallery.
The Asia Society Gala, one of the few large formal events to punctuate Hong Kong art week, this year looks to Takashi Murakami, whose fantastical new film is currently touring the western world; Bharti Kher, recently the subject of a major solo exhibition at Shanghai's Rockbund Art Museum; Liu Kuo-sung, one of the main figures in the recent renaissance of experimental ink painting; and Zhang Xiaogang, who christens the new Pace Gallery office and space in Central. The Asia Society Hong Kong Center is also rolling out its latest exhibition project, which features Xu Bing.
Finally, the weekend sees events honoring some of the most important collectors in Hong Kong. William Lim presents the book The No Colors, a catalogue and archive of his collection—arguably the first and most significant to truly focus on young Hong Kong artists like Lee Kit and Nadim Abbas. Uli Sigg, on the other hand, is the subject of a new documentary, a timely move given the recent donation of the lion's share of his incredibly influential collection to M+. While M+ itself is less visible this year—currently it is focusing on Hong Kong's vernacular neon signs, a fascinating project that is distributed across the city and online—other new institutions compete for eyeballs: in Sheung Wan, PMQ has just launched as a new center for local design, and hosts a party for neighborhood galleries.
Is Hong Kong living up to its promise as a major Asian art destination? If the saying used to be that the city was a giant shopping mall with an airport attached, it may now be more appropriate to call it a giant art fair with an airport attached—which is to say, not much has changed. But the city has succeeded in creating an energy that is currently lacking in Beijing, Shanghai, and Singapore, its principal competitors for art tourism, even if those other cities have more to offer in terms of artists and art thinkers. Hong Kong, for better or worse, is the window where everything comes to be put on display. -[O]