Feature | Lowdown
Exhibitions to See in Hong Kong 2020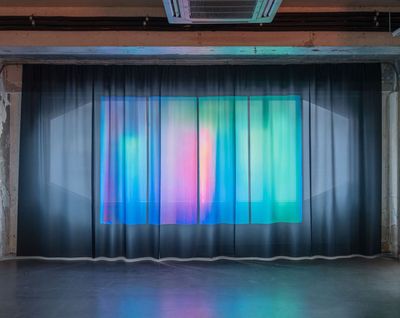 Chen Wei, Curtain (Floating New Buildings/ Hong Kong) (2020). Print on textile. Exhibition size: 3 x 7 m. Size variable. Exhibition view: Anonymous Society for Magick, Blindspot Gallery, Hong Kong (14 April–30 May 2020). Courtesy Blindspot Gallery.
With much of Hong Kong's art scene put on hold over the last two months, galleries and museums are now slowly reopening. Digital programmes will continue to complement physical exhibitions, with initiatives such as Art Power HK reflecting solidarity in the city's scene. Launched on 4 March, the platform provided a space for galleries and museums to host exhibitions that would have taken place during the city's arts month in March, and remains a valuable source of arts information, as does Asia Art Archive, where learning continues to be offered through digital engagement. Among other programmes, Asia Art Archive has launched Artist Exercises, which encourages teachers, students, and the general public to reflect on the coronavirus outbreak and social issues of the past few months, through six online exercises designed by artist-educators.
As the city continues to open up, this lowdown provides a selection of exhibitions that will be on view through the summer months.
Rita Ackermann, Water Lily Blues II (2018). Acrylic, oil, pigment, pastel, chalk, and spray paint on canvas. 167.6 x 198.1 x 3.8 cm. © Rita Ackermann. Courtesy the artist and Hauser & Wirth. Photo: Genevieve Hanson.
Selected Work
8–30 May 2020
Lorna Simpson: Special Characters
16 June–30 September 2020
Hauser & Wirth, 15-16/F, H Queen's, 80 Queen's Road Central
Hauser & Wirth reopen with a group presentation of work by Rita Ackermann, Günther Förg, Louise Bourgeois, Larry Bell, Takesada Matsutani, and others, running until 30 May. On 16 June, the first solo exhibition in Greater China by American artist Lorna Simpson brings together new works, including photographic collages and paintings, that continue her explorations of the past 30 years concerning representation, identity, gender, race, and history.
Georg Baselitz, Madame Demoiselle weit weg von der Küste (Madame Demoiselle a long way from the coast) (2019). Oil on canvas. 302 x 427 cm. © Georg Baselitz. Courtesy Gagosian. Photo: Jochen Littkemann.
Georg Baselitz: Years Later
Gagosian, 7/F Pedder Building, 12 Pedder Street
21 May–8 August 2020
Gagosian open an exhibition of new paintings and paper by Neo-Expressionist artist Georg Baselitz on 21 May, continuing the artist's exploration of the contact-printing technique. The human figure—Baselitz's central motif—is applied to dark backgrounds that are pressed on further canvases, resulting in its gradual fading. Thirteen large, black-and-gold paintings in this format have been created specially for the exhibition.
Exhibition view: Andrew Luk, Chu Teh-Chun: Shifting Landscapes, de Sarthe, Hong Kong (11 April–7 June 2020). Courtesy de Sarthe.
Andrew Luk, Chu Teh-Chun: Shifting Landscapes
de Sarthe, 20/F Global Trade Square, 21 Wong Chuk Hang Road
11 April–27 June 2020
Described by de Sarthe as a 'suspended mobile with disfigured orb-like objects', Andrew Luk's installation Haunted, Salvaged (2020) resembles a post-apocalyptic landscape of industrial matter. A master of the manmade, Luk's home-cooked napalm has featured in his previous 'Horizon Scan' (2017–ongoing) series, and an array of surprising textures can be found in this latest work. Incorporating obsolete devices cast in concrete, Luk questions the human quest for newness and the destruction it leaves in its wake.
Giorgio Morandi, Natura morta (Still Life) (1957). © Artists Rights Society (ARS), New York/SIAE, Rome. Courtesy David Zwirner.
Lìxià
David Zwirner, 5-6/F, H Queen's, 80 Queen's Road Central, Central
5 May–ongoing
According to traditional East Asian calendars, lìxià refers to the 7th solar term of the lunar calendar and marks the beginning of summer. David Zwirner reopen their gallery space in Hong Kong with a collection of works by 16 artists, including Wolfgang Tillmans, Luc Tuymans, Donald Judd, Josef Albers, and Rose Wylie, which will also be presented online through the gallery's newly launched, bilingual viewing platform. The online platform will include works that reflect on Hong Kong by artists who have or are scheduled to exhibit in the city.
Exhibition view: Robin Rhode & Nari Ward, Power Wall, Lehmann Maupin, Hong Kong (3 April–ongoing). Courtesy Lehmann Maupin.
Robin Rhode & Nari Ward: Power Wall
Lehmann Maupin, 407 Pedder Building, 12 Pedder Street, Central
3 April–18 June
Robin Rhode and Nari Ward come together in artistic dialogue for the first time in Power Wall—an exhibition at Lehmann Maupin that considers the wall as a site of resistance. Rhode's famed activations of public walls through performance, drawing, and sculpture is evidenced in a series of photographs, while Ward presents a monumental, clenched fist using shoelaces—repurposing the iconography through quotidian materials, as a potent representation of power and authority.
A.F. McKay, The Man of Commerce (1889). Courtesy the American Geographical Society Library Digital Map Collection.
Garden of Six Seasons
Para Site, 22/F, Wing Wah Industrial Building, 677 King's Road, Quarry Bay
16 May–30 August 2020
A precursor to the second Kathmandu Triennale, scheduled to open 4 December 2020, this exhibition takes its name from a garden in Kathmandu that was built by a dynastic prime minister 100 years ago and designed in an Edwardian English Neo-Classical style. Considering the garden as a small vision 'of both a human organism and of the entire universe', Garden of Six Seasons brings together a variety of mediums and traditions to reflect on the human endeavour of map-making. The exhibition takes place across Para Site's two floors in Quarry Bay and Soho House in Sheung Wan.
Exhibition view: Bosco Sodi, A Thousand Li of Rivers and Mountains, Axel Vervoordt Gallery, Hong Kong (13 February–5 September 2020). © Courtesy the artist and Axel Vervoordt Gallery.
Bosco Sodi: A Thousand Li of Rivers and Mountains
Axel Vervoordt Gallery, 21/F, Coda Designer Centre 62, Wong Chuk Hang
13 February–5 September 2020
Striking turquoise pigment runs throughout this exhibition, in a new series of paintings by Mexican artist Bosco Sodi, which take inspiration from a traditional shanshui landscape painting titled A Thousand Li of Rivers and Mountains by Wang Ximen in 1113 CE, rendered in superb shades of blue and green when the artist was just 18 years old. Fired with wood, jacaranda seeds, and coconut shells, the gentle and varied hues of the sculptures in this exhibition creates a subtle dialogue with the paintings.
Nan Qi, Bank of China Tower (2018). Chinese ink and colour on rice paper. 69 x 138 cm. Courtesy Alisan Fine Arts.
Art Basel Pop-Up Exhibition: Contemporary Forms in Ink Painting
Alisan Fine Arts, 2305, Hing Wai Industrial Centre, 7 Tin Wan Praya Road
4 April–4 July 2020
Alisan Fine Arts brings their intended Art Basel Hong Kong 2020 showcase to their Aberdeen gallery with a selection of ink paintings sampling the medium's contemporary revivals in works such as Blue Fingerprints 20190606-22 (2019) by Zhang Yu, in which the artist forgoes ink and paper altogether, applying cobalt blue polish to the surface of a stainless steel stone. Other artists in this exhibition include Walasse Ting, Lan Zhenghui, Kum Chi-Keung, Nan Qi, and Zhang Yirong.
Wesley Tongson, Mountains of Heaven No. 366 (Longevity as Sumeru) (1994). Ink and colour on board. 97.3 x 181.8 cm. Courtesy Galerie du Monde.
3E14
Galerie du Monde, 108 Ruttonjee Centre, 11 Duddell Street, Central
5 March–ongoing
Spanning multiple generations since the 1960s, the six artists in this exhibition demonstrate the ongoing dialogue between Euro-American abstraction and East Asian art and philosophy. Including classical works by artists such as Fong Chung-Ray, a pioneer ink artist from Taiwan's Fifth Moon Group, active during the 1950s and 70s, the exhibition also sheds light on more recent practices. Innovative takes on abstraction include Wu-Chi Tsung's cyanotype photographs printed on Xuan paper of blue mountain ranges, and Stella Zhang's twisted and creased planes of white fabric.
Exhibition view: State of Happiness, Hanart TZ Gallery, Hong Kong (13 March–29 May 2020). Courtesy Hanart TZ Gallery.
State of Happiness
Hanart TZ Gallery, 401 Pedder Building, 12 Pedder Street, Central
13 March–29 May 2020
This group exhibition at Hanart TZ Gallery explores the path to happiness achieved through artistic creation, presenting works by artists from the gallery's roster such as Emily Cheng, Ju Ming, and Gaylord Chan. Whether conjuring forms to create beauty in abstraction, as in the oil and acrylic paintings of Emily Cheng, or achieving technical mastery to create works that appear effortless, as in the carefully chiselled wood sculptures of Ju Ming, these works demonstrate that an outwardly ecstatic appearance is in fact the fruit of hard labour.
N. S. Harsha, Shy Monkey -Twilight- (2017). Woodblock print on washi paper. 31.7 x 22 cm. © N. S. Harsha / Courtesy The Adachi Institute of Woodcut Prints; Makoto Wada, Marilyn Monroe (1979). 30.3 x 23.6 cm. © Wada Makoto / Courtesy of The Adachi Institute of Woodcut Prints.
Design + Contemporary Art in Ukiyo-e
SHOP Taka Ishii Gallery, Shops 4A & 4B, UG/F, Bo Fung Mansion, No.1 St. Francis Yard, Wan Chai
22 May–19 July 2020
This exhibition brings together a collection of woodblock prints dating from the 1970s to the 2010s, demonstrating the medium of woodblock print as a fertile ground for contemporary art production. Created with artisans at the Adachi Institute of Woodcut Prints, the exhibition comprises work by eight artists, including Ay-O, Atsushi Fukui, N. S. Harsha, Mitsuo Katsui, Hideaki Kawashima, Ikko Tanaka, Makoto Wada, and Akira Yamaguchi.
Duan Yifan, Industrial Cake II (2018). 168 x 150 cm. Courtesy the artist and Leo Gallery.
Duan Yifan
Leo Gallery, SOHO 189, 189 Queen's Road West, Sheung Wan
14 May–30 June 2020
Lacquer, which has a history of over 8,000 years, is the focus of Duan Yifan's latest abstract works, where layers of lacquer paint gradually shift in brightness and colour as a result of light and oxidisation. In his practice, Duan explores the relationship between modern methods and ancient materials, debilitating the 'sense of original craftsmanship in lacquer arts' to emphasise the 'existence of individuality'.
He Duoling, Memories of Gerden - Nymph (2018). Oil on canvas. 200 x 450 cm. Courtesy the artist and Tang Contemporary Art.
Thunder Afar - He Duoling Solo Exhibition
Tang Contemporary Art, 10/F, H Queen's, 80 Queen's Road Central
28 May–30 June 2020
Lyrical realist painter He Duoling presents works created since 2010 at Tang Contemporary Art for Thunder Afar, where nymph-like figures dance in the undergrowth and swim beneath hazy waters. Based in Chengdu since his graduation from the Sichuan Academy of Fine Arts in 1982, this exhibition—curated by Kuang Wei—frames the artist as a pivotal figure in the development of Chinese art of the South-West region, renowned for his paintings of naked female figures and minorities in rural settings.
Exhibition view: Encounter: Part 2, White Cube, Hong Kong (13 May–30 June 2020). Courtesy © White Cube. Photo: Kitmin Lee.
Encounter: Part 2
White Cube, 50 Connaught Road Central
17 May–4 July 2020
White Cube's two-part series Encounter opens its second chapter on 13 May, bringing different artists from the gallery's roster in dialogue with one another. Spanning the ground and first floors, along with the viewing room, pairings include works by Georg Baselitz, Tracey Emin, and Chuck Close placed along the first-floor corridor in one example, reflecting developments in figure painting in the post-modernist era. Other encounters include abstract works by Al Held and Liu Wei, with works straddling the realms of poetry, music, and text by Cerith Wyn Evans, Christian Marclay, and Haim Steinbach placed nearby.
Mark Nixon, Aisling Hurley-Pink Teddy (2013 / Printed 2020). Archival pigment print on Hahnemuhle Photo Rag Pearl. 130 x 70 cm. Edition 3 + 2 AP. Courtesy the artist and Over the Influence.
Mark Nixon: Much Loved
Over the Influence, 1/F, 159 Hollywood Road, Central
28 May–2 July 2020
Mr Bean's teddy bear makes a star appearance in 14 photographs by Mark Nixon at Over the Influence, alongside portraits of a bear that belonged to a close friend of the musician Bono. The nostalgic photographs, which belong to the series 'Much Loved', started when the artist witnessed his son's love for a Peter Rabbit teddy he was gifted by his grandmother, capturing countless teddies thereafter—each with its own unique backstory. The project went viral in 2012, when Buzzfeed published an article with a selection of 'Much Loved' photographs, which received 16 million hits within a month.
Nicole Wong, I Will Tell You In Person (2017). Music sheet in a filing cabinet drawer. Courtesy the artist.
Nicole Wong: After Nothing Happens
Rossi & Rossi, 6 Yip Fat Street, 3/F Yally Industrial Building
13 June–25 July
Hong Kong artist Nicole Wong presents her first major solo exhibition in the city, comprising installation, mixed media, found materials, and works on paper to explore the poetic narrative of broken communication. Wong frames these slippages with a dark sense of humour, noting, 'it secretly makes me feel at ease when people realise things aren't as good as it seems.' The exhibition builds upon her 2016 presentation at Rossi & Rossi, London, Day in, day out, which melded explorations of time and wordplay.
Michael Wolf, Industrial #26 (2015). Chromogenic Print. 177 x 251 cm. Courtesy Flowers Gallery.
Spotlight on Michael Wolf
Flowers Gallery, 49 Tung Street, G/F, Sheung Wan
22 May–25 July 2020
London-based Flowers Gallery opens its new location with an exhibition of work by German photographer Michael Wolf, who lived and worked in Hong Kong for almost three decades. During this time, he created an extensive photographic investigation of urban life, capturing the sprawl of Hong Kong and other megacities such as Tokyo and Chicago. The exhibition includes iconic works from his 'Architecture of Density' series alongside his 'Informal Solutions', of the city's hidden back alleys. Also included is 'Cheung Chau Sunrises'—the last of Wolf's projects before his untimely death in 2019, for which he captured the sun rising from his home on the outlying island, every morning for two years.
Lee Kit, Landscape (I) (2020) (detail). Acrylic, emulsion, paint, inkjet ink, pencil, and correction fluid on cardboard. 53 x 41.5 cm. Courtesy the artist and Massimo De Carlo.
Lee Kit: The gazing eyes won't lie
Massimo De Carlo, 3F Pedder Building, 12 Pedder Street, Central
14 May–4 July 2020
Made up of small paintings and projections, Lee Kit's installations—or 'situations', as he refers to them—attempt to capture the in-between experiences and emotions that escape definition, through fragments of songs, text, and hazy images and light. Rather than lamenting time coming to a standstill, Lee posits these banal moments as sites of fruition, where a new experience or emotion might arise in the next moment, with their eventual accumulation bringing a subject into an entirely new situation.
Andreas Mühe, Sport (2014). 159.3 x 129.7 x 4.5 cm. Courtesy the artist.
Andreas Mühe: Pathos as Distance in HONG KONG
Whitestone Gallery, 7-8/F, H Queen's, 80 Queen's Road Central
23 May–27 June 2020
Whitestone Gallery presents the first Hong Kong exhibition of German photographer Andreas Mühe, comprising 30 photographs taken between 2004 and 2018. Mühe's analogue stagings are created with acute attention to lighting and brightness, feeding into his belief that 'whoever controls images controls reality'. Born to parents who were members of German socialist elite, Mühe references German historiography through a powerful, masculine aesthetic to reflect on themes including patriotism, nostalgia, and megalomania.
Chen Wei, Drifting Along (Hong Kong) (2020). Neon light installation. 100 x 120 x 14 cm. Exhibition view: Anonymous Society for Magick, Blindspot Gallery, Hong Kong (14 April-30 May 2020). Courtesy Blindspot Gallery.
Anonymous Society for Magick
Blindspot Gallery, 15/F, Po Chai Industrial Building, 28 Wong Chuk Hang
14 April–30 May 2020
Drawn from the concept of 'magick' developed by early 19th-century occultist and ceremonial magician Aleister Crowley, this exhibition—curated by Ying Kwok—brings together work by five artists that aligns the verisimilitude of a magician's performance with an artist's knack for taking 'viewers into a realm of fantasy that is both factual and fictitious.' Bringing forth mysteries of the unseen through a set of alluring works, artists in this exhibition include Chen Wei, Lam Tung Pang, Hao Jingbang, Wang Tuo, and Trevor Yeung.
Looking ahead, Blindspot Gallery will host its two-month-long film screening series Play and Loop in June, with further details to be announced.
Exhibition view: Günther Förg: 1986-1992, Edouard Malingue Gallery, Hong Kong (8–23 May 2020). Courtesy Edouard Malingue Gallery.
Günther Förg: 1986-1992
Edouard Malingue Gallery, 6/F, 33 Des Voeux Road Central
8–23 May 2020
Günther Förg began as a painter in the 1970s at The Academy of Fine Art Munich, creating grey and black monochrome works known as his 'gitter' or 'grid' paintings. A foray into photography would interrupt this practice, with the artist photographing culturally and politically significant structures—from Bauhaus buildings in Tel Aviv to Fascist architectures in Italy—before he returned to painting in the 1980s. Painted on lead that has been wrapped or rolled on wood, Förg's compositions comprise some of the architectural weight of his photographs, while the use of colour points to his interest in colour field theory and abstraction.
Kenji Wong, In front of the water cannon: Hong Kong People (2020). Courtesy Kenji Wong.
Hong Kong Human Rights Prize 2020
Goethe-Institut Hong Kong, 14/F Hong Kong Arts Centre, 2 Harbour Road
12 May–20 June 2020
Established by the Justice Centre Hong Kong in 2013, the annual Hong Kong Human Rights Prize celebrates the work of Hong Kong-based artists who explore the state of human rights in their work. This year's prize was awarded to Kam Wa Magus Yuen for her inkjet print on aluminium, Hong Kong Symposium 2019. The Goethe-Institut will present works by the 35 shortlisted artists, ranging in media and curated by KY Wong, between 12 May and 20 June, with proceeds from an auction of the works held online on 20 June going towards the non-profit work at the Justice Centre Hong Kong.
Kongkee, The River (2020). Courtesy the artist.
Kongkee: Mirage
Tomorrow Maybe, Eaton HK, 380 Nathan Road, Kowloon
13 June–23 August 2020
Kongkee's cyberpunk anime Dragon's Delusion imagines two historical figures from the Warring States Period, poet Qu Yuan and Qin Shi Huang—the first emperor to unify China—in 1960s Hong Kong, where Qin has successfully immortalised humanity, and can thus maintain his rule. A special premiere screening of the latest chapter of Dragon's Delusion will take place on 25 July, along with live performances and a series of talks on the Chinese pre-Qin era, from art history to philosophy. For the first chapter of the exhibition, Kongkee will present a new installation and video works exploring the illusion of time.
Samson Young, The World Falls Apart into Facts (2019). Exhibition view: Next Act: Contemporary Art from Hong Kong, Asia Society, Hong Kong (8 May–27 September 2020). Courtesy Asia Society.
Next Act: Contemporary Art from Hong Kong
Asia Society, 9 Justice Drive, Admiralty
8 May–27 September 2020
Asia Society sheds light on the city's talent with a collection of works by ten artists to coincide with the 30th anniversary of the organisation's Hong Kong centre. Isaac Chong Wai, Leung Chi Wo, Vivian Qin, Sara Wong, Zheng Mahler (Royce Ng and Daisy Bisenieks), Samson Young, Cici Wu, Andrew Luk, and Christopher K. Ho respond to the shared history and collective memories of Hong Kong, opening questions as to what lies for the future for the city and for art, with the exhibition offering immersive experiences that posit art as a journey of critical thinking rather than a 'sensual form of truth'.
ektor garcia, detail from artist's studio. Courtesy the artist.
ektor garcia
Empty Gallery, 19/F, Grand Marine Center, 3 Yue Fung St, Tin Wan
June, dates to be announced
Using craft techniques rooted in Mexico, ektor garcia creates layered works exist within an unclassifiable realm, floating between fetish objects and high sculpture. Incorporating wood-fired ceramics from Oaxaca and hand-crocheted screens in leather and copper, garcia's delicate works will be arranged at Empty Gallery in 'intimate spatial groupings' to form the atmosphere of a 'scrapyard-cum-temple.'
Chihoi, Trinity With Heaven and Earth I (2020). Oil on canvas. 45.5 x 53.3 cm. Courtesy Karin Weber Gallery.
Castles In The Air
Karin Weber Gallery, 20 Aberdeen Street, Central
3 April–30 May 2020
Five Hong Kong artists present their visions of the future in Castles In The Air. Bryan Chung, Chihoi, Enoch Cheng, Silas Fong, and Stacey Chan span various media to explore the positive effects that art can have in society, from shifting perceptions to uplifting the spirits. The exhibition touches 'on themes of human resilience, sacrifice for a common goal, growth and the ability to emerge stronger and hopeful from an environment of adversity', and precedes an exhibition of ink paintings by Bosco Law titled I Am Fine (4–22 June 2020) that looks at the inner conflict behind conforming to norms and expectations.
Exhibition view: Unconstrained Textiles: Stitching Methods, Crossing Ideas, Centre for Heritage, Arts and Textile (CHAT), Hong Kong (21 March–14 June 2020). Courtesy CHAT.
Unconstrained Textiles: Stitching Methods, Crossing Ideas
Centre for Heritage, Arts and Textile (CHAT), The Mills, 45 Pak Tin Par
21 March–14 June 2020
The Centre for Heritage, Arts and Textile considers the many artistic possibilities of textiles through work by seven contemporary artists, including Bi Rongrong, Ham Kyungah, Izumi Kato, Byron Kim, David Medalla, Kawita Vatanajyankur, and Samson Young. Though they do not identify as textile artists, the works presented in this exhibition demonstrate how textiles can serve specific artistic concerns and goals through their tactile materiality, forms, patterns, and unique colouring.
Daphné Mandel, Oasis (2020). Mixed media on paper. 100 x 86 cm. Courtesy the artist.
Organic City: Daphné Mandel Solo Exhibition
Pékin Fine Arts, 16/F, Union Industrial Building, 48 Wong Chuk Hang Road
16 May–25 July 2020
Swiss artist Daphné Mandel explores the collision of nature with the urban environment that defines Hong Kong. Rather than a structured, urban sprawl, Mandel's mixed media works reflect on the city as 'simultaneously man-made and "organic" as living breathing matter', creating layered works through hand-cutting, collage, painting, photography, urban design, and photomontage.—[O]