Feature | Exhibitions
Lowdown: Hong Kong's Must-See Exhibitions Over ABHK23 and Beyond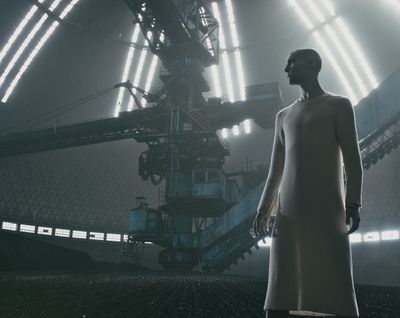 Su Hui Yu, Future Shock (2019) (still). Courtesy the artist.
Art Basel Hong Kong promises to be lively this year as mandatory quarantine policies lift. Ocula Magazine looks beyond the fair, sharing a selection of the city's must-see exhibitions showing in notable galleries, institutions, and non-profit spaces.
Zhou Yinglin, One World, One Dream (2018) (still). Courtesy the artist.
Good Prospect!
Videotage, Louis Koo Cinema, 2 Harbour Road
24 March 2023
Expect: reflections on the future of an algorithm-driven world across digital essays, travelogs, and pseudo-advertisements.
Every generation believes itself at the turning point of history, but ours is certainly a strange time; humans and machines merge, while digital spaces overtake nature. During this one-day screening, five artists speculate about the future of humanity as we face rapid globalisation, technological reliance, and environmental decay.
Grounded in scepticism, Zhou Yinglin's 8-bit animation One World, One Dream (2008) revisits utopian ambitions of world unification. Titled after the 2008 Beijing Olympics slogan, the work draws from the biblical story of the 'Tower of Babel' as an allegory for globalisation processes.
'A future that comes too quickly creates more apprehension than that of a foreign land,' suggests Su Hui Yu's three-channel video Future Shock (2019). Shot in industrial Taiwan, the video captures the island's golden age, once a distant future, now an aggregation of relics.
Rirkrit Tiravanija, Untitled (2022) (detail). Courtesy the artist and David Zwirner.
Rirkrit Tiravanija: The Shop
David Zwirner, 5-6/F, 80 Queen's Road Central
20 March–6 May 2023
Expect: a shared experience with fellow visitors, some cultural insight, a break from postcolonial critique, and maybe some cooking.
Rirkrit Tiravanija's participatory installations created places of gathering decades before ruangrupa's edition of documenta fifteen. Back then, shared moments were still considered to be radical gestures for the collective values they represented—until it was noted that the collective enacted pertained to a small percentage of the art world demographic.
For instance, Tiravanija's notable untitled 1990 (pad thai), of which additional editions emerged over the years, saw the artist originally cooking the Thai dish for visitors at Paula Allen Gallery, New York. While limited in its reach, the performance unsettled the expectation of the art object and Eastern cultures as artefacts to be encountered in museum collections.
At the 1999 Venice Biennale, Tiravanija addressed power imbalances on the international stage by conceiving the very first Thai Pavilion around the corner from the pavilions of three of the world's former great powers, England, Germany, and France. Whether his gestures can serve as political critique today is up for debate, but the artist's first exhibition since joining David Zwirner (the content of which is undisclosed) will be worth a visit for the participatory experiences Tiravanija is known for.
Kimsooja, Thread Routes – Chapter III (2012) (still). 16mm film transferred to HD format, sound. 17 min, 35 sec. Courtesy Kimsooja Studio and Axel Vervoordt Gallery.
Kimsooja: Topography of Body
Axel Vervoordt Gallery, 21/F, 62 Wong Chuk Hang Road
18 March–3 June 2023
Expect: a stop by India, where traditional craft practices abound, in this striking performance that connects textiles, architecture, nature, agriculture, and gender relations across six cultures.
Often deemed meditative and transcendental, Kimsooja's subtle propositions probe fundamental questions of being and existence. Grounded in an approach of 'non-doing', they leave space for objects and symbols to speak for themselves.
The artist's bottari bundles, for instance, comprise bright parcels modelled after the tied bundles Korean migrants use to carry essential belongings while on the move. Commonly scattered on the ground, their contents undisclosed, they hint at the journey undertaken.
These metaphors of journey and baggage are transposed to Kimsooja's first Hong Kong exhibition, where the third part of the video series 'Thread Routes' (2010–2019) highlights textile traditions in India. Featuring new clay and rice-paper installations and Indian block prints, the exhibition attests to the range of the artist's practice, whose reliance on silence and stillness is almost a radical proposition amid heavily mediated messages within curatorial and popular media today.
Jes Fan, Diagram XIX (2023). Aqua resin, selenium, glass, and pigment. 30.48 x 19.05 x 38.1 cm. Photo: Pierre Le Hors.
Jes Fan: Sites of Wounding: Chapter 1
Empty Gallery, 19/F, 3 Yue Fung Street
18 March–24 June 2023
'There's this through line of thinking of how beauty is produced through sites of wounding or infection.' – Jes Fan (Wallpaper, 2022)
Jes Fan's visceral assemblages embody radical propositions. Bodies and biological matter are disassembled as their contents—blood, semen, hormones, and urine—are injected into indeterminate forms that collapse the binaries of gender and race.
Made of hand-blown glass, silicone, or resin, Fan's fragile networks appear to have incised the body to its bare skeleton. 3D-printed organs punctuate the carcass of sculptures like Visible Woman (2018), presently on view at Tai Kwun Contemporary as part of a group exhibition meditating on queer futures.
At Empty Gallery, Fan dives into the history of native species that generate precious materials from Hong Kong, starting with pearls. Recalling the city's moniker as the 'Pearl of the East', vivid, near-living bodies like the glistening shells of Diagram XIX (2023) draw attention to processes of contamination in relation to traumas of colonial subjectivity.
Tunji Adeniyi-Jones, Double Dive Red (2023). Oil on canvas. 188 x 132.1 cm. © Tunji Adeniyi-Jones. Photo © On White Wall Studio.
Tunji Adeniyi-Jones: Deep Dive
White Cube, 50 Connaught Road Central
22 March–20 May 2023
Expect: a journey through the chromatic jungles of West Africa, where dynamic bodies entangled in bright foliage entrap the eye.
Tunji Adeniyi-Jones' entrancing portraits begin from the histories of West Africa, its mythologies, and his Yoruba heritage, followed by the influence of his Black American experience. West African literature comes to the fore at White Cube, starting with the jungle as a space of transformation and possibility.
Entangled in dense, saturated foliage, genderless figures contorted in acrobatic postures are reduced to the basic outline of their musculature. Their silhouettes—at times blue, at others orange—are dotted with sharp eyes, taunting viewers to enter their fantastic realm.
Saturated colours are used to emphasise the motions around the figure, made explicit in Red Twins (2016), where crimson bodies are nestled inside a stretch of lime green ribbon accentuated with yellow. Ornate patterns nod to the 19th-century Arts and Crafts movement and more specifically the designs of the renowned ceramicist William De Morgan.
Linda Chiu-han Lai, Tree of Life, iteration 2023 (2023). Mixed-media sculpture; everyday objects, TV antennas, digital components: mini screen and media player (7 sets), sensor system (audio), 2 LED rods with running texts. Dimensions variable. Courtesy the artist and Pearl Lam Gallery.
signals...瞬息
Para Site, 22/F, 677 King's Road Quarry Bay
18 March–29 September 2023
Expect: smoke and scent; an experimental exhibition structure where artworks rotate, dissolve, and are displaced.
Inspired by the 1960s experimental gallery and art salon Signals London, this tripartite exploration—described as a 'chain reaction'—into kinetic art, actions, and communication marks a new direction for Para Site, the independent art space in Quarry Bay.
Conceived by Billy Tang and Celia Ho, the first chapter, 'storms and patterns', explores the politics of space in relation to migration and community dispersal. Accordingly, artworks and happenings will rotate, unfold, fragment, and dissolve during the exhibition period.
Candice Lin and Patrick Staff's chemical-dispersing machine Hormonal Fog (2020), for instance, vaporises a tincture of testosterone-lowering herbs into the air, speaking to the shifting nature of all matter, biological or human-constructed. Artists on view include Christine Sun Kim, James Richards, and Truong Cong Tung.
Exhibition view: Group exhibition, Fusion 2, Asia Society Hong Kong (15 March–25 June 2023). Courtesy Asia Society Hong Kong.
Fusion 2
Asia Society Hong Kong, 9 Justice Drive, Admiralty
15 March–25 June 2023
Expect: co-creations by Hong Kong artists and Italy-based artists Danny Lee and Francesca Bernardini, Margaret Chu and Aurélien Boussin, and Violet Shum and Flavia Robalo, among others.
What would a collaborative sculpture from artists working with different materials look like? How about artists who have never met?
For this second chapter of Fusion, five sculptors living in Italy have been paired with five sculptors from Hong Kong—working with marble and wood, respectively. Ten hybrid sculptures materialised from this exchange, each bearing the handwork of both.
The collaborators will meet in person for the first time during the exhibition period. A cross-continental exchange of sorts thus emerges, implicating everything from materials and methods, persons and cultures, and cultural institutions.
Despite the rising interest in collaboration within the arts, it still requires a degree of openness to renounce sole authorship. Fusion 2 explores this idea of coming together, attesting to the new forms that could materialise in trusting the unknown.
Exhibition view: Group exhibition, Myth Makers—Spectrosynthesis III, Tai Kwun Contemporary, Hong Kong (24 December 2022–10 April 2023). Courtesy Tai Kwun Contemporary. Photo: South Ho.
Myth Makers—Spectrosynthesis III
Tai Kwun Contemporary, 10 Hollywood Road
24 December 2022–10 April 2023
Expect: an expansive and diverse exploration of 'queer mythologies' in Asia, now and then.
Myth Makers—Spectrosynthesis III gathers countless stories of queer desire and gender fluidity found in ancient traditions, philosophies, and spiritual practices across Asia, presenting artworks that reflect on these histories alongside the current realities.
In doing so, works in the exhibition often reveal clashes between the enduring presence of queer love across Asia, and the contemporary precarity that plagues queer identities, which remain—despite increasingly progressive legislation in many areas—frequently criminalised, censored, and marginalised.
Curated by Inti Guerrero and Chantal Wong, the exhibition presents more than 100 artworks by over 60 artists from Asia and its diasporas. A third of the works come from the Sunpride Foundation, which has advocated for LGBTQ+ communities in Asia since its founding by Patrick Sun in 2014.
Writing for Ocula Magazine, Stephanie Bailey describes the exhibition as embodying a 'spirit of celebration, often against all odds'. Coursing through many of the artists' work is a passion for their communities, and a determination to craft a safe space in which they can be themselves and love each other exactly as they want.
Wang Tuo, The Second Interrogation (2022) (still). Three-channel video installation; colour, sound, 4K. Courtesy the artist and Blindspot Gallery.
Wang Tuo: The Second Interrogation
Blindspot Gallery, 15/F, 28 Wong Chuk Hang Road
21 March–6 May 2023
Expect: a rare and lucid account of China's political state and its disciplinary measures, touching on the fundamental role of art against mass censorship.
A careful reflection on receding freedoms in China, Wang Tuo's first exhibition in Hong Kong centres on The Second Interrogation (2022), a two-part installation featuring a two-channel and single-channel video.
In the work, an artist and government censor reflect on the functions of art in an authoritarian state. They touch on political events that have shaped recent Chinese history, seeking pathways forward, but as their roles reverse—with the artist taking on the role of the censor, and the censor that of the artist—the work attests to the pressing need for public dialogue and education to counter increasing misinformation and censorship.
As Wang Tuo told Ocula Magazine in 2022, for reform to be enforced in China, 'It's more important to start with public enlightenment, and then exert pressure on the system from the outside-in.' —[O]