Feature
I name it, I own it: Memory and violence in nature's exploitation
Uriel Orlow, Medicinal Garden. Photo Dan Weill.
Nature can also be 'unnatural'—easily manipulated and re-constructed by human intervention and imprint. Far from being excluded from history, it is therefore entrenched in it, equally an actor, a witness and a pawn. In contrast with a vision of vegetation as merely passive and decorative, a number of academics and artists have been placing plants within a wider geopolitical context, using them to consider and re-evaluate obliterated political, social, economic and spiritual narratives.
Most recently, Uriel Orlow's Mafavuke's Trial and Other Plant Stories (28 September–19 November 2016) at The Showroom, London, presented a concentrated body of work based on two years of research in South Africa, which looks to the 'botanical world as a stage for politics at large', deciphering plants' roles as tools for power assertion, their ties with food politics, and their continued relevance for medicine and spirituality.
Uriel Orlow, Mafavuke's Trial and Other Plant Stories, The Showroom, 2016. Photo Daniel Brooke.
From the 15th century, the imperial conquest of the so-called 'New World' primarily began through the exploration and encyclopaedic classification of whatever was 'discovered' on these territories: fauna, flora, rivers, mountains and people. The inventory of natural resources presaged future commercial exploitations. Herbaria sustained the colonial project, mapping territory as a pre-emption to subsequent annexation. The migration of plants started around this period, too, via a complex network of import/export related to the dissemination of specimens following scientific expeditions to and from colonies. Often plant samples were taken from their native lands and transported to the first botanical gardens both in the 'New World' and Europe, before making their way to royal parks like London's Kew Gardens or Paris' Jardin des Plantes.
In the colonised world, flora acquired a symbolic dimension that still permeates certain areas, as is visible in Orlow's exhibition. In a subdued atmosphere, the artist premiered a two-channel video projection, The Crown Against Mafavuke, 2016. It was screened behind an original modular structure placed at the centre of the room, dividing the space and featuring ten bodies of work, including pieces by six artists invited by Orlow to show 'specimens' among his own.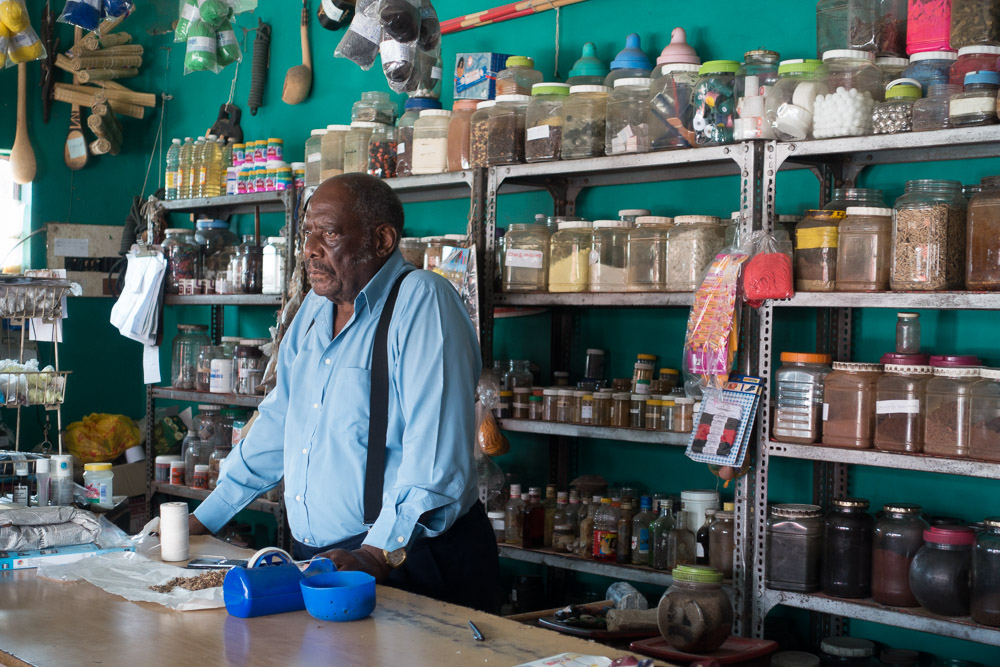 Uriel Orlow, still from The Crown Against Mafavuke, 2016, 2-channel video with audio, 30'50.
Included in the 'conceptual herbarium' was David Goldblatt's photograph Remnant of a Hedge Planted in 1660 to Keep the Indigenous Khoikhoi out of the First European Settlement in South Africa, 1993. Orlow explains that 'The South African conquest started with the creation of a garden to replenish the ships travelling from Europe to India'. He investigates these impacts on the landscape in The Memory of Trees, 2016, a series of black and white photographs. The Milkwood Tree of Cape Town, for example, witnessed the killing of Portuguese colonists by the Khoikhoi, the hanging of slaves, and the Dutch handing over control of the Cape to the British.
Such imprints on nature were emphasised by classification, which went hand in hand with the act of naming (re-naming, actually). It was an act of appropriation, imposing a Western vision of the world: 'Language relates to politics, especially concepts of alien/invasive/native/non-native species,' stresses Orlow. He reflects on this in What Plants Were Called Before They Had a Name, 2016: a stand-alone sound library that acts like a spoken dictionary documenting plant names, simultaneously recited by different voices in ten official and unofficial South African languages. Orlow describes the work as an 'oral monument to traditional knowledge, recording what is there, as heard from the inside, not relating to scientific categorisation or official discourses.' It insists on the fluidity of language, the value of oral transmission, and recalls the violence of colonial systematic erasure, when Latin taxonomy replaced indigenous names and secluded local communities, histories and memories.
Uriel Orlow, Mafavuke's Trial and Other Plant Stories, The Showroom, 2016. Photo Daniel Brooke.
Presented behind Orlow's herbarium was his two-channel video installation The Crown Against Mafavuke. One screen presents a restaging, at Pretoria's Palace of Justice, of the trial of South African herbalist Mafavuke Ngcobo, who in 1940 was convicted of 'untraditional behaviour' because he mingled local plants with European techniques and ingredients. According to the artist, 'this court case reveals underlying economic and ideological confrontations between tradition and modernity, erasure and continuity, indigenous healing knowledge and the Western medical establishment'. The second screen documents traditional medicine—muthi—as the 'main curative system for a large part of the South African population'. It follows various healers and plant sellers, growers and traders throughout the country, which connects back to the modular structure, where Planting Seeds to Hunt the Wind, 2012, photographs by South African collective Subtle Agency, represent traditional healers with their chosen plant, also exploring the interstices between medicine and spirituality.
In the exhibition, Orlow makes an original contribution by pointing out what he calls 'botanical nationalism' and 'flower diplomacy'. Researching the archives of Kirstenbosch National Botanical Garden, he found 1963 footage documenting the garden jubilee celebrations, including 'national'—namely Dutch—dances: a commemoration of a white South African history. Evidencing the absence of the black body (except for labourers) and the predominance of white naturalists/visitors, the video The Fairest Heritage, 2016, presented in the herbarium, tackles this complex material. In it, Orlow projects the footage on a wall and records performer Lindiwe Matshikiza spontaneously confronting and interacting with the archive she is discovering.
Flower diplomacy took a particular dimension during apartheid as the boycott of South African goods excluded flora, including the Strelitzia flower (which ironically takes it genus after Queen Charlotte of England's birthplace). Playing upon this and what Orlow describes as a 'green-washing of the politics', 'botanists were invited to discover the Cape's floral kingdom and biodiversity hotspots' and bouquets were sent as diplomatic gifts from South Africa. They circulated between territories, regardless of borders, promoting national flagships and exporting a positive image of the country. A related work, a floral arrangement by Kapwani Kiwanga found in the exhibition's herbarium, Flowers for Africa: Mozambique, 2014, elicits reflections on the flower industry as soft power, while addressing the independence processes of African countries.
The synergies created by the show evidence how dialogue is dear to Orlow, as exemplified in the cross-relational space he created for the central herbarium. Building on this was how The Showroom exhibition also incorporated a project that included working with the inhabitants of the neighbourhood. Together with them, Orlow gathered material about intimate remedies, compiled in a Communal Herbal Knowledge Manual, 2016, available for sale at the exhibition space, and created a medicinal herb garden in a care home across the street.
Likewise, the artist and the duo Cooking Sections (Daniel Fernández Pascual & Alon Schwabe) mutually presented works in concomitant exhibitions in London, with Cooking Sections staging their research-based project The Empire Remains Shop at 91-93 Baker Street, London between 4 August and 6 November 2016. Their exhibition offered a cycle of performances, screenings and discussions assessing the British Empire legacies and speculating on a shop selling its ruins. This ongoing project looks at food politics and networks in a postcolonial context and at how the early commodification of nature has shaped territories, inducing enduring environmental damage.
The Empire Remains Shop, Under The Sea There is A Hole, Cooking Sections, 2016. Photo Tim Bowditch.
As a contribution to Orlow's exhibition, Cooking Sections baked the sculpture Never Die, 2016: a cake prepared from moringa, a tree that evokes the innovative construction of a green wall to slow down desertification in the Sahara thanks to drought-resistant species. In turn, Orlow presented a video titled Muthi, 2016, in The Empire Remains Shop window, which 'portrayed' medicinal plants.
In their own exhibition, Cooking Sections explored in more details the impacts of colonisation on landscape and ecology. For instance, they denounced the politics of food monocultures, as is the case with sugar in the Caribbean, which is considered in the rum and ethanol fountain sculpture Today We Are Green, 2015, made of a steel drum barrel tied to a wooden barrel. The work probes the sugar industry's collapse from the end of the 20th century, through the combined influence of the arrival of new players in the field, the use of sugar beets or sweeteners and the diversification of Caribbean economies, and the conversion of this industry from producing sugar crop to bioethanol—a fuel supplement produced from agricultural products. This economic change has come about more as a result of changes in oil price than any move towards the consumption of renewable energy: according to the NASDAQ daily oil price, the fountain alternately gives ethanol or rum in reference to the fact plantations have been maintained as touristic attractions.
The necessity of respecting a balance between available resources and soil exploitation proves becoming 'greener' is not enough—new forms of relation to nature have to be envisioned. This is particularly evidentiary in another project by the duo, CLIMAVORE, which was tested several times throughout the exhibition's duration, when Cooking Sections hosted performative dinners where the menus proposed to guests were conceived respecting a diet based on new climatic seasons like desertification, water pollution, floods and drought. The project is a savvy initiative designed to entice us into rethinking our relationship with nutrition, agriculture and the environment, and to develop food practices that 'regenerate landscape rather than degrading it'. For instance, during their dinners, they have used alfalfa, peas and buckwheat as these crops are natural fertilisers, capturing nitrogen from the air and naturally fixating it to the soil while growing.
By taking a historical and postcolonial perspective, both exhibitions, Mafavuke's Trial and Other Plant Stories and The Empire Remains Shop, reconsider the relationship between humans and plants and demonstrate how geopolitics have influenced nature. They particularly show how colonialism had a preponderant role in accelerating the inclusion of nature in trade routes with the intensive and violent development of colonies as providers of natural goods, later injected into the Western market. This growth strategy was imprinted durably on local production landscapes, societies and systems of knowledge. These artists' research helps us understand how cultural identities have been determined by subtle exercises of power, with traditional knowledge being obliterated and excluded from official narratives.
Creating an awareness of these ties is increasingly important in reinventing our social, economic, environmental and, even, political structures. Certainly, mitigating human influence on nature and thinking about plants as 'dynamic agents' (Orlow) is an essential step to how we move forward. —[O]