Feature
JINGART Lowdown: Beijing Art Shows to See in 2019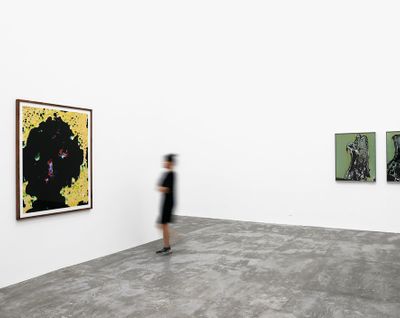 Exhibition view: Jiang Pengyi, Foresight 预见, ShanghART, Beijing (18 May–6 July 2019). Courtesy ShanghART.
The second edition of the Beijing art fair JINGART will take place from 30 May to 2 June 2019 at a new venue, having moved from Beijing Quanyechang to the Beijing Exhibition Centre. The new location's Sino-Soviet-style building is reminiscent of the Shanghai Exhibition Centre where ART021 Shanghai Contemporary Art Fair, founded by the same team back in 2013, takes place each November. JINGART is a showcase of contemporary and modern art, jewellery, furniture, and antiques, where Fernando Botero paintings have shared space with Buddha statues and Art Nouveau dressing tables. The fair's debut in 2018 attracted blue-chip galleries including David Zwirner, Perrotin, and Hauser & Wirth to Beijing for the first time. This year, all three are returning, and the total number of exhibitors has grown from 32 to 41, with 22 new participants.
Beijing is home to many of China's leading museums, galleries, and indie art spaces, many of which have arranged exciting new shows to coincide with JINGART. Here is a list of exhibitions to see in the city during the fair.
Ren Jian, Up to the Streets and Down to the Factories (1991). Photo documentation of Ren Jian purchasing cloth for Ren Jian Stamp Collection Denim Outfit. C-print. Dimensions variable. Courtesy UCCA Center for Ceontemporary Art, Beijing.
Group Exhibition: Society Guidance: Part I
UCCA Center for Contemporary Art, 798 Art Zone, 4 Jiuxianqiao Road, Chaoyang District
18 May–18 August 2019
Society Guidance: Part 1 investigates artists' responses to widespread confusion and anxiety in China in the early 1990s, an era when consumer culture quickly took hold, bringing with it broad social and attitudinal changes. These not only included greater optimism, opportunism, and activism, but also retreats into more sequestered ways of living. Reflecting on this is a thorough and compelling exhibition that explores a recent period in Chinese contemporary art that already feels distant, with Part 2 of this expansive interrogation opening on 31 August.
The show's first section rifles through the archives of Chen Shaoxiong, Wang Jin, and Ren Jian, who was a member of the New History Group. Collectives like the New History Group that emerged during the 1990s tried to make sense of China's rapid social changes. Based in Wuhan, the New History Group emulated the consumerist culture they saw around them (and that Andy Warhol had explored in the 1960s, when China was still a closed and centralised economy) by developing the concept of 'Product Art', wherein they cooperated with companies and manufacturers to sell art as a mass-market product. Ren Jian, who also worked independently, likewise rooted his solo practice in the social phenomena of the time. Ren Jian Stamp Collection Denim Outfit (1993), on view in the show, consists of denim clothes printed with images of postage stamps in 10,000 'editions', and put on sale in busy shopping districts in Wuhan and Beijing. The exhibition also showcases a series by Wang Jin, 'Knocking on the Door – Presidents on US Dollars' (1999), wherein he painted American currency on bricks taken from the Forbidden City.
Another art group that emerged during this time was the Big Tail Elephant Working Group, which was active from 1991 to 1998. Based in the southern city of Guangzhou, the practice of one of the group's members, Chen Shaoxiong, involved deliberately observing and recording the urban landscape that surrounded him. Works include Street – 2 (1998), in which he cut out photographs to create dioramas of city life, that he then photographed in front of busy streets, adding an additional, imagined layer to an already busy cityscape.
Exhibition view: Jiang Pengyi, Foresight 预见, ShanghART, Beijing (18 May–6 July 2019). Courtesy ShanghART.
Jiang Pengyi: Foresight 预见
ShanghART Gallery, No. 261 Caochangdi, Airport Side Road, Chaoyang District
18 May–6 July 2019
The history of creating photos by placing objects directly on photosensitive paper dates back to Man Ray's experiments in the 1920s. The strange alchemy of analogue photography, where the final result cannot always be anticipated is something that still interests Jiang Pengyi. For his 'Everything Illuminates' series (2012), the artist conducted mad photographic experiments, mixing fluorescent powder with candle wax to create ghostly images where the subject is its own light source.
While Jiang's work is an ode to the photographic medium, he blurs the boundary between photography and more gestural forms of practice. His current show at ShanghART Beijing showcases 'Foresight', a series that began in 2017. In these works, he experiments with a camera-less method by putting items such as fruits and vegetables directly onto film, thus initiating a prolonged process of developing in which the organic matter decays, lending a fluid, painterly quality to the resulting imprint. The result is a series of images that are both alien and emotional, eluding any specific reference to the exterior world in their organic abstraction. ShanghART is among the galleries participating in JINGART. They will show works by artists including Chen Xiaoyun, He Wei, Lin Aojie, Tang Maohong, and Yang Fudong.
Courtesy Galerie Urs Meile.
Tobias Rehberger: Blind and a little less
Galerie Urs Meile, 798 Art Zone, D10, 798 East Street, 2 Jiuxianqiao Road, Chaoyang District
25 May–11 August 2019
With a practice that spans the fields of architecture and conceptual art and design, German artist Tobias Rehberger's site-specific installations at Shanghai's Rockbund Art Museum have transformed the museum's different floors into a butcher shop, a display of vases filled with flora, a teahouse, a bar, and a collection of imitation advertisement signs. The viewer can actually buy meat, and have tea or alcohol in the exhibition space. The exhibition's end on 26 May overlaps with the opening of Blind and a little less at Galerie Urs Meile in Beijing, where Rehberger presents a selection of works from his 'Vase Portrait' series (1997–2019), for which he has invited nine artists represented by Urs Meile to select their favourite flowers to be placed in vases designed by himself, and 'Infection' (2002–2019), which consists of 16 lamps made of Velcro tapes casting shadow on the walls and floor. Also included in the exhibition are watercolours, glass globes, large-scale pixelated tableaux, along with LED signs that imitate commercials, all of which manifest the artist's intention to overturn our understanding of social norms, recontextualise the object by intervening in the gallery, and stimulate viewer sensations.
Yu Bugong, 'Drawing Notes' (2016–2019). Watercolour on paper. Courtesy the artist and Magician Space.
Yu Bogong: Fruit Cell
Magician Space, 798 Art Zone, 2 Jiuxianqiao Road, Chaoyang District
31 May–27 July 2019
Nomadic artist Yu Bogong returns to Beijing for his first solo exhibition here since 2013. A pioneering figure of Beijing's Yuanmingyuan Artist Village in the 1990s, one of the earliest art communities in China, Yu is renowned for poetic sculpture and installations that allude to psychotherapy, religion, and primitive life forces. In Two Devils (2007), two fibreglass figures represent the ambivalence and duality in humanity, while Karma (2005) is a sculptural installation in which a Buddha is surrounded by wolves, suggesting the fragility of cultural and religious symbols. In recent years, Yu has actively engaged with the influence of art on society and individuals by travelling around China, from Fujian and Shandong to Inner Mongolia, teaching classes about sandplay therapy, setting up Native American-style tents and making bows and arrows by hand. This practice aligns with his participation in the nomadic AnotherLand Project, established in 2009 by Tang Guanhua. AnotherLand Project is a radical attempt to better understand the symbiotic human-nature relationship, the living conditions of minorities, and the possibility of setting up a more self-sufficient way of living by growing one's own food, making one's own clothes and other possessions, and experimenting with low-cost and low-environmental-impact architecture.
In accordance with Yu's concerns surrounding the upheaval of today's world, Fruit Cell seeks to heighten the social function of contemporary art, showcasing documentary videos from Yu's long-term socially interactive practice. To accompany the exhibition, public workshops have been organised, and cover such activities as lantern making, drawing, and inventing new Chinese characters.
Li Tao, Universe (2019). Aluminium, iron, stainless steel. 245 × 115 × 70 cm. Courtesy the artist and Tabula Rasa Gallery.
Li Tao: Universe
Tabula Rasa Gallery, 798 Art Zone, No. 706 North 3rd Street, 2 Jiuxianqiao Road, Chaoyang District
30 May–30 July 2019
Li Tao: Secondary
KWM artcenter, 201, Tower East, World Financial Center, No. 1 Middle Road, Dongsanhuan Zhonglu, Chaoyang District
30 May–29 June 2019
During JINGART, two large-scale installations by Li Tao will open simultaneously at two difference spaces: Tabula Rasa Gallery in the 798 Art Zone, and KWM artcenter, which is located in Beijing's central business district. Combining industrial materials with readymades, 1971-born artist Li Tao's work addresses the adolescence of objects—an ambiguous period between unfinished and finished. By assembling, recasting, and bending various metal parts into new forms, Li Tao gives them a logic all of their own. Tabula Rasa Gallery, for instance, provides a grey stage for the series 'Universe' (2019): the artist moulded steel bars and incorporated exposed screws, spikes, and aluminium water tank plates to create a work in the vernacular of industrial waste.
More dynamic combinations of colours and textures can be found at KWM artcenter, where Li is showing his series 'Secondary' (2019). These works incorporate recyclable and industrial materials such as PVC, rubber, polyoxymethylene, and nylon into a fragile system. The materials are more familiar, like stacks of used yellow and blue paper piled together in Secondary No.2 (2019), or the test tubes commonly seen in chemistry classes in the work Secondary (2019). Through Li's delicate craftsmanship and abstract aesthetic, mundane materials are transformed into numerous bright yellow grids spanning two metres. Objects eschew their original function, extracting human affect in the process.
Exhibition View: Liu Xinyi, Applause is Due, DRC No. 12 (28 April–30 June 2019). Courtesy the artist and DRC No. 12.
Liu Xinyi: Applause is Due
DRC No. 12, Gate 4, Building 12, Floor 8, Suite 082, Jianguomenwai Diplomatic Residence Compound, No. 1 Xiushui Street, Chaoyang District
28 April–30 June 2019
Addressing the unique historical context of its location in distinct ways seems to have become a rule for artists presenting works at the non-profit DRC No. 12, an apartment space housed in the Diplomatic Residence Compound built in Jianguomen in 1971 to provide accommodations to ambassadors and staff at major international organisations. The idea of diplomatic privileges, including unfettered access to the outside world, is what separates this space from other 'apartment art' venues that emerged throughout the 1970s to 1990s to secretly and affordably present artworks, such as the homes of artists Wang Luyan and Gu Dexin, in Beijing. From Wang Youshen's project Diplomatic Residence Compound (30 August–30 October 2016), for which he delivered a package to the apartment every day during the exhibition period, to Liu Zhan's Balcony (9 June–9 September 2018), an installation of 60 radios set to receive different short-wave broadcasts from overseas, the political past of the Diplomatic Residence Compound has been explicitly revisited again and again here.
This time, artist Liu Xinyi goes even further, transforming the apartment into a simulated visa application centre, with a waiting zone, a security check gate, a lavatory, and a conference room. His hyper-real replication is a work of horror, conjuring the uneasiness and even repulsion anyone who has ever been declined a visa feels towards the invisible red tape that fences bodies in—a potent presentation of the emotional toll of imperfect politics. The project also plays with the DRC No. 12's approach to its own door policy; the art space has its own strict invitation-only rule, which recreates the privilege of its past life, and the same uneasy feelings for those not allowed in.
Exhibition view: A White Space Odyssey, White Space, Beijing (25 May–14 July 2019). Courtesy White Space.
Group Exhibition: A White Space Odyssey
White Space, No. 255 Caochangdi, Airport Service Road, Chaoyang District
25 May–14 July 2019
White Space is one of China's most important galleries, which started out by focusing on leading mid-career Chinese artists and their dialogues with international artists. The gallery was established in 2004 as the Beijing branch of Alexander Ochs Galleries, and was one of the first residents in the 798 Art Zone, presenting a programme that focused on established Chinese artists including Ding Yi and Miao Xiaochun. Early shows included joint exhibitions between Chinese and international artists, such as Miao Xiaochun and Rivka Rinn, both working in photography that comments on the urban landscape (28 February–17 April 2004).
In 2009, White Space moved to Caochangdi Art District, and shifted its focus towards emerging artists like Shi Zhiying, He Xiangyu, Jian Ce, Liu Xinyi, and Wang Tuo, among others. Since then, many young voices have made their debuts at White Space in shows such as Jian Ce: Fact = Fiction (2010) and He Xiangyu: Man on the Chairs (2011). Over the years, artists who have shown at the gallery have gone on to exhibit with international galleries and at acclaimed museums. A White Space Odyssey celebrates the tenth anniversary of the gallery's 2009 move to Caochangdi Art District. The group exhibition seeks to highlight the individual practices of each of the artists represented by the gallery, instead of stringing together their work under a certain theme.—[O]