Feature
Mediacity Seoul 2014: Ghosts, Spies, And Grandmothers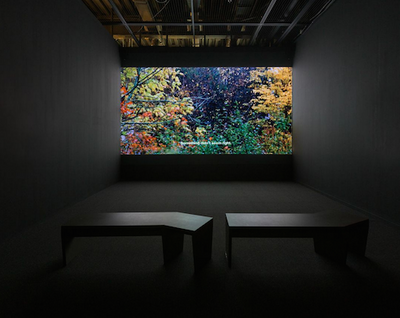 Since its foundation in 2000, Seoul's contemporary art biennial, Mediacity, aims to represent the city's identity as a hub of media and technology. With an exhibition on three floors of Seoul Museum of Art, and a programme of screenings in the Korean Film Museum, Mediacity surveys the current climate in art production, shifting its focus in accordance with the concerns of its guest director. Previous incarnations have explored online social networking as a cultural phenomenon, and issues of trust relating to media and Internet production.

This year, Korean artist-filmmaker Park Chan-Kyong has decided on the subtitle Ghosts, Spies, and Grandmothers. Gathering 42 artists from 17 countries, Mediacity 2014 explores historical change and what is lost or emerges in its wake, largely within an East Asian context. The tropes of 'ghost', 'spy' and 'grandmother' represent lost traditions, the spectre of the Cold War, and the oft-overlooked perspectives of women who have witnessed these vicissitudes and derive wisdom from them.
Focusing on issues of historical change seems appropriate given Seoul's position at the centre of what economists call The East Asian Miracle, a period of rapid industrialization and market growth also seen in Taiwan, Hong Kong and Singapore. Within a few tumultuous decades, communism, military law, and patriarchal traditionalism have given way to unrelenting capitalism. Moreover, though her father served before her, South Korea's current President is a woman: something almost unthinkable for voters a few decades ago.
Mediacity's consideration of the role of women—and more specifically, elderly women—is therefore less peculiar than the subtitle initially sounds. Several pieces pay attention to the voices, faces and experiences of grandmothers, as a way of subverting or appending histories written from and about masculine perspectives.
The most engaging piece to do so is Greek-British artist Mikhail Karikis's video and sound piece SeaWomen (2012). Installed in two adjacent rooms, sound and image are separated so that we sit on the floor of one room, looking through a large doorway to a screen mounted on the wall of the other. Surround sound speakers play a rushing squall of a seascape, punctuated by squeaking that sounds like dolphin song. At one point, women singing traditional Korean folk music can also be heard. Upon reading the wall text, we discover the squeaking on the soundtrack to be that of the singing women. These women are part of an aging population of female divers who make their living catching seafood under the jagged waves of Jeju, an island south of mainland Korea. From childhood, the women of Jeju practice a breathing technique whereby they can stay deep underwater for extended periods of time. Exhalation through pursed lips creates the distinctive squeaking we hear. On screen, we see the women go about their diving, the camera somersaulting with them underwater. Surfacing, we follow their progress on shore. They weigh their catch before heading home on motorbikes. What is remarkable is the women's age and vitality (most are over fifty, some in their seventies). They are stocky, clad in wetsuits, and move assuredly both on land and underwater. Historically, while the women of Jeju dived, the men cared for their children and the home, reversing mainland Korea's patriarchal system. Recently however, the number of divers has dwindled and young women work in the island's tourist industry or leave for the city. SeaWomen is therefore not only testimony to a shoal of grandmothers, but to a tradition that may soon become a ghost.
Although recording a day in the life of the divers, in its construction, Seawomen almost drowns them out by applying its soundtrack so thickly. We cut from a turbulent underwater shot to one of a crab mincing its way up a rock face, and shortly afterwards, to an almost static shot of baskets on shore. Yet despite the significant changes in location, the sound maintains its heavy course, as if not listening to the images on screen. Compounding this problem are the sound levels, which rise to an uncomfortable extreme at times—not only in this installation but also elsewhere in the biennial.
Women's voices are recorded and broadcast (and more quietly this time) in a small 'listening archive' built on the landing of the museum's second floor. Korean radio producer Sang-il Choi and sound artist Jiyeon Kim's piece Grandmothers' Lounge: From the Other Side of Voices (2014) is specifically created for the biennial and comprises audio recordings of Korean women—many of whom have since passed away. Memories of the Korean War, mythology, and former customs are strands of intangible culture that Choi and Kim feel deserve more attention in Korea. Along with headphones and cassette tapes, the lounge contains pamphlets detailing each recording. Unfortunately, there are no English transcripts or pamphlet translations, and so non-Korean visitors are left somewhat in the dark. Some small black and white photographs accompanying the pamphlets offer the only non-verbal aspect of the piece, depicting the villages in which the recordings were made.
Renowned Japanese photographer Naito Masatoshi's black and white series, Baba Bakuhatsu (Grandma Explosion) (1969-70), provides a dynamic complement to the photographs in Grandmothers' Lounge. Photographed in Japan's northern Tohoku region, aged female shamans' portraits are taken with a flashlight as they conduct nocturnal prayers, mourning ceremonies, and dances. Though well travelled on the exhibition circuit, these photographs are germane to Mediacity's celebration of women's voices and customs particular to them.
Female shamans are also the focus of Korean educationalist and folklorist Kim In-whoe and photographer Kim Soo-nam. Using video and photographs respectively, they work in much the same way as ethnographers, recording ceremonial offerings, dances, and costumes of women across the Korean peninsula. Soo-nam's black and white photographs feel laden with spiritual intensity: several are taken in twilight or beside the sea, locations that are themselves thresholds and suggest negotiations between past and present, and rituals perhaps soon to be lost.
Similarly sombre monochrome photographs comprise part of Taiwanese artist Jui-Chung Yao's contribution to Mediacity. Photographing ruins in Taiwan and abroad for his series Beyond Humanity (2008), Yao explores the various power relations at work behind the erection and dereliction of monuments and buildings. This was also the thinking behind Japanese director Masao Adachi's now renowned film A.K.A. Serial Killer (1969), which plays on a television monitor in French artist Eric Baudelaire's installation The Anabasis of May and Fusako Shigenobu, Masao Adachi and 27 Years Without Images (2011). A.K.A. Serial Killer explores the idea that filming a nation's land- and cityscapes can reveal its power structures and conflicts. It is one of the threads that Baudelaire weaves into an exploration of the radical filmmaking and political activism shared between Japan and Lebanon in the 1970s. Though Baudelaire's installation has made its rounds of exhibitions and biennials by now, its exploration of the memories and journeys of somewhat under-chronicled political figures is befitting for Mediacity's theme this year.
Part of Baudelaire's interest in extreme left-wing radicalism of the 1970s is due to its failure and the subsequent feelings of disappointment left in its wake. Egyptian artist Basim Magdy's film, The Dent (2014) takes as its starting point the dent an elephant made in a wall when a circus visited an unnamed town. This dent stands as a spectre of the unachieved fame of a place we soon discover to be fictional. Shot in locations including New York City, Quebec, Paris, Venice, Brussels, and Basel, Magdy's footage is poetically elliptical in denying us a concrete location or narrative. Like Baudelaire's Anabasis, Magdy's film captures a feeling of disillusionment and uncertainty. Although subtitles in The Dent are intended to add another poetic layer to its images, they often feel rather obfuscatory, as do captions accompanying a series of Magdy's colour photographs that is also on show (Every Subtle Gesture, 2012-ongoing). The poetic circumlocutions begin to lose their power, and feel like an undue accompaniment to images that speak for themselves.
This was also the problem with Mediacity's audio guide, which did little to elucidate or enrich what was on show. A preponderance of words such as 'fragmentary', 'poetic', 'loss', and 'melancholy' were more descriptive than informative. Along with the great number of exhibited works that looked to history for subject matter, the words made the exhibition feel somewhat locked in stagnant recollection. Even pieces dealing with current problems such as Fukushima's radiation (Nina Fisher and Maroan el Sani's film I Live in Fear–After March 11, 2013) dwelled primarily on memories of survivors and left an open question over what can be done next, beyond the confines of staged, filmed conversation.
There is always the danger that the past, in the words of philosopher John Dewey, 'rests upon the present as an oppression, instead of being a storehouse of resources.' Mediacity's artists oscillate between seeming waylaid in memorialising the past, and being enriched by drawing from it. During instances of the latter however, when grandmothers, ghosts and spies are heeded effectively, Mediacity indicates some ways to move forward, both in the fast-paced streets of Seoul and further afield. — [O]