Feature
Melbourne Art Shows to See: 2018 Lowdown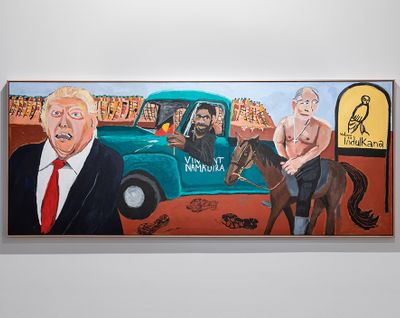 Vincent Namatjira, Welcome to Indulkana (2018). Synthetic polymer paint on linen. 122 x 304 cm. Exhibition view: Lightness of Spirit is the Measure of Happiness, Australian Centre for Contemporary Art, Melbourne (7 July–16 September 2018). Courtesy the artist; Iwantja Arts, Indulkana and This is No Fantasy + Dianne Tanzer Gallery, Melbourne. Photo: Andrew Curtis.
Melbourne Art Week returns to much fanfare this year, taking place between 30 July and 5 August 2018 with the biennial Melbourne Art Fair holding centre stage after its hiatus in 2016 (2–5 August 2018). Situated across two venues within the Southbank Arts Precinct and presenting 40 new and established galleries from Australia, New Zealand and Southeast Asia, the fair's return signals a fresh impetus to celebrate, promote and support art that emanates from Melbourne and the wider region, and to demonstrate the value of art produced on the so-called periphery. With that in mind, here is a selection of some institutional exhibitions to see in and around the city this Australian winter.
Yhonnie Scarce, 'Remember Royalty' (2018). Exhibition view: Lightness of Spirit is the Measure of Happiness, Australian Centre for Contemporary Art, Melbourne (7 July–16 September 2018). Courtesy the artist and This is No Fantasy + Dianne Tanzer Gallery, Melbourne. Photo: Andrew Curtis.
Lightness of Spirit is the Measure of Happiness
Australian Centre for Contemporary Art, 111 Sturt St, Southbank
7 July–16 September 2018
Since the landmark exhibition Sovereignty, curated by Paola Balla in 2016–2017, the Australian Centre for Contemporary Art (ACCA) has made moves towards centring indigenous curators in their programming. As part of Yalingwa, the Victorian Government arts initiative, A Lightness of Spirit is the Measure of Happiness speaks to—to borrow filmmaker and legal academic Larissa Behrendt's words—the profound at work, and happiness as a broader concept.2 Curated by Hannah Presley, the exhibition draws together 13 artists from southeast Australia, and presents 10 new commissions by Vicki Couzens, Yhonnie Scarce, Kaylene Whiskey, and Peter Waples-Crowe, among others. Visual stories of family, friends, and Country abound, these are nostalgic and oftentimes warm, humorous gifts combining country music icons, queerness, and pop culture.
Exhibition view: Blak Design Matters, Koorie Heritage Trust, Melbourne (21 July–30 September 2018). Courtesy Koorie Heritage Trust. Photo: Tiffany Garvie.
Blak Design Matters
Koorie Heritage Trust Galleries, Level 1, Yarra Building, Federation Square
21 July–30 September 2018
In architect and curator Jefa Greenaway's words: 'Aboriginal culture is a living culture, it is always evolving, adapting, and changing.'1 Indeed, Blak Design Matters embodies precisely this—and so it matters even more that this is the first national survey exhibition of contemporary Aboriginal and Torres Strait Islander design. Hosting the exhibition is Koorie Heritage Trust, an Aboriginal-led organisation known for its community-centred and bold approach to celebrating Aboriginal and Torres Strait Islander cultures (sadly, its building has been recently flagged for demolition and is to be replaced by an Apple store). There is diversity in design forms, from fashion, interiors and product design to landscape, architecture and urban planning, with a richness across disciplines linked to long and proud cultural traditions and heritage. Through the practices of Arkie Barton, Maree Clarke, Dillon Kombumerri, Grace Lillian Lee, Nicole Monks, and Lyn-Al Young among others, this is a unique opportunity to witness radical strength and resilience in blak design today.
Puna Yanima, Antara (2017). Acrylic and ink on canvas. 200 x 200 cm. Courtesy the artist and Linden New Art, Melbourne.
Wangka Kutjara, Tjukurpa Kutju
Linden New Art, Domain House, Dallas Brooks Drive
28 July–2 September 2018
The 2018 National NAIDOC (National Aboriginal & Islander Day Observance Committee) Week theme, 'Because of her, we can!' recognises Aboriginal women as leaders, activists and protectors of culture and community. Wangka Kutjara, Tjukurpa Kutju, or Two Voices, One Tjukurpa, depicts Anangu sacred sites and everyday life by mother and daughter artist-duo Puna Yanima and Linda Puna. For the first time, the artists are generously sharing their work in a public gallery setting, and it is an absolute privilege to witness the significance of their cultural knowledge and their strong connection to country within the Mimili community and surrounding Anangu Pitjantjatjara Yankunytjatjara (APY) Lands in the northwest of South Australia. The exhibition will comprise paintings, along with an audio recording of a discussion between the two women in which they discuss their practices and heritage.
Angela Tiatia, The Fall (2017). (Still) 16:9, colour, no sound, two-channel high definition video. Edition 5 + 2AP. 4 min 58 sec. Commissioned by the Australian War Memorial. Courtesy the artist and Sullivan + Strumpf, Sydney.
TIME presents Angela Tiatia
Buxton Contemporary, Corner Southbank Blvd & Dodds St, Southbank
30 July–5 August 2018
As part of Melbourne Art Fair's city-wide video sector, 'TIME', New Zealand artist Angela Tiatia's moving image work The Fall (2017) will be screened at Buxton Contemporary, a newly opened art space hosting much of the Michael Buxton Collection. Commissioned by the Australian War Memorial, Tiatia's work is intimately researched and visualised, remembering World War Two through the oral accounts of the 1942 Fall of Singapore. Fantastical scenes in slow motion show soldiers gorging on their last supper, young people silenced by orchids in their mouths as others sprint with samurai blades, mothers who seek to dispel enemy soldiers by ageing their daughters' hair with flour. Yet the portrayal of feelings of fear and survival during the Japanese occupation of Singapore does not simply point to a narrative between Singapore and Japan. Tiatia hints at past British colonialism through devotional scenes, referencing Hieronymus Bosch's triptych painting The Garden of Earthly Delights (c. 1500).
Sriwhana Spong, This Creature (2016). (Still) HD video. 14 min 55 sec. Courtesy the artist and Michael Lett, Auckland.
TIME presents Sriwhana Spong
Melbourne Art Fair, 111 Sturt St, Southbank
2–5 August 2018
New Zealand artist Sriwhana Spong is known for complex film and image-making that brings together past and present expression through dance. Also featured as part of TIME, Spong's 2016 video This Creature is inspired by the medieval Christian mystic Margery Kempe (c. 1373–c. 1440), a historical figure who appealed against normative societal standards for women during her time, often acknowledging the disjunctive relation between body and desire in her autobiography (considered to be the first autobiography in the English language). Exhibited at the former Victoria Police Stables—now part of the Victorian College of the Arts—This Creature is captured on Spong's iPhone and traces the artist as she walks through London's Hyde Park, interpreting and performing spiritual impulses corporeally. Indeed, knowledge can be derived experientially, for the body is not passive, but unruly in its desire to feel. Spong's film takes up this very premise, suggesting that the body is not a drag on spiritual possibilities.
Exhibition view: State of the Union, Ian Potter Museum of Art, Melbourne (24 July–28 October 2018). Courtesy Ian Potter Museum of Art. Photo: Keelan O'Hehir.
State of the Union
Ian Potter Museum of Art, The University of Melbourne, Swanston Street, Parkville
24 July–28 October 2018
In the context of considering casualised labour, State of the Union is about forging coalitions, fighting for fair labour practices, and reimagining the structures and institutions that frame our work. Exploring historical moments in art and labour movements in Australia, especially during the Depression era of the 1930s and 40s and the 1970s and 80s, the exhibition also situates new opportunities for advocacy and activism. Synergies are bridged through visualities of protest via archival material, banners, posters, murals, together with contemporary aesthetics and politics—a lively roster including the Artists' Committee, Kay Abude, Jeremy Deller, and Alex Martinis Roe. Curated by Jacqueline Doughty at the Ian Potter Museum of Art, the exhibition considers the commitment of Australian trade unions to the transformative potential of art and cultural production. There is much to be said about the power of visuality to communicate not only political conviction and complicities, but also co-determining labour struggles—art is work too, after all.
Studio Round, WORKAROUND. Graphic. Courtesy Studio Round.
WORKAROUND – Women Design Action
RMIT Design Hub, Project Rooms 1 & 2, Level 2, Corner Victoria & Swanston St, Carlton
25 July–11 August 2018
On view at RMIT University's RMIT Design Hub is an exhibition that focuses on activism within the design field, and how women creatively work around personal and professional circles and constraints to extend architectural and design imaginaries. The show's title, WORKAROUND – Women Design Action refers to 'a movement of women focused on advocacy and activism within an expanded field of architecture', who work 'towards positive change in the built environment and its surrounding cultures'. Curated by Kate Rhodes and Fleur Watson (RMIT University) with Naomi Stead (Monash University), WORKAROUND is presented as an online broadcast and a programme of 14 'episodes' staged as live events involving a spectrum of Australian practitioners. These include 'design maven' Mary Featherston's session 'Wonder-ful Schools?' (Friday 3 August, 12:30–4pm), and RMIT architecture and urban design professor and Humanitarian Architecture Research Lab (HARB) Director Esther Charlesworth's presentation, 'A Day in the Life of a Humanitarian Architect' (Thursday 9 August, 10am–3:30pm). Each episode can be watched on set at RMIT Design Hub, or viewed online via the Design Hub website.
Exhibition view: Eavesdropping, Ian Potter Museum of Art, Melbourne (24 July–28 October 2018). Photo: Keelan O'Hehir.
Eavesdropping
Ian Potter Museum of Art, The University of Museum, Swanston Street, Parkville
24 July–28 October 2018
Founded in 1999 by a group of RMIT students, Liquid Architecture is an Australian organisation for artists working with sound that has consistently been incorporating more ambitious projects into its programming. Eavesdropping takes it all on. Bringing together artists, researchers, writers, and activists such Lawrence Abu Hamdan and Susan Schuppli from Forensic Architecture, Samson Young, and the Manus Recording Project Collective, this is an exhibition, a public programme, a series of working groups and touring event all in one. Curated by Joel Stern (Liquid Architecture) in collaboration with Dr James Parker (Melbourne Law School), Eavesdropping concerns legal and political conditions of listening, its mediation amongst specific technologies and settler colonial, capitalist structures. The power of the state continues to be susceptible to critique and resistance, and there still exist activist practices of listening that embody careful and caring accountability, as displayed in this exhibition.
Exhibition view: MoMA at NGV: 130 Years of Modern and Contemporary Art, NGV International, Melbourne (9 June–7 October 2018). Photo: Tom Ross.
MoMA at NGV: 130 Years of Modern and Contemporary Art from the Museum of Modern Art, New York
The National Gallery of Victoria, Ground Level
7 June– October 2018
This year, the National Gallery of Victoria's Melbourne Winter Masterpieces exhibition is an international exclusive: a collaboration with New York City's Museum of Modern Art to show more than 200 works from the museum's collection on the museum's ground level. This expansive survey was organised by MoMA's Samantha Friedman, associate curator of drawings and prints; Juliet Kinchin, curator of modern design; Christian Rattemeyer, the Harvey S. Shipley Miller Associate Curator of Drawings and Prints, and NGV's senior curator of international exhibition projects, Miranda Wallace. Divided into eight thematic sections, the show starts in the late-nineteenth century and moves through to the present. On view are some of MoMA's earliest acquisitions, including paintings by Vincent van Gogh and Lyubov' Popova. Frida Kahlo, Jackson Pollock, Roy Lichtenstein, and Andy Warhol are also represented; as are Keith Haring, Kara Walker, Rineke Dijkstra, Huang Yong Ping, and El Anatsui. MoMA's architecture and design collection has also been curated into this show: objects include Shigetaka Kuritathe's original set of 176 emoji, which he developed in 1999.
Hiromi Tango, 46 Healing Chromosomes (2017). (Detail) Mixed media. 200 x 520 x 48 cm. Courtesy the artist and Sullivan+Strumpf, Sydney.
TarraWarra Biennial 2018: From Will to Form
TarraWarra Museum of Art, 313 Healesville-Yarra Glen Rd, Tarrawarra
3 August–6 November 2018
Northeast of Melbourne in the Yarra Valley lies TarraWarra Museum of Art, where the 2018 TarraWarra Biennial is set to open with a collection of sculpture, painting, performance and film works by 23 artists and one artist group. Titled From Will to Form, the exhibition will consider the ungovernable side of human nature and how it might be manifested in art, and will include an intervention by Dale Harding on the museum's 45-metre-long vista wall along with 18 other commissions by Mike Parr, Claire Lambe, Michelle Ussher, among others.—[O]
1 3:30, Interview with Jefa Greenaway with Hilary Harper on RN, ABC Radio, http://radio.abc.net.au/programitem/pgWGze2rj7?play=true
2 Larissa Behrendt, 2015, 'The Things you Shouldn't Say to an Aboriginal Person' in Nelson, C., Pike, D. & Ledvinka, G. (eds), On Happiness: New Ideas for the Twenty-First Century, UWA Publishing, Perth, pp. 214-21.