Feature
Melbourne Summer Focus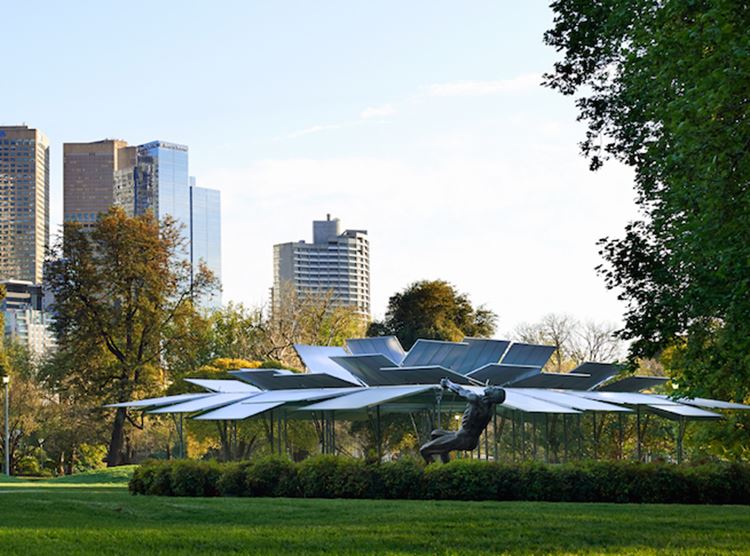 Queen Victoria Memorial Gardens
MPavilion
Until 31 January 2015
Nestled in Melbourne's Queen Victoria Memorial Gardens and sponsored by the Naomi Milgrom Foundation, MPavilion is a contradictory vision of permanence and ephemerality, discipline and play. Designed by internationally acclaimed architect Sean Godsell, it is a temporary events hub which hosts talks, workshops, film screenings and art interventions as part of the Melbourne Festival. Unashamedly inspired as a kind of Southern Hemisphere Serpentine Pavilion, Godsell pays homage to Aussie rural cliches and national history by crafting the bones of a rickety shed into a shimmering mirage. Unlike its source of inspiration, the structure is refined – clean lines, pristine steel columns and panelled roofing that adjust to provide shelter, while filtering sunlight and summer breezes.
Sponsored by the Naomi Milgrom Foundation, MPavilion is commissioned as the first of a four year program, reinforcing Melbourne's standing as a global leader in architecture and design. MPavilion embodies spectacle. Every morning at 8am, the building theatrically unfurls like a butterfly along with a commissioned soundscape by Geoff Nees, animated by shards of shifting light and conditions, responding poetically to the surrounding landscape.
The structure is designed for interactivity and engagement and the four month program is extensive including lunchtime readings/debates and self guided audio expolrations through the urban spectrum between MPavilion and ACMI. There are also yoga meets, groovy DJ rosters, art workshops – the MOMA director Glen D. Lowry already popped in for a talk.


MPavilion, Queen Victoria Gardens. Photo: Earl Carter

RMIT Gallery
Experimenta Recharge: Sixth International Biennial of Media Art
Until 21 February 2015
Experimenta Recharge presents the Sixth International Biennial of Media Art, a fancy title that falls short of available content and world representation, with only 18 multidisciplinary works from Australian and international artists. Curated by Jonathan Parsons, the biennale intends to encourage conversation and highlights the potential of the digital, whilst illuminating new modes of consciousness. The standout works include Yunkurra Billy Atkins' collaboration with Sohan Ariel Hayes, Cannibal Story (2013); Cake Industries' Simulacrum (2014) and Khaled Sabsabi's 70,000 Veils (2014).
Cannibal Story is a startling digital animation that carves out a dark narrative, to which is refuted by vibrant colours that exaggerate the harsh Australian bushscape. Cake industries' 3D printing turns traditional portraiture on its head, creating intimate perspectives; 15 members of the Melbourne community were invited, unidentified by name but instead by archetypes. Sabsabi's video installation is exciting because it's immersive, cornering the viewer in panels of the everyday.

Yang Fudong, Yejiang/The Nightman Cometh, 2011. Courtesy of Yang Fudong, ShanghART Gallery and Marian Goodman Gallery
ACMI, Federation Square
Yang Fudong: Filmscapes as part of China Up Close
Until 15 March 2015
China has transformed dramatically over the last decade and this is reflected in developments in Chinese moving image art and cinema - the subject of China Up Close, a special summer season at the ACMI including a rich program of exhibitions, talks, live events and film.
Central to the program is Australia's first ever career survey of Shanghai-based artist Yang Fudong. Yang Fudong: Filmscapes is displayed in ACMI's black box cavern-gallery, the effect is instinctively immersive and confronting. The Fifth Night (2010) establishes a labyrinth via seven large screens made up of seven suspended sequences, projected from different angles and without narrative closure. Stylistically rooted in film noire, 1930s' Shanghai depicts a China strongly influenced by the West, where each protagonist takes in their colonial surroundings in wonder and anxiety, enacting the role of the displaced flaneur. Sound adds to the zeitgeist of uncertainty through dissonant echoes; hammer strikes, horse heels against cobblestone, fire crackling. It is the disconnected transition space between the new and old, penetrating in its artificiality.
This parallel dichotomy is also found in Yejiang/The Nightman Cometh (2011), a single-screen feature that focuses on a cast of four strange figures meandering between practical reality and the illusory, civilisation and natural wilderness. In the nightmarish snowstorm abyss, the sense of longing is palpable, along with a mixed sense of loss and renewal.
Co-commissioned by ACMI and the Auckland Art Gallery Toi o Tamaki, The Coloured Sky: New Women II delivers a richly transcendent, intoxicating installation that is quite distinctively positioned away from Yang Fudong's signature 35mm monochromatic films. The girls on the screens frolic and pose in paradise for the spectator, self-conscious of their appearance and sexuality. Yet amidst monoliths of saturated filters, they are guarded, and to be observed at a distance. By fixing their eyes on the audience, they are no longer compliant with the male gaze.
The exhibition ends on a morbid note, where East of Que Village (2007) switches to a dystopian rural Chinese province of Hebei. Filmed documentary-style, it is the survival of the fittest, portrayed by cannibalistic dogs, almost indistinguishable in their savagery. The effects of industrialisation and urbanisation seems to have devastated communities, neglecting those who need help the most.