Feature | Lowdown
Art in Melbourne: Nine Online Programmes in 2020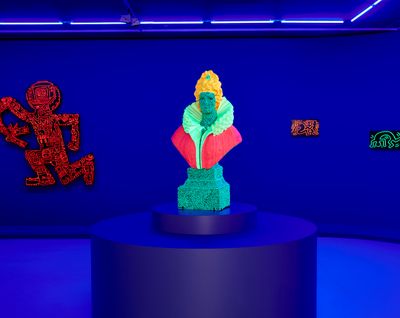 Keith Haring | Jean-Michel Basquiat: Crossing Lines, NGV International, Melbourne (1 December 2019–11 April 2020). © Estate of Jean-Michel Basquiat. Licensed by Artestar, New York. © Keith Haring Foundation. Courtesy National Gallery of Victoria. Photo: Sean Fennessy.
Melbourne Art Foundation has teamed with Ocula to bring Melbourne Art Fair online between 1 and 7 June 2020, allowing public access to an array of artworks from leading galleries across Australasia. Looking across galleries and institutions in Melbourne, this lowdown provides a selection of further online programmes to connect with the city's scene.
Keith Haring | Jean-Michel Basquiat: Crossing Lines
National Gallery of Victoria
Ongoing
Curated by Dr Dieter Buchhart, this exhibition brings the artistic practices of Keith Haring and Jean-Michel Basquiat in dialogue through more than 200 artworks. From the role of street art in defining the artists' symbolism and styles, to their involvement in New York's downtown scene of the 1980s, the exhibition provides rare insights into their trajectories and crossovers, accessible via virtual tour on the National Gallery of Victoria's website.
Robert MacPherson, Two hand space gloves (1982). Exhibition view: Robert MacPherson: The Painter's Reach, Queensland Art Gallery | Gallery of Modern Art, Brisbane (25 July–18 October 2015). Courtesy Queensland Art Gallery | Gallery of Modern Art. Photo: Mark Sherwood.
Defining Moments: Australian Exhibition Histories 1968-1999
Australian Centre for Contemporary Art
25 May–26 October 2020
The Australian Centre for Contemporary Art provides an unparalleled learning opportunity with Defining Moments: Australian Exhibition Histories 1968-1999. Looking into seminal moments between 1968 and 1999 that have shaped Australian art, all lectures will be recorded and released freely as videos and podcasts. The next lecture will take place on 13 July, led by the former director of the Institute of Modern Art, Brisbane, Peter Cripps, who will discuss the institute's 1985 exhibition, Recession Art, and its response to the social, political, and cultural climate of the 1970s and 80s.
Portrait of Julia deVille. Photo: Luzena Adams. Courtesy the artist.
3D Tour and Q&A With Julia deVille
Linden New Art
5 June 2020, 6pm
Linden New Art returns to taxidermist and jeweller Julia deVille's 2018 exhibition, Wholeness and the Implicit Order, which explored interconnectedness between beings, and the importance of treating all life with respect. On Friday 5 June from 6pm, a Zoom Webinar will draw upon the exhibition's reflections of life and death, the human consciousness, and our relationship to nature, while finding out what deVille has been up to since the exhibition's closure.
Benjamin Armstrong, Shear I (2020). Linocut, pigments, and binder on polyester. 134 x 150 x 3.5 cm. Courtesy Tolarno Galleries.
Benjamin Armstrong: Under the Southern Sky
Tolarno Galleries
16May–20 June 2020
Drawing from Cape Otway: Coast of Secrets, a historical account of shipwrecks, colonial massacres, and other events that at occurred Victoria's southernmost tip, Benjamin Armstrong's new series of stretched polyester works are historical re-readings painted with a magical realist sensibility. The series is presented on Tolarno Galleries' online Viewing Room, accompanied by a video capturing Armstrong's studio practice.
Michael Cook, Livin' the Dream (Sold) (2020). Inkjet print on archival Hahnemule cotton rag. 120 x 180 cm. Edition of 8 + 2 Aps. Courtesy THIS IS NO FANTASY dianne tanzer + nicola stein.
Michael Cook: Livin' the Dream
This Is No Fantasy dianne tanzer + nicola stein
19 April–6 June 2020
Michael Cook has choreographed a series of photographs that reimagine Australian history through a contemporary Indigenous community living a lifestyle prescribed by white norms. Taking the coloniser's view of what it means to be 'civilised', Cook asks, 'would a better understanding of Aboriginal cultures have made a difference to our history?' Photographs from the series can be viewed online with This Is No Fantasy dianne tanzer + nicola stein, accompanied by a video of the exhibition.
Kate Beynon, Masks of the Ogre Dancers (2014–2015). Synthetic polymer paint on linen. 185 x 165 cm. TarraWarra Museum of Art collection. Acquired 2015. Courtesy the artist and Sutton Gallery, Melbourne.
Making her Mark: Selected Works from the Collection
TarraWarra Museum of Art
Ongoing
Curated by Victoria Lynn, this exhibition presents key works by leading women artists in the TarraWarra Museum of Art's collection. An audio guide narrated by Lynn sheds light on works that are drawn together by themes including abstraction, memory, and landscape. The exhibition shines a light on women artists have catalysed different approaches to image, composition, and mark-making, bringing in a handful of works by male artists who expand on these explorations. A virtual tour of the exhibition is accessible online with TarraWarra Museum of Art.
Exhibition view: Hope in the Dark, Gertrude Contemporary, Melbourne (30 March–1 September 2020). Courtesy Gertrude Contemporary.
Hope in the Dark
Gertrude Contemporary
30 March–1 September 2020
Gertrude Contemporary are making the most of their windows on 21–31 High Street in Preston to present a street-facing exhibition titled Hope in the Dark. Up until September, works will be continuously be added to the exhibition and presented on the gallery's website and social media channels, offering reflections on confusion, resignation, and anxiety, offset with humour.
Leela Schauble, Wrapped (2020). Courtesy the artist.
Still Life: From Our Salon Prizewinners
Centre for Contemporary Photography
22 May–11 June 2020
The Centre for Contemporary Photography (CCP) provides an opportunity to discover work by emerging talent through its annual Salon series. Winners from the Salon series over the past three years contribute images of 'domestic bliss or burden', sharing a compelling array of still lifes constructed in their homes during lockdown. The works can be explored on CCP's website.
Jonny Niesche, Move Me (2020). Mirror polished brass, auto lack, aluminium, Voile and wood. 161.2 x 121.2 x 3.8 cm. Courtesy the artist and STATION.
Jonny Niesche: When I am very stressed, I make jam.
STATION
30 May–27 June 2020
Jonny Niesche continues to investigate the correlation and intersection between abstraction, minimalism, and the sublime in his latest solo exhibition at STATION. Undulating and blurred pastel hues in these works reference Dries Van Noten's 2019 Autumn/Winter women's collection, a dress from which the artist purchased for his wife in celebration of her recovery from breast cancer. The works will be viewable on the gallery's website, while social distancing measures will be put in place to allow visits to the gallery.—[O]