Feature
Message in a bubble: Art Basel in Miami Beach 2016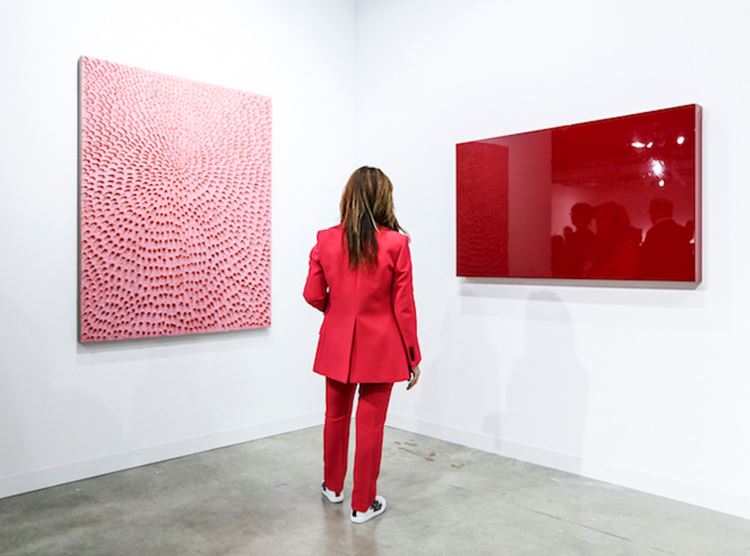 Almine Rech Gallery at Art Basel in Miami Beach 2016. Photo: © Charles Roussel & Ocula.
Speculation for the lack of buzz became a common talking point. Was it because of Trump? Zika? Fatigue?
The 15th edition of Art Basel in Miami Beach felt quiet. Nearly everyone noticed, even if final numbers tell a different story. (With 269 galleries from 29 countries, the fair reported the same 77,000 visitors as 2015.)
Speculation for the lack of buzz became a common talking point. Was it because of Trump? Zika? Fatigue? Or, as a BASS PROJECTS installation by artist duo Nice'n Easy suggested both in title (Come Down) and form (inflatable dolphins hung in a Walgreens shopfront to create a wave that ends in a deflation), has the art world's bubble finally burst? Again, numbers tell a different story: Art Basel in Miami Beach, the lodestar in a highly profitable art week for the region, reportedly sold well.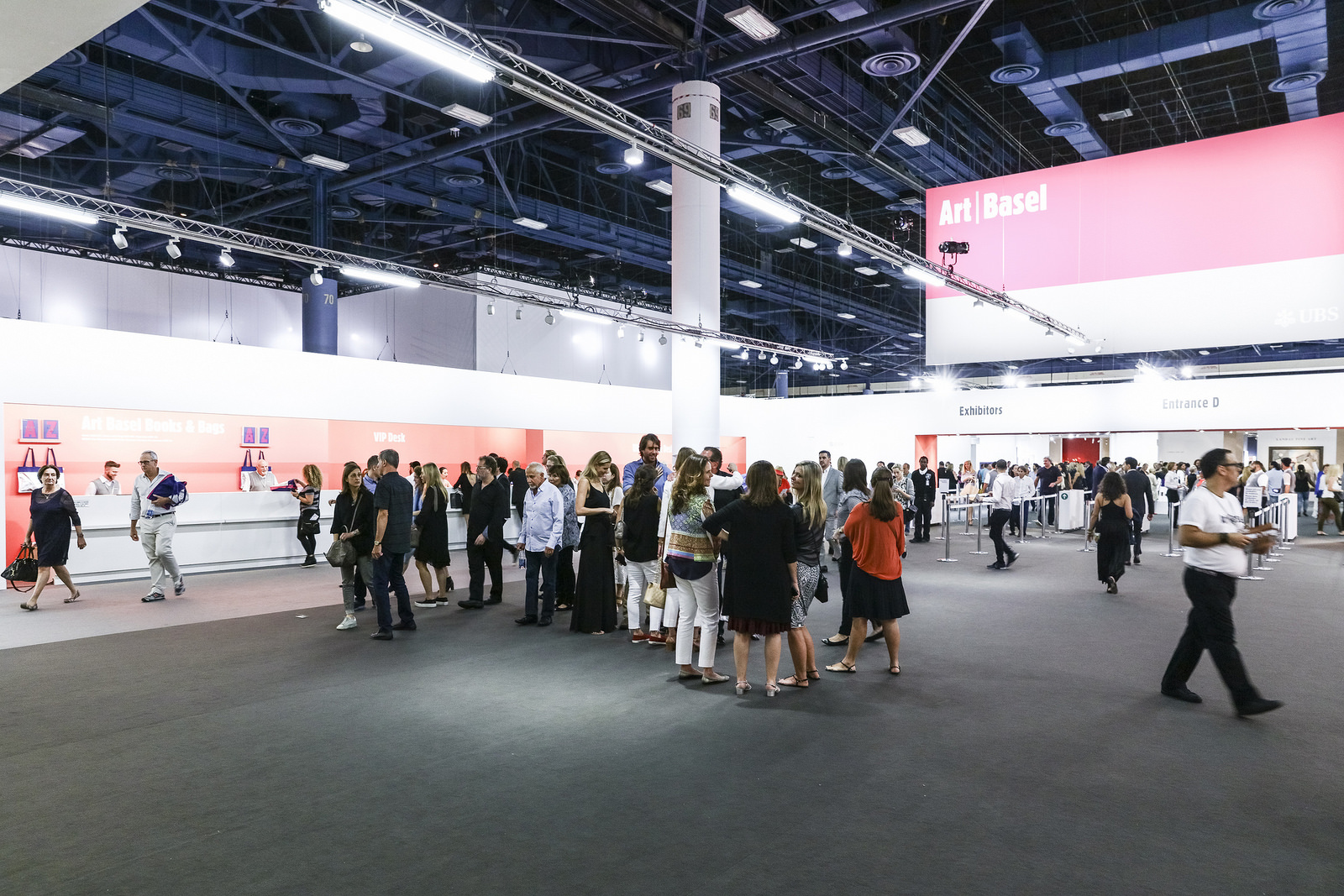 Art Basel in Miami Beach 2016. Photo: © Charles Roussel & Ocula.
In fact, it was all very much business as usual. Celebrities flew in. (Kendall Jenner was seen brushing by a Jenny Holzer at Sprüth Magers, I saw Rosario Dawson walking past Sultan's on Collins, Madonna held a fundraiser, and Lena Dunham's sister shouted at PS1 party goers about wealth.)
The brand-sponsored parties carried on, even if they were apparently subdued. (Kendrick Lamar was a highlight, I hear.) And the weather was thankfully better than last year, when downpours and floods not only rained on Miami Art Week's party parade, but pointed to the impact global warming is having on Miami Beach, where the sea water is rising each year, and sand is pumped up from the ocean bed to replace what is lost from the shore.
The work on view in the main fair was also appropriate for the time and place: the United States in December 2016, just weeks away from the inauguration of a president who represents the antithesis of what Art Basel in Miami Beach—the self-proclaimed art fair of the Americas run by a brand staked on balancing the regional/global spectrum—represents. Perhaps this is why ABMB felt more like a stage than ever, if not a soapbox, as galleries brought out politically attuned works.
There was a photographic print by Jonathan Horowitz of Donald Trump playing golf as viewed from behind, with the sky turned an apocalyptic furnace orange at Sadie Coles; a 2016 pencil on paper portrait of Hillary Clinton by Karl Haendel at Susanne Vielmetter Los Angeles Projects, and a similar, albeit unfinished portrait of Obama by Haendel at Wentrup Gallery. (Not to mention a portrait of Obama by Elizabeth Peyton at Gladstone.)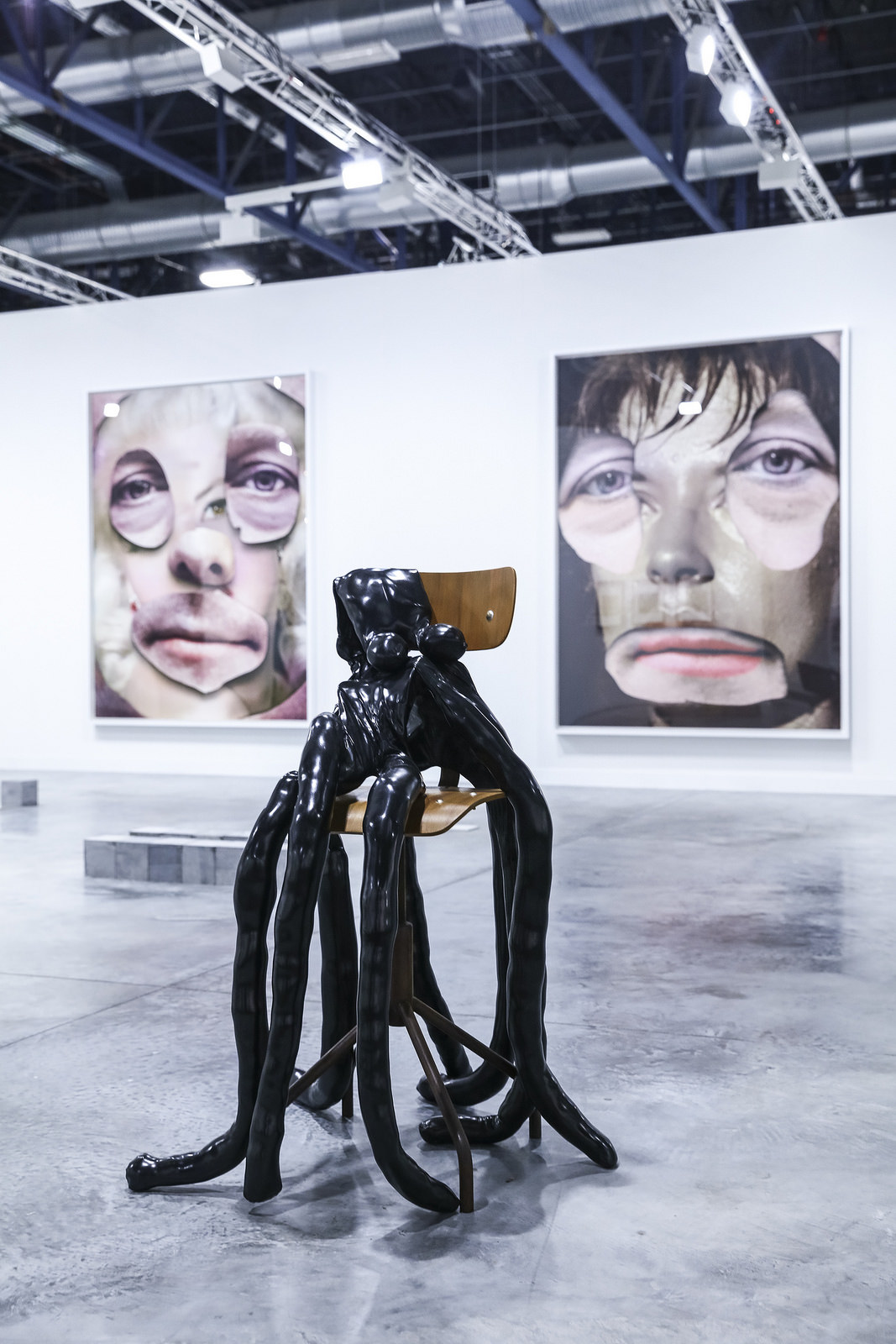 Sadie Coles HQ at Art Basel in Miami Beach 2016. Photo: © Charles Roussel & Ocula.
Even Ed Ruscha's dry pigment on paper print from 1984 at Galerie 1900-2000, in which 'CHINA' forms the negative space on a grey-blue background, took on another meaning just days after Trump tweeted about his phone call with Taiwan, and months before the Trans-Pacific Partnership is expected to be dismantled. (Then throw in the YouTube video of Trump actually saying 'China' over and over again...) Galerie Gmurzynska's focus on the Russian avant-garde felt at once timely and strange, given Russia's suspected involvement in the weirdest US election in history and the association of said avant-garde with the rise of a dictatorial regime in the wake of a revolution.
Likewise, the appointment of Steven Mnuchin—son of gallery founder Robert Mnuchin, whose eponymous gallery shows at the fair—as Trump's Secretary of the Treasury added a surreal tone. (The younger Mnuchin has just resigned from his board position at the Los Angeles Museum of Contemporary Art.) A #NoDAPL protest was even staged on the beach on the fair's last day, and Artspace managed to get a Karl Marx quote into the opening of a cover story for their NADA edition, titled: 'Is the Art Gallery Dead?'
Galerie Gmurzynska at Art Basel in Miami Beach 2016. Photo: © Charles Roussel & Ocula.
Of course, it's always hard to take politics seriously in an art fair known for its bombastic bling. (Shout out to Gagosian for both holding on to that identity and trolling naysayers with the gaudiest Koons ever—a giant solitaire diamond rendered in blue stainless steel.) Text-based political statements drew the most sniggers, with Jack Pierson's 2016 metal and plastic lexical assemblages, 'Capitalist Decadence' at Richard Gray Gallery (reported to have a price tag of US250,000) and 'Get Real' at Thaddaeus Roppac, among the worst offenders. (Extra points to Berggruen Gallery for showing a meta-critique to the texts via Tom McKinley's Mornington Garden Houses (2016)—an oil on panel perfectly depicting an LA-modern home as viewed from outside, with a Ruscha-esque text-painting with the words 'COMPLEX HUMAN DESIRES' visible through French windows.)
Gavin Brown's enterprise at Art Basel in Miami Beach 2016. © Art Basel.
There were words everywhere. Some hopeful, like 'Dream Rise and Organize' written in marker on a large cardboard collage of a monarch butterfly by Andrea Bowers at Susanne Vielmetter Los Angeles Projects. Others full of lament, as in Carol Jackson's 2011 ink on paper certificate at Corbett vs. Dempsey, on which the main phrase reads in calligraphic script: 'I am saddened by what is happening here'.
There were words of ominous doom, as was the case in Pia Camil's 2013 inkjet print featuring the text 'RISE INTO RUIN' over a red rock landscape at Galería OMR, and Rirkrit Tiravanija's three canvases at Gavin Brown, on which newspaper covers from the day after Trump's election are pasted, and the words 'THE TYRANNY OF COMMON SENSE HAS REACHED ITS FINAL STAGE' are stencilled. Then there were single words, isolated for extra impact, such as the 'FAIL' printed on Michael Williams's inkjet on canvas, Buddha Mutt (2016) at Eva Presenhuber, and 'NORMAL' printed on a Baldessari at Marian Goodman.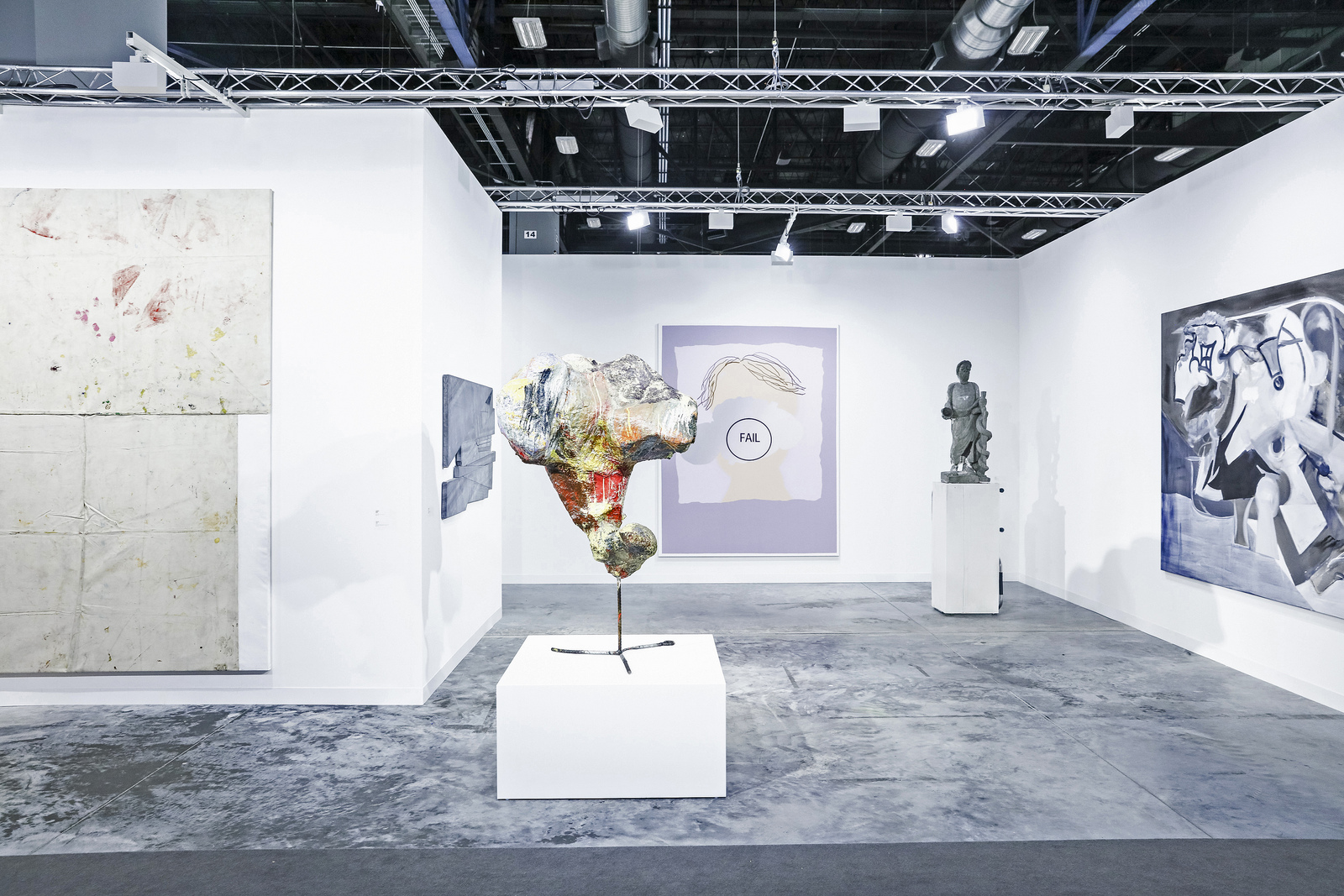 Galerie Eva Presenhuber at Art Basel in Miami Beach 2016. Photo: © Charles Roussel & Ocula.
Galleries seemed to use such works to signal a greater connection with the world outside the fair—its politics included—while acknowledging the art market's disconnect. Barbara Kruger and Mel Bochner were especially present, with works that came across as galleries offering a knowing wink to jaded audiences, a sign of solidarity, a gesture of disdain, and/or a cry for help.
These included Kruger's characteristic digital prints on vinyl, such as Untitled (Cast of Characters) (2016), at Sprüth Magers, on which various adjectives including 'FATUOUS FOOLS' and 'HATERS' are printed, and Untitled (Art Is...) (2016), at Mary Boone Gallery in which art is described as, among other things, 'HEAVY AS SORROW' and 'AS FUGITIVE AS FRAUD'. Meanwhile, Skarstedt Gallery showed a classic, if not telling, 1993 Kruger print featuring two boxers punching it out, with the text: 'LOOK FOR THE MOMENT WHEN PRIDE BECOMES CONTEMPT'.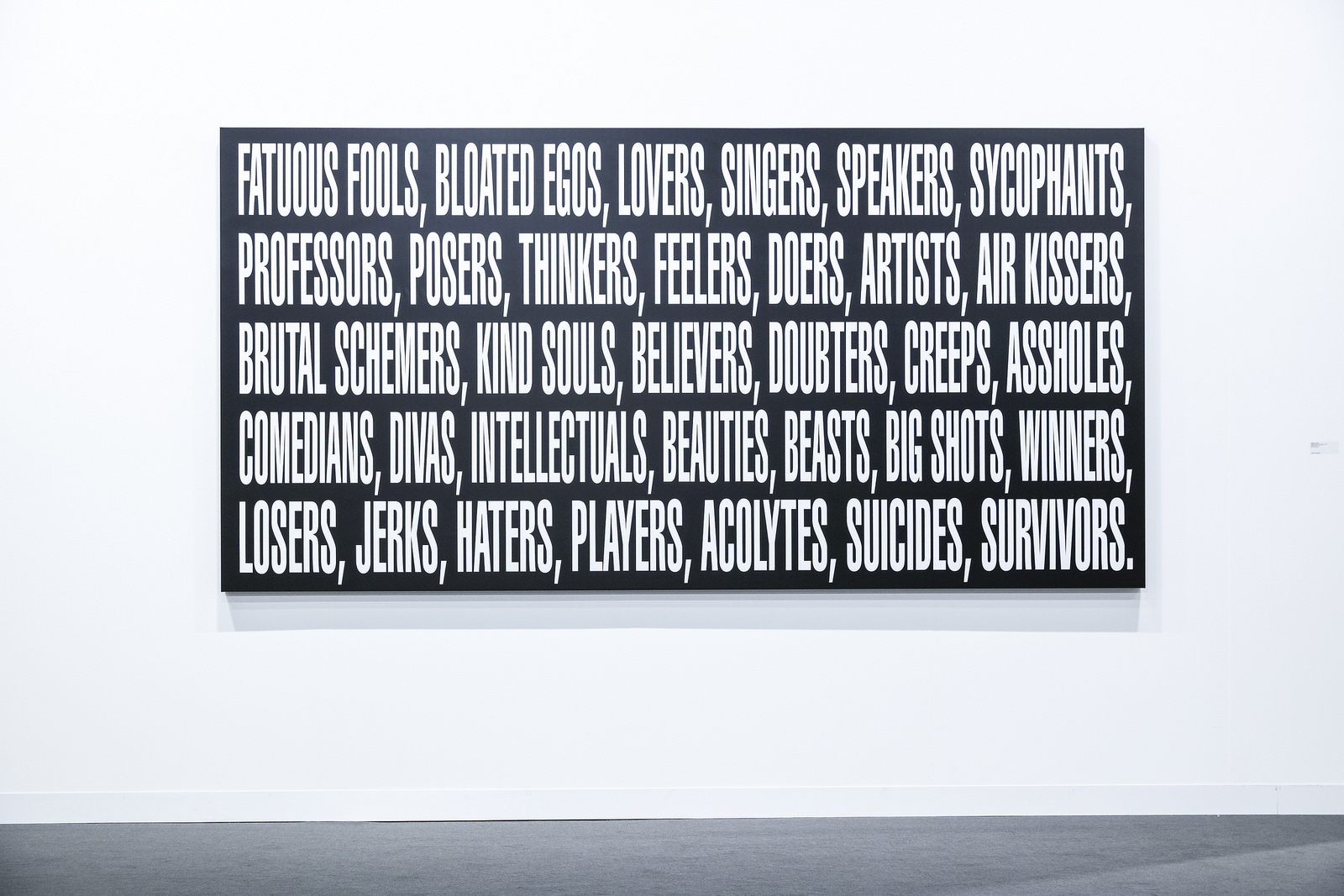 Barbara Kruger at Sprüth Magers at Art Basel in Miami Beach 2016. Photo: © Charles Roussel & Ocula.
Among these messages, Sam Durant's light box, on which 'END WHITE SUPREMACY' is written in black over a bright orange background, made the biggest statement. The work was hung on the outside wall of the Blum & Poe booth at one entrance to the fair: a love it/hate it kind of piece, since its directness and timeliness reeked of the art market's tendency to capitalise on hot-topic political conditions such as the one the U.S. finds itself in now.
Many turned their nose up at it, even if the piece was actually made in 2008, and its statement does in fact represent a call that has been made (and ignored) for decades if not centuries around the world, no less in the United States, and from within the art world itself.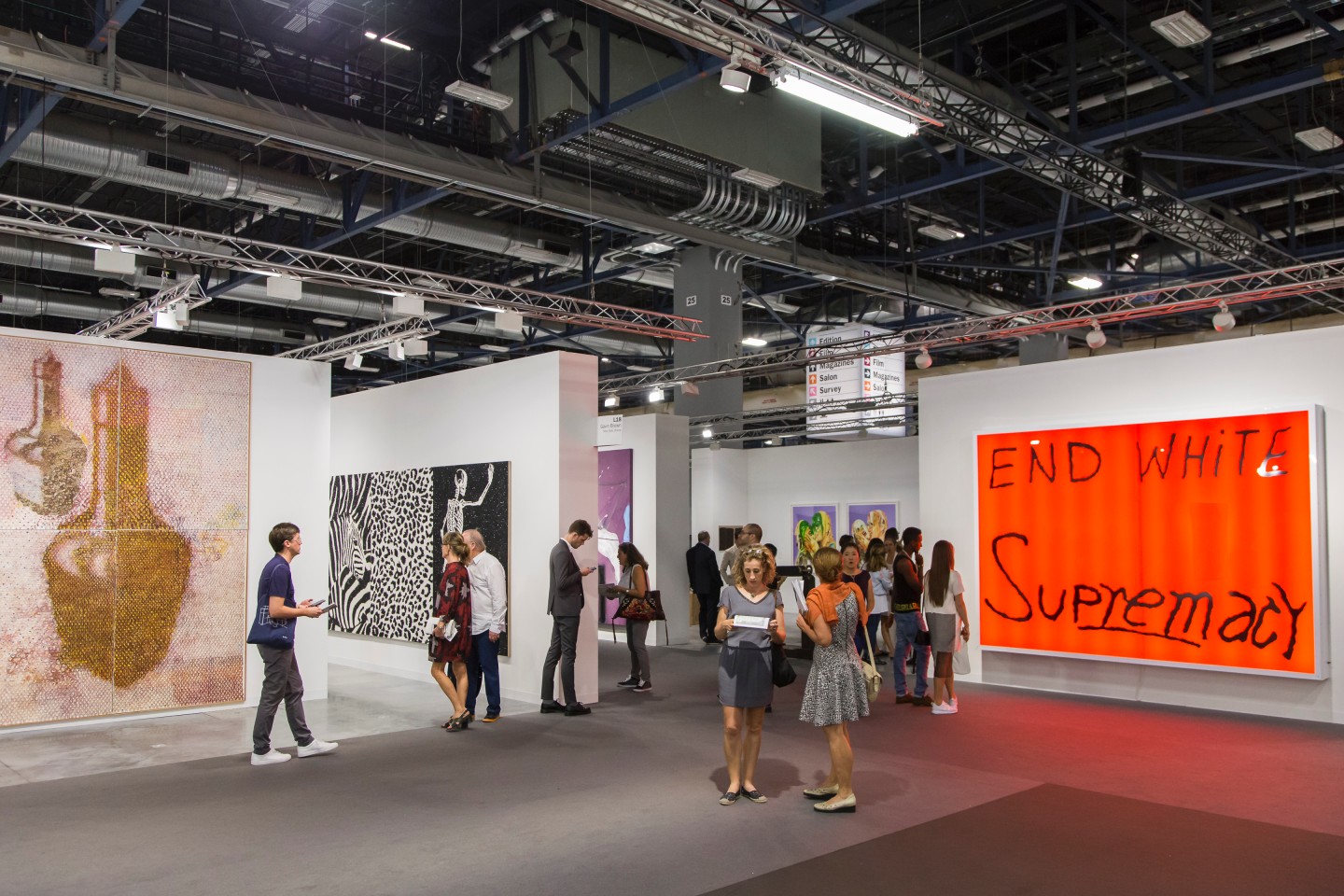 Blum & Poe at Art Basel in Miami Beach 2016. © Art Basel.
Regardless, Durant's face-slap was a notable departure from the antagonistic anti-capitalist statements that so often form the apologetic, self-knowing 'political' component of an art fair floor. End White Supremacy signalled a conscious insistence on acknowledging the racial politics currently on the boil in the U.S. and brought the protest right into the heart of capital. Other galleries clearly felt the same way, with noteworthy pieces including photographs documenting black life in 1950s Alabama by Gordon Parks at Rhona Hoffman Gallery; Noel Anderson's subtle collage of hands (including Martin Luther King's) at Tilton Gallery; and Sanford Biggers' Witness, 2016, at Marianne Boesky Gallery, which consists of a small carved sculpture of African figurines placed on a floor that connected to tall black figures made of canvas on the wall, thus casting a long historical shadow.
Over at Public in Collins Park, curated this year for the last time by Public Art Fund's Nicholas Baume, Glenn Kaino's Invisible Man (2016)—a cast aluminium sculpture of a man holding his hands up, his body standing on a large concrete plinth—was installed in front of the Bass Museum. The work clearly referenced the phrase, 'Hands Up, Don't Shoot': a rallying cry—and gesture—for the Black Lives Matter movement after the killing of Michael Brown in 2014; a phrase Robert Longo's charcoal on paper study, Untitled (Football Players, Rams, Hands Up) (2016), shown at Metro Pictures also referenced in a depiction of five members of the St. Louis Rams football team walking into their football stadium with their hands up.
Meanwhile, Henrique Faria expanded the frame with a work by Marcelo Brodsky that presented annotated images of various movements in the year 1968, from Prague, to London, and Washington, and Mexico to Rio de Janeiro.
Glenn Kaino, Invisible Man (2016) at Public, Art Basel in Miami Beach. © Art Basel.
But not all protests were as clearly articulated. Of the works in Public, Claudia Comte's large concrete slab painted with blue, white and black geometric patterning was positioned at the front end of Collins Park, facing Collins Avenue, where a loaded statement is usually installed. (Last year, Rirkrit Tiravanija's road sign that featured messages like 'THE DAYS OF THIS SOCIETY IS NUMBERED', the year before that, Hank Willis Thomas' 'Truth Booth'.)
Comte's work looked as apolitical as they come, until you read the title: 128 triangles and their Demonstration. This subtle message recalled the political legacy of abstraction, once associated with revolutionary ideas before it became absorbed into the art market and transformed into zombie formalism.
Claudia Comte, 128 Triangles and their Demonstration (2016) at Public, Art Basel in Miami Beach. © Art Basel.
Comte's gesture reflected another trend throughout ABMB, in which moments of silent and understated profundity emerged from the tense, artistic din. (Take a 1960–61 Fontana at Vedovi Gallery, not with the usual, coolly distant slits, but with gaping holes in a white, oil-paint covered canvas that mark the traces of a hand that seems to have furiously swung at the surface). In the Survey sector, for example, Ibrahim El-Salahi at Vigo and Romare Bearden at DC Moore Gallery stood out. Vigo focused on the period after El-Salahi—the legendary Sudanese modernist and the first African artist to have a retrospective at the Tate Modern—was released from a Sudanese prison in 1976 after being held as a political prisoner without trial; and DC Moore Gallery presented Bearden's 'Projections', a series of Dada-esque photostatic enlargements from 1964. Grouped alongside a series of colourful collages from the same decade documenting African American life through forms rendered in cut out shapes.
Romare Bearden at DC Moore Gallery, Art Basel in Miami Beach 2016. © Art Basel.
Bearden's colourful collages found a curious reflection in Hong Kong artist Wong Ping's 21st century approach to such an oscillation, as showcased in Nova at Edouard Malingue, with the ambitious and difficult installation_Jungle of Desire_ (2015). The installation included an animation made in the artist's characteristic 8-bit infused style, in which alienated figures are rendered in bright, neon shapes and lines against equally bright and austere backgrounds.
This blend between geometric abstraction and figuration pointed to another trend this year, in which contemporary practices mixed influences from abstract, surrealist, and cubist styles from the early- to mid- 20th century with a 21st century aesthetic in order to create a variety of expressive scenes. Examples included a duo of paintings by Nina Chanel Abney at Jack Shainman, depicting a pool party at Rockingham with figurative forms that echoed those of both Bearden and Wong Ping; Armin Boehm's Kabinett presentation at Galerie Peter Kilchmann featuring charged paintings of men and women rendered in a noir-geometric style directly influenced by the characters of Rainer Werner Fassbinder's movies; and a 2016 futurist-modernist rendition of the Italian Early Renaissance artist Masaccio's Expulsion of Adam and Eve from the Garden of Eden by Dana Schutz at Petzel Gallery.
Over at the Positions sector, Melike Kara's blue on white canvas depictions of bodies orgiastically intertwining at Peres Projects continued the thread, with paintings that paid homage to a 20th century interbellum aesthetic of dark indulgent release rendered with considered, yet expressive, lines.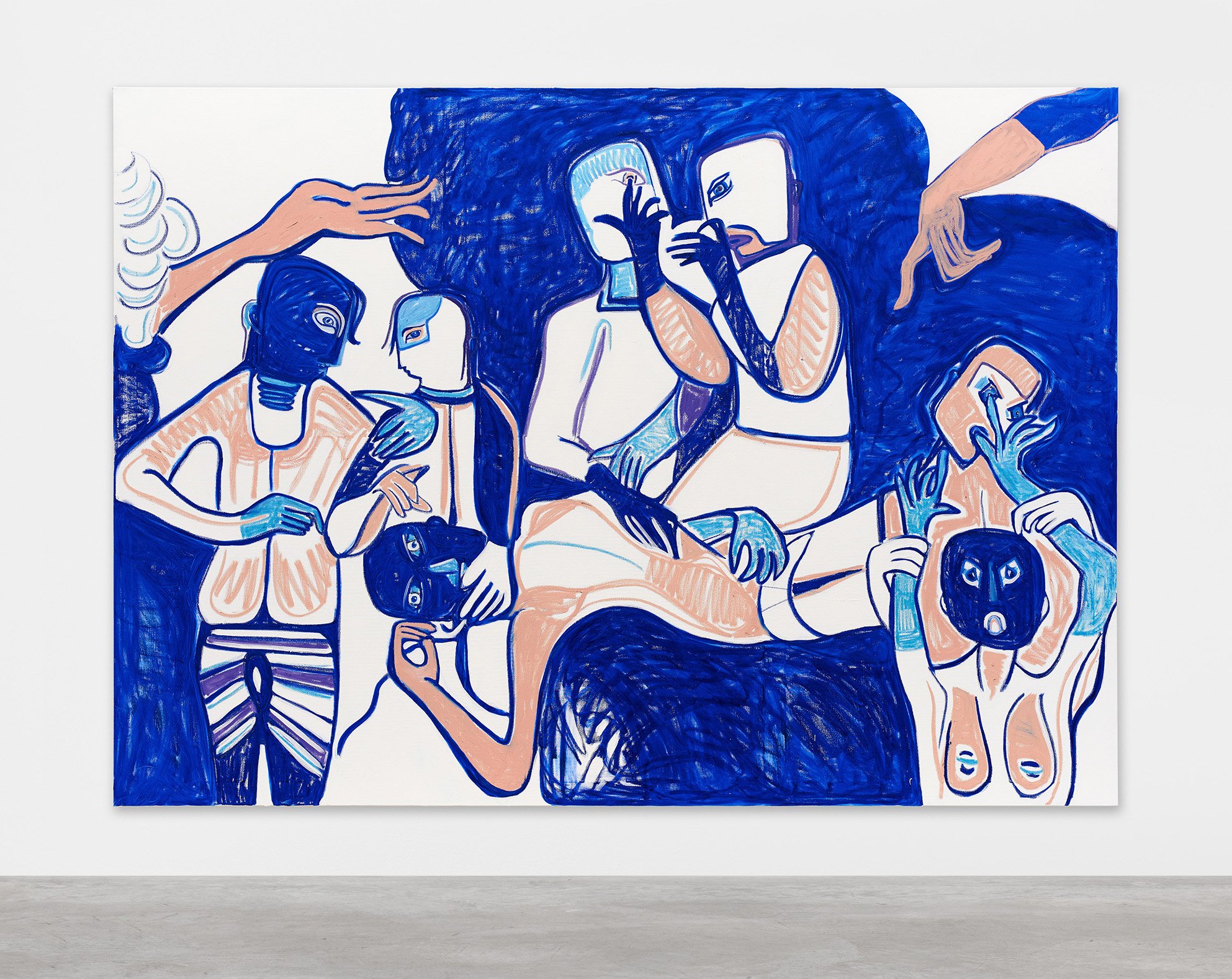 Melike Kara, water us (two) (2016). Acrylic and oil sticks on canvas. 200 x 280 cm. Courtesy Peres Projects, Berlin. Photo: Matthias Kolb.
I thought back to these works, all of which tended towards an encapsulation of bodily tension, when I came across a small ink drawing on paper of a man and a woman in a fraughtly executed embrace by Salvador Dali made in circa 1938, just one year before World War II officially began, at Leandro Navarro.
I thought about them again as I wandered through the Wolfsonian FIU exhibitions, struck by the relation between these shows, and the works viewed at the main fair. These included The Pursuit of Abstraction, which explored artistic movements that sought to overcome a spiritual crisis in the first half of the 20th century, and Art and Design in the Modern Age. The latter exhibition includes a number of works that resonate strongly today. Hugo Gellert's aptly titled 1932 painting, Us Fellas Gotta to Stick Together or The Last Defenses of Capitalism, shows various figures, from President Hoover to J.P Morgan, and Al Capone painted above soldiers, lawmen, and civil servants, with a falsely imprisoned trade unionist, Tom Mooney, painted at the very bottom. While Lewis Rubenstein's 1932 mural study_Washington Hunger March 2_ commemorates a protest the artist participated in against state neglect of World War I veterans, in which he observed veterans and supporters—both men and women of all colours—standing together in the face of police brutality.
To view works created during these times of great unease and upheaval felt fitting. That this unease was reflected on Art Basel in Miami Beach's fair floor—and beyond it—says a lot about how ABMB, now in its fifteenth year, is evolving out of its freshman phase and settling into a more thoughtful sophomore period as the times themselves begin to change. Of course, it is easy to forget that things change, and easier still to consider such growth a bad thing, particularly when you don't get what you expect; like when you come to Miami Art Week looking for a raucous escape on the beach and you find something else instead. But that 'something else' is precisely what made this year feel different; a glimpse of what challenges lie ahead. —[O]