Feature
Must-see exhibitions in London over Summer 2015
Carsten Höller, Flying Mushrooms, 2015 © Carsten Höller. Installation View, Carsten Höller l Decision, Hayward Gallery, London 2015. Courtesy of the artist. Photo © Linda Nylind
Dr Kostas Prapoglou profiles the best the British capital has to offer this summer.
The British capital has a fascinating selection of art shows to see this summer. With Gabriel Orozco at Marian Goodman Gallery, Sonia Delaunay at Tate Modern, Roni Horn at Hauser & Wirth, John Waters at Sprüth Magers and Yto Barrada at Pace London in full swing until late July/early August, a number of other equally stimulating exhibitions will continue running throughout August.
The Serpentine Sackler Gallery presents a survey show of American artist Duane Hanson (1925-1996). Known for his hyper-realistic sculptures, Hanson began creating life-size works from the mid-1960s, casting them in fibreglass and polyester resin and dressing his figures with clothes that he chose himself and sourced from second-hand stores. Painstakingly reproducing skin to depict veins, blemishes, bruises, body hair and body flaws, his chosen protagonists provide a commentary on the political and socio-economic parameters of the period. Early works, such as Trash (1967), present life-size tableaux heavily critical of war, violence and the social injustices of the time. In later works, Hanson's narrative gradually shifts to milder and less violent situations such as the everyday life of the American working class populous. Works such as House Painter, (1984/1988), Queenie II, (1988), Lunchbreak (1989), and Flea Market Lady (1990/1994), are imbued with a more relaxed and simultaneously satirical disposition and temperament, his characters captured in quotidian activities revealing a mundane and monotonous modus vivendi. Synonymous with counter-cultural Pop Art or post-Pop Art aestheticism, these later works pronounce the habits, mannerisms and behavioural characteristics of a specific social class representing a big part of the American nation: an homage to everyday American life and its distinctiveness. The exhibition is also complimented by 10 original Polaroid photographs provided by the Duane Hanson Estate, featuring some of the artist's models and the actual works themselves placed in his studio.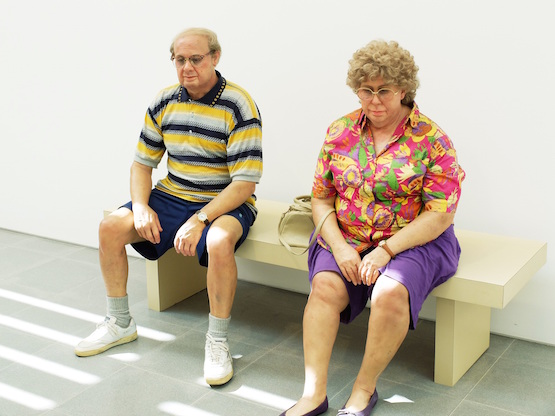 Duane Hanson; Exhibition view, Serpentine Sackler Gallery (02 June - 13 September 2015). Image © John OffenbachBut the Serpentine is also a pole of attraction for contemporary architecture enthusiasts, this year celebrating the 15th anniversary of its Summer Pavilion Commission. Each year this involves the creation of a temporary structure within the Serpentine's grounds in Kensington Park Gardens by leading design and architectural figures. Past participants include Zaha Hadid (2000 and 2007), Rem Koolhaas with Cecil Balmond and Arup (2006), Frank Gehry (2008), and Ai Weiwei and Herzog & de Meuron (2012). This year's commission is a design by Madrid-based architects Selgascano, headed by José Selgas and Lucía Cano. Some of their recent projects—mainly all implemented in Spain—include the Plasencia Auditorium and Congress Centre in Cáseres, El 'B'. Cartagena, the Auditorium and Congress Centre in Murcia and Mėrida Factory in Mėrida. Completed within six months, the Serpentine Pavilion remains on display for a further three months (until October) so the public can visit, explore and admire it. This year's pavilion comprises an 179sqm structure in the shape of—what appears to be—an abstract four-legged biomorphic organism, constructed with a steel skeleton web, dressed with panels of fluorine based polymer forming all walls and ceiling surfaces, while reinforced concrete slab have been used for the synthesis of its floor. Four entrances initiate a dialogue between the outside world and the inside of the pavilion with a small events space and a cafe located at its core. Secret corridors navigate viewers along the external wall layers creating a labyrinthine habitat and isolating visitors from the outside world. The transparent and fluorescent properties of its material, pronounce a playful mind-set, whereas the imposing multi-coloured lighting of the entire structure at night is redolent of what an astronomer's wormhole or an entomologist's ant colony could look like. Kandinsky would have been quite excited too.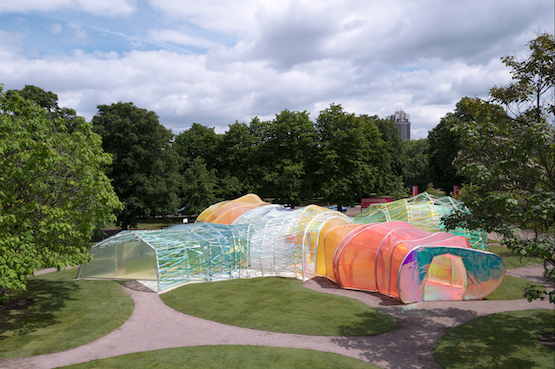 Serpertine Pavilion 2015 designed by selgascano (25 June - 18 October 2015). Photograph © NAAROFor those eager to experience an exhibition with an even higher interaction factor, the show of Belgian artist Carsten Höller, Decisions, down at the Hayward Gallery, takes visitors on an enchanting trip into the artist's own realm of consciousness and spatial awareness. Guests are free to choose one of two entrances to enter the exhibition, prompted to activate with their physical strength the seven inverted large Fly Agaric mushrooms in Flying Mushrooms (2015), crawl in and out of the giant Dice (White Body, Black Dots) (2014) and ingest a pill (with undisclosed effects) dropped every three seconds by a ceiling-mounted installation (Pill Clock, 2011-2015). An older work, Pinocchio Effect (1994), challenges visitors to view their own image with a growing nose, whereas the more adventurous can taste a flying sensation with Two Flying Machines (2015) from the gallery's terraces. Two Roaming Beds (Grey) (2015) can be booked for £300 for a pair of guests to sleep overnight and experience the robotic beds strolling around the gallery space in slow motion. Viewers are finally given the opportunity to exit through the gigantic Isomeric Slides (2015) (a concept initially conceived for Tate Modern's Turbine Hall back in 2007) installed at the facade of the building, and if you feel adventurous enough for a ride, they will land you right at the gallery entrance level. Exploring the boundaries of what art is and what it can achieve through playfulness and decision processes, Höller's show encompasses a provocative idiosyncratic stance on the ongoing dialogue or even the intermarriage of art and science. Leaving children extremely overwhelmed with the overall experience and adults maybe less excited, this exhibition is the Hayward gallery's swan song before the entire venue closes its doors for a full renovation.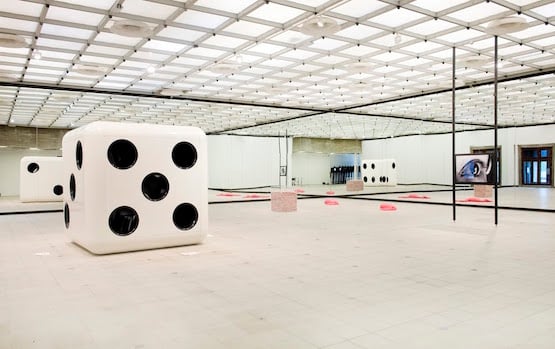 Carsten Höller, Dice, 2014, Half Mirror Room, 2008, 2015, and Snake, 2014 © Carsten Höller. Exhibition view, Carsten Höller l Decision, Hayward Gallery, London 2015. Courtesy of the artist. Photo © Linda NylindIf interaction and playfulness in art is not your cup of tea, then the show of Swiss artist Thomas Hirschhorn at the not-so-far from Southbank, South London Gallery, may be exactly what you are looking for. Entitled In-Between, the site specific installation further develops ideas as already explored in previous artworks of an ongoing three year project, engulfing Concordia, Concordia (2012), presented in New York, Break-Through (2013), shown in Naples, Abschlag (2014), exhibited in Saint-Petersburg and Höhere Gewalt (2014), showcased in Berlin. In-Between responds to the statement by Italian Marxist thinker, theorist and politician, Antonio Gramsci: "Destruction is difficult. It is as difficult as creation", and surveys the hypostasis of decimated loci and the aesthetics of their destruction. Employing an array of non-expensive mediums such as cardboard, aluminium foil, magazine and newspaper cuttings, duct tape, found furniture and other trivial objects, Hirschhorn engages with notions of human destruction, devastation and spoliation. Viewers enter an unsettling environment reminiscent of ruinous and dilapidated landscapes, echoing the dismal images of war and struggle everybody is familiar with from everyday news reports. Wandering around Hirschhorn's installation we distinguish household remnants, all piled up and hidden amongst randomly arranged pieces of wood and other debris. This dimension of emotional and physical desolation, is a time capsule transporting us to dismembered places most of us are unfamiliar with corporeally and in present tense. Evocative of the oeuvre of British artist Phyllida Barlow and German artist Anselm Kiefer, Hirschhorn's visual vocabulary accentuates the enigmatic tendency of the human race to self-destruct, the unavoidable utopia emerging from its very own actions and the incongruous ability to destroy what previously has been laboriously built and created.
Thomas Hirschhorn, In-Between, Exhibition view at the South London Gallery, 2015. Courtesy Thomas Hirschhorn. Photo: Mark BlowerOur final stop takes us to Tate Britain where yet for another year the Tate Britain Commission, supported by Sotheby's, invites a prominent artist to create a brand new body of work within the grand interior of the neo-classical Duveen Galleries. Having featured a formidable line up of artists since 2000, including Mona Hatoum (2000), Michael Landy (2004), Martin Creed (2008), Eva Rothchild (2009), Patrick Keiller (2013) and Phyllida Barlow (2014), this year British artist Christina Mackie presents her own show with the title the filters. Here, Mackie develops ideas surveyed in projects she was involved with last year in Berlin (Cycle 3, PRAXES) and Chicago (Colour drop, The Renaissance Society). Mackie's response to Tate's monumental locus has already been the subject of much debate. The first of her three-part installation, reflecting the architectural layout of the interconnecting rooms of the Duveen Galleries, comprises of nine 12-metre cones of silk nets in various colours suspended from the high ceiling above nine shallow dishes of pigment: the effect is to create a sense of the silk having just been pulled from the dishes in a dying process.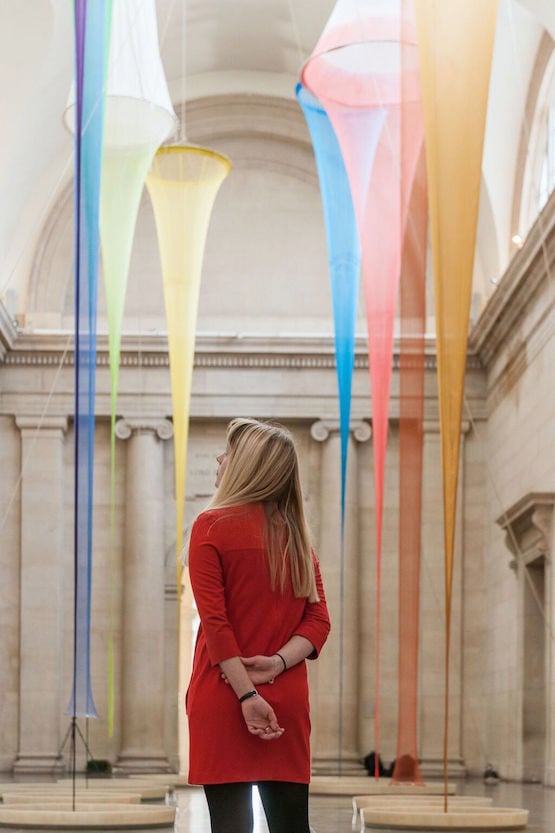 Christina Mackie, the filters 2015, © Christina Mackie. Photocredit: Lucy Dawkins, Tate PhotographyThe second part of the installation involves a pair of twin yellow steel structures each containing three white conical tubes hanged by metallic rings and ending into small cylindrical canisters placed within an otherwise vacant octagonal room. Finally moving onto the third space through the ionic tribelon we find a wooden container raised on a base. Curious visitors who look inside find an assortment of coloured glass pieces, all lit from the bottom. The rest of the room also remains empty. Mackie's fascination with colour and its properties renders an enigmatic domain. At first the visitor is lured by the deconstructed rainbow formation of the first introductory space, but then attention is drawn to selected corners of the two other huge rooms. The sense of emptiness is reminiscent of Martin Creed's installation seven years ago. It might not be conceptually analogous, but the same utilised empty space as an objective medium, manifests an artistic expression that induces audiences to explore the artist's chosen narrative through the perspective of imagination and subjective consciousness. Light, colour and time are three key elements permeating Mackie's own imagination palette and empower us to enjoy what is left from their quintessence. —[O]
Dr Kostas Prapoglou is an archaeologist-architect, art critic and curator based in London, UK and Athens, Greece.