Feature | Exhibitions
Must-See Shows During Gallery Weekend Beijing and Beyond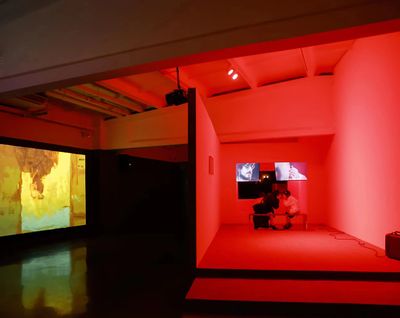 Exhibition view: Hu Wei, Touching A Fabric Full of Holes, Macalline Art Center, Beijing (21 May–3 September 2023). Courtesy Macalline Art Center.
Ocula Magazine shares a selection of exhibitions across Beijing's top galleries and institutions for the 7th edition of Gallery Weekend Beijing (26 May–4 June), providing a guide to gallery hopping in the city over the weekend and into the summer months.
Ma Qiusha, No.52 Liulichang East Street (2023) (detail). Courtesy the artist and Beijing Commune.
Ma Qiusha: No.52 Liulichang East Street
Beijing Commune
25 May–15 July 2023
Expect: a journey through personal and collective, real and constructed memories across generations, evoking nostalgia but also questioning the credibility of historical sources.
One of the key figures in Chinese contemporary art, Ma Qiusha is known for her multimedia practice that delves into the vulnerability and strength of individuals in private and public spheres. Her early work From No.4 Pingyuanli to No.4 Tianqiaobeili (2007), for example, is an autobiographic video in which the artist recounts her upbringing through the 1980s and 1990s in an oddly garbled and inarticulate mode of speaking. At the end of the video, she takes a bloody blade from her mouth, revealing the reason for her inarticulation.
No.52 Liulichang East Street is the artist's latest project exploring the intertwining of the personal and the universal. Creating a fictional curio shop in Beijing's famous Liulichang Antique Street (or Coloured Glaze Factory), Ma Qiusha fills the space with forged historical sources and found objects including heirlooms, family albums, private portraits, and artefacts from the late Qing dynasty to the 1980s. Through this collection, Ma Qiusha vividly delineates a panorama of historical transformations within modern Chinese society, capturing the experiences of generations swept up in its currents.
Exhibition view: Lawrence Weiner, Within a Realm of Relative Form, Lisson Gallery, Beijing (27 May–14 October 2023). Photo: Shanyu Zhong.
Lawrence Weiner: Within a Realm of Relative Form
John Akomfrah: The Airport
Lisson Gallery Beijing
Both 27 May–14 October 2023
Expect: two solo exhibitions with rarely seen film and installation works by important conceptual artists of our age.
Solo exhibitions focused on Lawrence Weiner and John Akomfrah are long overdue in China. Akomfrah, who will represent the U.K. at the 2024 Venice Biennale, has never had a solo exhibition in China, and the last time Weiner, a pioneer of Conceptual Art, was introduced to the Chinese public was in 2007 when UCCA commissioned the artist to create a large-scale wall piece for the museum.
Lawrence Weiner: Within a Realm of Relative Form
In the gallery's North Gallery space, four of Weiner's iconic wall-based text works (dating 1972–2013) are presented along with two video installations. Referring to his work as sculpture, the wall works are rendered both in English and Chinese, the text-as-art manifesting the power of language and call for social engagement.
Also on display, but lesser known in the oeuvre of Weiner, are the artist's video installations. One of these is SINK OR SWIM (2003), an 18-minute cartoon-style film featuring text against brightly coloured backgrounds and collaged with live footage and the artist's drawing. 'SINK OR SWIM RUNS IN CIRCLES, FORWARDS AND BACKWARDS,' writes Weiner. 'THE PURPOSE? PERHAPS AS THE FEMALE VOICE SAYS, "NOT TO MAKE THINGS DIFFERENT - TO CHANGE THEM."
In conjunction with the exhibition, a large-scale participatory work titled 1 FOR THE MONEY / 2 FOR THE SHOW / 3 TO GET READY & 4 TO GO will be installed in a square of the 798 Art District as part of Gallery Weekend Beijing's public programme under the theme of 'Facets'.
John Akomfrah, The Airport (2016) (still). Three-channel HD colour video installation, 7.1 sound, 53 min. © Smoking Dogs Films. Courtesy Lisson Gallery.
John Akomfrah: The Airport
Moving to the South Gallery, we are immediately immersed in a three-channel film installation by British-Ghanaian filmmaker John Akomfrah. Informed by the Greek economic and migrant crisis, the 53-minute film The Airport (2016) unfolds the journey of a spaceman landing in an interzone in Greece, investigating diasporic experiences, haunting human histories, and the destruction of the natural world.
Qin Yifeng, 2020_06_01 11:43 cloudless (2020). 8 x 10 gelatin silver salt negative film, natural light exposure for 1'9", 20.3 x 25.4 cm. Giclée print, 137.5 x 110 cm. Courtesy the artist and Magician Space.
Qin Yifeng [10] [3] [7] [3]
Magician Space
26 May–8 July 2023
Expect: a camera obscura with works defying the usual dimension and depth of photography, offering a meditative moment for the eyes and mind.
Celebrated for his unique minimalist photograms in 75–85% greyscale, Qin Yifeng's exhibition at Magician Space sees negatives placed flat in lightboxes in the centre of a darkened space and surrounded on the walls by their equivalent prints.
Qin has developed an aesthetic that speaks both to Chinese traditional art and modernist genres such as Surrealist photography and Minimalism. Born in 1961 in Shanghai and trained in traditional Chinese calligraphy, Qin was actively involved in the '85 New Wave movement in the 1980s and began his career with abstract painting.
An enthusiast who collects austere, unadorned Ming dynasty furniture, often deemed less valuable by collectors due to a lack of intricate carvings, Qin began photographing details of the furniture and scanning the negatives in 2010. The resulting works are vignettes that appear devoid of any depth of field, like plant specimens, emphasising the detailed texture of these 'plain' objects that speak to temporality, memory, and lost culture.
Hans Op de Beeck, Vanitas Table (Beijing) (2023). Sculpture: polyester, plaster, polyamide, metal, PU, wood, and coating. 96 x 96 x 153 cm. Edition unique. Courtesy the artist and Galleria Continua.
Hans Op de Beeck: Vanishing
Galleria Continua Beijing
26 May–12 September 2023
Expect: a contemplation on the transience of life and work that finds solace in small, essential moments.
Known for his vanitas sculptures rendered in light grey, Belgian artist Hans Op de Beeck captures everyday actions and relationships in miniaturised, artificially lit scenes.
Op de Beeck's third exhibition with Galleria Continua in Beijing showcases his multidisciplinary practice. Upon entering the space, the viewer is welcomed into a 'print room' created by the artist, featuring large watercolours depicting enchanting landscapes, figures, and still lifes.
The exhibition also features over 20 recent sculptures and premieres the artist's animated black-and-white film Vanishing Point (2023). The film begins with a tranquil scene of a young boy resting peacefully, then takes viewers on a journey through fictional landscapes, creating a serene atmosphere that encourages viewers to momentarily escape and let go. The film shifts from the concrete to the abstract, from the measurable to the incomprehensible, and invites contemplation of unknown and spiritual dimensions.
Thomas Scheibit, Labyrinth (2022). Oil, vinyl, and pigment marker on canvas. 240 x 170 cm. © Thomas Scheibitz/VG Bild-Kunst, Bonn 2022. Courtesy Sprüth Magers. Photo: Ingo Kniest.
Thomas Scheibitz
Sprüth Magers
26 May–4 June 2023
Expect: visual and conceptual experiments that challenge our perception of abstraction and figuration.
Participating in Gallery Weekend Beijing as a visiting gallery, Sprüth Magers presents the work of one of the most important German artists of his generation. Berlin-based Thomas Scheibitz brings together a series of recent paintings in the artist's first exhibition in China.
In his own words, Scheibitz creates a process of 'ambivalent adjustment of observation, memory and invention' through his works. We recognise figural characteristics in Scheibitz's semi-abstract forms—a lamp painted in his iconic neon colours and several Morandi-styled vases. But these are juxtaposed with irreconcilable fragments inspired by typographical symbols and other elements that draw on the artist's massive archive of found images.
Exhibition view: Chris Zhongtian Yuan, No Door, One Window, Only Light, Macalline Art Center, Beijing (21 May–3 September 2023). Courtesy Macalline Art Center.
Hu Wei: Touching A Fabric Full of Holes
Chris Zhongtian Yuan: No Door, One Window, Only Light
Macalline Art Center
21 May–3 September 2023
Expect: a journey from Wuhan to the minority area of Yunnan province, from Hong Kong to Sabah that reveals the omnipresent displacement of our time through the videos and installations by two emerging artists.
Participating in Gallery Weekend Beijing for the first time, the Macalline Art Center presents solo exhibitions by Hu Wei and Chris Zhongtian Yuan. Since its initiation in 2021, the young institution has supported the multimedia and interdisciplinary practices of emerging and mid-career artists such as Patty Chang, Tong Wenmin, Tao Hui, and Li Ming.
Born in 1989, Hu Wei has recently been active in Beijing's art scene. Touching A Fabric Full of Holes follows his solo project at the alternative space DRC No.12 and his exhibition with Xiang Kaiyang at ShanghART Beijing. Delving into themes of absence, human migration, and the allure of hidden intentions, Touching A Fabric Full of Holes highlights the artist's latest three-channel video The Rumbling (2023), which explores an abandoned quarry in southern China and raises questions about how individual existences are blurred and erased during migrations.
No Door, One Window, Only Light brings together video, installation, and sketches by the London-based Chris Zhongtian Yuan that explore marginalised communities and the complexities of home and diaspora. The exhibition includes their latest commission, No Door, One Window, Only Light (2023), a three-channel video work reflecting on absence and trauma. Accompanying sculptural objects and architectural drawings capture transient spaces and landscapes, prompting contemplation on personal and collective memories and amnesia.
Rebecca Horn, Verbotenes Spiel - Lazlo´s Geige (2019). Old case with linen, vinyl disc, violin, violin bow, glass, acrylic, steel, motor, and electronic device. 83 x 40 x 30 cm. © Rebecca Horn, 2023. Courtesy Rebecca Horn and Galerie Thomas Schulte, Berlin. Photo: Julia Giebeler.
Rebecca Horn: The Journey to China
Hua International
25 May–12 August 2023
Expect: '[T]hey act, shake, tremble, faint, almost fall apart, and then come back to life again. They are not perfect machines ... I'm interested in the soul of a thing, not the machine itself.' – Rebecca Horn
A pioneering figure in performance art, German artist Rebecca Horn gained international recognition in the 1970s for her innovative and provocative artworks that often incorporate elements of body extension, wearable sculptures, and poetic imagery. Her seminal work The Feathered Prison Fan (1978) is a kinetic sculpture that combines mechanical movement with delicate feathers, symbolising the constraints of the human body and the longing for freedom.
In the late 1980s, Horn travelled to Beijing and collaborated with Chinese artists, immersing herself in the local culture and artistic community. The experience led to a series of works exploring cultural exchange, spirituality, and the intersection of Eastern and Western philosophies.
The exhibition at Hua International reflects on Horn's journey, featuring a series of sculptures, installations, and gouache paintings inspired by Buddhism's idea of 'Holy Emptiness'. Apart from the central work, The Burning Bush (2001)—a large-scale kinetic installation consisting of metal branches—the exhibition also highlights her longstanding use of musical instruments. The wall assemblage Verbotenes Spiel - Lazlo ́s Geige (2019), for example, incorporates materials such as a vintage wooden case, a violin part, and a glass with wine stains, revealing Horn's connection to Dada, a movement also influenced by Zen ideology.
Meiro Koizumi, Rite for a Dream (Today my Empire sings) (2016). Exhibition view: Group Exhibition, The New Survivors, Three Shadows Photography Art Centre, Beijing (20 May–2 July 2023). Courtesy Three Shadows Photography Art Centre and Chanel.
Group Exhibition: The New Survivors
Three Shadows Photography Art Centre
20 May–2 July 2023
Expect: a reminder of individual and collective historical and present traumas and a search for possible cures through photography, film, and video installation.
Beyond Gallery Weekend Beijing, another exhibition highlight is The New Survivors, the second awarded exhibition of the Jimei x Arles Curatorial Award for Photography and Moving Image. Initiated in 2021 by Three Shadows Photography Art Centre and Chanel, the award aims to support young Chinese curators and researchers of photography and moving image.
Curated by Wang Shuman, the exhibition gathers the diverse practices of artists including James T. Hong, Meiro Koizumi, and Trinh-Thi Nguyen. It profiles work that takes the metaphor of the wound and explores how these wounds can expose, deteriorate, proliferate, and mutate to unveil various kinds of violence such as war, racism, and mandatory quarantine.
The exhibition includes iconic works by important filmmakers such as Harun Farocki and Ana Mendieta. Farocki's early work The Inextinguishable Fire (1969) serves as a critical exploration of the Vietnam War and the involvement of industry in manufacturing chemical weapons. Mendieta's Silueta Sangrienta (1975) documents the presence and absence of the artist's body on the muddy coast of Iowa, where she constructed a surrogate form of her body filled with blood-like liquid. —[O]