Feature
New York: Two Shows up the River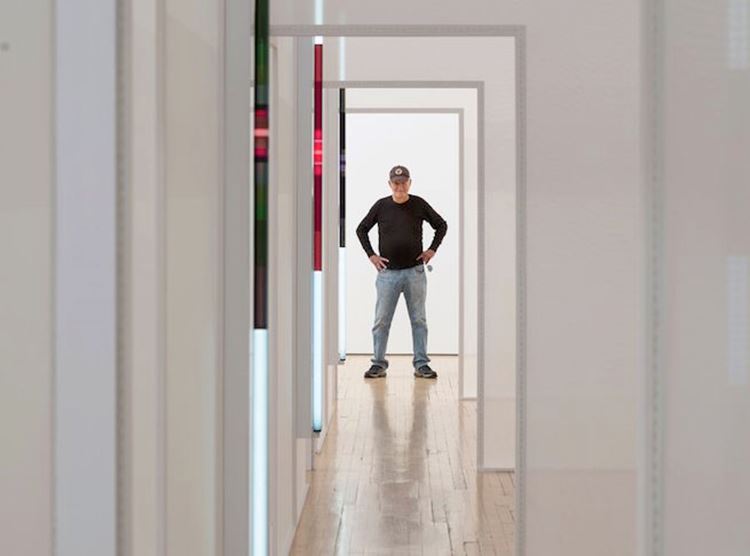 Installation view, Robert Irwin, Excursus: Homage to the Square³, 2015, at Dia: Beacon. Image courtesy Dia: Beacon
A train ride up the Hudson River from Manhattan will take you to two utterly different exhibitions: Robert Irwin's new minimalist architectural installation at Dia: Beacon titled Excursus: Homage to the Square³, and Five Decades, a solo exhibition featuring work by El Anatsui, who was awarded the Venice Biennale's Golden Lion for Lifetime Achievement, at Jack Shainman's large gallery in Kinderhook. From Irwin's serene screens and ephemeral shadows to Anatsui's weighty drapes of folded metal, the two exhibitions represent the American art world's present fascination with two very different sets of aesthetics and conceptual concerns; the pared back illusion play of the Light and Space movement, and the politically engaged expressive craftwork defining a portion of contemporary African art.
Robert Irwin
Excursus: Homage to the Square³, at Dia: Beacon, New York State
Until May 2017
So many of the contemporary art world's fashions today began in the 1960s that it sometimes feels like that seminal decade of radicalisation remains unsurpassed since, despite the noise around the post-digital. Installations that sculpt space with light are one of those genres that emerged half a century ago, never went away, and now continues to influence younger generations of artists, as well as to seduce the art public. James Turrell is worshipped everywhere by now, but even just in New York this summer, the Space and Light Movement has been re-framed and celebrated variously, from group shows including Dan Flavin and Iván Navarro at MoMA, to DeWain Valentine's first New York solo show in 30 years at David Zwirner.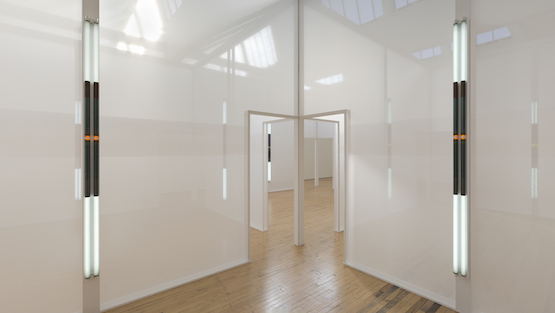 Exhibition view, Robert Irwin, Excursus: Homage to the Square³, 2015, at Dia: Beacon. Image courtesy Dia: Beacon
It's Robert Irwin's large installation for Dia: Beacon, however, that proposes the most exciting venture in this sphere. His meditative walk-through structure, called Excursus: Homage to the Square³, ticks today's big boxes for winning over our over-stimulated minds: it's immersive, and it's experiential. It's also Zen with a hint of a gamey tech mood to it, and of course—as its name suggests—it is reassuringly mathematical: a grid you can explore. A perception game, like most other art at Dia: Beacon, but that extra bit engaging. It also uses tube lights, which have their particular place in the minimalist aesthetics that Dia: Beacon celebrates.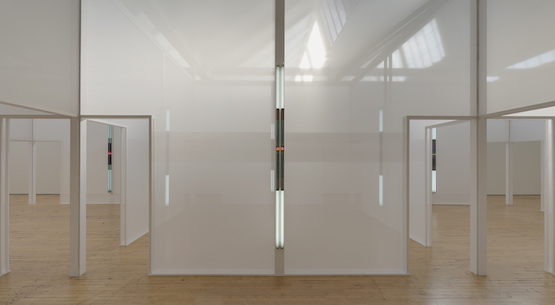 Exhibition view, Robert Irwin, Excursus: Homage to the Square³, 2015, at Dia: Beacon. Image courtesy Dia: Beacon
The installation is sensational to experience, but also soft to perceive. It's translucent white screens create a muted sense of vision, while sets of coloured reflective stripes on the tube lights are in deep jewel tones, sensory and intellectual, sensational and restrained. The execution on the tube lights is impeccably sleek and the overall piece feels futuristic and space-age, yet the delicacy of the screens (their semi-sheer white shades are visibly stapled to their frames) gives the piece fragility, and the white cuboid structure locates it simultaneously in Modernism. After spending a little while wandering among its interlinking spaces, it begins to appear as a metaphor for "The Game of Life", or an ephemeral grid with echoes of Sci-Fi; maybe the levels of a computer game; maybe The Matrix; maybe a surreal house from a dream. That's down to the illusory quality of the screens when they layer against one another in your line of vision, the slick perfection of those shiny stripes, and the visual refrain of the tube lights echoing in your eyes through the grid.
Exhibition view, Robert Irwin, Excursus: Homage to the Square³, 2015, at Dia: Beacon. Image courtesy Dia: Beacon
Irwin was involved in designing the architecture and gardens at Beacon in the early 2000s, and the Excursus installation was initially exhibited 15 years ago at the now-closed Dia Center for the Arts in Manhattan. This revised reincarnation of the work is therefore something of a homecoming, and explains why the work fits so perfectly within its location in spatial and architectural terms—its sensual structure echoing the wider architecture of the building—, as well as in relation to the wider collection.
Irwin's neighbour in the next room is Flavin; his disarmingly simple seminal installations resembling Manhattan's early skyscrapers make glowing shapes on freestanding walls, and his window-like set of red and white tubes brings some of the colour now associated with the Light and Space movement. Irwin's Excursus places far greater emphasis on space as the white screens are overtly architectural, compared with Flavin's primarily light-based approach. Dia: Beacon is an acutely focused temple to modern and minimal American art. You encounter Irwin's Excursus having sharpened your spatial awareness on Michael Heizer, heightened your perception of materials with Richard Serra, cleansed your palate through repetitive paintings series by Blinky Palermo, Agnes Martin and On Kawara, and drunk the cool-aid of Sol Le Witt writing directly onto the walls and Fred Sandback carving up the gallery with lines of yarn.
Exhibition view, Robert Irwin, Excursus: Homage to the Square³, 2015, at Dia: Beacon. Image courtesy Dia: Beacon
Being inside Irwin's sculpted spaces allows the sensation of being subsumed and surrounded in a physical experience of sculpture; it shaves some of the intensity off self-conscious art-viewing. After feeling strange and tiny beside Serra's sealed heavy metal sculpture, you feel serenely dazed inside Irwin's shadowy maze. The sensational aspect of being immersed is an important part of contemporary art language that has become desired by audiences and employed by museum directors. What's so nice about Excursus is that it's thoughtful too. The naivety of light and shadow play; the simplicity of white: the thing is rather timeless. That interpretable aesthetic is precisely what gives it enduring resonance and shows how minimalist aesthetics and dramatic installation make a poetic combination.
El Anatsui
Five Decades, at Jack Shainman Gallery, Kinderhook, New York State
Until 26 September 2015
In art discourse today there is much discussion on how contemporary art is becoming a globalised arena. Certainly the western art world's gaze does appear to have widened to take in the art of Africa, Arabia, and Asia. This year's Venice Biennale is curated by the event's first African curator, Okwui Enwezor, the Nigerian-born director of Munich's Haus der Kunst who titled this iteration of world's largest exhibition "All The World's Futures". In addition, Nigeria-based Ghanian artist El Anatsui, was awarded the Golden Lion for Lifetime Achievement by the festival, with Enwezor calling him "perhaps the most significant living African artist working on the continent today", and someone "who has contributed immensely to the recognition of contemporary African artists in the global arena".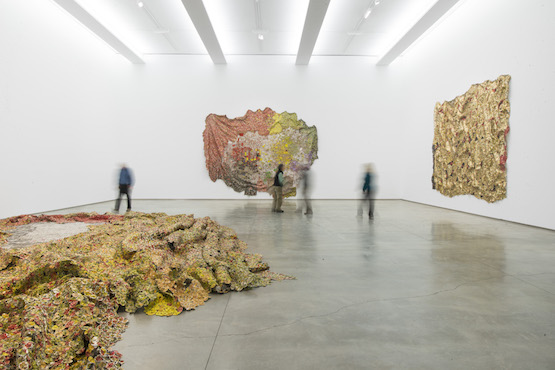 Exhibition view, El Anatsui, Five Decades, at Jack Shainman Gallery, Kinderhook, New York State. Image courtesy Jack Shainman Gallery
Before Anatsui or his American gallerist Jack Shainman knew he would receive the respected accolade, they were planning a retrospective of his life's work spanning fifty years. Rather than being at either of Shainman's Manhattan galleries, they opted for the more spacious outpost—a converted school building now redecorated with requisite gallery-grade white walls and grey floors—in picturesque Kinderhook, upstate New York, near fashionable weekend haven Hudson. Wisely so, as Anatsui's capacious articulated assemblages sprawl through several rooms over three storeys, rising creepily across floors and hanging beautifully from walls of different sizes, suiting the spectrum with the generally large scale of his works.
Exhibition view, El Anatsui, Peak Project, 1999. Tin and copper wire 39 x 84 x 155 inches. Image courtesy Jack Shainman Gallery
Experiencing Anatsui's work like this, as a whole interrelated body, impresses one thing most of all; this is a committed artist with an obsessive vision and an established language. His sculptural hangings, which are his dominant works, are woven from the waste materials like bottle tops and packaging labels, gathered from plants in Nigeria, as they have been throughout his career. This transformative act of re-using waste means a postcolonial note runs through these woven works; it's a disturbing message, but delivered as a subtle undertow because the clarity and strength of the forms themselves take precedence. This gives the creativity and beauty of these works a poignancy that is both uncomfortable in its honesty and optimistic in its dedication. The hangings occupy a juncture between sculpture and tapestry; both structural and fluid, intricate and vast, they can appear uplifting in places and ominous in others, while still very clearly belonging to the same formal language, reminiscent of mosaic and chainmail.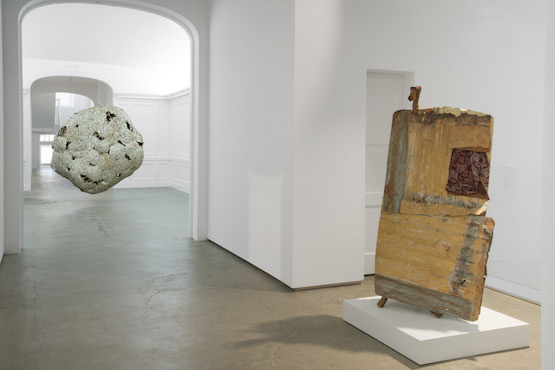 Exhibition view, El Anatsui, Five Decades, at Jack Shainman Gallery, Kinderhook, New York State. Image courtesy Jack Shainman Gallery
The selection at Shainman is hung variously, to bring out new shapes in each piece, as Anatsui doesn't pre-define how they are hung, and likes how the pieces reform themselves differently each time according to which parts of them are fixed to the wall, or occasionally, the floor. Sometimes their texture appears as matt black scales, which combined with their organic-looking shapes can look like a disturbing creature from the natural world. In other examples, the folded scales glitter prettily in gold and yellow like sparkling waterfalls, or colourful abstract zones layer into a glinting curtain. Anatsui's forms give his materials an intense aura that makes the viewer acutely aware of their own physicality; their elusive mix of heavy structure and fluid translucency makes the human body feel very fragile and vulnerable beside them. This trait places aligns them with the discourse of contemporary sculpture. The rhythm and reiteration of those small folds of metal runs through the exhibition to build up an impression of Anatsui as someone of meticulous and meditative psyche, expressing his unique vision through this very particular craft and medium.
Exhibition view, El Anatsui, Womb of Time, 2014. Found aluminum and copper wire 85 x 80 x 25 inches. Image courtesy Jack Shainman Gallery
Punctuating this powerful aesthetic are examples of Anatsui's ceramics, woodcarvings and paintings, dating from early in his career, with one or two recent returns. Ceramic and wood are common materials in Nigerian art, and Anatsui has said with a view to working in these media that everything has a form that can be expressed in them. Anatsui's works are held in numerous important collections including the MET, MoMA, the Pompidou, and the British Museum. Jack Shainman offers a rare opportunity to develop a more sophisticated feel for this artist's significant oeuvre, see the different shades within his idiosyncratic language, and get a feel for how a craft-based artistic practice can be used to materialise political commentary as well as to build a nuanced artistic vision.—[O]