Feature
Breaking preconceived ideas of 'Asian art': ASIA NOW in Paris
Asia Now 2016. Photo: © Charles Roussel & Ocula.
The second edition of ASIA NOW, the annual fair dedicated to contemporary Asian art, took place from 19 - 23 October in Paris. That was also the week that the Grand and Petit Palais were teeming with collectors and gallerists for major international art fair FIAC. The timing was certainly no coincidence: ASIA NOW aims to encourage European collectors' interest in Asian art, and the proximity of serious art patrons nearby helped to boost attendance at the smaller fair. In an effort to bring the diversity of Asian art to the attention of the European audience, ASIA NOW founder Alexandra Fain (with support from various experts on the topic including François Curiel, The Ullens Foundation, Ami Barak and Philip Tinari), invited a select group of Asian galleries to showcase their rosters over the course of four days.
Housed in Salons Hoche à Paris, a Haussmannian building in the 8th arrondissement, ASIA NOW is of a more modest and intimate scale than other major events this season. Over 30 galleries (11 more than last year) representing more than 12 Asian countries hung works in small rooms rather than booths, a layout designed so visitors were able to 'wander from one room to the other as they would in a collector's home'. Downstairs, the courtyard provided a gathering place for visitors (as well as a dim sum station), while a reading room offered Asian-focused publications and hosted talks throughout the week. Representing both emerging and established artists, the galleries brought a varied sample of the diversity and creativity of the Asian art scene.


Miya Ando at Sundaram Tagore, ASIA NOW 2016. Photo: © Charles Roussel & Ocula.
Upstairs, Sundaram Tagore's room had a notably female presence; including works by Miya Ando, Kamolpan Chotvichai and Tayeba Begun Lipi. Chotvichai's augmented photographs on canvas have gained a degree of international attention after being featured in the Prudential Thailand Eye exhibition earlier this year in London and Bangkok (Saatchi Gallery, London, 25 November 2015 - 2 January 2016; Bangkok Art and Culture Centre, Bangkok, 17 March - 7 August 2016). The Thai artists' works are recognisable for their hanging, loose fibres which have been sliced from black and white images of her own nude body.


Tayeba Begun Lipi at Sundaram Tagore, ASIA NOW 2016. Photo: © Charles Roussel & Ocula.
Also employing similar themes of cutting and female sexuality, Bangladeshi artist Lipi's Comfy Bikinis (2013) were anything but: four hanging bathing suits made of sharp, gold-covered safety pins reference the violence and sexual assault faced by women in the artist's country. Often incorporating dangerous materials such as razor blades in her sculptures of undergarments, Lipi's work also alludes to the unsafe tools used in reproductive procedures in some lesser-developed parts of Bangladesh. Viewing Lipi's works in France, where women's freedom to choose how to bare (or to cover) their skin has recently taken a devastating nosedive, and while remembering that misogynistic degradations of women are now commonplace in American political discourse, furthers the point that female bodily autonomy has a depressingly long way to go across the globe regardless of a country's politics or economic standing.


Seulgi Lee at Park Ryu Sook, ASIA NOW 2016. Photo: © Charles Roussel & Ocula.
Another female and one of few Korean artists participating in the fair, Seoul-born and Paris-based Seulgi Lee's series 'Blanket Project U' was on view in Park Ryu Sook's room. The project consists of several traditional silk Korean blankets sewn with patterns which translate Korean proverbs into basic geometrical shapes; their bright colours (blue, red, yellow, black and white) drawn from Chinese cosmology. One work titled U: It is darker under the lamp = Cannot see things which are too close (2015) depicts the highly abstracted shape of a light fixture, while U: Cut the water with a knife = A couple's dispute is useless (2015) shows a large black triangle against a stark white backdrop. Notably, the works are sewn by Korean Nubi craftsmen in Tongyong, a gesture by Lee to subvert the traditionally female labour of quilt-making by outsourcing the work to men. Lee has an important place in the Paris art scene: from 2001-3 she managed and mounted more than 250 shows at the co-operative art space Paris Project.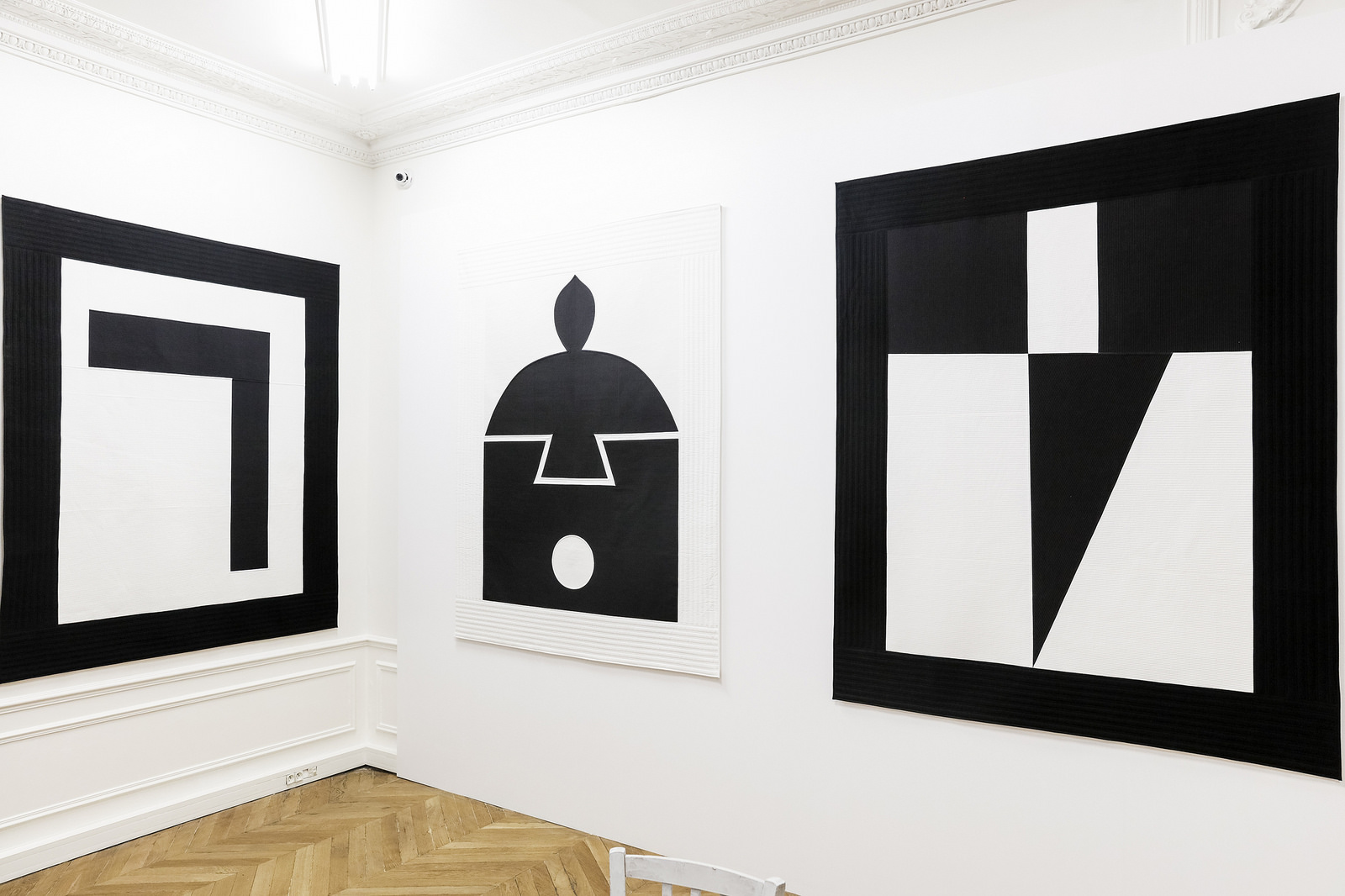 Seulgi Lee at Park Ryu Sook, ASIA NOW 2016. Photo: © Charles Roussel & Ocula.
Taipei-based Chi-Wen Gallery presented photographs and a video from Chien-Chi Chang's series Double Happiness which documents the rising popularity of arranged marriages between Taiwanese men and Vietnamese women. Through his work, Chang shows young Vietnamese women (often in perilous economic situations) being recruited by nefarious marriage brokers and picked for a price by single (often middle-aged) men. Still strangers to one another, the couples are wed within a matter of days, sometimes in mass ceremonies with fake champagne and garish decor. In his photographs and videos, Chang presents scenes from before and after the marriages occur; the brides' interviews with brokers, the new couple dealing with consulate officials and the couple with young children, frequently portrayed as though in awkward states of discomfort and unhappiness.


Chien-Chi Chang at Chi-Wen Gallery, ASIA NOW 2016. Photo: © Charles Roussel & Ocula.
Paintings was championed by a number of galleries, including Berlin-based, Asia-focused Edmond Gallery which presented works by young Germany-based Chinese painter Shen Han. Han's blurred, pastel canvases are Twombly-esque, and his minuscule watercolour painting of abstracted nudes are irresistibly charming. In Tokyo's URANO Gallery's room, large and small-scale expressive paintings by Toshiyuki Konishi were juxtaposed with minuscule sculptures made of toothbrush bristles and book bindings by Tahahiro Iwasaki.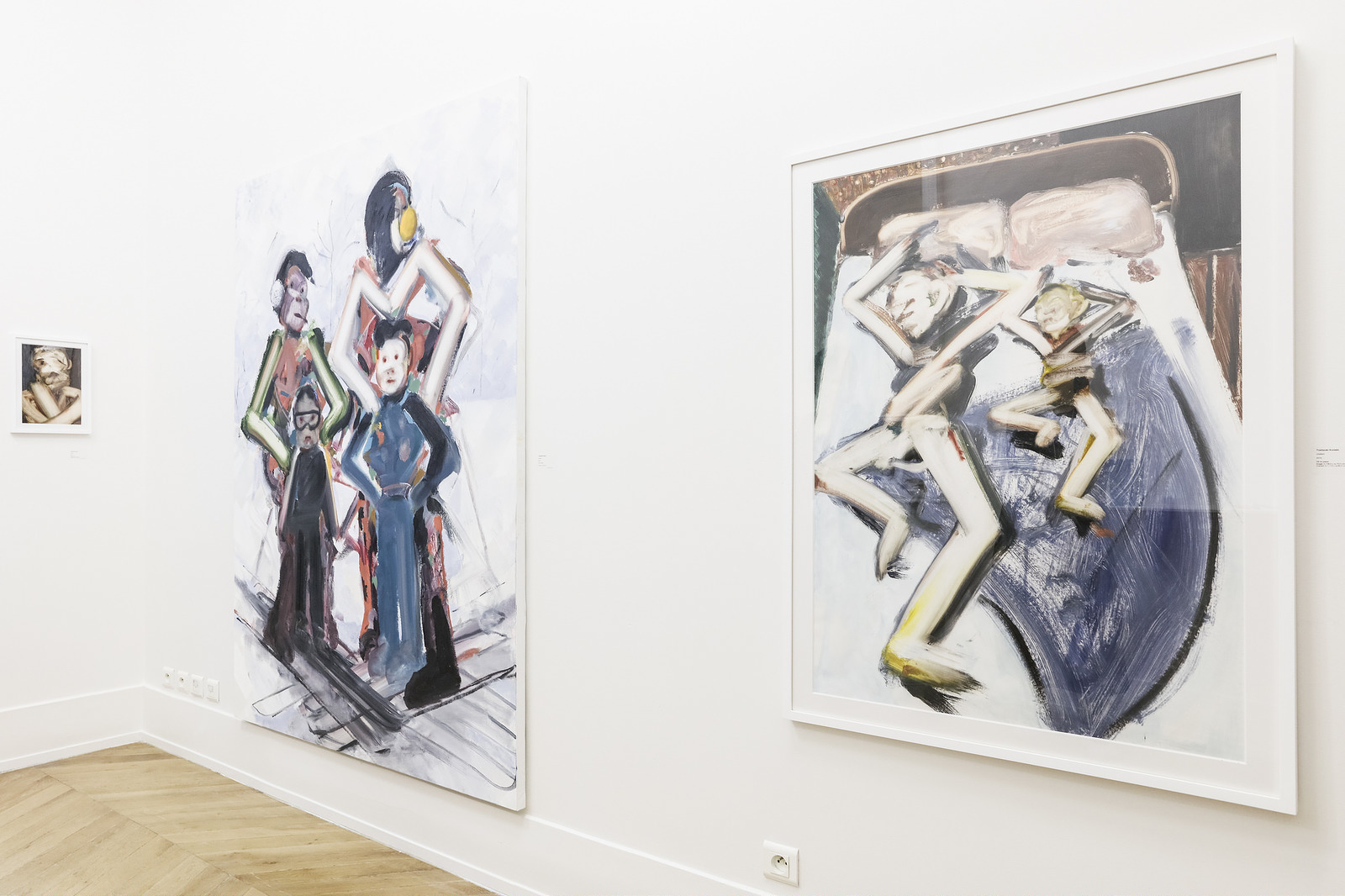 Toshiyuki Konishi at URANO, ASIA NOW 2016. Photo: © Charles Roussel & Ocula.
Rossi & Rossi presented works by three Tibetan artists: Kesang Lamdark, Tenzing Rigdol and Tsherin Sherpa. Standouts were paintings by Sherpa (recently shown at the gallery's space in Hong Kong) which combine traditional Tibetan, Buddhist and Nepalese mythology with the visual language of contemporary mass culture. In Phnom Pehn gallery Sa Sa Bassac's room, five chemically-dyed Buddhist robes were hung in a row on the wall by Cambodian artist Than Sok. Titled Srie Bun (2016), each of the robes had been cut into, revealing large holes in the holy garments. Interested in karma and societal moral codes, Than's gesture of exposure is a comment on rank and honour in religious institutions. In Hong Kong-based Gallery Exit's room, 12 drawings by young Hong Kong artist Kong Chun Hei were on view. Minimal, monochrome and abstract at first glance, the ink drawings are extraordinarily meticulous replicas of used gun range target papers. Sent to Kong by a friend from the UK, the shot-at papers were obsessively copied; their punctures appearing like wounds on the drawings' surfaces. Shanghai's Leo Xu Projects, who fairgoers can always count on for an interesting booth, brought provocative works by Pixy Liao, including A collection of Penises (2013 - present), a grouping of precious, sewn pink phalluses, accompanied by a selection of titillating photographs of the artist and her boyfriend which examine gender roles and sexuality by placing the male subject in submissive and humorous intimate situations.


Pixy Liao, A Collection of Penises, 2013-present, Leo Xu Projects, ASIA NOW 2016. Photo: © Charles Roussel & Ocula.
Manila-based gallery The Drawing Room showcased the work of two Filipino artists: Gaston Damag and Manuel Ocampo. Damag's recent works in the booth reflect his longstanding interest in bulul, carved wooden icons that represent rice guardians or gods to the indigenous Ifugago people in the northern Philippines, where the artist was born. The figures play an important role in the visual culture of the province where harvesting rice is a major part of residents' lives. Interested in the problematic and fetishised presence of Asian cultural artefacts in European museums and galleries, Damag carved three enormous bulul heads from found wood in his studio in Paris, rubbing their surfaces with charcoal-covered fingers. On the wall were two paintings which also reference the figures; one unnamed 2016 work depicts the artist holding the dripping, seemingly-severed head of the bulul.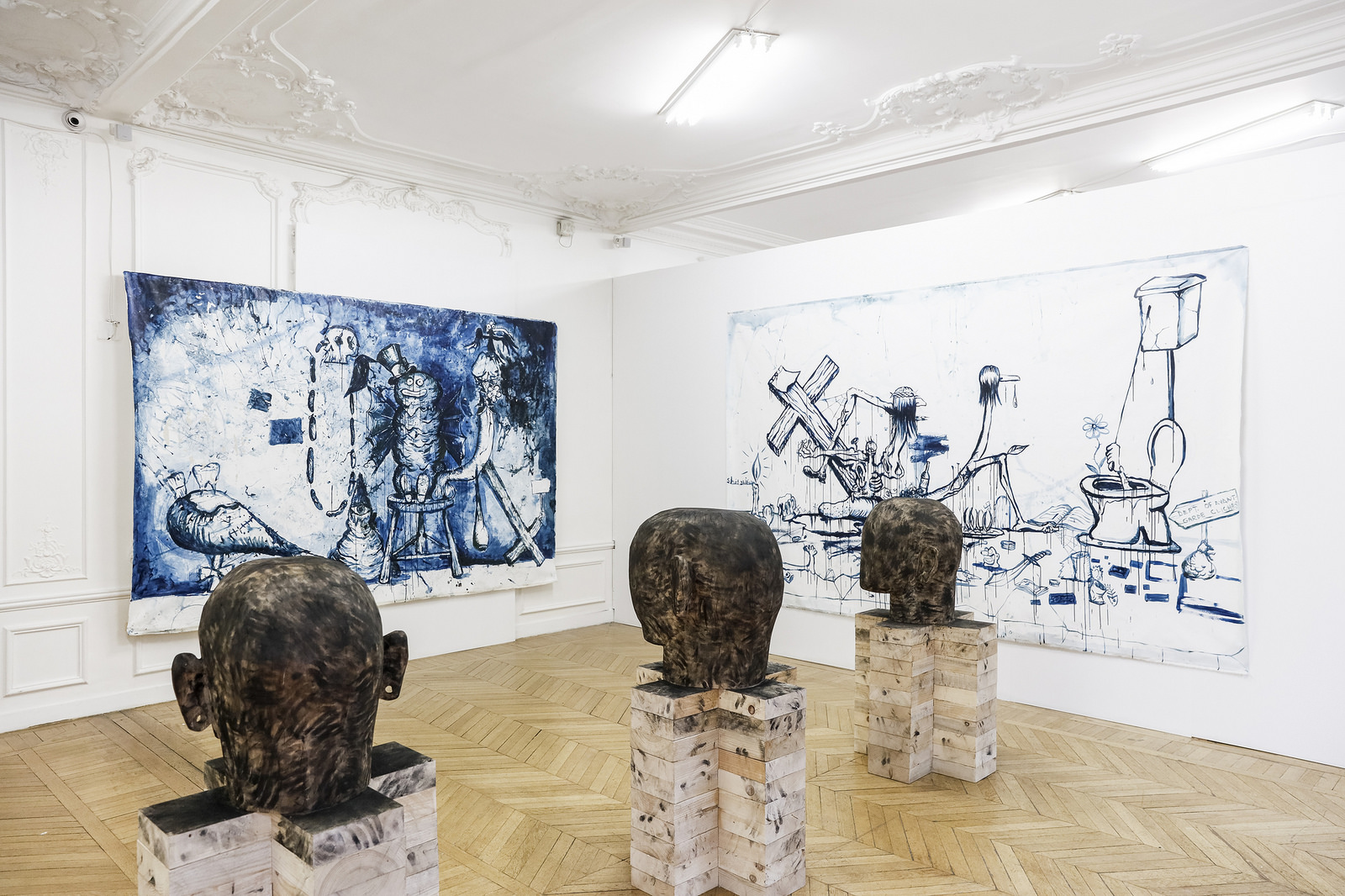 Gaston Damag and Manuel Ocampoat at The Drawing Room, ASIA NOW 2016. Photo: © Charles Roussel & Ocula.
A pleasant sense of community was palpable between the exhibitors at ASIA NOW, quite contrary to the atmosphere of larger and highly competitive fairs. The event received a record amount of visitors this year and while sales were strong, the most encouraging aspect of the event was seeing the interest on the faces of visitors who had drifted over from FIAC to experience something beyond the now repetitive, Eurocentric offerings at major fairs. One of ASIA NOW's main aims was to break the West's preconceived biases of what 'Asian art' looks like—such as outdated assumptions of exclusively ink-focused practices and perceptions of countries like China as money-driven 'big art' factories. ASIA NOW isn't a fair that presents 'Asian art about Asia', it is one that brings a fresh approach to the global art world. One of art's responsibilities surely is to challenge hidden biases and ingrained hegemonies, and ASIA NOW is important for bringing a new perspective to a world that for too long has been dominated by a Eurocentric point of view. Let's hope this fair continues to expand and retains a strong sense of quality, so that collectors have the opportunity in Europe to experience different perspectives on both the art of our time, and also our world. —[O]