Feature
Space Time: Frieze Masters 2015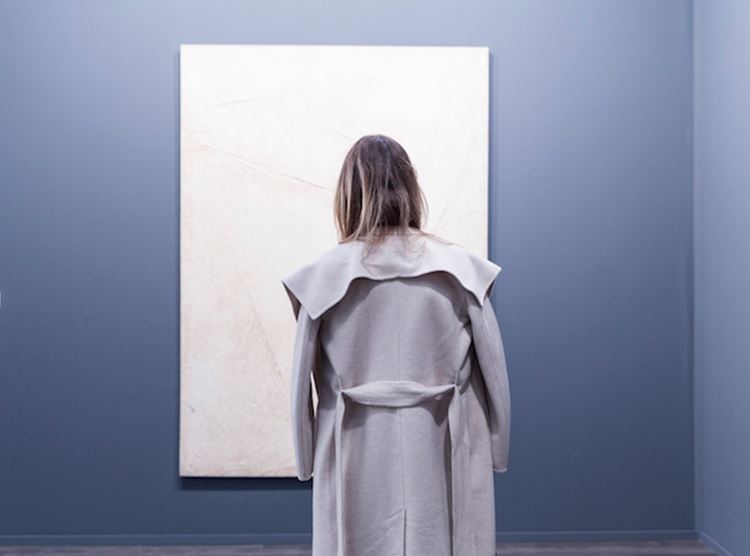 Tina Kim Gallery & Kukje Gallery at Frieze Masters 2015. Photo: © Charles Roussel & Ocula
One of the booths at the fourth Frieze Masters in London summed up the fair: The Gallery of Everything, presenting the works of American modernist Martín Ramírez and autodidact Josef Karl Rädler. The booth was constructed like an intricate series of hallways, with curtains hanging from arched walls leading into tight interiors where works were hung. It was a creative installation in which history was brought into the present through a certain staged drama. It echoed the curatorial approach Helly Nahmad Gallery took last year, when they transformed their booth into the apartment of an imaginary 1968 Paris collector, where amongst the debris of accumulation a Lucio Fontana hung over a messy desk.
Helly Nahmad Gallery, Frieze Masters 2014. Photograph by Linda Nylind. Courtesy of Linda Nylind/Frieze.In fact, Nahmad's instagram-friendly booth appeared to have struck a curatorial chord with many of the 131 galleries participating at this year's Frieze iteration. Richard Nagy Ltd presented works by Egon Schiele, in a salon replete with ornate art deco light and skylight, with works by Max Ernst, Otto Dix, Gustav Klimt and Picasso showcased elsewhere. Richard L. Feigen & Co recreated a stately palazzo interior complete with a Picasso, two beautiful James Rosenquist works on paper, and a pair of large 'carved Fiorito vases of unusual form in the manner of Stefano Della Bella. Possibly Florence. Late Seventeenth Century.'
Richard Nagy Ltd, Frieze Masters 2015. Photograph by Mark Blower. Courtesy of Mark Blower/Frieze.The domestic theme continued with furniture and design creeping onto the floor. A washstand by Charles Rennie Mackintosh from 1917, an ornate claret jug by Archibald Knox from 1901, and a wicker chair by Edward William Godwin from 1885, were all presented at The Fine Art Society. Even jewellery made an appearance at Caylus. Books and maps were also a recurring sight: from the Boetti works at Cardi, Milan, to a collection of rare books and maps at Daniel Crouch Rare Books. At Sam Fogg, a 15th–16th century brass chandelier with Virgin and Child from Southern Netherlands was presented alongside a wall placard with an image of Jan Van Eyck's 1434 Arnolfini portrait (the one conspiracy theorists think proves that Putin is an immortal). Nahmad, meanwhile, went a step further, creating an asylum setting to present the works of Jean Dubuffet.
Sam Fogg, Frieze Masters 2015. Photograph by Mark Blower. Courtesy of Mark Blower/Frieze.One noticeable shift this year, aside from a move to more thematically curated booths, was the occurrence of historical face-offs between galleries, by way of a series of conscious couplings that were staged in shared booths, one of which was Hauser & Wirth's pairing with Moretti Fine Art. The effect was something between juxtaposition and blending. Pairs included: a 16th century Florentine bust coupled with a Calder; a 14th century Italian tempera on panel, Madonna and Child with Christ Blessing, by Luca di Tommè hung side by side with a Marlene Dumas ink on paper; a Neopolitan memento mori oil on canvas of a skull and crossbones from the 17th century partnered with Fabio Mauri's 1970 Schermo (Screen), a work on paper in which the paper is divided into a white half and a grey half; and a Richard Serra Corten steel equilateral triangle positioned beside Lo Scheggio's 15th century panel Two Boys at Play. At the Tomasso Brothers Fine Art and Karsten Schubert's collaborative booth, Roman busts (including an amazing 17th century memento mori) were positioned on large crates alongside studies on paper by Bridget Riley.
Moretti Fine Art / Hauser & Wirth, Frieze Masters 2015. Photograph by Mark Blower. Courtesy of Mark Blower/Frieze.Across the floor histories jumped around, making connections at every point. The Weiss Gallery presented an amazing collection of Tudor, Stuart and North European Old Master paintings, including a remarkable 18th century German oil on canvas, The World Turned Upside Down. Didier Aaron & Cie presented an intriguing group of European works from the 17th to the 19th centuries, including Isidore-Alexandre-Agustin Pils' two oil studies of a man's head on canvas. Jack Kilgore presented a beautifully selected group of works by artists from late 19th century Europe, including Mela Muter, Franz Von Stuck, Antonio Mancini and Hilding Werner. Meanwhile, Rupert Wace Ancient Art presented beautifully curated clusters of Egyptian artefacts. Benjamin Proust Fine Art Limited paired old with modern, in combinations such as a Florentine sculpture with Alberto Burri's Combustione Plastic from 1956. This year, Luxembourg & Dayan paid homage to Iris Clert, the gallerist who staged Yves Klein's exhibition, Le Vide (The Void), in 1958.
At times, things did verge on gimmicky. Dickinson presented a curatorial titled 'Masters of Cubism'—a salon-style hang of modern masterpieces from Braque to Léger and Gris. This was prefaced by a remarkable, unidentified abstract work by a follower of Léger hung at one of the booth's entrances. (A sign next to the painting challenged viewers to test their expertise and try to identify who this anonymous painter could be.) But the gimmicky twists were balanced out in general by the quality of work on show: there was De Wain Valentine at Almine Rech; Tadaaki Kuwayama at Barbara Mathes; Wilfredo Lam at Galerie 1900-2000; and even Konrad Lueg at Eykyn Maclean. Corbett vs. Dempsey, as always, presented a great booth, as did Salon 94, with a brilliant solo presentation of works by Betty Woodman, there was a fantastic selection at Mnuchin Gallery, including a wonderful abstract scene by Simon Hantaï from 1960–61 that recalled Camille Henrot's current illustrative style. Meanwhile, Spotlight, this year curated by Clara M Kim, featured stand-out solo presentations of Hyun Ki Park at Gallery Hyundai and Keiichi Tanaami at Nanzuka Gallery.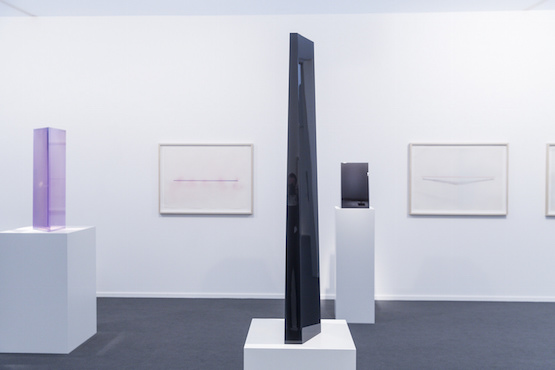 De Wain Valentine at Almine Rech Gallery, Frieze Masters 2015. Photo: © Charles Roussel & OculaD&M offered one of the weirdest and most wonderful presentations. Works included Ludwig Hofer's Pscyhe with the Elixir of Beauty from 1849, in which Psyche is given butterfly wings, and Hans von Marees and Artur Volkmann's marble relief of an Amazon watering her horse from 1898: a kind of Hans Peter Feldmann-esque relief sculpture with none of the irony—the pure white forms illuminated by a golden paint job. Also included was Emil Orlik's Landscape with Mount Fuji in the Distance from 1908, a wonderful, abstract landscape, with three Japanese figures positioned in the setting. The effect was strangely seductive: Orientalism reborn.
The curious result of such curatorial interpretations was the creation of a trading floor in which historical art was contextualised by various (unregulated) historical frames. Frieze, after all, purports to offer an ambitious spectrum of 'vetted artworks spanning antiquities, Asian art, ethnographic art, illuminated manuscripts, Medieval, Modern and Post-war, Old Masters and 19th-century, photography, sculpture and Wunderkammer' all 'brought together in a singular space'. The fair's historical scope spans 'thousands of years' (any period before 2000, basically), which manifested this year in a collector's fair with everything out on show (apparently this was a key tactic for 2015—to bring in objects not immediately related to fine or classical art). Take the Collections section, curated by Sir Norman Rosenthaal: eight booths presenting 'individual dealers' whose specialisms span 'millennia' and who 'demonstrate the highest level of creativity in all different periods of history.' The Collections section included Pacific Island fish hooks from the 18th and 19th centuries at Daniel Blau, and 3000 years of wood-sculpting history from the Dayak tribe at Bernard de Grunne, showing eight wood sculptures from the 13th to the 19th centuries.


Bernard de Grunne, Collections section, Frieze Masters 2015. Photograph by Linda Nylind. Courtesy of Linda Nylind/Frieze.In all, the eclecticism on the floor and the blending taking place between works and booths was all well and good until I saw some of the works presented at the few booths that specialised in ancient Asian artefacts: the 18th century Jiangsu province planters made of white marble at MD Flacks, and the beautiful Japanese woodblock prints from the 17th and 19th centuries presented at Sebastian Izzard Asian Art. These booths served as a reminder that as strong as this fair was, with exceptional historical works on display, there is an imbalance in the scope Frieze Masters claims to offer. While there is an exceptional display of art historically associated with Europe and the United States, there is a deficit in works representing other geographical regions.
This point brings us back to what the fair purports to offer: to show art from 'thousands of years' in a 'singular space'. The aim, I imagine, is something akin to the way Berwald Oriental Art, sharing their booth with Modern British painting dealer Alan Wheatley, combined such works as Manganese in Deep Violet, a painting from 1967 by Patrick Heron, with a pair of glazed earthenware Lokapalas from the Tang Dynasty, blending East with West, ancient and modern. If this is the mix Frieze Masters is going for, then there remains some work to do. —[O]