Feature
Ocula Report: SP-Arte 2016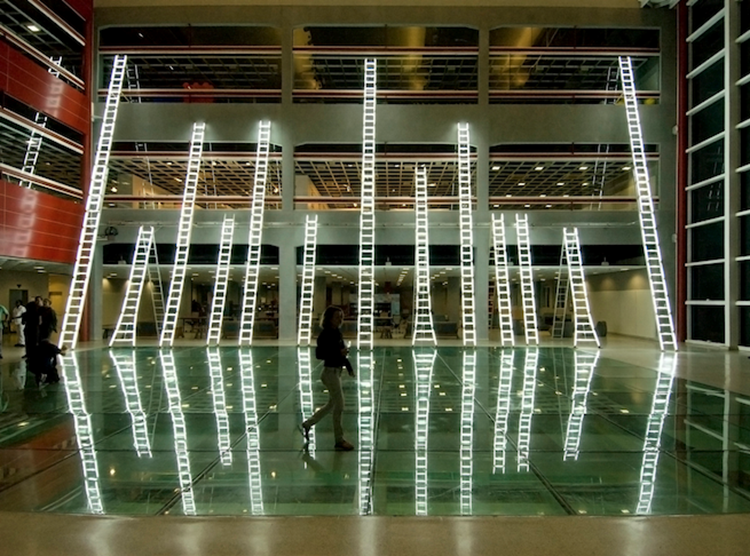 Carmela Gross, Escada F, 2012. Photo: Divulgação. © Galeria Vermelho.
In amidst so much scandalous news coming out of Brazil about its deep rooted corruption, plummeting GDP, rocketing inflation and the recent Congressional vote for president Dilma Rousseff's impeachment, there is good news from SP-Arte, the country's international modern and contemporary art fair.
Oscar Niemeyer's Bienal pavilion in Ibirapuera Park was filled by 27,000 art and design enthusiasts from 6 to 10 April 2016—17% more visitors than the fair received last year. SP-Arte's organisers confirmed that the event generated circa BRL180-200 million (circa USD 50 million) in sales, which albeit at a devalued local currency rate compared to 2015 is still a very impressive result during troubled times. As Fernanda Feitosa, SP-Arte's founder and director, put it in an interview to Ocula earlier this year 'art has two phenomenal attributes: it has a tremendous capacity to preserve its value and a unique capacity to create passion. Given that, the market for art will always exist'.


SP-Arte 2016. Photo: © Tiago Lima & Ocula.
SP-Arte grew out of Feitosa's vision 12 years ago that Brazil could become the home of the go-to international art fair in Latin America. Since its inauguration in 2005 it has grown consistently and organically into a multi-sector international event that in 2016 housed 147 exhibitors, of which 23 were design booths forming the fair's new sector on the top floor of the pavilion.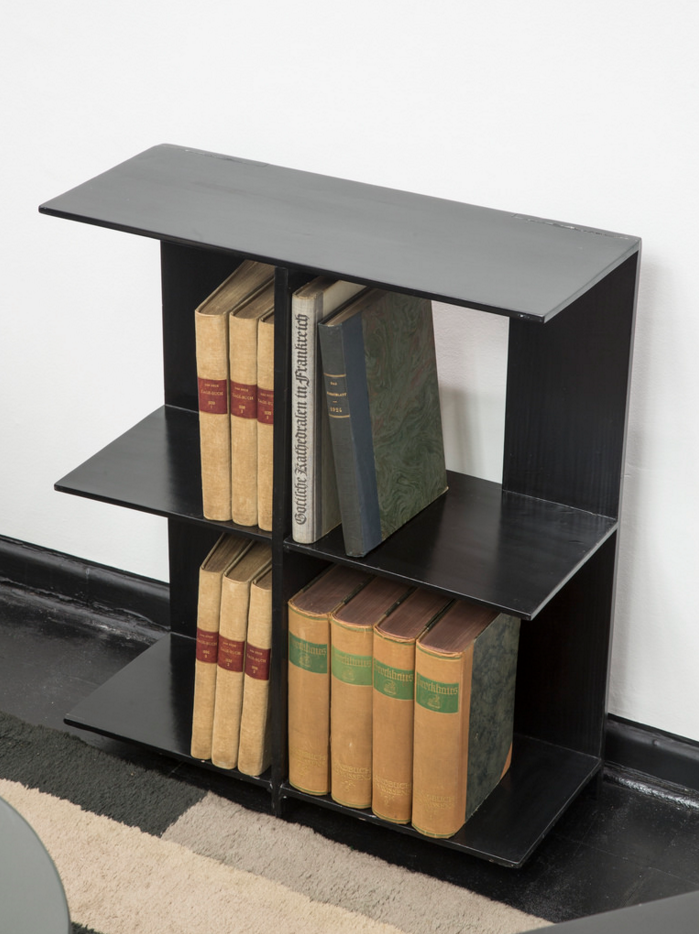 Lasar Segall at ETEL Interiores. © ETEL. Courtesy SP-Arte 2016.
'The boundaries between art and design are very tenuous, sometimes even inexistent. It's important for design and art galleries to be close. Many times they have the same clients and sometimes even artists, as is the case with [artist] Lasar Segall (1891-1957)', explained Lissa Carmona, CEO and partner at ETEL Interiores. ETEL is one of São Paulo's most celebrated high-end design galleries, dealing in special re-editions of modern and contemporary design classics by icons like Jorge Zalszupin, Sergio Rodrigues, Lina Bo Bardi, Carlos Motta and Etel Carmona (the latter is the designer and owner who lends her name to the business her daughter runs). At SP-Arte, ETEL exhibited furniture Segall designed for himself and a collection by Claudia Moreira Salles; a highlight was the stunning low-rise rectangular Mesa Deslize coffee tables that have contrasting wood sliding sleeves.


Claudia Moreira Salles at ETEL Interiores. Photo: Fernando Laszlo. Courtesy SP-Arte 2016.
The design sector was small but well rounded and a successful expansion to the fair's offerings. The solid array of galleries showed a few antiques, but mainly work by established modern and contemporary designers. From the contemporary contingent OVO's sleek and colourful aesthetic flanked by the Campana Brother's Cangaço collection at Firma Casa's booth, set a joyful tone to the central area where visitors entered the space via escalators. The experimental and experiential selection of works shown at Coletivo Amor de Madre by designers such as tech-savvy Guto Requena and biomimetics-inspired Marko Brajovic pushed the boundaries showing what design can do and its impact, beyond that of saleable products. Brazilian design has exceptional quality and it is steadily gaining international acclaim. 'I guided several visits for foreign art collectors who were also very interested in Brazilian design', said Carmona who had in her booth an instructive timeline of Brazilian Modernist design that served as a panoramic overview of the country's historic production.


SOLO at SP-Arte 2016. Photo: © Tiago Lima & Ocula.
Possibly the fair's most vibrant art sector this year—perhaps influenced by the more attractive price range given the current economic uncertainty—was the impeccably curated Solo sector projects area on the ground floor. The sector presents a selection of galleries each dedicated to the presentation of a single artist. This year's Luiza Teixeira de Freita's well-chosen crew included intimate wall-mounted works by Hamish Fulton at Spanish gallery espaivisor and small-scale oil paintings and drawings of colourfully textured folds by Mona Ardeleanu at Berlin-based Wagner+Partner Gallery. Amongst the Brazilian artists Lucas Simões' cement, paper and iron rod sculptures at Emma Thomas Gallery and a series of small-scale paintings of Afro-Brazilian people on the covers of old encyclopaedias by Dalton Paula at Sé Galeria.


Dalton Paula, Sem título, 2016. Photo: Paulo Resende. © Sé Galeria. Courtesy SP-Arte 2016.
Dalton Paula was possibly one of the most talked about young Brazilian contemporary artists this year. This 33-year-old from the northern city of Goiânia is also a professional fireman and his artwork is centred on themes around race and the representations thereof. Maria Montero, founder of Sé, met Paula in 2013 and recalls thinking: 'This guy is a Brazilian Frida Kahlo!' when she saw his work for the first time. Montero hadn't inaugurated Sé at that time and was running a residency programme called Phosphorus, which she still does today. Sé inaugurated with a solo show of Paula's work. Montero, who chooses to represent artists who have solid trajectories but whose artwork has yet to gain traction in the market, is thrilled with Paula's achievements this year: he was awarded the illy Sustain Art Prize and invited to take part in the São Paulo Biennial in September. As a first time exhibitor at SP-Arte, Montero, whose gallery is nestled in São Paulo's historic city centre, away from the mainstream gallery circuit, says that taking part in SP-Arte gave Sé unprecedented visibility to international collectors and curators such as the Guggenheim's Pablo Leon de la Barra who visited her booth.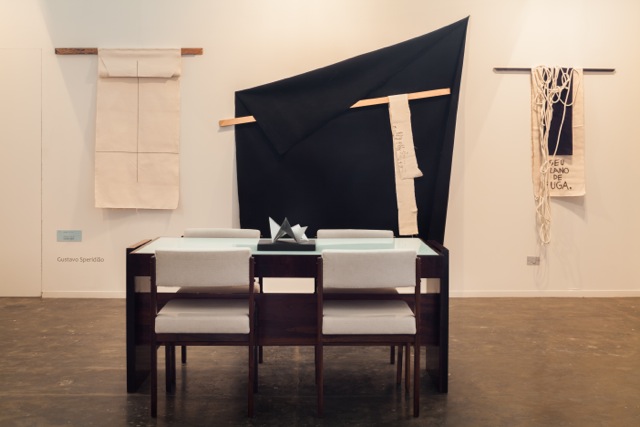 Gustavo Speridião at Galeria Superfície. Courtesy Daniele Dal Col.
Another much talked about steadily rising talent is Gustavo Speridião, who had artworks at Salvador-based Roberto Alban Art Gallery and was one of the three show case artists at São Paulo-based Galeria Superfície (who also showed works by Guga Szabzon and Rodrigo Garcia Dutra). Speridião's gracefully simple aesthetic is politically charged and scathingly humorous. 'They are not easy to sell albeit compelling to collectors', says Daniele Dal Col, a partner at Superfície. 'We sold two at SP-Arte this year and we're working on post-fair sales as we speak. Speridião's artworks can be found in good museum collections. Most of the ones in Rio (Museu Nacional de Belas Artes, Museu de Arte Moderna and Museu de Arte Contemporânea de Niterói) hold artworks of his. Museu de Arte do Rio de Janeiro received a donation of the works he exhibited in Estudos Superficiais at FUNARTE last year and we've just finalised the National Museum of Modern Art, Kyoto's acquisition of the installation The Art History exhibited at the Biennale de Lyon'.
The ICCo/SP-Arte Award is a trusted artist thermometer at SP-Arte. This year it was awarded to Bruno Baptistelli represented by Galeria Pilar and Galeria Vermelho's Marcelo Moscheta.


Bruno Baptistelli, Série Superfícies, 2015. Photo: Everton Ballardin. © Galeria Pilar. Courtesy SP-Arte 2016.
Amongst 17 donations made to Brazilian museums during the course of the fair Cleusa Garfinkel, a dedicated supporter of Brazilian contemporary art, donated five artworks to Museu de Arte do Rio. Three were by artists represented by Galeria Leme: Jaime Lauriano's Bandeira Nacional #4 (2015) (last year Garfinkel donated another of his artworks to Pinacoteca do Estado de São Paulo), Vivian Caccuri's Mínimo Esforço I (2016) and João Angelini's Fósforo (2014). The other two works donated by Garfinkel to MAR were Rio de Janeiro, 15 de novembro de 1889 by Ivan Grilo (represented by Luciana Caravello) and an untitled work by Nino Cais (represented by Casa Triângulo gallery). In addition Garfinkel donated Lourival Cuquinha's (Baró Gallery) Parangolé and an Untitled work by Laura Lima (Galeria Luisa Strina) to MAM-SP. Another collector, Mimi Doeur donated the video work, Contour by Erika Verzutti (Fortes Vilaça) and Luiz Roque (Sé) to the same.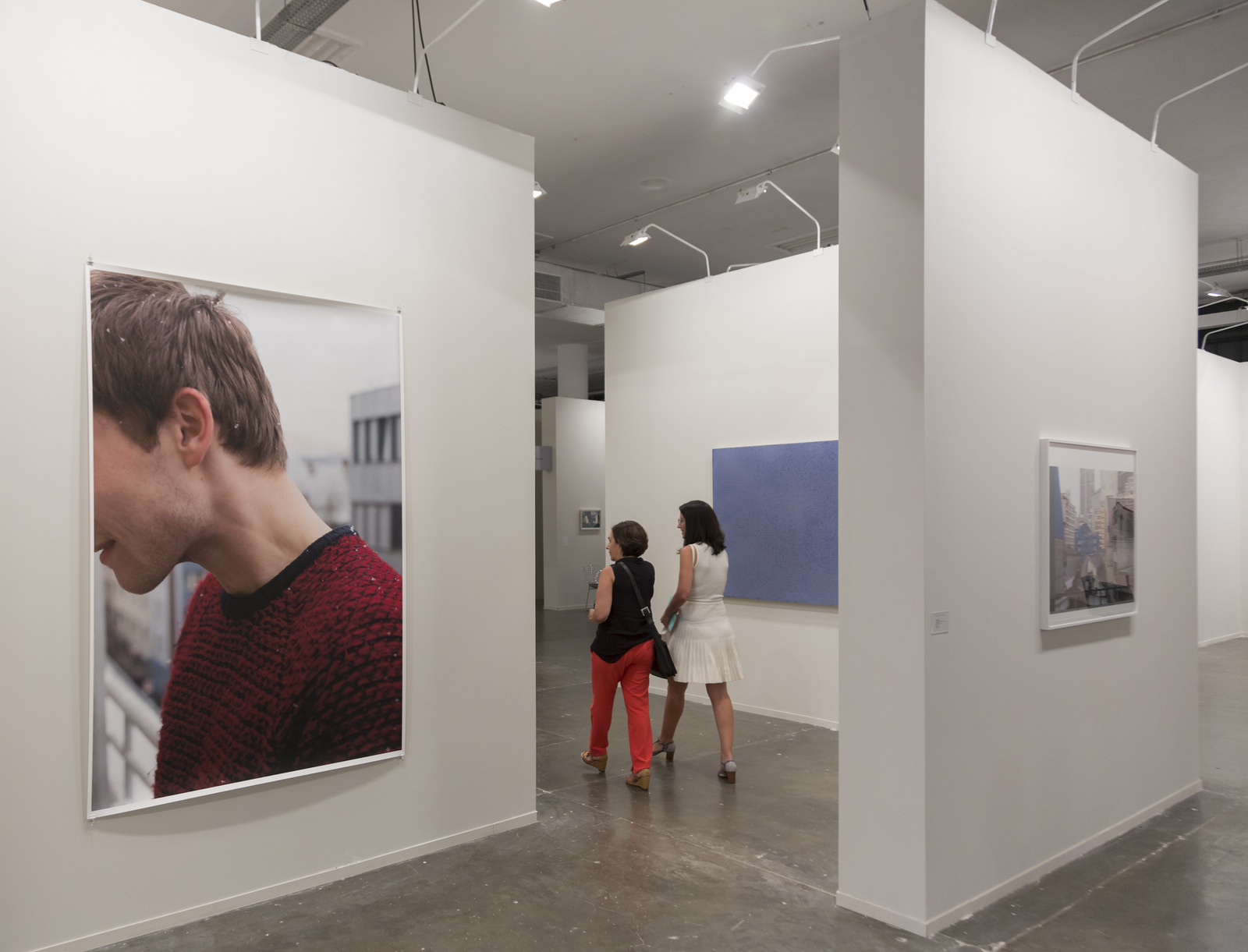 David Zwirner at SP-Arte 2016. Photo: © Tiago Lima & Ocula.
The main sector of contemporary art galleries on the first floor came across as rather flat this year, with countless booths over populated with what seemed like market-friendly works. However, corridor chatter seemed to reflect that their strategy worked since most dealers informally boasted good sales—albeit made by way of several 'small' sales instead of a few sizeable ones. 'It is a delicate time for us in Brazil, but it is exactly at times of crises like this that people perceive value above cost and understand buying art as an investment and not an expense' said Lissa Carmona. Among the highlights of international exhibitors who loyally returned to SP-Arte during these most uncertain times and did well, was David Zwirner with work by artists such as Wolfgang Tillmans and Oscar Murillo, and Stephen Friedman Gallery, with a booth entirely dedicated to David Shrigley's uplifting comical artworks.
Beyond the primary galleries on the first floor, Open Plan, the large-scale installation sector, held a stellar cast carefully curated by Jacopo Crivelli-Visconti. The artworks specially commissioned for SP-Arte, were top calibre. Especially impactful were Daniel de Paula's (Galeria Jacqueline Martins) Inseparable spatial structures, Marcelo Cidade's (Vermelho) Factory Defect and Radamés "Juni" Figueroa's Everything revolves around the column (all artworks 2016).
São Paulo bloomed with art-related events, exhibition openings before and during SP-Arte. The robust calendar of events anticipated the VIP opening this year with the inauguration of Gallery Night, which saw selected venues in the Jardins and Vila Madalena neighbourhoods open until 10pm. 'This was a beautiful edition [of SP-Arte] and the general feeling was a positive one' said Fernanda Feitosa in an official statement after the end of the fair. Indeed it was. Long live SP-Arte. —[O]