Feature
Ocula Report: Spring 1883
Image: Alaska Projects at Spring 1883. Photo: Amelia Winata.
The VIP preview of Spring 1883's 2016 edition was surely a contender for the most exclusive 'money-can't-buy' ticket in town. Prior to the art fair's opening, interested parties were told that requests for tickets would be denied and that only those who received an invitation would be permitted entry. It didn't matter how important you were: if you didn't have a ticket, you wouldn't get in. And, indeed, there were numerous reports of top curators and collectors scrambling to be added to the list, only to be turned away.
Certainly, the demand for invitations reflected the strength with which Spring, in just its second Melbourne staging, has succeeded in quickly establishing roots as a serious collectors' fair. When it was announced in February that the Melbourne Art Fair (MAF) would not take place, it was not surprising that the art world instantly turned to MAF's former satellite contemporary to fill the gap. However, Kate Barber, one of the fair's four founders, says that Spring did not hope to become the new Melbourne Art Fair. Despite the exclusivity of VIP invites, Spring continued to maintain the tongue-in-cheek attitude which had set it apart from MAF in 2014. Only Tolarno Galleries entered the lineup after the announcement that MAF would be put on hold, bringing the total number of galleries participating at Spring 1883 to 27.
This year, the strength of young galleries was impressive. This reflected both the rigorous selection process of the fair and also the relative affordability of participating in it as compared to other fairs: MAF's booths were rumoured to have cost some $30,000 (or so I was told by one gallerist). First-time exhibitors Fort Delta, founded three years ago by James Bowen and Helen Sweatman, excelled in curating a group of exciting emerging artists who produce nonetheless commercially attractive work. Caleb Shea's fantastic skeletal steel structures were dotted around the space, including a 1.5 metre example installed in the suite's walk-in closet. Shea's sculpture was accompanied by a large Ben Jones abstract painting and Adam Stone's instantly recognisable grimacing banana, Portrait of Lance Armstrong (2016).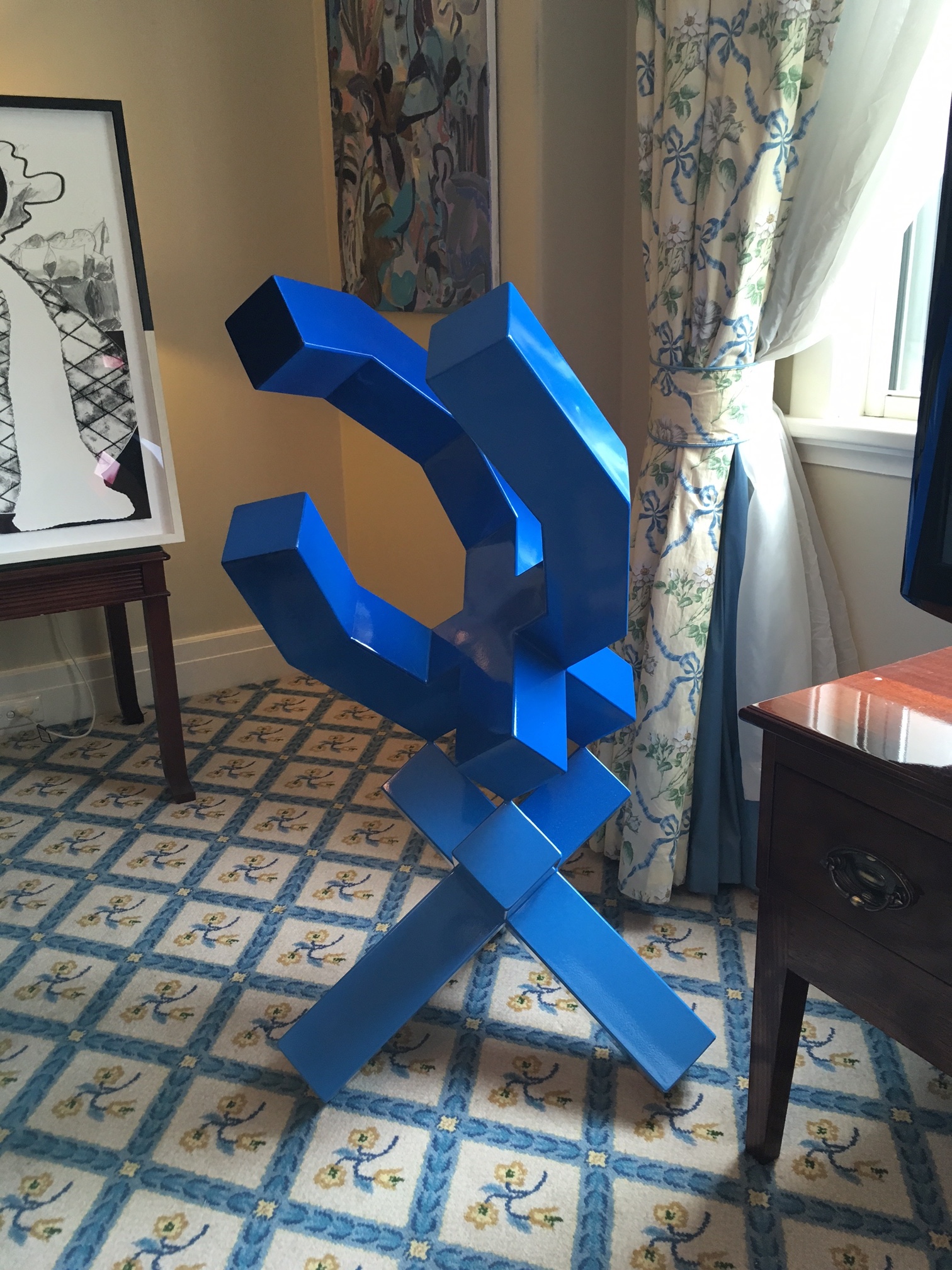 Image: Fort Delta at Spring 1883: (L-R) Julian Hocking, Untitled (Cape Weather/2nd Place) 2016; Laura Skerj, Day Makes a Circle Shape (2016); Caleb Shea, Untitled (navy blue gradient), 2016. Image: James Bowen/Fort Delta.
One of the fair's highlights was Sydney's über-hip (and also youthful) Alaska Projects, which began as an artist-run space in the basement of a car park in Sydney's red light district. The gallery commissioned artists to respond specifically to the site, manipulating the difficult space of a hotel room to show a thoughtful presentation. nova Milne's video Jeté (A Study) (1963/1965/2014-2016) featured footage of the Windsor's carpet with imagery of ballet dancer's Rudolf Nureyev and Erik Bruhn. The ghost-like quality of the work appealed to what director Sebastian Goldspink says is the hotel's ability to act as a 'site of collected memories'. Adam John Cullen's hydrostone 'vase', perched atop a solid plaster pillow, was displayed on the bed with a large plaster and marine ply work from Tarik Ahlip. In combination, these works evoked historical artefacts, and a simultaneous sense of monumentality and calm.


Image: nova Milne, Jeté (A Study) (1963/1965/2014-2016). Image: Bradley Vincent/Alaska Projects.
Numerous exclamations were overheard that the Hotel Windsor's interior showcased what the art might look like in a domestic setting, but this, in my opinion, was not the point. More than anything, the hotel setting represented a thumbing of the nose to the sanitised white cube space of most galleries and major art fairs (albeit, elitism was still rife here, only in a different form). It was certainly fun to play witness to the range of curatorial capacities of galleries not used to navigating anything but minimalist settings. Many struggled. One gallery director told me that he wished he could have torn down his suite's floral curtains because they competed with the abstract and geometric paintings he had on display. Certainly, traditional, wall-based work did not come out on top. The paintings and drawings displayed by the likes of Kalli Rolfe—by artists Howard Arkley, Juan Dávila—were safe choices that, despite their guaranteed selling power, seemed far too at home in the conservative Windsor setting. Others galleries, however, went all out, playing with the garish interior of the dated décor of the hotel. Esther Stewart's wool rug Ornamentation is a Surface Gesture (2016) proudly clashed with the floral carpet of Sarah Cottier's suite, while Murray White Room displayed Polly Borland's reversible tapestries in the window overlooking the hotel's hallway.


Image: Esther Stewart, Ornamentation is a Surface Gesture (2016). Courtesy Sarah Cottier Gallery, Sydney.
But in a sea of safe choices, it was Karen Woodbury Gallery who surprised with some exciting works, choosing to bring her more conceptual artists to the fair. For some time, the gallery has struggled to shine in its Flinders Lane location, displaying work that is fine, but never extraordinary. Here, however, Louise Paramor's Jam Session #24 (2006) and Alice Lang's eerie porcelain heads were bold interventions in a space that played with humour. Woodbury's almost all-female line-up was a welcome gesture that created a subtle parallel with Tolarno Galleries down the hall, where Anastasia Close performed Miss Spring 1883, a character who spoke for all female artists who could not be present due to lack of commercial representation.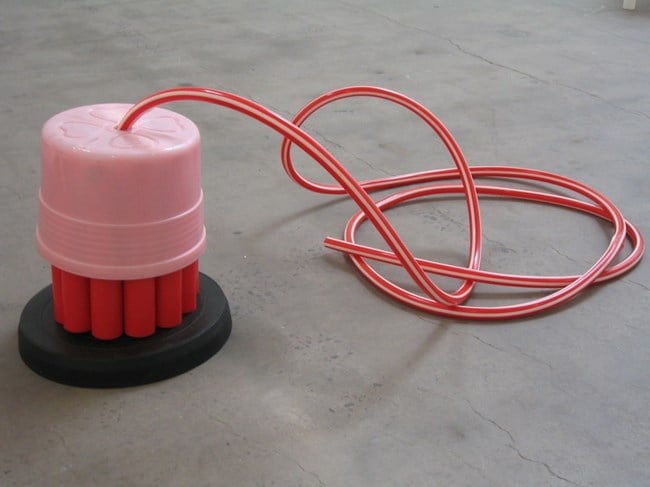 Image: Louise Paramor, Jam Session #24 (2006). Courtesy Karen Woodbury Gallery, Melbourne.
Performance was also a focus in the only non-commercial offering at the fair, in Room 301—a performance space curated by Gertrude Contemporary's Creative Director, Mark Feary. The exhibition was a highlight of the fair and showcased time-based works from some of Australia's best performance artists: Shelley Lasica, Bridie Lunney, Atlanta Eke, The Telepathy Project (comprised of artists Sean Peoples and Veronica Kent), Deanne Butterworth, Rebecca Jensen, Brooke Stamp and Renny Kodgers. Staged periodically throughout the duration of Spring, the performances offered an exciting and intimate space of respite from the champagne-drunk collectors, scrambling after the next big thing. Using the room's furniture as props (as well as a canoe in the case of Eke), artists presented nuanced works that underscored the resurgence of a performance scene in Australia over the past five or so years.


Image: Room 301: Performance project by Bridie Lunney (as performed by Shelley Lasica). Image: Mark Feary/Gertrude Contemporary.
Room 301 was a welcome addition to the fair this year, and it appeared to speak to a desire to take the fair to another level. Co-director Geoff Newton remarked to Ocula's editor Anna Dickie that while previous iterations had been about bringing current clients to the fair, the focus now was on offering something much stronger, acknowledging the pressure brought on by the fair being the 'main event' of Melbourne Art Week. Certainly what makes Spring special is a sense of camaraderie around the fair (epitomised in the group photo of gallerists taken at the entrance to the event, a snapshot which marks the event's opening), but equally there is a need to 'grow-up' if the fair is to mature beyond its own scene. At the press preview, many of the gallerists locked their hotel rooms to go and visit friends' suites, and this was a disservice to the exceptional effort this year made by Spring's press officer. It suggested a slight lag between the ambition to create a really professional and important boutique art fair, as opposed to a really good shin-dig for an exclusive bunch of friends.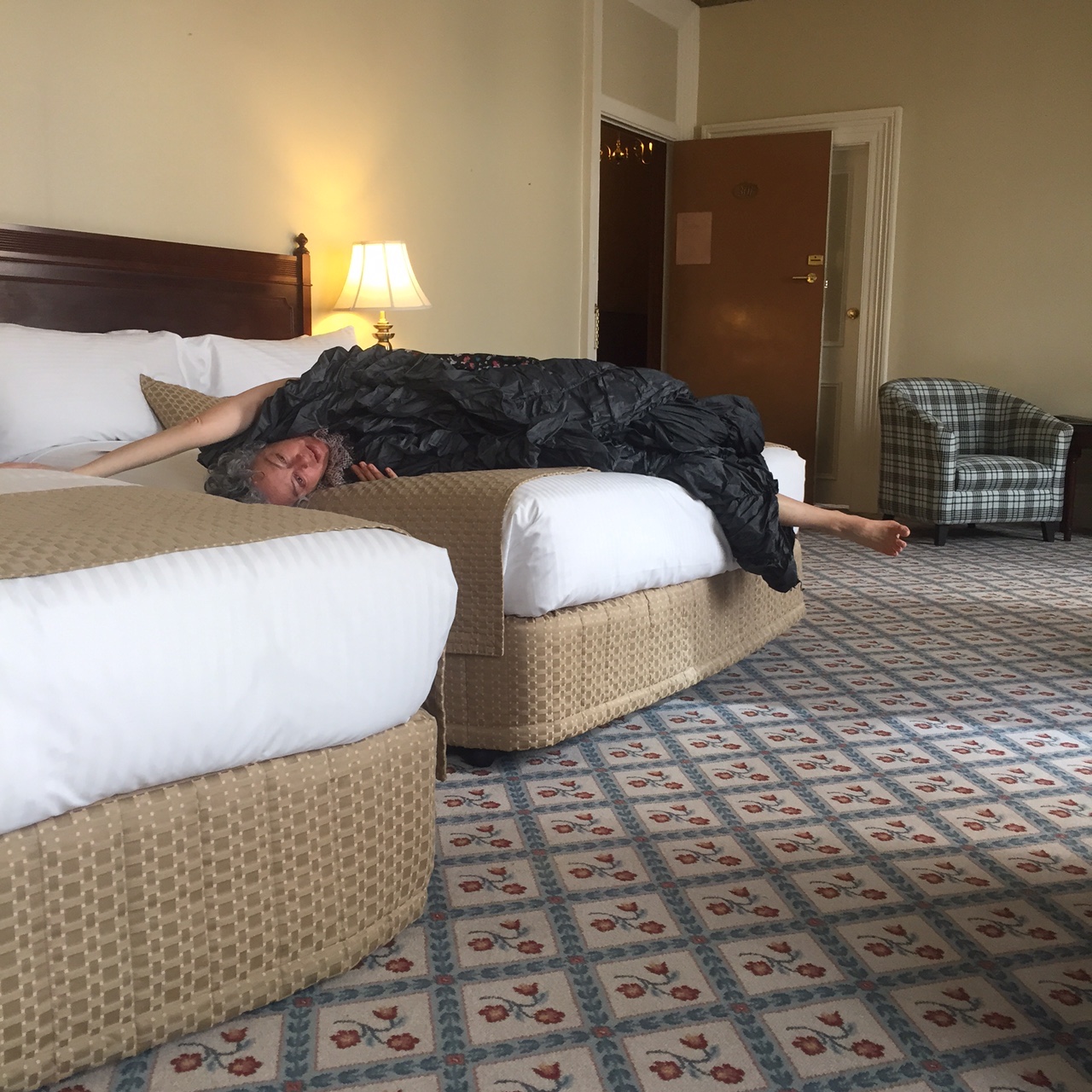 Image: Room 301: Performance project by Shelley Lasica. Image: Mark Feary/Gertrude Contemporary.
If I were to make another observation about Spring 1883, it is also that there was a definite tension between the 'blue-chip' art collectors and a desire to make art collecting enjoyable and accessible to younger people. This was reflected at the opening evening by the divide between suited and coiffed collectors (those who would usually frequent MAF), and young 'art workers'—namely artists, administrators and not-for-profit directors. I can't forget a comical moment when a certain gallery director pulled a platter of cheese out from under me, presumably because I was not the right person to be eating it. The moment was tempered by the promise that the organisers of Spring 1883 recognise the need to cater to a new generation of experimental and open-minded art collectors who will soon be pushing the Australian art market in new and exciting directions. —[O]