Feature
Off-piste: ArtRio 2015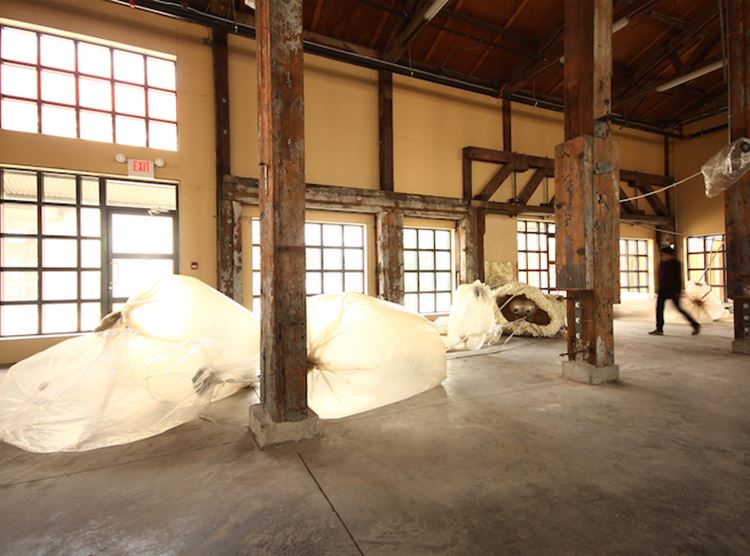 Installation view, Mariana Manhães, Mas (Vasos de vidro branco).
Art institutions and alternative exhibition spaces of Rio de Janeiro are occupied by dozens of exhibitions that run parallel to ArtRio
The art institutions and alternative exhibition spaces of Rio de Janeiro are occupied by dozens of exhibitions that run parallel to ArtRio, the city's annual art fair, now in its fifth edition. Ocula's Camila Belchior recommends those to visit in the city.
Galpão 139 – Ocupação Mauá
Avenida Rodrigues Alves 139
10 – 13 September 2015
Artworks made by Rio-based artists will fill one of the many unoccupied warehouses in the Mauá port area of downtown Rio de Janeiro.
Galpão 139 – Ocupação Mauá
[Warehouse 139 – Mauá Occupation], organised in partnership by OM.art, Jacarandá Arte Clube and the Brazil Golden Art, will fill five rooms of an empty industrial space that stands opposite the pier that houses the ArtRio exhibition areas. The two thousand square metres that have been abandoned for ten years will be open to the general public for the first time and serve as an opportunity to engage with the space and the dramatic revitalisation of the surrounding area.
Projections, paintings, sculptures, site-specific interventions and artworks from the Brazil Golden Art collection have been brought together and into dialogue with the architecture and the specific conditions of the abandoned warehouse. Carlos Vergara, a well-established Brazilian artist, partnered with Zanini de Zanine, better known for his work in the field of design, to create a labyrinth; Oskar Metsavaht, founder of the internationally acclaimed fashion brand Osklen, will premiere an interactive video-installation, photos and paintings that are the result of his immersion in the Ashaninka tribe in the remote north-western state of Acre; Mariana Manhães, known for inventive gadgets and the technological nature of her artworks will show new artwork, similar to the piece she presented at the Vancouver Biennale, in which a video-animation of a plant that breathes and whispers, housed in a cocoon-like organism will stimulate plastic bags held by pvc tubes to inflate and deflate according to the electronic stimuli from the video; Raul Mourão's A felicidade é feita de metal [Happiness is made of metal] is an installation that draws on his iconic interactive swinging iron sculptures. Other participating artists are: Aderbal Ashogun, Afonso Tostes, Arjan Martins, Cabelo Cadu, Claudia Sehbe, Dudu Garcia, Everardo Miranda, Tomás Ribas, Vicente de Mello, Vik Muniz, Artur Lescher, Barrão, Brígida Baltar, Ernesto Neto, Janaina Tschäpe, José Resende, Luiz Zerbini, Miguel Rio Branco, Otavio Schipper and Tunga.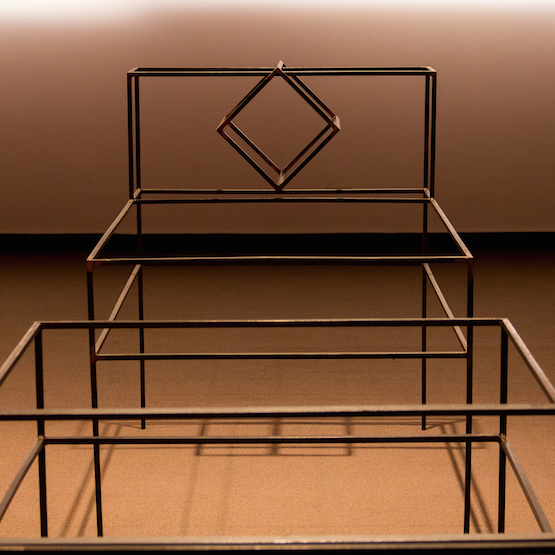 Raul Mourão, A felicidade é feita de metal.
O Grande Tufo de Ervas [Great Piece of Turf]
Museu da República/Galeria do Lago, Rua do Catete 153
8 September – 11 October 2015
Two unique views on nature and approaches to art-making are put forward in the artworks by Pedro Varela and Mauro Piva. They establish dialogues with reality and the imaginary in a selection of paintings, drawings and sculpture curated by Isabel Sanson Portella, inspired by the gardens of the neighbouring Museu da República [which on the occasion of ArtRio will be filled with public artworks].
Piva's point of departure is Albrecht Dürer's Great Piece of Turf, which lends its name to the exhibition. His colour-pencil drawings go beyond simple observation exercises. The delicate and intricate portraits of different flora on black backgrounds are elegant and sophisticated in their detail and technique. Varela is almost his antithesis. His mix of painting with colour-painted paper cuttings and paper sculptures creates a psychedelic idealised tropical universe. In his own words: "a psychedelic-baroque-abstract entanglement".
While Piva observes minute details and colours, elevating mundane and unexceptional species, Varela nurtures his imagination and draws attention to an amalgamation of sensations, forms and colours.
Nature and reality contrast with the unnatural and the imaginary in a show that is an inspirational and contemplative voyage into the nature and nurture of art.
Mauro Piva, Um Tufo de mato, 2015. Image courtesy Museu de República
Daniel Steegmann Mangrané / Philippe Van Snick
Museu de Arte Moderna – MAM, Av Infante Dom Henrique 85
5 September to 1 November 2015
An exhibition designed as a dialogue between Catalan artist Daniel Steegmann Mangrané (1977) and Belgian Phillippe Van Snick (1946), curated by Marta Mestre, brings together works made individually by the artists as well as a collaborative installation. As a way of setting the tone and establishing relations between works already created by both artists, Mestre chose to exhibit Steegmann Mangrané's
Mesa com objetos
[Tables with objects, 1998-2015], a selection of work tools and objects collected by the artist over the years and displayed on wooden tables on the second floor of the museum, which looks out onto the reclaimed landscape surrounding the museum. Alongside this, Mestre selected 20 photographs, watercolours, drawings and architectural models created by Van Snick, dating from the 1970s and 2001 to 2015. "They three-dimensionalise a geometric syntax and display common to both artists", according to the curator.
In addition to the previously existing pieces, Van Snick also exhibits a site-specific mural painting which explores the relations between architecture and Burle Marx's landscaped gardens of the Museum, and Steegman juxtaposes watercolours and drawings of geometric and organic forms in Morfogénesis / Cripsis (2015). The collaborative sound-installation Fôlego (Breath, 2014) created with flautist Joana Saraiva, echoes the sound of a clarinet through seven loudspeakers in the exhibition space.
Philippe Van Snick, Sem T+tulo. Image courtesy Museu de Arte Moderna do Rio de Janeiro
Iole de Freitas – O peso de cada um [Each one's weight]
Museu de Arte Moderna – MAM, Av Infante Dom Henrique 85
If you are in the Museum of Modern Art for the exhibitions above, you will inevitably come across Iole de Freitas' large-scale installation curated by Ligia Canongia, which celebrates the artist's 70th birthday. Two suspended sculptures and one laid on the floor were made especially for the museum space in mirrored and matte stainless steel weighing together almost 4 tonnes. Freitas, one of Brazil's foremost sculptors, abandons the polycarbonate structures and stainless steel tubes used in works over the last decade and twists large steel plates that are held taught by steel ropes.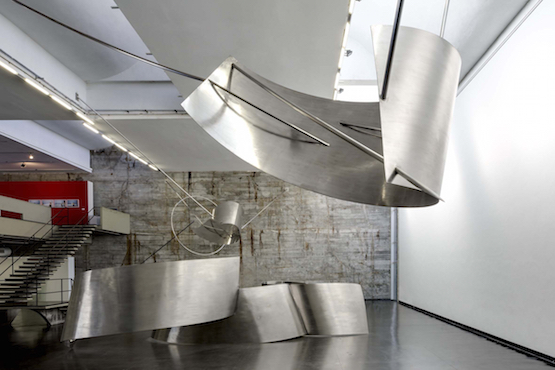 Exhibition view, Iole de Freitas, O peso de cada um, 2015. Photo: Sérgio Araújo. Image courtesy Museu de Arte Moderna
Eduardo Berliner – A presença da ausência [The presence of absence]
Fundação Eva Klabin, Avenida Epitácio Pessoa 2480
10 September to 29 November
Eduardo Berliner is the first painter to be invited by Márcio Doctors, curator of the Eva Klabin collection, to participate in the on-going project called
Respiração
[Breath]. The project was established as a way of activating and uniting contemporary art and the classical art and crafts collection that spans 50 centuries, and since it was begun more than 30 artists have made site-specific projects for the iconic family home where the Eva Klabin collection is held.
Berliner's research of the collection inspired him to address themes surrounding memory and the domestic realm in paintings made with caustic cleaning agents on fabric-covered chairs and pieces of velvet, which establish dialogues with the house's historic tapestries, carpets and curtains. Berliner also created wood screens covered with silk as structures for large oil paintings and inspired by themes and images he found in works from the collection painted several paintings. "I tried to absorb part of the atmosphere of the place and ended up reconfiguring the repertoire of its architecture and collection in my own narratives, crossing my personal memories with those of the house", Berliner explained. His main concern was not "the image of the actual things, but their atmosphere."
Ficción y Fantasia – Arte de Cuba [Fiction and Fantasy - Art from Cuba]
Casa Daros, Rua General Severiano 159

12 September to 13 December
The last exhibition to be held at Casa Daros before it closes its doors to the public at the end of the year, this group show presents 130 artworks by 15 Cuban artists who live and work in Havana: Ana Mendieta, Belkis Ayón, Ivan Capote, Javier Castro, José Bedia, Juan Carlos Alom, Lázaro Saavedra, Los Carpinteros, Manuel Piña, Marta María Pérez Bravo, René Francisco, Santiago Rodríguez Olazábal, Tania Bruguera, Tonel de Yoan Capote. Part of the Daros Latinamerica Collection, these works date from between 1975 and 2008 and tell a thirty-year history of the country's art production. Curated by Hans-Michael Herzog and Katrin Steffen, the selection does not intend to address all the artistic currents in Cuba, but nevertheless portrays an excellent portion of important facets of the artistic production in the country during the last three decades. The central and recurring themes and considerations broached in distinct and multifarious ways in these artists' works concern the island of Cuba, its culture and history, the country's singular government and its precarious economic system. Although an exhibition on Cuban art is possibly not the most obvious thing to single out during an art week in Brazil, this is a unique and well-curated show with singular pieces, as is it possibly the last opportunity to visit Casa Daros, a short-lived yet wonderful institution in Rio.
Other institutions worth visiting
Museu de Arte do Rio – MAR, Praça Mauá 5.
On show: Women painters from 1870-1950 [Tarsila do Amaral, Anita Malfatti, Djanira + others]
Casa França-Brasil, Rua Visconde de Itaboraí 78.
On show: Cildo Meireles, Beto Schwafaty and Alfredo Jaar.
Escola de Artes Visuais – EAV Parque Lage, Rua Jardim Botânico 414.
On show: Group exhibition of Brazilian contemporary artists curated by Luisa Duarte.
Paço Imperial, Praça Xv de Novembro 48.
On show: Efrain Almeida and Ricardo Ventura.
Centro Cultural Banco do Brasl, Rua Primeiro de Março 66.
On show: photographs of Rio de Janeiro taken in 1909 by Bruno Léon and performance by Fancy Violence on the evening of September 7th.