Feature
Open lenses: PHOTOFAIRS | San Francisco
PHOTOFAIRS | San Francisco. Courtesy PHOTOFAIRS | San Francisco
The inaugural edition of PHOTOFAIRS | San Francisco (27-29 January 2017) opened with a sunset vernissage at Fort Mason Center for Arts & Culture's Festival Pavilion, a seaside hangar located on a pier which juts into the San Francisco Bay. The Pavilion felt as camera-ready from the outside as it did from the inside, where 34 international galleries with exhibition spaces in cities ranging from Shanghai to New York—including Peter Fetterman Gallery and Edwynn Houk Gallery—were gathered alongside an in-house group exhibition. Walking into the space, it became immediately understandable why both PHOTOFAIRS and FOG Design+Art—another fair staged there one week before this one—selected this particular venue. Ceilings soar and light bounces in, giving the whole scene a natural glow.
The industrial architecture offered a stunning contrast to the first image visitors encountered when entering the fair, presented on a freestanding wall facing the main door—an interior shot capturing the warm wood interiors of the Baroque-style Teatro Farnese in Parma, Italy, by Ahmet Ertuğ. The image, which brought to mind the work of the Becher School, including Thomas Schütte, Candida Höfer and Andreas Gursky, was presented as part of Elipsis Projects' presentation of Ertuğ's work. Turning down the right hall, viewers had the opportunity to see more at the Elipsis Projects booth, which was entirely dedicated to his prints, including Library of Science Academy, Turin (2016) and The Castle of Valentino, Turin, Italy (2016).
Ahmet Ertuğ, Teatro Farnese in Parma, Italy at PHOTOFAIRS | San Francisco. Courtesy of Elipsis Projects (Istanbul & London)
Architecture shots were dotted throughout the fair, but perhaps the most engaging body of work could be found near the entrance at Shanghai-based M97 Gallery's booth, where a wall of Michael Wolf's short videos and prints were hung salon-style. The work was culled from his 'Informal Solutions' series (2015-ongoing), which looks at the enormity of Hong Kong through its endearingly human details, from a laundry system for rubber gloves and a water bottle placed over a pipe to catch the drippings. These small architectural interventions walk the line between serendipity and function, and Wolf catches them in all their glory. Their unflinchingly petite nature set them apart from a majority of the fair's offerings, which were often large and glossy.
M97 at PHOTOFAIRS | San Francisco
The architecture and landscapes found at Bryce Wolkowitz Gallery's booth offered a sharp contrast to Wolf's intimacy. The bright, striking landscapes of Edward Burtynsky played nicely with the cartographical monochromes of Sohei Nishino, who recently opened a solo show at SFMOMA. Like Wolf, Nishino revels in the fine details. His 35mm snapshots, which he accumulates over months of walking, become the material he uses to create his large map-like collages, all of which are a part of his ongoing 'Diorama Map' series (2004-). At the fair, Nishino presented his own take on San Francisco as a patchwork from the hills to the sea, rendered in his photographs of street vendors, skyline and pedestrians.
Nishino's collaged aesthetic felt aligned with Randy Hayes, who stood out for his solo booth with local gallery Themes+Projects. Like Nishino, Hayes treats photography as a jumping off point. Inspired by the narrative quality of contact sheets, Hayes developed a method of treating his primary images as the infrastructure for larger paintings, which the artist creates by applying oil paint on top of a grid of printed images. These include Deer (Blue) (2016), which depicts a deer sat on a living room table with images of backyards and strip malls underneath. Pinned to the wall at Themes+Projects' booth, his loose-leaf paintings acted as dreamscapes, shifting from one reality to another depending on the viewer's distance.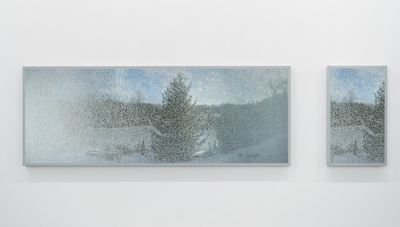 Scott McFarland,
Shattered Glass, Sunny with Cloudy Periods,
2016. Courtesy of Choi & Lager (Cologne & Seoul) and Division Gallery (Montreal & Toronto). © Scott McFarland
The same could be said of Scott McFarland's 'Sky Leak' series (2016), which was shown by CHOI & LAGER in collaboration with Division Gallery. The photographer culled his defective film inventory for images of clouds in order to create a group of psychedelic light boxes. Hung high on the wall, the installation encouraged visitors to take a de facto sky-gazing position when viewing the artist's chemically marred skyline. This unexpected twist of perspective saved the work from falling flat. Artist Jordan Sullivan's images benefited from the same kind of perspective. Installed with the help of New York's Rubber Factory, the artist dangled translucent silk prints from his 'Night Finds You' series from the rafters. Occupying the last stretch of concrete before the VIP lounge, these floating works brought photography into the sculptural realm, taking banal, sun-spotted subjects (namely branches and flowers) along for a ride into the surreal.
Jordan Sullivan at PHOTOFAIRS | San Francisco
Sullivan's installation was one of the fair's few ethereal moments, and was aptly positioned next to the fair's dedicated 'Insights' section, which looked at artists pushing the idea of the photograph in a curated exhibition titled New Approaches to Photography since 2000. Organised by PHOTOFAIRS artistic director Alexander Montague-Sparey and Allie Haeusslein, associate director at Pier 24 Photography, San Francisco, the exhibition included works by Jim Campbell, Susan Derges and Moira McDonald among others. While there were treasures to be found within the exhibition, including Troublemaker (2015), Julie Cockburn's embroidered portrait of a woman with threads across her face, one couldn't help but ponder the irony of celebrating genre-defying work in the context of a fair whose frame risks ghettoising the medium.
Julie Cockburn, Troublemaker, 2015. Courtesy of Flowers Gallery (London & New York). © Julie Cockburn
Yet, the context actually did little to diminish the work on show. In fact, the strongest booths demonstrated the power of traditional photography techniques when used outside of their normal designations. Danziger Gallery presented a series of 18 images selected from Paul Fusco's 1968 ride with Robert F. Kennedy's body from New York to Washington D.C. by train. On assignment for Look magazine, Fusco's images capture the bereft crowds that gathered along the tracks to see the beloved political figure pass by. A timely reprise for a dark moment in America, the photographs showcased the immense power that empathetic photojournalism has, especially during times of crisis.
Rongrong & inri, In the Jiayuguan, China, No. 2, 2000. Courtesy of Three Shadows +3 Gallery (Beijing & Xiamen). © the artists
Such empathy was expressed in another way at Beijing and Xiamen-based gallery Three Shadows +3's booth, where husband-and-wife duo RongRong & inri swept viewers away into Tsumari, a rural and remote part of Japan, using black and white imagery. Shot in a wooden house that the couple occupied with their children in 2012 during the Echigo-Tsumari Art Triennale, the photographs show the obsessive carvings that cover the structure from top to bottom. The hazy family portraits tell the narrative of a forgotten place and time through traditional clothing and naked intimacy. The magic of RongRong and inri's work is in its stark simplicity. Housed inside knobbed wooden frames, the pieces displayed a humbleness that seemed to penetrate the fair's glossy surface. Yuki Onodera's work towed a similar line—walking between the fantastical and the domestic, her photographs at Vanguard Gallery's booth stood out for their minimalistic tendencies. Vanguard brought three series, including Portrait of Second-hand Clothes (1994-7) and Studies for Image à la sauvette (2015), but it was Onodera's Look Out the Window (2000) images that stole the show. Completely black save for a glowing house, the images from Look Out the Window bring to mind the graphic works of Sarah Charlesworth (but without the colour coordination). By using the darkroom to eliminate the rest of the frame, Onodera achieved a Photoshop-like effect that transforms the warm glow of a home into something incredibly haunting.
Yuki Onodera, How to Make a Pearl No.2, 2000. Courtesy of Vanguard Gallery (Shanghai). ©
The element of surprise became an unofficial theme of PHOTOFAIRS | San Francisco's inaugural fair. Fighting back against the seeming ubiquity of images, some of the most interesting works subverted expectation in order to achieve a new level of clarity. Rather than gazing through the straightforward lens, the photographers on view were looking back to the past, both personal and global, for tools to unpack an increasingly tangled web of representation. Surrounded by views of the sparkling twilight of the bay and the Golden Gate Bridge, the fair produced a strange desire to start looking inward rather than outward. This is perhaps the only benefit of looking at photography away from the rest of the contemporary canon: a chance to discover richness when creative exhaustion leads to an unexpected breakthrough. Originality remains intact. —[O]