Feature | Exhibition
Paris Exhibition Lowdown: Best Shows to See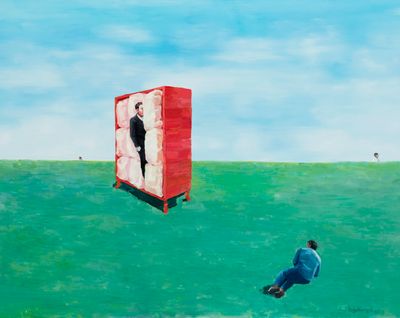 Trần Trọng Vũ, Long métrage (2022). Oil on canvas. 100 x 158 cm. Courtesy A2Z Art Gallery, Paris.
As Art Basel stages its first appearance in France with Paris+ (20–23 October 2022) at the Grand Palais, followed by Paris Photo (10–13 November 2022), Ocula Magazine shares the exhibitions to see in the French capital this autumn.
Trần Trọng Vũ, Mémoire de la chambre (2022). Oil on canvas. 90 x 128 cm. Courtesy A2Z Art Gallery, Paris.
Trần Trọng Vũ: Tôi & Moi
A2Z Art Gallery, 24 Rue de I'Echaudé
6 October–12 November 2022
Trần Trọng Vũ arrived in Paris on a scholarship after the fall of the Berlin Wall in November 1989. He was among the first artists to leave Vietnam, where propaganda abound and marked the artist deeply, forming memories he would later extract to inform his work.
For Tôi & Moi (You and I), Vũ connects his experience in Vietnam to his later years in Paris. Grinning yellow faces with static eyes recur across the artist's paintings and installations, alongside communist reds, and material references to his journey.
Among the latter are two red suitcases overseen by a giant yellow face that reference the carry-on Vũ bought in Prague on his way to Paris. One open bag is lined with shredded newspapers, and the other's surface reads: 'Made in Vietnam'.
Genesis Belanger: Healthy Living, Impulse Buy, and Three for One (all 2022). Exhibition view: Blow Out, Perrotin, Paris (15 October–17 December 2022). Courtesy Perrotin. Photo: Pauline Shapiro.
Genesis Belanger: Blow Out
Perrotin, 76 Rue de Turenne
15 October–17 December 2022
It's easy to be drawn to Genesis Belanger's sculptural assemblages, whose familiar outlines and nostalgic shades present playful commentaries on gender roles and consumer culture.
At Perrotin, the artist is showing new sculptural works staged in three settings: a close-out sale at a discount store, remains from a banquet hall, and a plastic surgeon's operating room, which extend the artist's inquiry into the aesthetics of excess.
In the first room, three sculptures modelled after a shopping cart, a vending machine, and a retail-store shelf evoke remnants of the American dream. Among them, the wall-mounted diorama Impulse Buy (2022) shelves a scatter of carved fruit, semi-eaten sweets, and condiment bottles shaped like a genie's lamp.
Gérard Garouste, Le Golem (2011). Oil on canvas. 270 x 320 cm. Specific collection, France. © Adagp, Paris, 2022. Courtesy Templon, Paris/Brussels/New York. Photo: Bertrand Huet-Tutti.
Gérard Garouste
Centre Pompidou, 19 Rue Beaubourg
7 September 2022–2 January 2023
Reknown for depictions of madness and vice, Paris-born artist Gérard Garouste's enigmatic oeuvre inspired by mythology, literature, and Biblical narratives has retained an appeal over the years from its capacity to illustrate the hidden facets of human nature.
Garouste's institutional retrospective at Centre Pompidou gathers over 120 works that set hybrid creatures and tarot-card tricksters within fantastic and apocalyptic scenes, not limited to The Golem (2011) above, which blurs the line between man and beast.
Among them is the well-known oil on canvas Pinocchio et la partie de dés (2017), in which a man sits at a table before cast dice. His long nose and knowing look reveal the deceit that has already taken place.
David Hockney, August 2021, Landscape with Shadows (2021). 12 iPad paintings comprising a single work, printed on paper, mounted on Dibond. Edition of 25. 108.2 x 205 cm. © David Hockney. Courtesy Galerie Lelong & Co. Paris.
David Hockney: 20 Flowers and Some Bigger Pictures
Galerie Lelong & Co. Paris, 13 Rue de Téhéran
3 November–22 December 2022
A travelling exhibition of English painter David Hockney, best known perhaps for his 1972 portrait of himself looking at his double inside the pool, presents landscapes and floral still lives that extend from iPad paintings created from his Normandy studio in France.
Referencing cycles of renewal, a 12-panel painting August 2021, Landscape with Shadows (2021) recreates Normandy's hilly countryside from slanted geometric forms overlooking three potted plants casting shadows.
Twenty iPad paintings further attest to the artist's experiments with perspective, showing the same flower arrangement from different angles. While in the photographic drawing 25th June 2022, Looking at the Flowers (Framed), the artist is depicted twice looking at a wall of these floral still lives, seemingly contemplating the implication of digital mediums.
Haegue Yang, Descending Medusa Hands Bodhisattva Requiem – Mesmerizing Mesh #109 (2022). Hanji on alu-dibond, framed. 62 x 92 cm. © Studio Haegue Yang. Courtesy the artist and Galerie Chantal Crousel, Paris.
Haegue Yang: Mesmerizing Mesh – Paper Leap and Resonating Habitat
Galerie Chantal Crousel, 10 Rue Charlot
18 October–3 December 2022
Haegue Yang invokes spirits and matter by staging a 'flourishing habit' at Galerie Chantal Crousel, where paper works informed by shamanistic rituals, tower-shaped sculptures, and crawling plant-like blind installations are overseen by the sound of bells.
In Yang's work, the Venetian blind has appeared as a motif to address the 'permeability of perception', notably within installations at the Venice Biennale in 2009, Tate Modern, and documenta in 2012.
Yang's ongoing contemplation of liminal states is echoed in the 'Mesmerizing Mesh' of paper-cut works on view, in which translucent spiritual and ritualistic symbols are layered on a gradated backdrop ranging from burnt peach to muted greens.
Ana Karkar, Call Me Snake (2022). Oil on linen. 130 x 195 cm. © Ana Karkar. Courtesy the artist and Galerie Marguo, Paris.
Ana Karkar: Return From Exile
Galerie Marguo, 4 Rue des Minimes
15 October–19 November 2022
Ana Karkar's dissolving female nudes evoke Maria Lassnig's contemplations of the female form and human body, only with more expressive strokes setting bodies in compromising postures, thus capturing not only tensions within, but the violence brought on by the world outside.
For her first exhibition at Galerie Marguo, Karkar draws inspiration from cult horror films to represent the experience of the socially marginalised, often termed crazy, freakish, or psychopaths for embodying pellicular existences.
Oils on canvas like Call Me Snake (2022) present stark reflections on the female form as witnessed through the public eye. A nude woman inside a distorted room appears to be melting into a pink sofa against a backdrop of gesturing hands, single eyes, and lips.
Claire Fontaine, Women are the moon that moves the tides (2020). LED three-dimensional letters, framework, and support. 31 x 852 x 10 cm. © Daniel Salemi Betak. Courtesy the artist and Air de Paris, Romainville.
Claire Fontaine: Mostly Sunny
Air de Paris, 43 Rue de la Commune de Paris
16 October–17 December 2022
Claire Fontaine, conceived by the artist duo Fulvia Carnevale and James Thornhill in 2004, lifted her name from a popular notebook brand as a comment on the 'readymade artist' and has sought emancipation from streamlined art-making since.
Against a landscape of polarisation and fake news, the conceptual artist argues for a sensory way of knowing that is more immediate, whereby we can learn of the world through thoughts, breath, and colours.
Accordingly, acrylic and gesso works like The Persuadables (2022), depict round shapes of mostly primary colours surrounding interconnected blue forms that seem to merge or separate, calling to mind a return to the basics of cellular life and perceptual stimuli.
Norbert Bisky, Retaliation (2022). Oil on canvas. 150 × 120 × 4.5 cm. Courtesy Templon, Paris/Brussels/New York.
Norbert Bisky: Utopianistas
Templon, 30 Rue Beaubourg
3 September–28 October 2022
Notable among German figurative painters, Nobert Bisky was brought up in the former German Democratic Republic, which informed an abstracted realism that sought to counter the visual propaganda of his time and happens to speak to the state of chaos today.
First trained to paint in the social realist style, Bisky later overturned this visual language, rendering figures and landscapes with overexposed shades, set within chaotic environments, where geometric forms often rip through the composition.
Later works like the triptych Big Trilemma (2017) depict some dozen figures in free fall against a backdrop of exploding buildings, helicopters, and debris, reminding us of the images that have penetrated the public imagination after the September 11 attacks.
Vaughn Spann, Collywobbles (2022). Mixed media, polymer paint on aluminium stretcher bars. 213.4 x 213.4 cm. © Vaughn Spann. Courtesy the artist and Almine Rech.
Vaughn Spann: Reflections: Refractions
Almine Rech, 64 Rue de Turenne
15 October–19 November 2022
Vaughn Spann's fourth exhibition with Almine Rech posits itself as a moment of pause mid-gesture, with new abstractions that focus on materiality.
The latter were inspired by painter Bram Bogart, who is known to build upon his canvas with chunks made from blends of pigment and cement, and mark a shift away from the artist's figurations and symbolic abstractions that contend with ideas of time and space.
This focus on form is noted in mixed-media works like Collywobbles (2022), where complementary blues and yellows stabilise and draw out free-flowing cell forms against a peach ground.
Exhibition view: Minia Biabiany, blue spelling, a change of perspective is a change of temporality (2017). Colour HD video. 2 min, 22 sec. Courtesy the artist.
Minia Biabiany: difé
Palais de Tokyo, 13 Avenue Président Wilson
19 October 2022–8 January 2023
At Palais de Tokyo, Minia Biabiany's woven installation carves a pathway between banana trees made of burnt wood, recalling the human exploitation and pesticide-related incidents within plantations in the French-speaking island of Guadeloupe, in the Caribbean.
The exhibition title references the La Soufrière volcano on Guadeloupe. The artist equates its eruptions to the weight of keeping silent, as well as the potentially devastating impact of reviving such narratives as collective history.
For Biabiany, weaving provides a framework to think through the narrative structures and language used to establish the history and present of a place. Installed alongside the trees, a moving wall-mounted alphabet made of ceramic attests to the possibility of change.
Oskar Kokoschka, L'Œuf rouge / Das rote Ei (1940–1941). Oil on canvas. 61 x 76 cm. National Gallery, Prague. © Fondation Oskar Kokoschka/Adagp, Paris, 2022.
Oskar Kokoschka: Enfant terrible in Vienna
Musée des Arts Modernes, 11 Avenue du Président Wilson
23 September 2022–12 February 2023
Painter, poetry, and playwright Oskar Kokoschka first earned his place within the 20th-century Viennese avantgarde, alongside the likes of Gustav Klimt and Adolf Loos, after rendering overly sexualised images that led to his expulsion from art school.
Kokoschka portrayed the changes in early 20th-century Vienna over seven decades and became known for highly expressive portraits that employed the bodies and hands of sitters and varying strokes to communicate subconscious emotional states.
Over 150 paintings gathered from major collections around the world feature in this first Paris retrospective, attesting to the artist's lifelong commitment and faith in the 'subversive power' of painting, which influenced a new generation of artists in Vienna and elsewhere.
Chuang Che, Untitled (1977). Oil and acrylic on canvas. 127.5 x 189.5 cm. Courtesy Galerie Vazieux, Paris.
Chuang Che: Chaotic Harmony
Galerie Vazieux, 5 bis Rue du Louvre
10 November–17 December 2022
A pioneer of Chinese abstraction, Beijing-born painter Chuang Che is known for dynamic landscapes where rich palettes enliven forms of varying translucencies and depths to create a visually pleasant effect that evokes balance amid movement.
Che's traditional art education is noted in ink on paper works in which Chinese characters are the focal point. To merge Eastern and Western aesthetics, the artist later founded the Fifth Moon Group and introduced the concept of the 'Third Way'.
At Galerie Vazieux, the artist presents 20 paintings from the 1960s to present day, all of which are characterised by organic textures and muted tones that ground free-flowing and explosive strokes, as with one untitled oil and acrylic painting from 1977. —[O]