Feature
PIMO Contemporary Art Festival and M50 Creative Park: A Report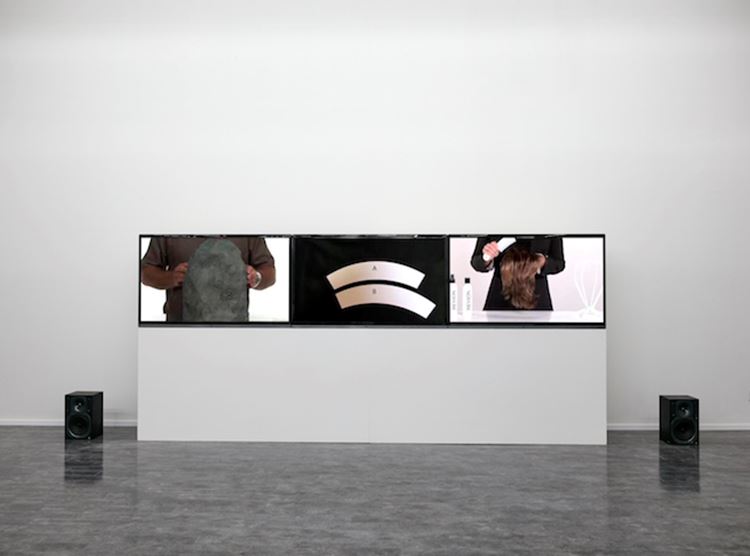 Image: Guan Xiao, Action, 2014. Material: single channel HD video, three screens, color, sound. Duration: 10 min. Image courtesy Antenna Space.
Recently Shanghai took centre stage in the contemporary Chinese art world. This was driven by the opening of the city's much anticipated ART021 Shanghai Contemporary Art Fair. Since its inauguration three years ago, the fair has grown from strength to strength, tripling in size this year with 75 galleries from around the globe participating. Alongside the fair, other equally captivating exhibitions were spread across the city.
On the outskirts of Shanghai, the first edition of PIMO Contemporary Art Festival also took place. PIMO is the 'contemporary art brand' co-founded by artist, Xu Zhen and co-founder of ART021, David Chau. It was first launched at last year's ART021 with a gift shop and is now branching out into arts event planning. Under this umbrella and for the festival, Xu's MadeIn Company organised Inventing Ritual, local artists held open studios, and Chau launched the CC Foundation's inaugural exhibition Super Archives (which was shown in the Foundation's new permanent space located next door to MadeIn Company).
Speaking with Chau at the opening of PIMO, it was clear the CC Foundation is the result of a considerable passion for art. Super Archives, a show featuring work by Paul Chan and Lu Pingyuan, marked the beginning of an on-going programme of exhibitions at the space. Bringing together two artists who emphasise the conceptual over the material, the exhibition was sparse, showing only a single video by Chan alongside a work by Lu comprising a short story written on two sheets of white A4 paper tacked to the wall. Chau explained that his main concern in curating the Super Archives show was to juxtapose the work of an emerging artist (Lu), with that of an established artist (Chan). He would like to continue to create such dialogues between artists, with each show that follows. An entrepreneurial figure in the Chinese art world, Chau explained his main goal it to support the art world infrastructure in China, and hinted at doing something with publishing and 'with media, and maybe with the Internet' in the future.
Image: David Chau. Courtesy MadeIn Company
The second element of PIMO, Inventing Ritual, which was conceived and curated by MadeIn Company, was an exceptional presentation that saw the amalgamation of numerous artworks from many mediums in a 45-minute performance, or 'ritual.' With works by more than 20 artists included, as a viewer it was a challenge to focus, but unsurprisingly the performance works helped to guide the eye. In particular, Xu Zhen's We Are Coming (2003/2015) was unavoidable, as people walked around the floor with flashing lights attached to their heads. What was interesting was the way in which these performers enacted further works, including Yu Ji's You Are Unique (2015), where golden balloons were inflated to spell out the work's title. All the while, the projector suspended above flashed through further video works, such as Kan Xuan's A Monk (2005-2006), Liu Wei's Shapeshifting (2014) and Zhang Ding's inescapably loud Orbit of Rock (2012). Surrounding all this action, and cast in the shadow of powerful stage lighting, sat an array of large-scale sculptures by the likes of Zhao Yao and He An.
Image: Inventing Ritual, PIMO Contemporary Art Festival, 2015. Image courtesy MadeIn Company
Inventing Ritual
possibly presented an aesthetic overload, but it seemed to work. While artworks did fight for attention, they equally complemented each other in a way that fostered new interpretations. A somewhat utopian celebration of contemporary Chinese art, the performance (or ritual) provided a break from the sterility of the traditional white cube, and offered a glimpse into the aspirations of a set of artists who, in striving to develop their practices, appear to be looking for alternative modes to combine art with the public domain. Yet, as with numerous language-based works, issues of cross-cultural translation arose; with much of the ritual being narrated in Mandarin, an element of the work was sadly lost to those viewers who could not understand. Despite this limitation, the innovative spirit of the show could not be lost; as Chau remarked, 'anything can happen in China.'
With the PIMO Festival being a worthwhile, but lengthy trip out of central Shanghai, it was impossible not to then be grateful for the inclination of galleries around the world to cluster together. In Shanghai, this phenomenon has created a number of art districts around the city, and perhaps most famously saw the generation of M50 Creative Park, which is now home to over 140 artist studios, galleries and other creative spaces. On a flying visit, three galleries in particular stood out—ShanghART, Antenna Space, and Aike-Dellarco—with some truly remarkable work on display in well-curated shows.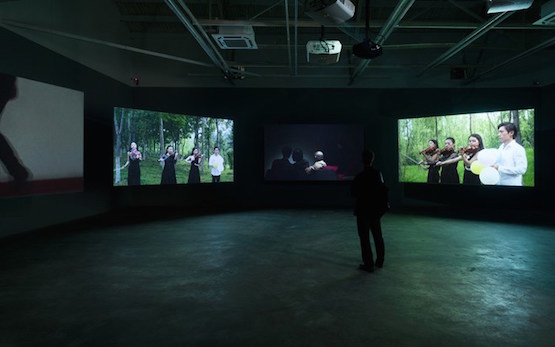 Image: Zhu Jia, Critical Pervasion. Exhibition view, ShanghART Shanghai. 04 November 2015 - 19 December 2015. Image courtesy ShanghART Shanghai.
A selection of both old and more recent works by Zhu Jia, a pioneer of early video and photography in China, was on display at
ShanghART
. In Bldg 16, Zhu's works from around 1993 were on display; matter-of-fact, placid photographs of everyday life hung on the walls, imbuing the gallery space with a sense of discomfort. Interestingly, the artist chose not to date any of his work to emphasise the lack of change in the world, and his persistent inability to settle into social normality. This sense of claustrophobia and frustration continued in his more recent films:
Never Take Off
(2002), shows a rather grainy video of an aeroplane racing down the runway, but never taking flight. Similarly, in
Colourful Balloons
(2015) a man calmly raises a bunch of balloons above his head but never releases them; a pair of feet climb the stairs but never reach the top; a violin repeatedly plays the same, ear-splitting tone and never alters its tune. All sense of progression and change becomes lost to the infinite banality of the everyday. As a viewer, you become entranced by the images, driven to watch by an inherent desire to will them to change; to let go; to reach the top; to take off.
Breaking away from the torment of the suspended narratives in Zhu Jia's films, respite could be found at Antenna Space. Walking into the gallery, the three 'snake-skin' installations in the centre of the space were immediately recognisable. A finalist for the Hugo Boss Asia Art Prize 2015, Guan Xiao's work is gaining a lot of attention, and rightly so. A young Chinese artist, Guan works with video and sculpture in a style some might call 'post-Internet.' Guan's ability to draw together random assemblages of objects for her work Documentary: From National to Geographic exemplifies her artistic talent. Although latent with conceptual thought, she has not let this define her work; instead they are also aesthetically powerful and tactile.
While her installations are remarkable, her video Action (2014) really captures your attention. Split across three screens, Guan has amalgamated numerous clips she has sourced from the Internet to create three videos that run in tandem. In this way, the work juxtaposes different scenes of musicians, wild animals, people, sculptural portraits and nature in a rhythmic sequence, guided by the beat of a drum. As the video progresses, the beat seems to increase, building the energy in the space, and creating a sense of anticipation and enthralment. Humour also comes into play, as a deer prancing in the forest is shown in parallel to a hula-hooping young girl. By appropriating imagery, Guan is able to reorganise the visual order of the everyday, causing the viewer to query normality and make us believe in an alternative arrangement. For Guan, her practice is about weaving new combinations to create richer meaning—and it is something she undoubtedly achieves.
Image: Tang Dixin, Mr Hungry, 2014. Image courtesy Aike Dellarco, Shanghai.
Aike Dellarco also had on show two recently acclaimed video and performance works in their newly opened group show
Talk About Body
. The first is Tao Hui's video
Talk About Body,
which was awarded the Grand Prize at the 19th Contemporary Art Festival Sesc_Videobrasil. The second is Tang Dixin's
Mr Hungry
performance, enacted at Hunter College of Art Galleries during
FIELD MEETING TAKE 3: Thinking Performance
at Asia Contemporary Art Week (ACAW) in New York. Despite rather dissimilar aesthetics—Tao's documentary-style video is markedly different to Tang's interventionist performance—both works share a common theme: the desire to highlight and challenge social preconception, making them thought-provoking works that are not to be missed.
—[O]