Feature
Pool of Life: the 2016 Liverpool Biennial
Image: Lara Favaretto, Momentary Monument – The Stone, 2016. Installation view at Welsh Streets, Liverpool Biennial 2016. Photo: Joel Chester Fildes.
It is said that Carl Jung, the 20th century pioneer of analytical philosophy, only visited Liverpool once—in his sleep. He dreamt of a city like Basel: a place of 'unearthly beauty' despite being 'extremely unpleasant, black and opaque'. In his recollection, Jung talked about reaching a dimly illuminated open square with a pool at its centre, 'into which many streets converged' and out of which the city expanded radially. After he awoke, Jung recalled feeling a sense of finality: 'Through this dream I understood that the self is a principle and archetype of orientation and meaning', he wrote. He called Liverpool the 'pool of life'.
To this day, there is speculation as to where Jung's pool might exist (though a plaque was installed on Mathew Street, where the famous Cavern Club, of Beatles fame, is also located). As I sought out the 26 locations making up the 2016 Liverpool Biennial, curated by a team of 11 curators (including Liverpool Biennial director Sally Tallant), and organised around six 'episodes'—Ancient Greece, Chinatown, Children's Episode, Software, Monuments from the Future, and Flashback—I couldn't help but imagine where Jung's dream pool might be.
One idea was under the late-Victorian former Cains Brewery, a Biennial location under which a secret 40-feet-deep lake is rumoured to exist. Maybe Jung's story struck a chord with artist Andreas Angelidakis, whose round construction, Collider (2016), is located within the canning hall of the former factory. The work consists of a covered, circular corridor that leads towards a central roofless rotunda, in which Marvin Gaye Chetwynd presents props and costumes created for the film Dogsy Ma Bone (2016), which Chetwynd developed through workshops and live performances with 34 children and 44 teenagers from Liverpool. Inspired by both Betty Boop's A Song A Day (1936), and Bertolt Brecht's Threepenny Opera (1928), the film is viewable in a custom-made viewing space, with seats covered by pages from comic books.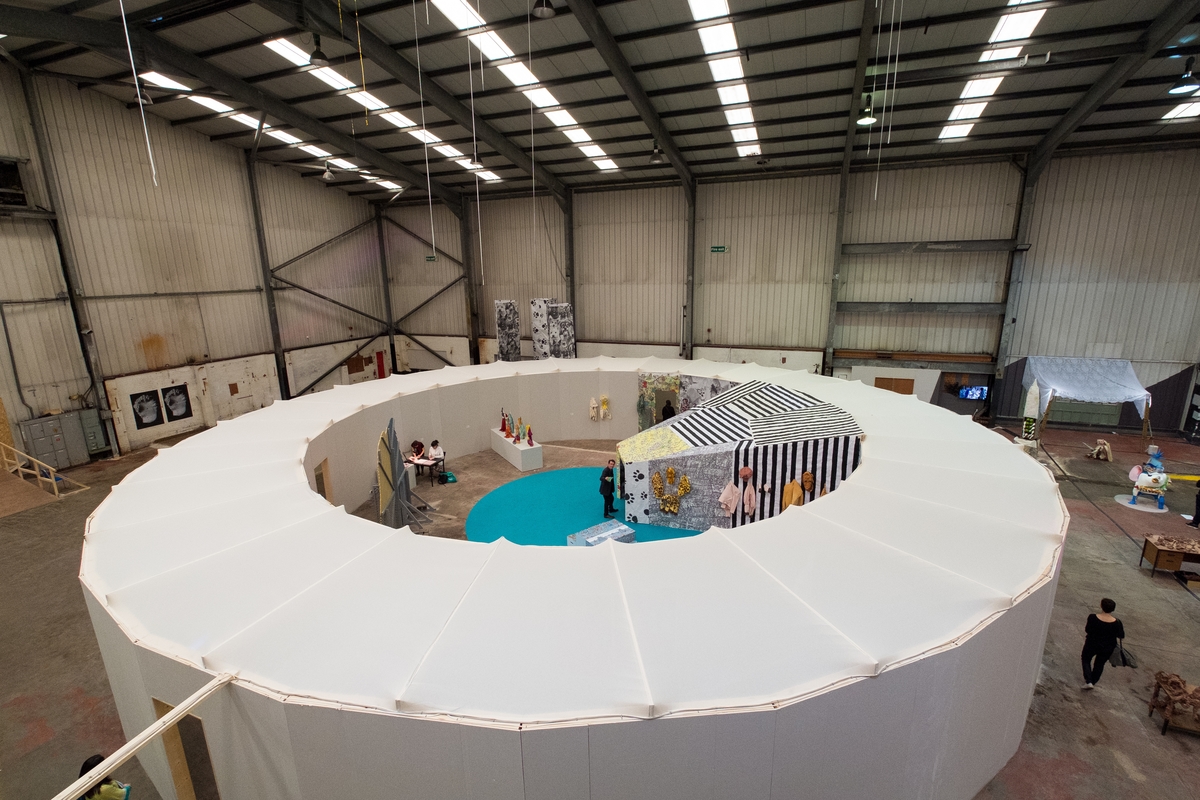 Image: Andreas Angelidakis, Collider, 2016. Exhibition view at Cains Brewery, Liverpool Biennial 2016. Photo Mark McNulty.
The corridor that leads to Chetwynd's Liverpool commission is filled with works by various artists, many of whom feature in other Biennial locations as threads that keep a sense of continuity flowing in what is a sprawling, fragmentary and at times unruly exhibition. This sense was heightened by the fact that this Biennial has forsaken a title in favour of six 'episodes' that are not neatly divided between spaces. At Cains Brewery, for instance, three 'episodes' overlap: Chinatown, Flashback, and the awkwardly named Children's Episode.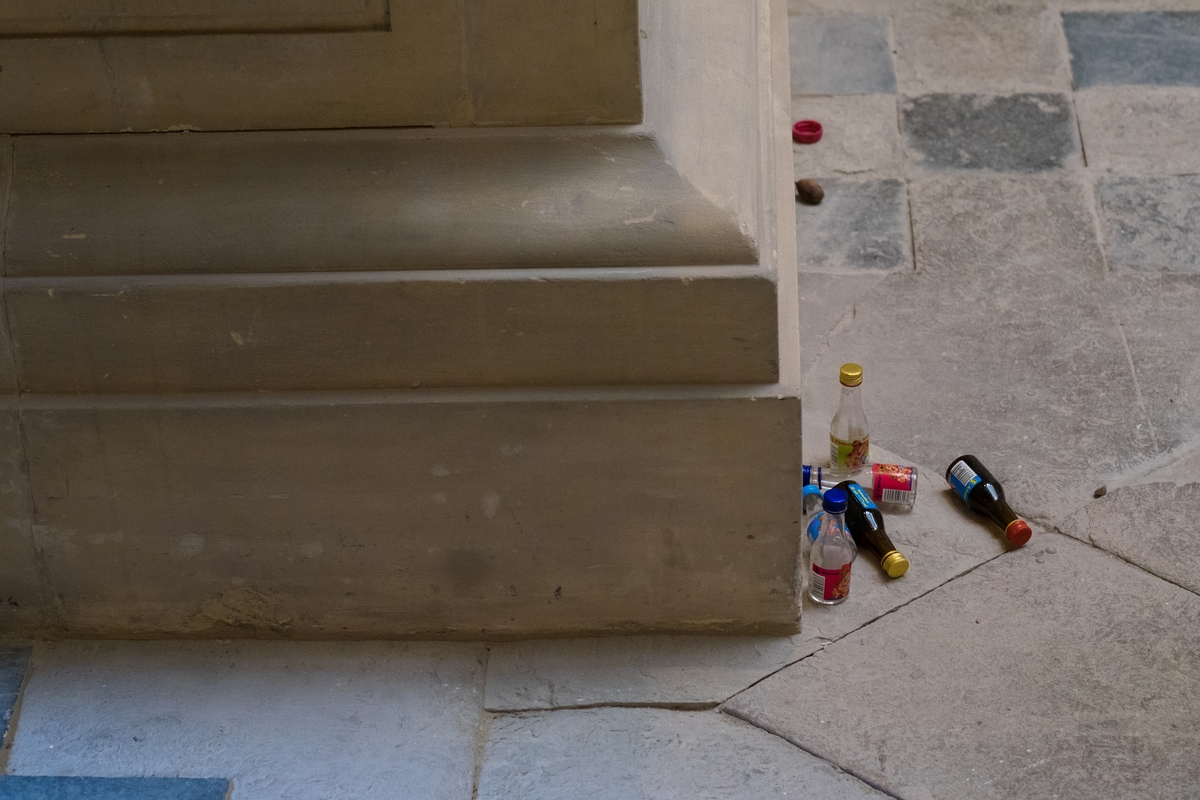 Image: Jason Dodge, What the living do. Exhibition view at the Oratory, Liverpool Biennial 2016. Photo Mark McNulty.
Jason Dodge's intervention, What The Living Do (2016) comprises of pieces of rubbish strewn on the floors across pretty much every Biennial site; everything from crisp wrappers to dried leaves, and even dust and dirt—some sourced from Liverpool, some imported from Dodge's other travels. At the Tate Liverpool candy wrappers and other detritus litter an exhibition space dedicated to the Biennial's theme of 'Ancient Greece'—one of the more streamlined presentations, in that we see a singular thematic episode that doesn't overlap with others. Here, contemporary works include assembled sculptures by Rasmin Haerizadeh, Rokni Haerizadeh, and Hesam Rahmanian depicting various figures (some MadeIn Company-esque), including a figure with a classical body and a Ganesh-like head. These are shown alongside classical sculptures, vases, busts and reliefs—many of which were inaccurately restored with limbs connected to the wrong body, for instance—amassed by 18th century collector Henry Blundell, and borrowed especially for the Biennial from the National Museums Liverpool's antiquities collections.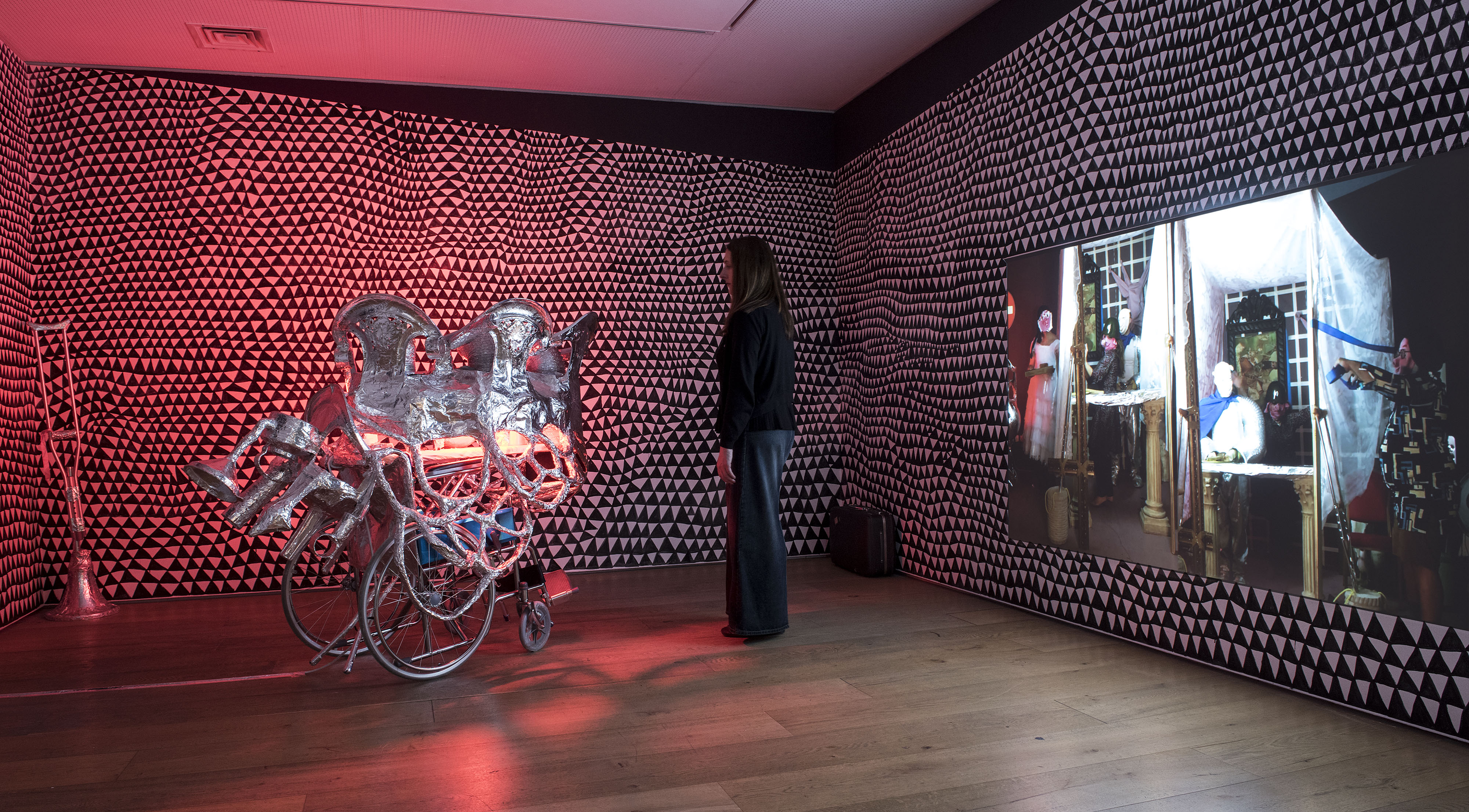 Image: Ramin Haerizadeh, Rokni Haerizadeh and Hesam Rahmanian. Exhibition view at Open Eye Gallery, Liverpool Biennial 2016. Photo: Joel Chester Fildes.
Dodge's intervention is so effective that it manages to absorb even the rubbish on the streets of Liverpool into the work, with every bit of trash becoming part of the Biennial itself. Perhaps this is the point behind the confusion that emerges from the non-linear theme of 'episodes' that frames the show. (Less clear was why the work of Haerizadeh, Haerizadeh, and Rahmanian features so heavily, across multiple sites, including the Cains Brewery, where a huge part of the exhibition is dedicated not only to their work, but also to works from their art collection.) After all, if one is to ignore the desire to locate each episode within the various groupings across sites and spaces, the episode titles start to act as general signposts that highlight various overlapping 'essences' of the city—the main theme of the entire Biennial. (The curators have said their intention is to take visitors on a voyage that draws on Liverpool's past, present, and future by exploring various times, spaces, fictions and histories.)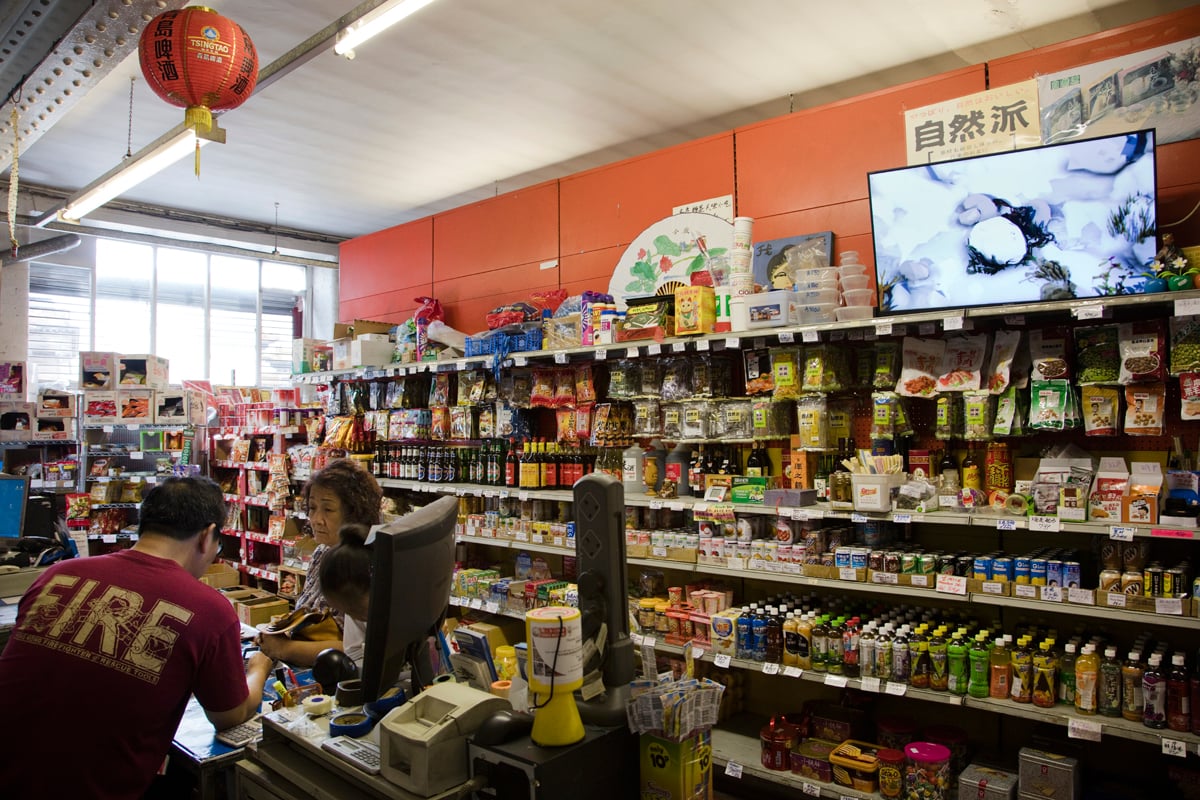 Image: Ian Cheng, Something Thinking of You, 2015. Exhibition view at Hondo Chinese Supermarket, Liverpool Biennial 2016. Photo Jerry Hardman-Jones.
A case in point was the walk from Hondo Chinese Supermarket on Upper Duke Street to The Oratory located within the grounds of the Liverpool Cathedral, just a few hundred metres apart. In the supermarket, Ian Cheng's live simulation Something Thinking of You, first screened on the online platform Vdrome in 2015, plays on a screen located on a top shelf in the cluttered store, while Lu Pingyuan's The Two-Sided Lake is printed (in English and Chinese) on A4 sheets stacked by the cash register, free to take away. Lu's story talks about a diver emerging from a lake in China, having travelled there from a different lake in another country, which makes a connection back to the Cains Brewery, where the artist is showing a door from the Do Not Open It series (2015), in which a closed door represents a portal between Liverpool and Manchester. In the Oratory, Lawrence Abu Hamdan's searing insight into the politics of sound, Rubber Coated Steel (in which the artist presents his sonic investigation proving that real bullets killed two Palestinian teenagers on the West Bank) is shown alongside various gravestones, as well as an old suitcase from Lara Favaretto's Lost and Found series, which features in various other sites, too.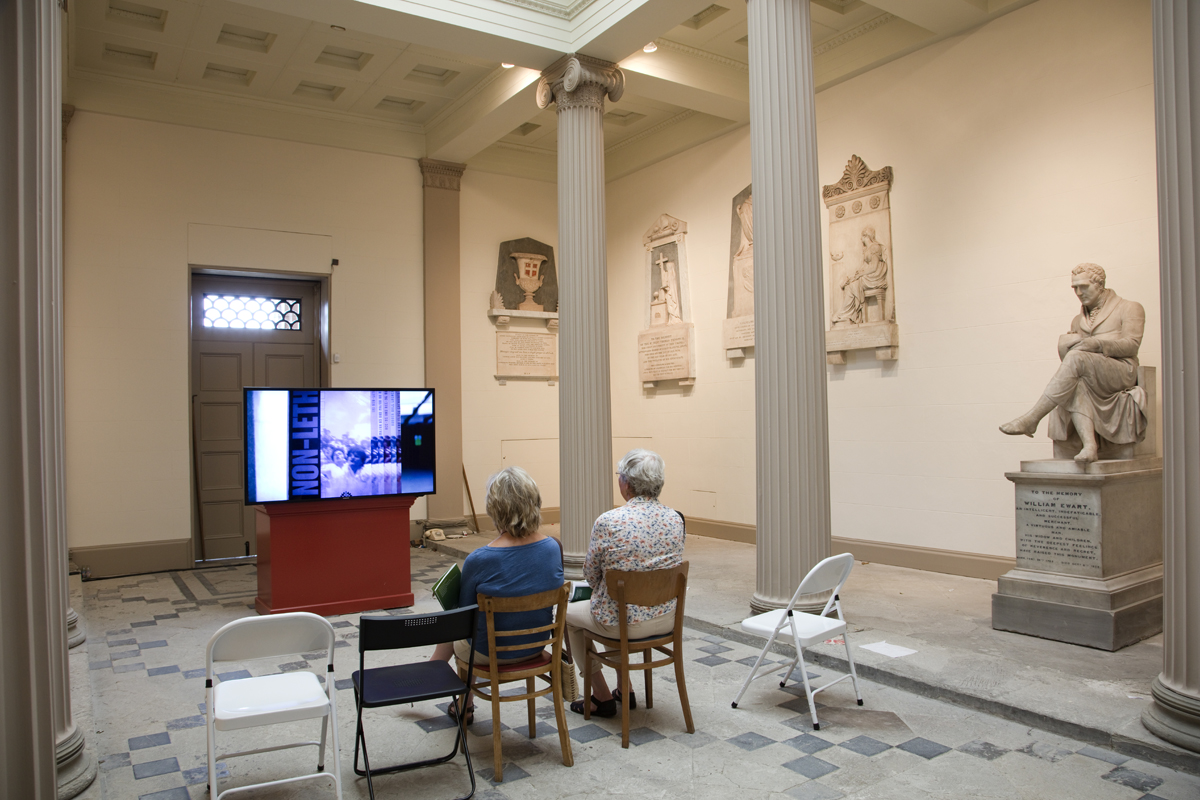 Image: Lawrence Abu Hamdan, Rubber Coated Steel, 2016. Exhibition view at The Oratory, Liverpool Biennial 2016. Photo Jerry Hardman-Jones.
In this short walk from a Chinese supermarket to a Greek Revivalist 19th century mortuary chapel, viewers are offered a view of the many diverse realities and histories that co-exist in this deeply historical city. Take the Chinese mariner strike in 1942, in which Chinese mariners demanded equal pay to their white counterparts, resulting in governmental discrimination (the Chinese strikers were labelled 'troublemakers' by both shipowners and the British Government), and forced repatriation. This story found echoes in works that were presented beyond the Oratory in an area known as Toxteth, reachable on foot via the St James' Mount and Gardens—a former quarry (and later cemetery) located next to Liverpool Cathedral, where the grave of legendary Liverpool abolitionist Edward Rushton is located.
Here, amid the abandoned 'Welsh Streets' (entire rows of boarded up houses all painted a uniform soot), Lara Favaretto has installed Momentary Monument —The Stone (2016): a large, granite block hollowed out so that donations can be inserted for Asylum Link Merseyside (an organisation dedicated to offer assistance to refugees and asylum seekers). The Welsh Streets belong to an area in the city that has experienced nearly four decades of decline (Only 70 houses out of 200 are inhabited in an area known as the Granby Triangle, with rows of housing left boarded up). One factor that fed into this decline was an important chapter in Liverpool's social history: the 1981 race riots that took place in Toxteth, which saw some 500 people arrested, and various buildings sent up in flames. In much the same way that the Chinese mariners were punished through legislation and wilful state neglect for their protests in 1942, so the 1981 riots condemned this neighbourhood. (As The Guardian reported, quoting resident Hazel Tilley: 'Bins weren't collected, streets weren't swept and a mythology built up: people came here to buy their drugs or dump their shite.')
Today, Toxteth is having a community-led renaissance, represented in part by the Granby Four Streets Community Land Trust, of which the Turner Prize winning collective Assemble are actively involved. In recognition of this was one of four Liverpool Biennial annual commissions, installed on the outer wall of 142 Granby Street: a grid of handmade tiles created by Assemble/Granby Workshop. Meanwhile, in an installation within one of the many boarded up houses nearby, Arseny Zhilyaev paid homage to another chapter in Liverpool's revolutionary history: the moment Liverpudlian astronomer Jeremiah Horrocks became the first person to observe the transit of Venus in the 17th century.
Indeed, if one thing shone through the interweaving of works and sites in the 2016 edition of the Liverpool Biennial, it was the many historical layers that characterise the city—at once inspiring, complex, and messy as hell. Take Koki Tanaka's own investigation, presented at the Open Eye Gallery just steps away from the neoliberal complex that is Liverpool One—a shopping, residential and leisure complex built over 42 'under-utilised' acres of city land, previously—and ironically?—known as 'The Paradise Project'. For his commission, Tanaka researched a student protest against a government Youth Training Scheme, which photographer Dave Sinclair covered in Liverpool in 1985. The event drew 10,000 students who voiced their anger at the government initiative, which they perceived as a rouse to create cheap labour by capitalising on the mass unemployment among youth in Liverpool (around 80 per cent in some areas at the time).


Image: Koki Tanaka, Provisional Studies Action #6, 2016. Open Eye Gallery, Liverpool Biennial 2016. Photo Jerry Hardman-Jones.
In response to Sinclair's images, Tanaka decided to engage with participants from that protest and recreate the walk the students took, while also engaging current students with the event in order to see how the zeitgeist—from a Liverpudlian perspective—relates to the conservative-led social policies of 1980s Britain. The result was an exploration into the lifecycle of a social movement, which reflects the fact that such movements never reach full circle but simply carry on, their relevance evolving, whether consciously remembered by future generations or not.
It was this fluidity—in which a city became a landscape of portals to other times and places—that characterised the 2016 Liverpool Biennial, as encapsulated in a 19th century underground reservoir in Toxteth, where my search for Jung's magic pool ended. Like an industrial-era version of Justinian's Basilica Cistern in Istanbul, the reservoir was turned into a portal by Rita McBride, who installed green lasers shooting out from one end of the underground space to another, in order to create what the artist described as a 'wormhole' between real and fictional worlds. This sense of overlapping is as much the point of McBride's work, as it is the point of the 2016 Liverpool Biennial exhibition, curated without a single title in order to illuminate the infinite number of lived experiences that linger and intermingle in the city's air like a thick and haunted humidity. The resulting experience framed Liverpool as a timeless vision not unlike the pool of life Jung once dreamed of. —[O]