Feature
Independent Growth: Art Dubai 2018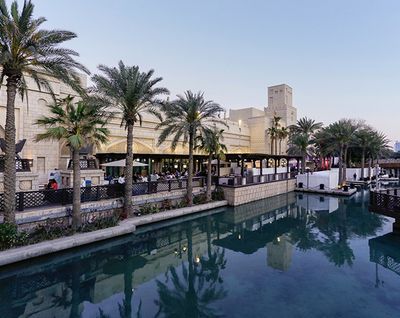 Art Dubai (21–24 March 2018). Courtesy Ocula. Photo: Charles Roussel.
It is far too easy to dismiss art fairs, if not the entire commercial art market. By the same token, it is easy to be turned off by Dubai, the most glitzy and commercial of the UAE's emirates. It might take a little longer to appreciate how an art fair staged in a free port like this could benefit artistic production and development—an opportunity that the 2018 edition of Art Dubai provided.
Founded in 2007, the fair's sustained focus on showcasing contemporary art has had a tangible impact, resulting in a developing maturity of what was once a young and inexperienced art market. Maintaining its lead as the most important art fair in the region, Art Dubai's 2018 edition showcased 105 galleries from 48 countries across its Contemporary and Modern sectors to prove, once again, that despite or as a result of ongoing social and political turmoil in the region, the Middle East remains a crucial place to look at great art while thinking through some of the most pertinent issues of our time.
Art Dubai (21–24 March 2018). Courtesy Ocula. Photo: Charles Roussel.
This year, Art Dubai's newly added section, Residents, consisted of 11 galleries from around the world, including Seattle's Mariane Ibrahim Gallery, London's Tyburn Gallery, and San Juan's Roberto Paradise, whose selected artists participated in a residency programme in Dubai to produce work. Surprisingly, most galleries in the space set aside for this section opted for conventional displays in white minimalist booths, with Dubai-based 1X1 Art Gallery and The Mine straying from this trend. 1X1 Art Gallery showcased Poonam Jain, whose installation Kaunsa company se? (Which Company?) (2018), consists of hundreds of small rocks measured, numbered, and arranged into a plexiglass wall display—a reflection on the labour involved in subjecting the natural world's material concreteness to abstract, scientific and digital systems. Yasuaki Onishi's dazzling installation at The Mine, Casting the Invisible (2018), consisted of abstract spherical shapes made of wires occupying the entire cubical space of the booth, whose repetitive forms recalled the digital processes of 3D printing.
Indeed, while t attending the fair stayed within the safe realm of the neatly curated white booth, Dastan's Basement from Tehran upended the commercial exhibition form for the second year in a row. The entire space was covered in plywood and featured three human-size wooden magazines hanging on the walls, similar to structures used in museums for storing art. These vertical hand-operated display machines not only highlighted the gallery's programme of connecting the history of Iranian illustration, drawing and graphic design with the practice of contemporary painting, but also multiplied the floor space of the booth.Among the works was an original drawing of a group of standing men in traditional Iranian attire from the 1970s by pioneer illustration artist Ardeshir Mohassess.
Works by Poonam Jain on view at 1X1 Art Gallery, Art Dubai (21–24 March 2018). Courtesy 1X1 Art Gallery.
Another sign of Art Dubai's maturity was That Feverish Leap into the Fierceness of Life, an exhibition of modern Arab art supported by the Misk Art Institute, which was installed in a hall adjacent to the Modern sector. Curated by Sam Bardaouil and Till Fellrath, it featured 75 works from the 1940s to 1980s by important members of modernist artist collectives from Baghdad, Cairo, Casablanca, Khartoum and Riyadh.
The most forward looking of these were abstract paintings by the members of the Casablanca School, particularly Mohammad Chebba's circularly composed acrylic on wood Untitled (1974), Mohammed Melehi's flame-like wavy stripes made by meticulously applying cellulose paint on a panel (Untitled, 1976), and Bashir Demanti's blissfully coloured geometric abstraction of cut-outs on a paper background, Alignment tanger (1971). Spanning the late-1960s to mid-1970s, these works were on par if not even more beautiful than those by New York contemporaries Frank Stella and Kenneth Noland.
Exhibition view: That Feverish Leap into the Fierceness of Life, Art Dubai Modern, Art Dubai (21–24 March 2018). Courtesy Art Dubai. Photo: Photo Solutions.
Also staged in the Modern sector, and organised in collaboration with the Misk Art Institute, was the second edition of Art Dubai's Modern Symposium, which explores the lives and legacies of 20th-century artists from the Middle East, South Asia and Africa. Panels included 'Africa: Modernism, Modernity and Contemporary Art', with artist, art historian and curator of African Art at Cleveland Museum of Art Ugochukwu-Smooth Nzewi in a conversation with Tafeta founder Ayo Adeyinka, moderated by Catherine David. 'Modernity in the Gulf', moderated by Till Fellrath, saw artist and writer Thuraya Al Baqsami, art historian Eiman Elgibreen, curator Noora Al Mualla, and Director of Palette for Cultural Projects and Art Publications Mona Khazindar, discuss the impact of independence on the Gulf nations in the early 1970s, and how these events influenced the development of regional art.
The conference also hosted the launch of the much anticipated volume Modern Art in the Arab World from The Museum of Modern Art's series Primary Documents. Edited by Nada Shabout, Anneka Lenssen and Sarah Rogers, the book is a critical resource about Modern art and Modernism in the Arab world—the first of its kind in English.
Modern Symposium, Art Dubai (21–24 March 2018). Courtesy Art Dubai. Photo: Photo Solutions.
When it comes to sensing when an art fair reaches its critical mass, spotting Jeffrey Deitch being held at the door on preview day as the VIP office prepared his credentials was a clear enough signal. Such a level of procedural professionalism was also reminiscent of the automation that encompasses other facets of contemporary life. With this in mind, it was appropriate that the 12th Global Art Forum (GAF12), the discursive wing of Art Dubai, focused on robots, machine learning, automation, and artificial intelligence. This year's edition, I Am Not A Robot, was co-directed by Chief Operating Officer of the Dubai Future Foundation Noah Raford, and Curator of Digital Culture & Design Collection at the MAK, Vienna, Marlies Wirth, who worked with the Forum's permanent commissioner Shumon Basar
Opening talk at Global Art Forum, Art Dubai (21–24 March 2018). Courtesy Art Dubai. Photo: Photo Solutions.
GAF12's extensive programme featured a series of presentations and panels grouped under the title 'I am a Human Artist', with artists Lawrence Abu Hamdan, Yuri Pattison, Ania Soliman, Katja Novitskova, and Pamela Rosenkranz, among others, as well as individual talks by Paul Feigelfeld, Emily Segal, and Aaron Schuster, whose lecture on the third day, 'Am I A Sad Robot: The Clinic Of AI', was one of the Forum's most notable presentations. Setting aside the usual narratives of science fiction, in which artificial intelligence is often characterised as a threat to humans, Schuster wondered if machines with some level of self-awareness could become 'neurotic, psychotic and perverse'. By looking closely at examples from popular culture, including The Matrix, Alphaville, and the BBC series Black Mirror, Schuster concluded with a speculation about the future of humanity as a specialised form of intelligence capable of providing robots with psychological support and therapy.
Aaron Schuster, 'Am I A Sad Robot: The Clinic Of AI'. Lecture at Global Art Forum, Art Dubai (21–24 March 2018). Courtesy Art Dubai. Photo: Photo Solutions.
Aside from its educational value, GAF12's programming afforded visitors an opportunity to step outside of their usual understanding of art and provide a new lens with which to approach both the form and content of contemporary artistic production on view at the fair.
In light of this, I asked Pablo del Val, Art Dubai's international director, about the artists in the fair whose works deal with the questions raised by this year's Forum, and he mentioned the Russian Collective The Recycle Group, showing a set of sculptures activated by a smartphone application with Gazelli Art House. In response to the same question, fair director Myrna Ayad mentioned the Japanese collective teamLab, whose work on view at Martin Browne Contemporary, Continuous Life and Death at the Now of Eternity (2017), consists of an immersive installation based on internet programming and activated by satellite technology. Ayad also spoke about the works of Global Art Forum presenters Ramin and Rokni Haerizadeh and Hassan Rahmanian, whose sculptural installation at Gallery Isabelle van den Eynde, The Maids (2017), first shown at Museu d'Art Contemporani de Barcelona (MACBA), involves the use of robots and artificial intelligence.
teamLab, Continuous Life and Death at the Now of Eternity (2017). Exhibition view: Martin Browne Contemporary, Art Dubai (21–24 March 2018). Courtesy Ocula. Photo: Charles Roussel.
At an Art Dubai dinner, I found myself seated next to Alison Cole, the editor of The Art Newspaper, Antonia Carver, the director of Dubai's new contemporary art institution Art Jameel, and Christina Patterson, journalist and contributor to The Guardian. The conversation returned to the themes of GAF12, and Carver asked me to explain my fears about the emergence of artificial intelligence. I retold the story of the Iraq War's 'Highway of Death', where thousands of Iraqi ground force soldiers retreating from Kuwait City alongside Iraqi civilians were allegedly killed by the fire power of the American air force. I stressed that, from the perspective of humans dying on the ground in any given war, the death from above inflicted by technology represents the darkest form of artificial intelligence. The theme of aerial warfare was picked up later, albeit indirectly, in a conversation staged at GAF12 between Shumon Basar and Kuwaiti musician and DJ Fatima Al Qadiri, who is also a member of the artist collective GCC. Basar and Al Qadiri talked about Iraq's invasion of Kuwait, with Al Qadiri recalling her perception of that war as an alien force conducted by djinns from an 'other' world.
The visual magnitude of inhuman technologies that effectively automate the destruction of urban environments was powerfully articulated in bold works by Palestinian painter Aissa Deebi at Ramallah-based gallery Zawyeh's booth, which included large oil and acrylic canvases depicting Israel's aerial war with Gaza, including Aircraft, (2018). The monumental paper collage on canvas construction Place (2017), from the 'Paper_'_ series by Syrian artist Tammam Azzam at Dubai-based Ayyam Gallery's booth, covered the gallery's entire space, documenting the destruction of various Syrian cities throughout the country's civil war.
Aissa Deebi, Strike #2 (2018). Oil on canvas. 130 x 200 cm. Courtesy the artist and Zawyeh Gallery.
With their unrealistic and inhuman forms, abstract artworks have the closest affinity with the unknown intelligence of machines as well as with the levels of mathematical abstractions needed for algorithms to function. Mirian Bäckström's digital to analogue tapestry New Enter Image (2018) at Galleria Elba Benítez, which consists of weaving a collage made of vertical stripes cut from various digital photographs into a large hanging piece, vividly highlighted this connection. As did Amer Shomali's canvases constructed from colorful looms of cotton at Ramallah's Gallery One, including Broken Weddings (2018), which depicts symmetrical geometric forms inspired by Palestinian traditional designs. In their own way, each artist turns the geometric symmetry of the digital image into something tangible and tactile. Yet, while these textile references relate to the binary logic of zeroes and ones at the heart of weaving, they also point to weaving as an earlier form of industrialisation that has guided the history of labour and its automation.
Works by Amer Shomali on view at Gallery One, Art Dubai (21–24 March 2018). Courtesy the artist and Gallery One.
Berlin-based Claudia Wieser, represented by Marianne Boesky Gallery, showed two small, intricate multimedia geometric abstractions (both Untitled 2018) composed of mirror polished stainless steel and copper to create mysterious surfaces—one reflective and the other absorbing light. These contrasted beautifully with the large-scale abstractions that dotted the contemporary section of the fair. Among the works at Victoria Miro's booth was an example of Do Ho Suh's intricate fabric sculptures of familiar spaces and objects from private dwellings, Boiler Room: London Studio (2015), which was not only one of the most crowd-pleasing objects on view, but fit perfectly with this year's Global Art Forum. This beautiful semi-transparent sculpture is as much about graphic applications like Autocad and Adobe Illustrator as it is about hand-made craftsmanship.
Do Ho Suh, Boiler Room London (2015). Exhibition view: Victoria Miro, Art Dubai (21–24 March 2018). Courtesy Victoria Miro.
As with 2016 and 2017, this year's edition of Art Dubai featured The Room: an immersive, large-scale interactive installation created by different commissioned artists as an experimental space for meeting and eating. 2018's iteration was carried out by the Gulf artist collective GCC, and unlike previous years, it was held outside between the fair's financial sponsor's Julius Baer Lounge and the Global Art Forum tent. The collective decided to strip The Room of its exclusivity, making it accessible to everyone and not only VIP guests. They installed a giant version of a green room normally used in television studios for superimposing footage onto the surrounding space in live broadcasts. Titled 'Good Morning GCC', the GCC's installation took inspiration from daytime TV, and featured a fashion show by the New York-based designer Telfar, a cooking show by the celebrity wedding singer and TV chef Suliman Al Qassar, a live interview with the designer Xavier Cartron and musical entertainment including performances by Total Freedom, Abdullah Al-Mutairi and DJ Hosh.
The Room, Art Dubai (21–24 March 2018). Courtesy Art Dubai. Photo: Photo Solutions.
The 10th Abraaj Group Art Prize exhibition, curated by Myriam Ben Salah, featured the works of shortlisted artists Basma Alsharif, Neil Beloufa, Ali Cherri, plus Lawrence Abu Hamdan's winning commission, the technologically informed film installation Walled Unwalled (2018). Shot in three sound effects studios of a former East German radio station in Berlin, Walled Unwalled consists of a closeup performance by Abu Hamdan narrating several well-researched and interconnected stories about how the stable and distinct notions of outside/inside and private/public are transforming under current scientific and technological conditions.
Lawrence Abu Hamdan, Walled Unwalled (2018). Exhibition view: Abraaj Group Art Prize, Art Dubai (21–24 March 2018). Courtesy Art Dubai. Photo: Photo Solutions.
The most surprising moment of the press conference had to do with the Abraaj Group Art Prize. Prize Chair Dana Farouki announced that, after ten years of pioneering work financially awarding artists from the region, Abraaj will be lending their vast collection of art created by its award recipients—some 30 works by 44 artists—to the newly established Art Jameel, Dubai's first independently run art centre to be opened in November 2018, for at least ten years. When I asked Farouki about the future of the Prize, she noted that from 2019, Art Dubai will be responsible for the shape of any future prizes given to artists at the fair.
The ending of this ten-year tradition—one of the most significant highlights of Art Dubai—is but another sign of Art Dubai's coming of age. After helping to jump-start both a healthy intellectual and commercial atmosphere for the development of contemporary art, and after elevating the careers of an impressive number of artists and curators, Abraaj is letting go of its patronage, allowing Art Dubai to become truly independent as it evolves. —[O]