Feature
Frieze New York 2018: Running the Course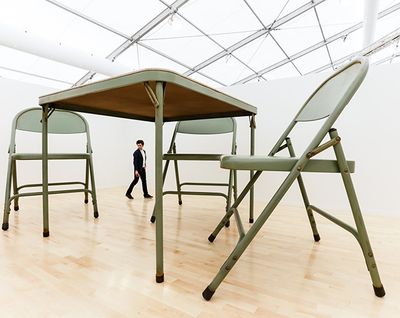 Robert Therrien, No title (folding table and chairs, green) (2008). Installation view: Gagosian Gallery, Frieze New York (3–6 May 2018). Courtesy Ocula. Photo: Charles Roussel.
There's no better way to kick off a marathon week of art fairs and other related activities than to hear a living artist discuss their new work: a reminder of what's at the very core of the art world, and it's not just the buying and selling, but the opportunity to have a dialogue with art.
There's no better way to kick off a marathon week of art fairs and other related activities than to hear a living artist discuss their new work: a reminder of what's at the very core of the art world, and it's not just the buying and selling, but the opportunity to have a dialogue with art.
On Tuesday morning in New York, a day before Frieze opened on Randall's Island (3–6 May 2018), Charles Ray walked a small group of journalists through his striking solo exhibition three rooms and the repair annex, which takes place at two of the three Matthew Marks Gallery spaces in Chelsea (522 and 526 W 22nd Street, 3 May–16 June 2018). Starting with a life-size stainless steel sculpture of a reclining woman relaxing on a rectangular steel base, Reclining Woman (2018), and ending with a pair of white-painted steel sculptures of a mechanic at work, Mechanic 1 and Mechanic 2 (2018), Ray talked about the experimentation involved in finding the right colour and surface texture for each meticulously crafted piece.
Charles Ray, Reclining Woman (2018). Machined steel. 152 x 211 x 112 cm. Courtesy Matthew Marks Gallery, New York/Los Angeles. © Charles Ray.
An hour later in Midtown Manhattan, a jovial Anselm Kiefer addressed a cluster of critics, curators and gallerists in the Channel Gardens at Rockefeller Center, where his colossal lead and steel sculpture Uraeus (2017–2018) made its debut (2 May–22 July 2018). Uraeus consists of a gigantic open book on enormous spread wings set atop a 20-foot-tall column with a snake coiling up it: it is a towering assemblage with additional giant tomes dotting its massive concrete base below. According to the exhibition statement, the work's title 'refers to the erect shape of the Egyptian cobra,' and is 'associated with the serpent goddess Wadjet and a symbol of power and divine authority.'
Following an introduction by Nicholas Baume, director and chief curator of the Public Art Fund which commissioned the work, Kiefer cited Thus Spoke Zarathustra (1883), Friedrich Nietzsche's famous philosophical tale about the will to power, as a central influence, describing the book at the top of the sculpture as 'the chosen one' and those below it 'fallen figures'.
Anselm Kiefer, Uraeus (2017–2018). Lead, stainless steel, fibreglass, and resin. 757 x 1120 x 880 cm. Courtesy Gagosian, Public Art Fund, and Tishman Speyer. Photo: Nick Knight. © Anselm Kiefer.
Curator Jérôme Sans did the talking at Richard Taittinger Gallery on the Lower East Side that same evening. The former director of Beijing's Ullens Center for Contemporary Art provided a tour of Colorful Line (2 May–22 August 2018), a survey of new and earlier works by Pascale Marthine Tayou that he organised for the gallery. Sans spoke about the burgeoning African art scene and Tayou's work on view, including the Cameroonian artist's monumental Code Noir (2018), a seven-panel work that represents Africans as silhouetted figures on a bar code to comment on the history of slavery, both in the French colonial empire and the United States.
Pascale Marthine Tayou, Code Noir (2018). Paint on seven wooden panels. 150 x 290 cm each. Exhibition view: Colorful Line, Richard Taittinger Gallery, New York (2 May–22 August 2018). Courtesy Richard Taittinger Gallery, New York. Photo: Shark Senesac.
The conversations continued on Wednesday morning, when the doors opened to the VIP preview of Frieze New York, and the race to see everything officially began. (At least until rising temperatures, and a lack of air conditioning within the Frieze tent changed the mood.)
First stop: the fair's new themed section, 'For Your Infotainment: Hudson and Feature Inc.', which commemorated Feature Inc., a gallery run by pioneering Chicago and New York art dealer Hudson for 30 years that championed artists when they were just emerging and remained committed to them thereafter. This sector offered eight solo and two-person shows of work by artists who had exhibited at Feature Inc. in booths that represent them now. Curated by White Columns director and chief curator Matthew Higgs, the presentations included early works by Takashi Murakami and Raymond Pettibon at Gagosian and David Zwirner, respectively, and an overview of recent abstract canvases by Andrew Masullo at Nicelle Beauchene Gallery. 15 of Hudson's favourite artists, from Lisa Beck, to Lily van der Stokker, were also on view at the Feature Hudson Foundation booth.
Andrew Masullo, 5797 (2013–2015). Oil on canvas. 50.8 x 60.96 cm. Courtesy the artist and Nicelle Beauchene Gallery, New York.
In the 'Main' sector, Gagosian's dynamic solo display of works by Robert Therrien became a selfie hotspot, due to Therrien's giant folding table and chairs painted an institutional green, No title (folding table and chairs, green) (2008). Another showstopper was Pierre Huyghe's trippy light show installation, L'Expédition Scintillante, Acte 2, Untitled (Light Box) (2002), at Marian Goodman Gallery's darkened booth. The work consists of a square, shallow stage from where smoke emanates, over which another stage hovers with psychedelic coloured lights shining down on the platform below, their flashes synchronised to the soothing sound of Erik Satie's Gymnopédies No. 3 and No. 4 (1888).
Meanwhile, Tracey Emin held court with fans at Xavier Hufkens, freely chatting about the paintings, drawings and sculptures that made up a solo presentation of works with titles such as I Never Asked to Fall in Love—You made me Feel like This (2018) and I Held your Heart (2017).
Pierre Huyghe, L'Expédition Scintillante, Acte 2, Untitled (Light Box) (2002). Smoke and light system, sound. Music: Erik Satie, Gymnopédies 3 and 4 (1888) orchestrated by Claude Debussy. 198 x 191.5 x 157 cm. Edition of 3 + 2AP. Exhibition view: Marian Goodman Gallery, Frieze New York (3–6 April 2018). Courtesy Ocula. Photo: Charles Roussel.
Jhaveri Contemporary was awarded the Frieze Stand Prize for its solo show of historical paintings and works on paper by Mohan Samant in 'Spotlight', the fair's section for 20th-century artist pioneers. Constructing disjunctive, figurative works with dimensional layers of paper, wire and found objects, Samant—who died in 2004 at age 80—was a member of India's Progressive Artists Group and the Bombay Group. Although he spent most of his life working and exhibiting abroad, he is now considered a missing link in the history of modern Indian art. Works on view included untitled paper cutouts and paint on paper pieces from the 1980s to 1990s, and a later 1994 work titled Masked Dance for the Ancestors, in which bodies have been rendered in acrylic, oil, crayon, and wire drawing on canvas.
Works by Mohan Samant on view at Jhaveri Contemporary, Frieze New York (3–6 May 2018). Courtesy Frieze and Jhaveri Contemporary, Mumbai. Photo: Mark Blower.
One standout in the 'Focus' section—where exhibiting galleries are 12 years old or younger—was Ghebaly Gallery's solo show of Farah Attasi's new colourful paintings that riff on modernist masterpieces. These included Woman in a Décor (2018), which presents a woman lying on her side rendered in a neo-cubist fashion against an op-art swirl of curved lines, hints of Picasso, Miró, and Bridget Riley all in the mix.
Over at Frame, where galleries are 8 years of age or below present solo exhibitions, the sector prize was awarded to Cooper Cole's showing of Tau Lewis's figures assembled from stitched fabrics and other found materials. Jacqueline Kiyomi Gordon's sound and sculptural installation Cold World Cycles Warm at Empty Gallery received special commendation from the Prize jury (Aspen Art Museum Curator Courtenay Finn, Kunsthalle Basel Director and Curator Elena Filipovic, and Institute of Contemporary Art, Los Angeles Curator Jamillah James), along with Château Shatto's showing of new paintings by Van Hanos.
Jacqueline Kiyomi Gordon, Cold World Cycles Warm (2018). Exhibition view: Empty Gallery, Frieze New York (3–6 May 2018). Courtesy Empty Gallery, Hong Kong.
The newly inaugurated 'Live' programme, curated by Adrienne Edwards around the themes of assembly, protest and collectivity, featured Alfredo Jaar, Hank Willis Thomas, Dave McKenzie, Raúl de Nieves with Erik Zajaceskowski, Adam Pendleton, Renée Green, and Lara Schnitger. Schnitger's boisterous Suffragette City (2018) procession made a powerful political impact as it wound through the aisles. Presented as 'sculptural ritual', the performance combined feminist protest with feminine dress, with an army of blue jump-suited women, and some men, holding textile banners and sculptures that Schnitger created for the event.
Yinka Shonibare, Medusa West (2015) and Medusa East (2015). Digital chromogenic print, bespoke wood frame. 114 cm diameter each; Pan (2018). Unique fibreglass sculpture, hand-painted with Dutch wax pattern, bespoke hand-coloured globe, gold leaf and steel baseplate. 143.8 x 84.8 x 59.7 cm; Elias Sime, Tightrope, non-essential speed (2017). 72.4 x 402.6 cm (left to right). Exhibition view: James Cohan Gallery, 1-54 Contemporary African Art Fair, New York (4–6 May 2018). Courtesy 1-54 Contemporary African Art Fair. Photo: © Katrina Sorrentino.
Thursday morning saw the VIP preview of 1-54 Contemporary African Art Fair at Pioneer Works in Red Hook, Brooklyn (4–6 May 2018). Returning to New York for its fourth edition, this focused presentation of historic and contemporary art from Africa and its diaspora attracts a following of savvy collectors.
James Cohan Gallery exhibited new and important works by Elias Sime and Yinka Shonibare MBE, who debuted a fibreglass statue of Pan (2018) with a globe for a head and a svelte body, hand-painted with a Dutch wax pattern, sporting a gold fig leaf. Burning in Water paid homage to the historic 1995 exhibition Worlds Envisioned between Ivorian artist Frédéric Bruly Bouabré and the Arte Povera maestro Alighiero Boetti originally held at New York's Dia Art Foundation, with a booth juxtaposing the former's poetic illustrations of folkloric figures with the latter's woven word pieces. At the younger end of the spectrum, Galerie Cécile Fakhoury and Jack Bell Gallery both exhibited expressive canvases by 35-year-old Aboudia, who paints street children in a graffiti style similar to that of Jean-Michel Basquiat. Gallery 1957 showed vibrant, auto-biographical paintings by Gideon Appah, displayed in a recreation of the 29-year-old artist's family home.
Henri Matisse, Arbre de neige (1947); Yves Klein, Untitled Pink Sponge Sculpture (SE 204) (1959); Jean-Michel Basquiat, Extra Cigarette; Andy Warhol, One Dollar Bills (1962) (left to right). Exhibition view: Lévy Gorvy, TEFAF New York Spring (4–8 May 2018). Courtesy Lévy Gorvy, New York/London.
Over on the Upper East Side, TEFAF New York Spring (4–8 May 2018) offered an elegant display of modern and contemporary art and design, as well as African and Oceanic art, antiquities and fine jewelry. Lévy Gorvy brought a masterful mix of small-scale post-war artworks, including a marvelous 1947 abstract gouache by Henri Matisse of a snow covered tree (Arbre de neige); a charming 1954 untitled black-painted standing sculpture by Alexander Calder with three circular metal forms, supported and connected by pieces of wire; and a cool 1962 silkscreen canvas of One Dollar Bills by Andy Warhol. Calder's sculptures, which continuously fetch high prices, could also be found in other booths, with Simon Lee Gallery and Tina Kim Gallery offering petite standing mobiles and Galerie Van de Weghe displaying a massive, hanging mobile, floating high above the fair.
Alexander Calder, Les Trois Barres (1970). Presented by Galerie Van de Weghe at TEFAF New York Spring (4–8 May 2018). Courtesy Ocula. Photo: Charles Roussel.
Di Donna Galleries paired Surrealist paintings and sculptures by the likes of Francis Picabia and Yves Tanguy with the Native American Yup'ik masks that had inspired them. Galerie Gmurzynska had renowned creative director Robin Scott-Lawson transform its space into a stylish sunken lounge, where wall sculptures of giant lit cigarettes by Tom Wesselmann seemed right at home. Leon Tovar Gallery smartly countered Lévy Gorvy's showing of modern and contemporary masters with its own sophisticated selection of post-war Latin American art by artists including Jesús Rafael Soto and Carmelo Arden Quin.
In the realm of design, Carpenters Workshop Gallery juxtaposed modernist office chairs by Pierre Jeanneret from the 1950s with coloured resin stools from 2015 by Wonmin Park, among others, while Dansk Møbelkunst Gallery featured rare 1950s furniture by Finn Juhl and Poul Kjærholm.
Tom Wesselmann, Smoking Cigarette #1 (1980). Oil on wood and masonite, formica base. 127 x 186.7 x 25.4 cm. Exhibition view: Galerie Gmurzynska, TEFAF New York Spring (4–8 May 2018). Courtesy Ocula. Photo: Charles Roussel.
Heading further Uptown that evening, I stopped at the opening of The Guggenheim's One Hand Clapping (4 May–21 October 2018), a group show curated by Xiaoyu Weng and Hou Hanru, of newly commissioned works by Cao Fei, Duan Jianyu, Lin Yilin, Wong Ping and Samson Young, before continuing on my way. I was due at the Goodman Gallery collectors' dinner, which was held in celebration of Kapwani Kiwanga, the recipient of the inaugural Frieze New York Artist Award, supported by the Luma Foundation.
Kiwanga was provided with a 30,000 US dollar budget to execute her open-air installation, Shady, on Randall's Island: a large structure made out of industrial and agricultural fabrics, including those that provide shade in large-scale farming. Eighty guests of the South African gallery—including many of its artists and collectors, as well as museum directors Gus Casely-Hayford from the Smithsonian National Museum of African Art, and the Studio Museum in Harlem's Thelma Golden—revelled into the night.
Kapwani Kiwanga, Shady (2018). Exhibition view: Frieze New York (3–6 May 2018). Courtesy Frieze and Goodman Gallery, Cape Town/Johannesburg. Photo: Mark Blower.
Calmness prevailed on Friday, with a return to sober discussion. A brunch and studio visit in Brooklyn to see finished and in-progress oil paintings by Ali Banisadr was hosted by Blain|Southern, who will hold a solo exhibition of Banisadr's work at their Berlin space in September. Banisadr, who has synaesthesia, paints according to the sounds that he perceives from the colours and brushstrokes he uses, which results in engaging canvases that move between figurative and abstract by way of intricate compositions involving forms, shapes, and textures.
Later that evening, the calm broke at the unveiling of John Baldessari's sublime new body of work, All Z's (Picabia/Mondrian), at Marian Goodman Gallery in Midtown (4 May–22 June 2018). Interspersing reproduced fragments of paintings by Francis Picabia and Piet Mondrian, Baldessari adds more layers of information and imagery with words that all begin with the letter Z printed on the canvases and hand-painted white rectangles further intervening with the layered content. Following the opening reception, more than 100 of Baldessari's friends and supporters—including artists David Salle, Tony Oursler and Dara Birnbaum and Garage Museum Chief Curator Kate Fowle and Stuart Comer, Chief Curator of MoMA's Department of Media and Performance Art—took over Michael's New York for a celebratory dinner honouring the 86-year-old artist.
Exhibition view: John Baldessari, All Z's (Picabia/Mondrian), Marian Goodman Gallery, New York (4 May–22 June 2018). Courtesy Marian Goodman Gallery, New York. Photo: Cathy Carver.
The next day, after checking out newly-opened solo shows in Chelsea of works by figurative painter Jenny Saville at Gagosian's West 21st Street space (Ancestors, 3 May–16 June 2018), Dansaekhwa master Ha Chong-Hyun at Tina Kim Gallery (Conjunction, 4 May–16 June 2018), and DIY-tech imagery manipulator Tommy Hartung at C24 Gallery in the afternoon (R.U.R., 4 May–23 June 2018), it was time for SoHo. People, the group exhibition at Jeffrey Deitch (5 May–30 June 2018), features figurative sculptures by 29 artists, including Nick Cave, Isa Genzken, Barry McGee, Kiki Smith and Anna Uddenberg. The show extends the concept of the exhibition Like Life: Sculpture, Color, and the Body (1300–Now) at the Met Breuer (21 March–22 July 2018), with a more twisted and edgier view.
Exhibition view: People, Jeffrey Deitch (5 May–30 June 2018). Courtesy Jeffrey Deitch. Photo: Adam Reich.
Running on low battery, there was one more stop left to make before the week was done: MoMA PS1 for Night at the Museum: Springtober Fest. For one night, locally crafted beers, DJs and dancing were merged with a viewing of PS1's new seasons of shows, including Fernando Palma Rodríguez: In Ixtli in Yollotl, We the People (15 April–10 September 2018), the US premiere of Gauri Gill's Acts of Appearance (15 April–3 September 2018), and Maria Lassnig: New York Films 1970–1980 (1 February–18 June 2018). My visit started with Julia Phillips' first museum show Failure Detection (15 April–3 September 2018), which offers 'support structures' designed for specific actions of constraining, armouring or penetrating the body, and ended with the performance-documentation focused video and photography exhibition Land: Zhang Huan and Li Binyuan (15 April–3 September 2018).
Li Binyuan 厲檳源, Freedom Farming (2014) (Still). Single-channel video. 4 min 30 sec. Courtesy the artist and Kadist, Paris/San Francisco.
Land is a compelling show that brings together two Chinese artists from different generations whose work explores the relationship between the body, land and endurance. (Zhang Huan was born in 1965 and was part of the 1985 avant-garde movement in China; Li Binyuan was born in 1985, and draws from Zhang's practice in his own performances.) On view were such works as Pilgrimage–Wind and Water in New York (1998), which involved Zhang Huan lying nude on a bed of ice for 10 minutes, and Freedom Farming ​(2014), whereby Li Binyuan jumps into the air and falls back down into a muddy patch of soil for two hours. A show of such intensive somatic focus was the perfect finale to a gruelling week. —[O]