Feature
Shanghai Art Week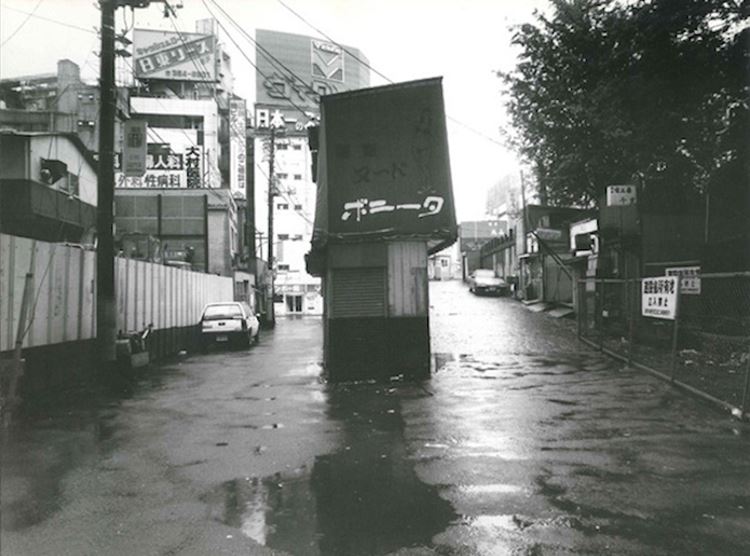 Nobuyoshi Araki, Tokyo Story, 1989-2015. Photo Shanghai 2015. Courtesy of Taka Ishii Gallery, Tokyo, Paris, New York
After last year's confusion, which saw galleries participating in multiple Shanghai art fairs simultaneously, clearer distinctions emerged between the three events in this year's 'Shanghai Art Week'.
After last year's confusion, which saw galleries participating in multiple Shanghai art fairs simultaneously, clearer distinctions emerged between the three events in this year's 'Shanghai Art Week'. Blue chip galleries such as White Cube and Hauser & Wirth joined the West Bund Art & Design Fair (WBAD); other commercial galleries—including many who don't often show photography—participated in Photo Shanghai at the Shanghai Exhibition Centre; while emerging and affordable galleries showed in the basement of the K11 Art Mall as part of the annual, 'Art in the City Festival'.
West Bund Art & Design Fair
Directed again by painter Zhou Tiehai, WBAD opened near the Huangpu River on Tuesday, 8 September. This year the event expanded to 32 galleries, with both floors of the main exhibition hall devoted to art and the less impressive design component shifted to auxiliary buildings along the 'West Bund Culture Corridor'. While last year's event persisted for a month, forcing several galleries to leave their booths unattended, this year it was shortened to under a week, concluding on Sunday, 13 September, a duration much more in keeping with galleries' desires.
Carlos Rolón, Chandelier, 2013. Mixed media, at Pearl Lam Galleries. Image courtesy Sam Gaskin
Highlights included Carlos Rolón's punny crystal Chandelier (2013) at Pearl Lam Galleries, Ai Weiwei's porcelain Bicycle Basket with Flowers at Chambers Fine Art and Gao Lei's works in stainless steel at Arario Gallery.
Ai Weiwei, Bicycle Basket with Flowers, 2015. Porcelain., at Chambers Fine Art. Image courtesy Sam Gaskin
Ambitious galleries such as Aike Dellarco, Leo Xu Projects, Magician Space and BANK also participated in the fair. Perhaps the most engaging work was Li Ming's How to Create Image: I Am (2015) at Antenna Space. Li applied magnetic ink, used by police to collect fingerprints, to an iPhone screen projector, generating images that bridge contemporary China with its tradition of gestural ink painting.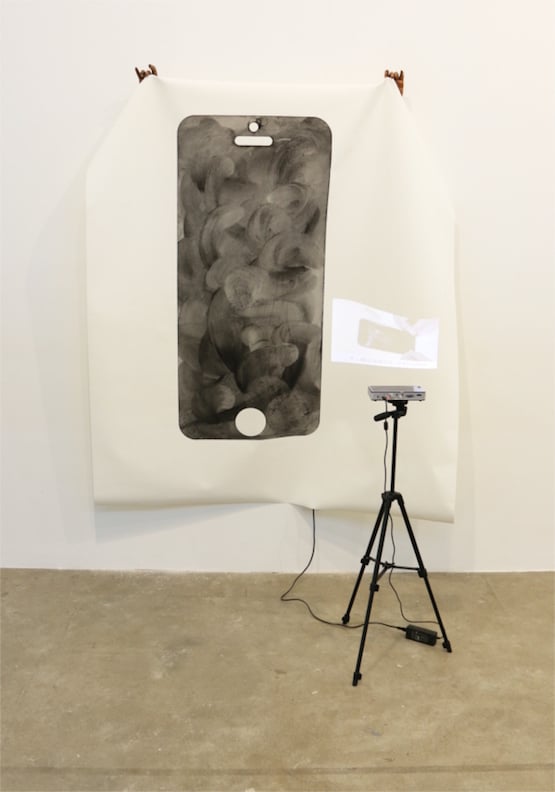 Li Ming, How to Create Image: I Am, 2015. Video installation, at Antenna Space. Image courtesy Sam Gaskin
Works that sold at the fair included two-self portraits: Antony Micallef's Self-Portrait with Blue Sash No. 2 (2015) at Pearl Lam Galleries and a Marina Abramović at BANK.
Coinciding with WBAD, local powerhouse ShanghART Gallery launched a new space on the West Bund—adding to its three other Shanghai venues—with a solo show by Geng Jianyi.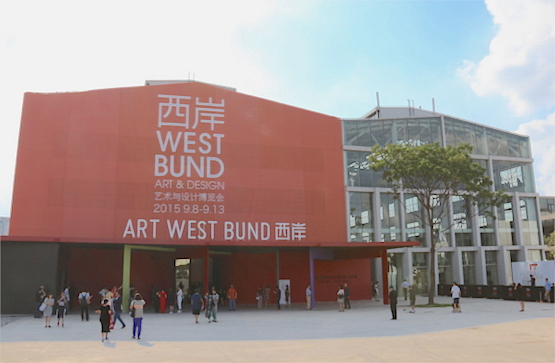 West Bund exterior. Image courtesy Sam Gaskin
Photo Shanghai
WBAD targeted serious collectors, closing each day at 6pm, before the socialites could even pick out their outfits. Photo Shanghai, on the other hand, opened from 6-9pm on Thursday, 11 September to throngs of well-dressed visitors. Over the fair's three days, 26,000 people visited the Soviet-style Shanghai Exhibition Centre.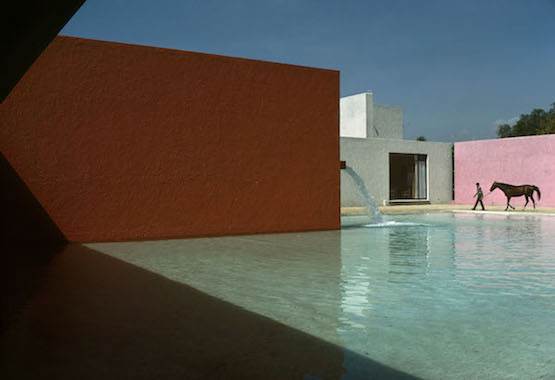 René Burri, Horse Pool and House by Luis Barragan, San Cristobal, Mexico, 1976. ATLAS Gallery, London
Advertisers cashed in on the attendance with a gratuitous Mercedes installation with light up wind tunnel effects and a Chen Man exhibition that had to compete for wall space with Hublot watch placements.
Among more interesting featured content was Gagosian Gallery's exhibition Birds of the West Indies by Taryn Simon, which consisted of 155 photos of props and people from the James Bond movie franchise. The images were installed in the style of the book from which the work takes it name, which was written by a lesser known James Bond, an ornithologist, in 1936.
Video artist and director of OCAT Shanghai Zhang Peili also curated a vast selection of video art, though it was somewhat hidden away from the main event.
The city's leading photo gallery, M97, showed works including psychedelic lenticular nature print Bamboo No. 1 (2015) by Han Lei. Other strong Chinese photography was shown by LEAP magazine, who were selling works at the fair including The Night Double Fly Returned to Mars (2015) by the artist collective Double Fly Art Center. Double Fly will be among the artists to feature in the 15 Rooms exhibition at the Long Museum from 25 September.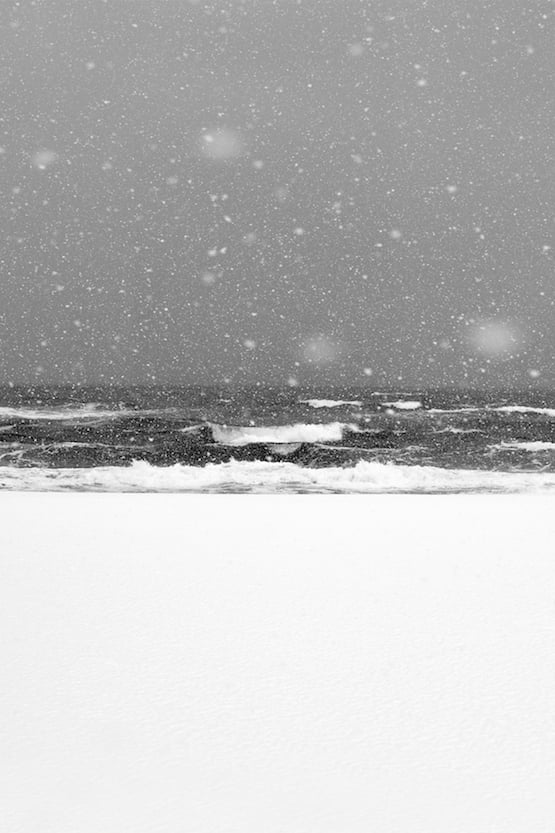 Boomoon, Naksan #920, 2014. Courtesy of Flowers Gallery, London, New York
Also, Flowers Gallery featured South Korean photographer, Boomoon's gorgeous
Naksan #920
(2014) from his
Naksan
series which were conceived during heavy snow storms and are characterised by details of crashing waves on the snow covered seashore.
In a strange twist, works by Japanese artist Aki Lumi sold well at Vanguard Gallery just a week after China celebrated the anniversary of Japan's World War II surrender, while Willas Contemporary was stopped from bringing their works from Norway due to China's ongoing anger at Liu Xiaobo having received the Nobel peace prize in 2010.
Aki Lumi, Garden NO.14, 2013. Courtesy of Vanguard Gallery, Shanghai
One of the most outstanding booths at Photo Shanghai belonged to Taipei's
Mind Set Art Center
, which showed a single work by conceptual artist Shi Jin-Hua. In
Clothing Project
(2002-2008), Shi asked staff at New York's MoMA PS1 to donate items of clothing and took photographs as he piled on all 70 pieces. He then tore the fabric into strips, creating a length with which he measured the exterior, an arbitrary measurement that stems from the artist, who has diabetes, needing to regularly measure his insulin levels.
Photo Shanghai will be joined by a San Francisco sister event in 2017.
Willy Rizzo, SALVADOR DALI - Loupes, Paris, 1949. Courtesy of Galerie Dumonteil, Shanghai, Paris, New York
Art in the City
With many of the stronger galleries participating in WBAD and Photo Shanghai, pickings were relatively slim at this year's Art in the City. Of the 17 galleries taking part, the strongest booths belonged to 55 Gallery and FQ Projects, and both featured some compelling works.
Vay Hy, S15-03, 2015. Ink and acrylic on paper, 78 x 108cm. Courtesy of FQ Projects
The most attractive selfie-background for a snap-happy crowd was Ye Qing's painting depicting the characters 神女 (goddess), a popular slang term for woman who merit—or think they merit—worship, at 55 Gallery. 55 also showed seductive silver-gelatin mixed media photographs by Cai Dongdong.
FQ Projects continued its tradition of demonstrating Chinese contemporary ink's diverse expressions with collages by Sun Jing, illustrations by Mo Di and abstracts by Vietnamese-Chinese artist Vay Hy.
Art in the City's special projects included the winners of video art competition BLAST!, Samson Young's Memorizing the Tristan Chord (Institute of Fictional Ethnomusicology); Xie Caomin's Mandala Paintings; and Hu Renyi's Come Clean: the Infinite Confession Project. —[O]