Feature
Shanghai Exhibition Round-up, June 2015
Rockbund Art Museum, Shanghai
Chen Zhen: Without going to New York and Paris, life could be internationalized, at Rockbund Art Museum until 07 October 2015
Posthumous solo shows by Chinese contemporary artists are rare indeed. China only opened up to the rest of the world in 1979, and its pioneering post-Mao artists are mostly in their 50s and early 60s. Like many of his peers—-Xu Bing, Zhang Huan, Ai Weiwei, and others—-Chen Zhen (陈箴) left China early in his career to study and create art. Unlike the others, he died young, aged only 45 when he passed away of illness in 2000.
Chen's early death defines the show_Chen Zhen:_ Without Going to New York and Paris, Life Could be Internationalized, which is showing at Rockbund Art Museum in Shanghai until 7 October. The work very much feels of an earlier moment in Chinese contemporary art: after Cynical Realism and before artists abandoned conspicuously Chinese materials in favour of digital art and installations made up of consumer goods ordered online. But it's also in some ways prescient, anticipating and critiquing contemporary China from—-hold onto your crucifixes—-beyond the grave.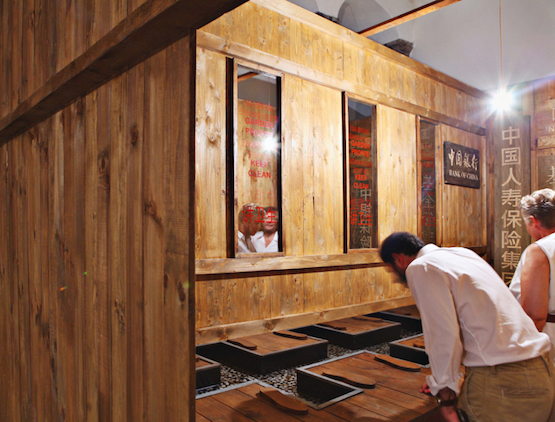 Chen Zhen, Le Bureau de Change (1996-2004), at Rockbund Art Museum, Shanghai
Born in Shanghai in 1955, Chen studied at Shanghai Arts and Crafts College and later majored in stage design at the Shanghai Theatre Academy. He left for Paris in 1986 and pursued graduate studies at Ecole National Superieure des Beaux-Arts and then the Institut des Hautes Etudes en Arts Plastiques, where he would later teach. He remained in Paris but increasingly visited his hometown of Shanghai during the 1990s, fascinated by the speed of its development.
Chen captured in one photograph included in the show, Three Generations of Architecture, the old, brick shikumen lane houses, six storey walk-ups (the highest a building could be legally built without installing an elevator), and the 20+ storey apartment buildings that came after; three utterly distinct styles all born of the 20th century.
While the exhibition includes a number of these so-called "social investigations", it centers on seven more subtle installations, the most impactful of which is_Purification Room _(2000-2015)—-a room full of domestic possessions entirely covered in a thick coating of mud, obscuring the objects' original colours, materials and functions.

Chen Zhen, Purification Room, at Rockbund Art Museum, Shanghai
Chen's parents both worked in medicine and he was very interested in both Chinese and Western healing and philosophy. Mud baths, mud clothing and mud burial are all part of treatments used in Chinese folk medicine for detoxifying the body. By applying the methodology of this alternative medicine to objects instead of people, Chen seems to be treating illnesses of domestic life: the twin ailments of anxiety and boredom. The layer of dirt also turns contemporary items into archaeological artifacts, as if anticipating their (and our) obsolescence.
The notion of purity is developed in another work, Crystal Landscape of Inner Body (2000), created shortly before Chen's death. Some Buddhists stop eating in order to purify their bodies before death, and ideas relating to a type of purity of body are drawn out by a work comprising crystal sculptures of internal organs. The organs are arranged on a glass table with metal legs, as if for a home décor magazine, yet their perfection is conditional on denying their function.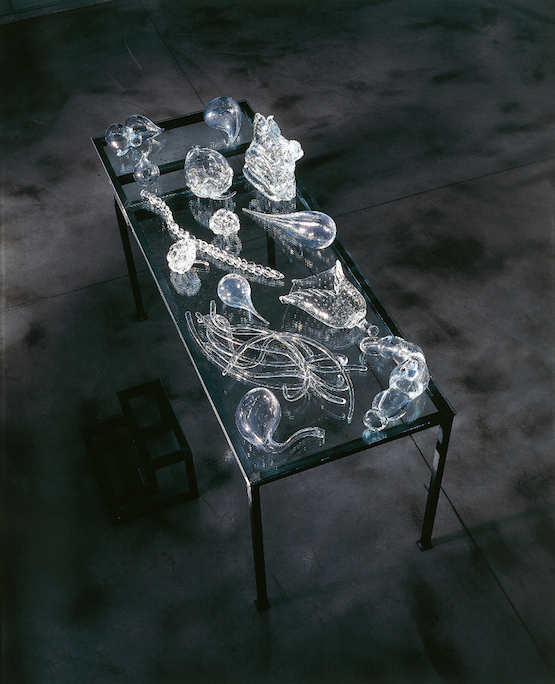 Chen Zhen, Crystal Landscape of Inner Body (2000), Rockbund Art Museum, Shanghai
Installations _Le Bureau de Change _(1996-2004) and _Daily Incantations _(1996) demonstrate Chen's interest not in purity, but filth. The former is a public toilet wherein a wall screens off men's and women's upper bodies and faces while their more profane parts release into the same trough, filled with coins. On the walls and mirrors that surround the makeshift toilet, signs offer currency exchange. The implication here is that the market gives us ready knowledge of unclean practices—-countless Sepp Blatters emptying their bladders—-while protecting the individual identities involved.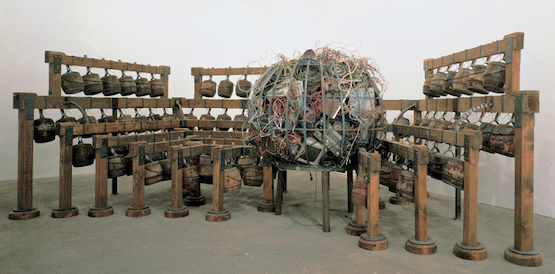 Chen Zhen, _Daily Incantations _(1996), Rockbund Art Museum, Shanghai
Chen's anxiety about the global market is evident in Untitled Steamships (1997-2015), a work created for the exhibition from Chen's sketches. Two boats are built with their hulls interconnected but their motors at opposite ends. With signs declaring one boat "Western Products" and the other "Made in China", Chen seems skeptical that international trade can contribute to anything like progress.
At the top of the museum, hung over the atrium that connects the fifth and sixth floors, Precipitous Parturition (1999) is a dragon made of an inner tube torso and a bike frame head. On closer inspection, toy plastic cars can be seen crawling over the dragon's skin. Its belly is also swollen, as if with parasites, as if the rubber tube roads will soon be overwhelmed with more car-crawlers.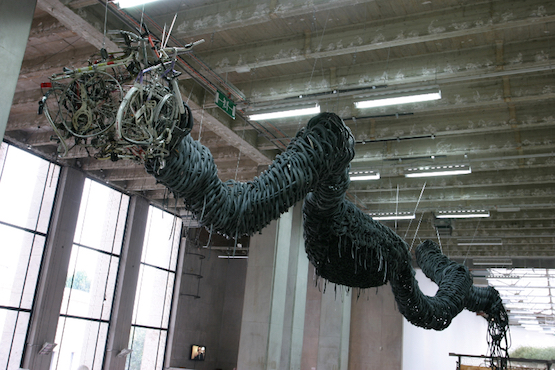 Chen Zhen, Precipitous Parturition (1999), Rockbund Art Museum, Shanghai
Chen died before seeing the worst of China's pollution, the melamine milk scandal or the thousands of dead pigs that came floating down the Huangpu River. He missed the beating and arrest of Ai Weiwei, and the detention of five gender equality activists earlier this year. He couldn't know that in 2015 Beijing was still doing next to nothing to warn against the dangers of smoking. But he also missed some causes for hope: China's investment in renewable energy; Shanghai's efficient, affordable public transport system; Beijing Mayor Wang Anshun describing his own city as "unliveable"; and Chai Jing's bold environmentalist documentary Under the Dome, which was allowed to be seen by hundreds of millions of Chinese before the government finally pulled it offline.
Chen also missed the drying up of much socio-politically courageous, critical work in favour of more academic and aesthetic concerns, for which, in turn, he is undoubtedly going to be missed.
_500 Years _by Heidi Voet and God Loves Whatever by Geng Yini, at BANK Gallery until 10 July 2015
The title of the Chen Zhen show, Without Going to New York and Paris, Life Could be Internationalized, is emphatically affirmed in a show that opened the same night at BANK Gallery. The duo solo show pairs Belgian artist Heidi Voet with young Chinese artist, Geng Yini.
Born in Shenyang in 1982, Geng's impastos are geographically unplaceable, less evocative of a particular city or country than a Google image search. Animals and bondage gear are recurring themes in works that seem pulled directly from the internet's collective unconscious. Uncertain diagrammatical symbols, like abandoned infographics, suggest a failed attempt or unwillingness to follow Chen Zhen in explaining and exploring social phenomena.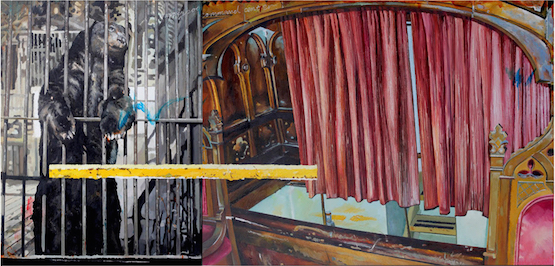 Geng Yini, National Defense Command, BANK Gallery, Shanghai
Men with bronze muscles, others with fat, pink bellies and women proudly displaying tufts of armpit hair are all caught in Geng's drag net, an indiscriminate collection of data unfiltered by judgement. The works are sometimes humorous and sometimes unsettling in their chaos. She captures the odd decline in moral surety that comes from our newly pluralistic, quasi-omniscient perspective, a phenomenon well captured by her show's title,_God Loves Whatever.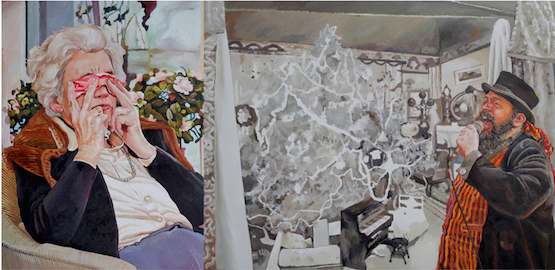 _
Geng Yini, We Always Feel Sad, BANK Gallery, Shanghai
Heidi Voet's 500 Years has a similarly global purview, but looks at the planet from the perspective of a material that shows we're nowhere near as post-historical as we might (hate or like to) think. Five hundred years is the time it takes for a 'disposable' plastic bag to biodegrade. Voet used thousands of the bags, purchased new in Shanghai for their range of vibrant colours, to painstakingly weave the new works.
The pieces fall into two categories: tribal masks and costumes take on a range of textures, from a close weave suggesting the denseness of wood to long shaggy strands resembling hair or feathers. The works take their names from pop song lyrics: You see that I'm ferocious, you see that I am weak / You see that I am silly, and pretentious and a freak (2015) from Madonna's Rescue Me, and _Oh no, not me / I never lost control / You're face to face / With the man who sold the world _(2015) from David Bowie's Man Who Sold the World. The combination of objects and titles obliterate cultural time and space—-whether used by African tribes or in the distribution of Western pop music, our ubiquitous plastics will outlast them both.
Exhibition view, Heidi Voet at BANK Gallery, Shanghai
Voet's other series of works features large flags (up to one metre by two metres) of fallen kingdoms and states, titled after the years that they endured. There's a flag of the Ryukyu Kingdom, for instance, which lasted from 1429-1879 before it was incorporated into Japan as the Okinawa Prefecture, and the flag of the Qing Dynasty (1889-1912), an azure dragon on a field of yellow gazing up at the red sun of the three-legged crow.
Heidi Voet, I was not caught, BANK Gallery, Shanghai
With her usual interplay of concept and craft, Voet steers our attention away from the acceleration of cultural time—-where our electronics, skills, nation states and traditions all seem under threat of obsolescence—-and back to the material world, where our actions have impacts that will long outlast the memes, trends and petty political debates that consume so much of our concern. Voet not only shows us the time of plastic, the lifespan of a material, but, in the context of work by Geng Yini and Chen Zhen, the plasticity of time: accelerating and glacial, imperative and irrelevant.
Other exhibitions worth exploring this month include abstract painter Ding Yi's solo show at the Long Museum West Bund, Wang Huasheng's Flux at Pearl Lam Gallery and Shi Yong, A Subtle Genius at MadeIn Gallery.—-[O]