Feature
Shanghai Art Exhibitions to See: The Lowdown
ART021, Shanghai. Image courtesy ART021.
There is no official Shanghai Art Week, but the term has nevertheless entered the lexicon of the city's contemporary art community. It's especially apt this year, with the firmly established West Bund Art Fair (8–11 November 2018) and Art021 (9–11 November 2018) taking place the same week that the 12th Shanghai Biennale opens at the Power Station of Art (10 November 2018–10 March 2019).
Shanghai's growing roster of world-class museums and galleries has scheduled their top programming to coincide with these events this year. Sam Gaskin lists a selection of shows to see.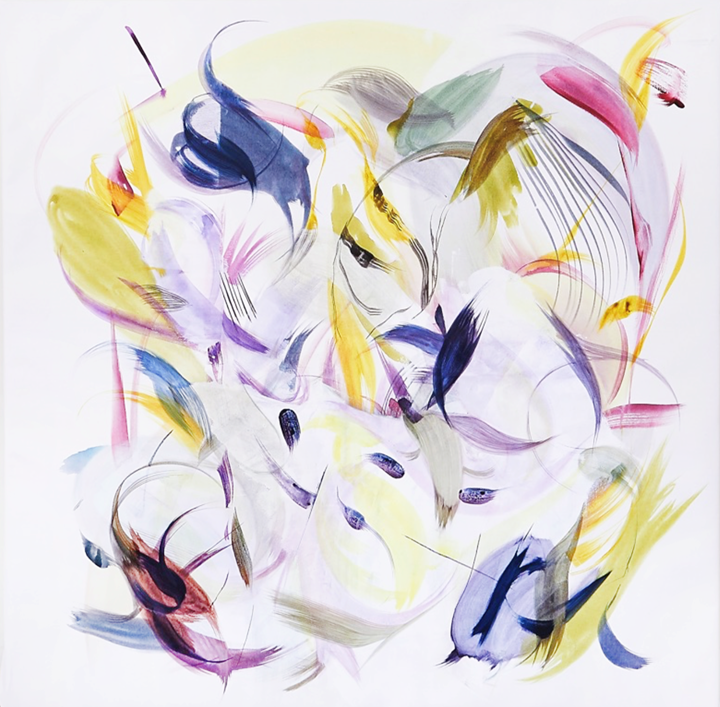 Huang Yanyan, Cloud Poem VIII (2018). Ink, gouache, and acrylic on canvas. 101 x 101 cm. Courtesy the artist and BANK.
GALLERIES
Yanyan Huang
BANK, Building 2, Lane 298 Anfu Rd, Xuhui District
6 November 2018-6 January 2019
Born in Sichuan in 1988, Huang Yanyan moves between Beijing, New York, and California, and her influences are just as wide ranging; including classical botanical studies, mythology, and calligraphy. She likens her large, gestural abstract paintings to automatic writing—streams of consciousness that forego the black ink that prevails in Chinese contemporary art in favour of a colourful palette of in ink, gouache, and acrylic. It's attractive work with commercial appeal strategically timed to coincide with the art fairs.
Miao Ying, Civilized Internet, Internet Civilization (2014–2015). Folding screen and GIF animation. Dimensions variable. Courtesy Boers-Li Gallery.
Miao Ying: Stones From Other Hills
MadeIn Gallery, No. 106, 2879 Longteng Avenue, Xuhui District
6 November–30 December 2018
Miao Ying has described herself as living less in Beijing than she does on the internet, but in this show she plays with the idea of logging off and leaving home. She has created a lifestyle concept brand called HDD (Hardcore Digital Detox) as a means of examining the data detox fad and our mitigated love for the internet. Long after Thomas Friedman's The World is Flat was published, utopian ideas about the internet have been replaced by new technological walls that have been established by tech companies eager to trap consumers in their domed ecosystems. Draconian governments have walled off access to unharmonious ideas, and users wall themselves off by refusing to engage with people outside of their chosen identity group. Works will include oil paintings, sculptures, videos, and VR.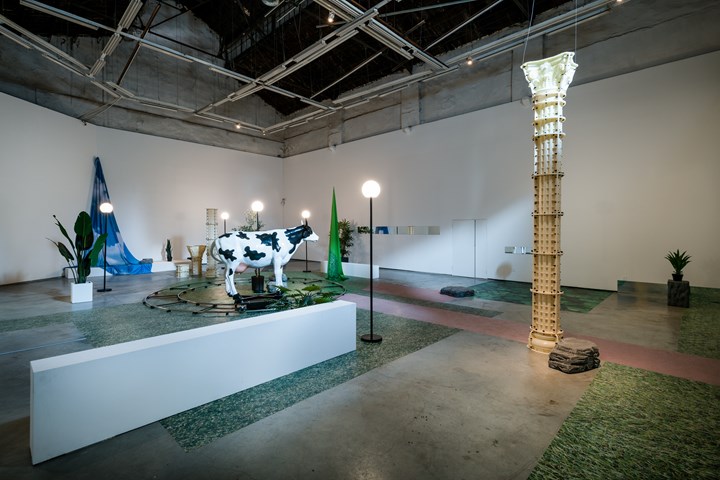 Nabuqi, Do real things happen in moments of rationality? (2018). Electronic controller, spray-painted FRP cow model, flat car, battery, stainless steel track, outdoor spherical lamp, artificial plant, foam stone, PVC column, inkjet cloth curtain, mirror. 540 x 1600 x 1400 cm. Exhibition view: Nabuqi, Do real things happen in moments of rationality?, ShanghART M50, Shanghai (27 October–9 December 2018). Courtesy ShanghART.
Nabuqi: Do real things happen in moments of rationality?
ShanghART M50, Bldg 16, 50 Moganshan Rd, Putuo district
27 October–9 December 2018
With her interest in materiality and interstitial spaces, Nabuqi (娜布其) is one of China's most intriguing installation artists. Her work Destination (2018) was one of the standouts in After Nature (13 October 2018–4 April 2019), the inaugural exhibition of UCCA Dune, which opened by the sea in Beidaihe, a few hours' drive from Beijing. Born in Inner Mongolia in 1984, she graduated from the Central Academy of Fine Arts in 2013 and currently lives and works in Beijing. For her first solo show in Shanghai, Nabuqi builds an ersatz outdoor scene that's reminiscent of the artist's childhood. In their West Bund space, ShanghART will show works by China's leading abstract artist Ding Yi.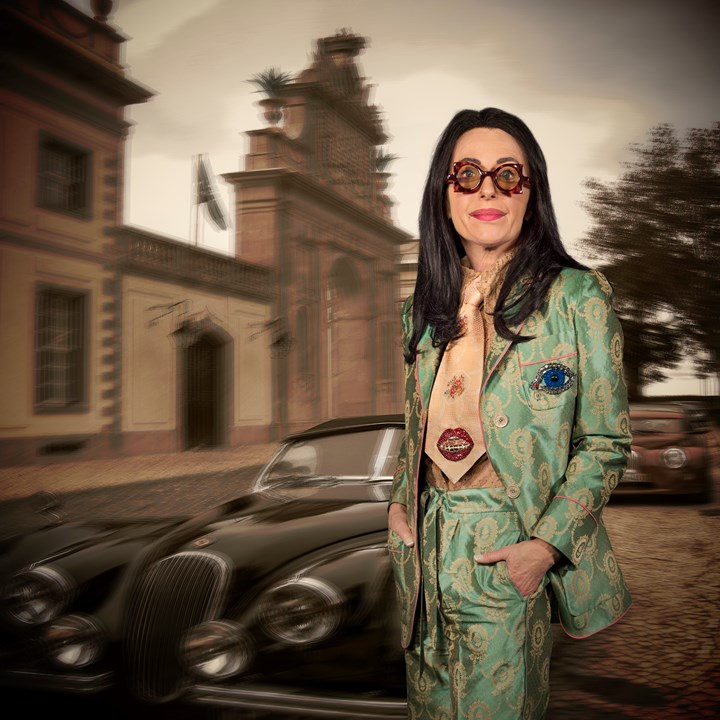 Cindy Sherman, Untitled #588 (2016/2018). Dye sublimation metal print. 168.9 x 168.9 cm. © Cindy Sherman. Courtesy the artist, Metro Pictures, New York.
MUSEUMS
Cindy Sherman
Fosun Foundation, 600 Zhongshan East 2nd Rd, Huangpu District
7 November 2018–13 January 2019
How appropriate that the chameleonic self-portrait artist Cindy Sherman will receive a retrospective at Fosun Foundation, a building that itself changes shape. The kinetic design by Foster + Partners and Heatherwick Studio—part of the Bund Finance Center—moves a curtain made of 675 metal 'tassels' arranged on three tracks around the building's perimeter. Inside, works by Sherman will include 128 photographs, 2 wallpaper prints and props dating back to the 1970s, along with 9 brand new works. The iconic images include Cover Girl (Vogue) (1975), Murder Mystery (1976), 'Untitled Film Stills' (1978–1981), and more recent portraits of wealthy, flashy individuals who could be collectors or artists. Buy tickets before 6 November for 50 RMB, before the price rises to 90 RMB.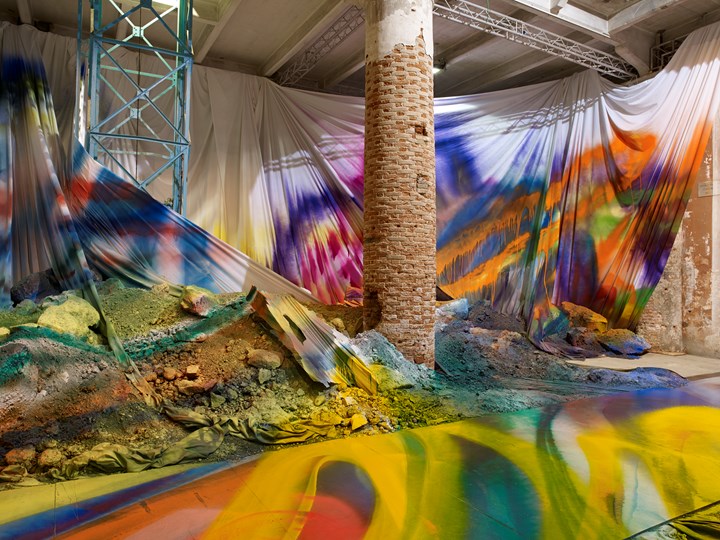 Katharina Grosse, Untitled Trumpet (2015). Exhibition view: All the World's Futures, 56th Venice Biennale (9 May–22 November 2015). Acrylic on wall, floor, and various objects. 660 x 2,100 x 1,300 cm. © Katharina Grosse, Nic Tenwiggenhorn and VG Bild-Kunst, Bonn, 2018. Courtesy Barbara Gross, Munich, Galerie nächst St. Stephan/ Rosemarie Schwarzwälder, Vienna, KÖNIG Gallery and Mark Müller, Zurich. Photo: Nic Tenwiggenhorn.
Katharina Grosse: Mumbling Mud
chi K11 art museum, B3, K11 Art Mall, 300 Huaihai Rd Central, Huangpu District
10 November 2018–24 February 2019
Known for using a spray gun to paint, German artist Katharina Grosse's solo show in the basement of K11 Art Mall may be the best exhibition of the year. Grosse began visiting China in July and speaking with Chinese artists in preparation for her show, curated by Venus Lau. The result is a five-zone scheme for the 1,500-square-metre space, with works that include: piles of soil and building materials found in Shanghai's local markets and covered in paint; Styrofoam carved to resemble a large scholar's rock; curtains of silk printed with photographs of Grosse's studios in Berlin; a labyrinthine structure of folds formed by hundreds of metres of heavy, coarse fabric draped from the ceiling of the museum; and a luxurious living room drenched in paint.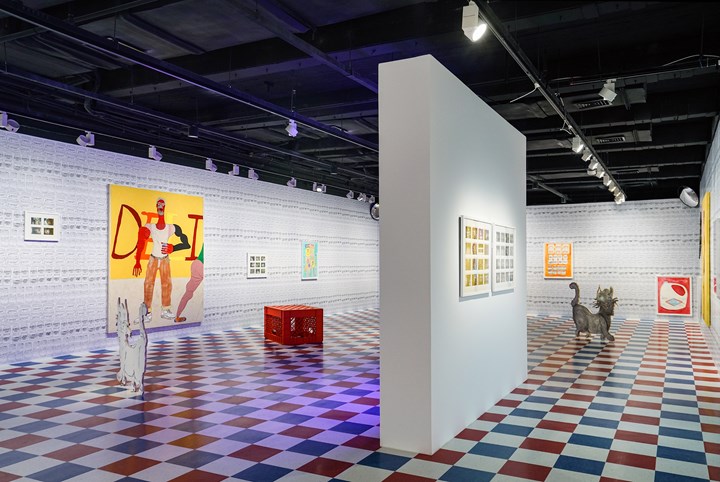 Exhibition view: Tschabalala Self, Bodega Run, Yuz Museum, Shanghai (22 September–9 December 2018). Courtesy Yuz Museum, Shanghai.
Tschabalala Self: Bodega Run
Yuz Museum, 35 Fenggu Rd, Xuhui District
22 September–9 December 2018
Shanghai is filled with chain convenience stores—FamilyMarts, 7-Elevens, and All Days—that are models of impersonal economic efficiency. African American artist Tschabalala Self, who was born in 1990 in Hamilton Heights, Harlem, has an interest in 'Bodegas'—a Spanish term for corner shop that made its way into New York City via the city's Puerto Ricans and Dominicans. Self describes them as lighthouses 'in an ocean of gentrification'. Her paintings, made using an eclectic range of material including fabric, packing material, oil, acrylic, coloured pencil, and photocopy paper, are mirthfully and mischievously uninhibited. In the Yuz Project Space of Art, Self will show works that include Blunt (2018), a composition in packing material and fabric that depicts a muscly figure at rest on a stoop, holding a joint; a big purple neon bottle of Tropical Fantasy Grape (a flavour of soda that reads as non-white); and oversized crates where the audience can sit and chill.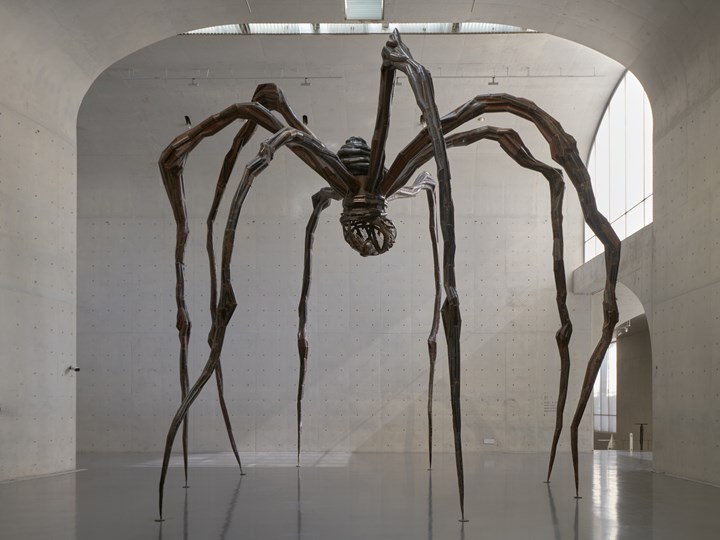 Louise Bourgeois, Maman (1999). Steel and marble. 927.1 x 891.5 x 1023.6 cm. Exhibition view: Louise Bourgeois: The Eternal Thread, Long Museum, West Bund (3 November 2018–24 February 2019). Collection Tate, presented by the artist 2008. © The Easton Foundation/VAGA (ARS), NY. Photo: Jiaxi & zhe.
Louise Bourgeois: The Eternal Thread
Long Museum, 3398 Longteng Avenue, Xuhui District
3 November 2018—24 February 2019
This is the first large-scale exhibition of work by Louise Bourgeois in China. The show will include her 'Personage' sculptures from the late 1940s, the fabric works of her final decade (made from the clothes, bedlinen, towels, and other textiles saved over the course of her life), and of course the monumental spider sculpture Maman (1999)—one of the few works large enough to fill the main hall of the Long Museum. The spiders, perhaps Bourgeois' most iconic works, were inspired by her mother who worked as a weaver. Bourgeois, who was born in Paris in 1911, died in New York in 2010. The exhibition will continue to travel to Song Art Museum in Beijing in March 2019.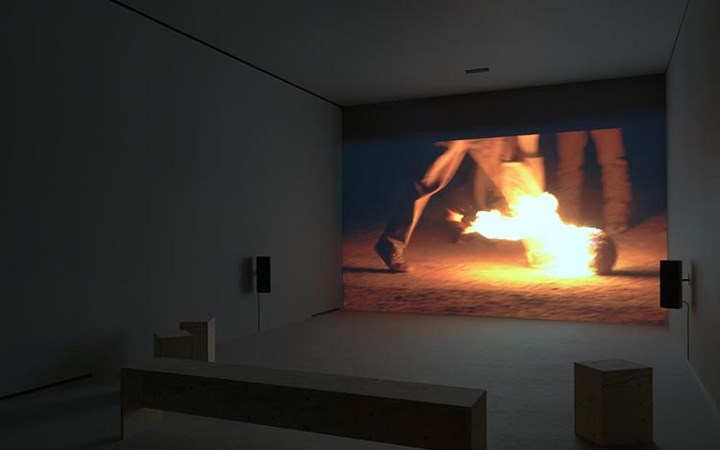 Exhibition view: Francis Alÿs, Ciudad Juárez projects (2016), David Zwirner, London. Courtesy David Zwirner.
Francis Alÿs: La Dépense
Rockbund Art Museum, 20 Huqiu Rd, Huangpu District
9 November 2018—24 February 2019
Between 2000 and 2010, Francis Alÿs chased tornadoes across Mexican plateaus with a handheld video camera. He pulled this stunt because, he says, 'We of our times must create fables'. Living in Mexico City since 1986, the Belgian artist began his practice there by examining Mexico's culture, history, and society. For his first institutional solo show in China, located in Shanghai's most beautiful, historic museum building—the former Royal Asiatic Society building—nearly 1,300 works will be on view, including videos, paintings, drawings, sketches and installations, some of which have never been seen by the public before. In the new video work Exodus (2013–2018), a girl repeatedly braids and unbraids her hair. Alÿs created close to 1,000 hand-drawn sketches as an extension of this short video, all of which will be presented in the exhibition. The repeated spiral braiding action of the hands echoes the shape of the tornadoes. The show is curated by Yuko Hasegawa.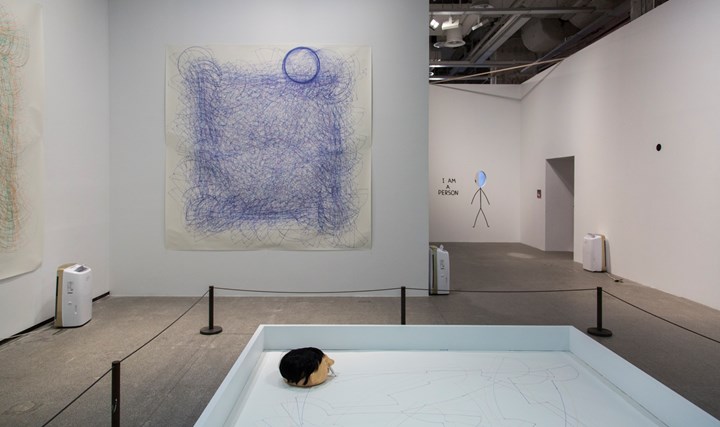 Exhibition view: David Shrigley: Lose Your Mind, Power Station of Art, Shanghai (9 September–14 November 2018). Courtesy Power Station of Art.
David Shrigley: Lose Your Mind
Power Station of Art, 200 Huayuangang Rd, Huangpu District
9 September–14 November 2018
This visiting exhibition organised by the British Council will remain on show during the opening week of the Shanghai Biennale. The witty works by David Shrigley include a headless taxidermy Ostrich (2009), along with a 1:1 inflatable replica of the elongated thumbs-up sculpture Really Good (2017) that was originally made in bronze and placed atop the fourth plinth in Trafalgar Square in 2016. The exhibition provides a good palate cleanser when all the other art gets too serious. —[O]