Feature
Hong Kong Exhibitions to See: 2018 Lowdown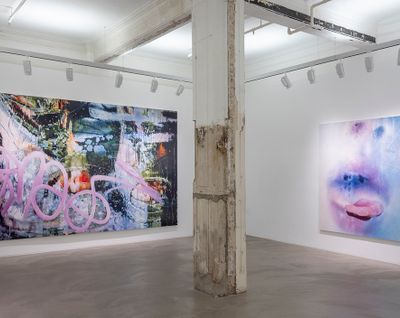 Exhibition view: Marilyn Minter, Lehmann Maupin, Hong Kong (30 August–27 October 2018). Courtesy Lehmann Maupin. Photo: Kitmin Lee.
From Cao Fei's first large-scale institutional exhibition in Asia, to a showing of historical works by Robert Rauschenberg, Ocula contributor Diana d'Arenberg offers her lowdown of shows to see in Hong Kong this autumn.
Cao Fei: A hollow in a world too full
Tai Kwun Contemporary, 10 Hollywood Rd, Central
8 September 2018–4 January 2019
Following on from the success of the artist's 2016 mid-career retrospective at MoMA PS1 in New York, Cao Fei presents her first large-scale institutional exhibition in Asia, organised by Ullens Center for Contemporary Art (UCCA). The site-specific and expansive multi-media installation—which includes photography, film, kinetic sculptures and performances—is a visual dialogue with the history of Tai Kwun, from its former incarnation as a colonial prison to its current identity as a contemporary art space. The culmination is a collision of timelines.
Cao Fei, Prison Architect (2018). Still. Cinematography by Kwan Pun Leung. Courtesy the artist.
Presented across three floors, the exhibition is staged like a film studio, with sets and props from the artist's specially commissioned film Prison Architect (2018), as well as earlier works, presented throughout. Seated on black steel prison bunk beds, viewers are invited to watch a film about an architect (played by local film star Valerie Chow) tasked with turning the art centre into a prison—a reversal of the site's history—and a local poet (played by Hong Kong artist Kwan Sheung Chi) locked up by the colonial police during the pro-Communist 1968 riots. The film explores power relations, hierarchies and codes of behaviour within art spaces and prisons, borrowing as much from corporate video as from Chris Marker. The voices of the two characters traverse time and space, just as visitors to the site walk through the Herzog & de Meuron-designed staircase into reconstructed prison guards' rooms.
Collections of Tom, Debbie and Harry, presented by Short Hair Studio, Hong Kong (15 September 2018–4 January 2019). Courtesy Tai Kwun.
Collections of Tom, Debbie and Harry and Our Everyday—Our Borders
Tai Kwun Contemporary
15 September–4 January 2018
Collections of Tom, Debbie and Harry and Our Everyday–Our Borders were borne from Tai Kwun's open call for curatorial proposals, launched in November 2015 as an initiative to support local curators.
Collections of Tom, Debbie and Harry focuses on objects owned by 'outsider collectors' in the senior community, which seven artists and artists groups used to create installations that are at once quietly personal and touching. Yiu Miu Lai's Wo's family portrait: Reconnecting Memories, Recollecting Family (2018) presents vitrines of personal affects of the Wo family, tended to by 71-year-old Mr Wo: hair combs, stamps, coins, postcards, and photographs (including intimate family portraits). Other works intersect the personal and political, like Lee Kai Chung's installation Cant Live With or Without You (2018): a collection of audio recordings, photographs and wall text representing the political histories linking two generations. The phrases 'political encumbrance and persecution', 'two unites into one' and 'one divides into two' form a triumvirate around two white megaphones on a blue wall.
These collections of personal objects are recreated anew by the artists, and consider collecting beyond the consumerist driven practice that it is today.
Our Everyday–Our Borders, presented by Rooftop Institute (15 September 2018–4 January 2019). Courtesy Tai Kwun.
Our Everyday–Our Borders brings together works by local artist Tang Kwok Hin and Japanese artist Motoyuki Shitamachi, who both employ public participation and dialogue to examine borders in the everyday, be they imaginary, geopolitical, personal, urban. Tang Kwok Hin's installation of an apartment, Every Pandiculate (2018–ongoing), explores public and personal borders. Viewers are encouraged to move through the installation, thus reclaiming the public exhibition space as personal space. Shitamachi's framed newsprint, which he worked on with students from Hong Kong, presents observations of 'surrounding boundaries'; one page features a small image of a figure holding a yellow umbrella, shattered by a nearby army tank, alluding to the Hong Kong protests in 2014. The images blur the private and public by inviting viewers to engage with personal testimonies, observations and dreams.
Exhibition view: Fan Death in Bedroom, Bedroom, Hong Kong (16 September–25 November 2018). Courtesy Bedroom. Photo: Kwan Sheung Chi.
Fan Death in Bedroom
Bedroom, 75 Bedford Rd, Tai Kok Tsui
15 September–25 November 2018
In the wake of the closures of Things That Can Happen and 100ft PARK, a new experimental art platform has cropped up to fill the void of non-commercial art spaces in Hong Kong. Bedroom, located on the fifth-floor of a walk-up in an industrial corner of Tai Kok Tsui, was founded to exhibit emerging artists with self-funded shows.
Fan Death in Bedroom, curated by Hera Chan, responds to the post-Occupy Hong Kong environment by asking what, if anything, has changed in the four years since the movement polarised the city. It explores the idea of occupation not just from the standpoint of a political movement, but also of dwelling in or taking up space, while conflating several other social and cultural issues such as celebrity fandom, and killing your idols. 'I thought about how a lot of people in these neighbourhoods will always be sub-letters—and a lot of them were involved in Occupy', Chan explains, mentioning the depression and disappointment that followed. She asks visitors to think of the show 'as a murder mystery. A sense of premonition for things to come and an in-betweenness, but of a darker air'.
Dipali Gupta, The Little Death (2018). Exhibition view: Fan Death in Bedroom, Bedroom, Hong Kong (16 September–25 November 2018). Courtesy Bedroom. Photo: Kwan Sheung Chi.
Seven local and regional artists respond to the curatorial concept, some more so than others. The Little Death (2018), a film by Indian-born Malaysian artist Dipali Gupta, explores sex and death and resembles an animated Dutch still life painting, albeit with buzzing sex toys. There are two hypnotising small cassette box light installations by Guangzhou-based artist Xiaoshi Vivian Vivian Qin, which delve into doomsday prepping through Chinese mythologies and storytelling. Endless Consumption (2015–2017) is a wonderful brutalist sculptural totem composed from accumulated detritus (like polystyrene packaging, seashells) by Lee Lee Chan, who draws on her background in the family antique workshop to create multi-layered and geometric pieces.
Exhibition view: Robert Rauschenberg, Vydocks, Pace Gallery, Hong Kong (19 September–2 November 2018). © Robert Rauschenberg Foundation / VAGA at Artists Rights Society, New York. Courtesy Pace Gallery. Photo: Cow Lau.
Robert Rauschenberg: Vydocks
Pace Gallery,12/F H Queen's, 80 Queen's Rd Central
19 September–2 November 2018
This is a showing of rarely seen silkscreen-printed aluminum paintings by one of the most influential artists of the last century: Robert Rauschenberg. With a body of work characterised by experimentation and utilisation of different materials, Vydocks similarly incorporates mixed media and plays with the idea of collage. Using painting, photography and drawing, the works are a two-dimensional continuation of the composites of found objects—or objets trouvés—for which the artist was known.
Hanging in the exhibition space are eight identically-sized, large, white sheets of bonded aluminium. The eye is forced to travel up and down the entirety of the visually dense vertical sheets, which are printed with a collection of photographs and painted monochrome squares of colour floating against white backgrounds. The photographs, taken by the artist, are collaged together like fragments of memories. Fleeting moments from travel and the everyday—pigeons, details of buildings, and streets—are captured, printed and preserved forever. Coloured bands interrupt the composition of each work, creating a dialogue between abstraction and representation, painting and photography. These chromatic interventions bring the works to life, giving the impression of a prism of light moving across the lens of a camera.
Initially exhibited in 1995, when Rauschenberg was 70, the works still have a fresh quality to them. The artist, who often turned to alcohol, was apparently sober during their creation; perhaps this is evident in these spare compositions defined by their clarity and equilibrium.
Takashi Murakami, The Lion of the Kingdom that Transcends Death (2018). Acrylic on canvas mounted on aluminium frame. 150 x 300 cm. © 2018 Takashi Murakami/Kaikai Kiki Co., Ltd. All Rights Reserved. Courtesy Gagosian.
Takashi Murakami: Change the Rule!
Gagosian Gallery, 7/F Pedder Building, 12 Pedder St, Central
20 September–10 November 2018
'You could say I'm in my artistic prime, a fish at its peak fattiness', writes Takashi Murakami in the introduction note–or rather, 'apology', as he calls it—to his exhibition, Takashi Murakami: Change the Rule!. The artist presents new paintings and sculptures in a round-up of his greatest hits, with popular motifs resurfacing throughout the deliriously colourful gallery space. There's Doraemon; his first character Mr. DOB, who floats over a platinum background in shades of pink and blue, looking like a deranged psychedelic Mickey Mouse. The Arhats, named after followers of Buddha who spread his teachings, continue where the artist's 2012 exhibition at Gagosian Hong Kong, Flowers and Skulls, left off, with rolling and unfurling waves of colourful skulls stretched across large panels. There are large cast and painted sculptures of the white rabbit-like character Kaikai, and a three-eyed pink figure known as Kiki; and Tan Tan Bo aka Gerotan, inspired by a particularly bad incident of gout at the age of 36. Of course, there are the joyful superflat flower paintings: the stuff of merchandising dreams in museum shops the world over.
Murakami's work aims to reflect the Japanese psyche, and grapples with the artist's personal fear of aging and mortality; but it does so with a signature synthesis of high- and low-brow. Proving Hong Kong is committed to recycling, it is reported that Tai Kwun has a solo exhibition planned for the artist next year. This one is guaranteed to get throngs through the door, and provide Instagram backdrops aplenty.
Exhibition view: Mona Hatoum, Remains of the Day, White Cube, Hong Kong (7 September–17 November 2018). Courtesy © White Cube. Photo: © Kitmin Lee.
Mona Hatoum: Remains of the Day
White Cube Gallery, 50 Connaught Rd Central
7 September–17 November 2018
Mona Hatoum's art practice fuses the personal and political, resulting in unsettling and charged works that sometimes feel like a punch to the gut. Dispossession, war, exile, and power structures are themes that have been woven into a body of work that spans a near four-decade long career. Her first Hong Kong exhibition features a diverse array of works encompassing installation, sculpture and works on paper. Everyday items are charged with tension and emotive force, such as Remains of the Day (2016−18), a domestic tableau of charred table and chairs, children's toys, and rolling pin, all held together by chicken wire, which won Hatoum the 10th Hiroshima Art Prize in 2017. The scene is a powerful and haunting one—a safe domestic environment devastated by catastrophe. It evokes man-made catastrophes like Chernobyl, Hiroshima and Fukushima, the devastating effects of which still resonate decades later.
Exhibition view: Mona Hatoum, Remains of the Day, White Cube, Hong Kong (7 September–17 November 2018). Courtesy © White Cube. Photo: © Kitmin Lee.
Hatoum also delivers a bite-sized version of Hotspot (2018): a glowing red, buzzing neon globe, from her large and impressive 2016 Tate Modern exhibition, which turns the entire globe into an angry and dangerous conflict zone. Smaller works made of individual strands of the artist's hair and finger nails such as Nail Necklace are both repulsive and fragile, and convey the anxiety of reclaiming fragments of and reasserting oneself in an uncertain world. From everyday objects, Hatoum creates works that speak of the precarious state of our world and human nature.
Exhibition view: Oscar Murillo, the build up of content and information, David Zwirner, Hong Kong (19 September–3 November 2018). Courtesy David Zwirner.
Oscar Murillo: the build-up of content and information
David Zwirner, 5–6/F, H Queen's, 80 Queen's Rd Central
19 September–3 November 2018
Past shows have seen Oscar Murillo, the overnight market sensation—he graduated from London's Royal College of Art in 2012 and signed to David Zwirner the following year—criticised for not giving collectors what they wanted. His multi-disciplined installation work was too raw, too unpredictable, too loaded with the socio-political. His current show at David Zwirner need not fear such criticism. Murillo's first painting-only show is tailor-made for regional private museum collections, with large decorative market-pleasing canvases like the elegant red scrawled paintings Catalyst #28 (2017) and Catalyst #25 (2018). Two works—Untitled (news) (2017 and 2018)—have the word 'news' scrawled on them; while Fossil (2016–2018), contains the barely perceptible 'migration', giving the paintings just the right patina of political zeitgeist. (Although they are decidedly not political, I was told. Branding is everything).
Oscar Murillo, the build-up of content and information (2016–2018). Oil and oil stick on canvas. 310 x 310 cm; emergent and upbeat (2017–2018). Graphite, oil and oil stick on canvas, velvet and linen. 260 x 260 cm (left to right). Exhibition view: Oscar Murillo, the build-up of content and information, David Zwirner, Hong Kong (20 September–3 November 2018). Courtesy David Zwirner.
There is something familiar about Murillo's painting; a touch of déjà vu hits you when you look at them. The aggressively abstract canvases—they are scrawled, smeared, scribbled, cut, stitched up, and printed—are a palimpsest of not just gesture and mark-making, but stylistic references and techniques from Polke and Rauschenberg to Schnabel and Basquiat. The artist describes his practice in technological language, as befits the post-internet era; he 'downloads' influences, 'scans' the surface of the canvas. The final result speaks to this. Like a digital process, he builds up material and content through layers of references and visual language. His latest exhibition lends credence to the argument that there is nothing new to paint.
Trevor Yeung, Chicken Ribs (2018). Travertine, alabaster, hair. 8.6 x 13.2 x 2 cm. Courtesy the artist and Blindspot Gallery.
Trevor Yeung: In-between
Blindspot Gallery, 15/F, Po Chai Industrial Building, 28 Wong Chuk Hang Rd
18 September–3 November 2018
Stones, debris, dust and minerals are among the materials used by Trevor Yeung in his current solo exhibition. Hinged on the artist's knowledge of ecology and botany, In-between is composed as a 'meandering walking path by a solitary traveler in an anonymous park'. Subtle, pensive works lead viewers through the gallery space, including Borrowed Relief (moon of home) (2017), composed of a jagged stump of mangrove that sits atop a mirrored disc. Attached to the top of this stump is another disc, this time in jade, that gently sways from a piece of red string. The assemblage comes together as a miniature landscape, the mirror below like a pool of silver-coated water, and the jade disc like a moon.
There is a sense of fragility to many of Yeung's works, perfectly encapsulated in Chicken Ribs (2018). Composed of a cream-coloured soap dish cradling a small, smoothed stone, the small assemblage refers to the idea of 'in-betweenness' that Yeung explores throughout this exhibition. The small stone resembles a piece of soap that is too fragile to use yet too wasteful discard or, like chicken ribs: 'un-appetising but not bad enough to be thrown away'.
Exhibition view: Group Exhibition, Crush, Para Site, Hong Kong (15 September–25 November 2018). Courtesy Para Site.
Crush
Para Site, 22/F, Wing Wah Industrial Building, 677 King's Rd, Quarry Bay
15 September–25 November 2018
Curated by Qu Chang, Crush is a deep dive into the darker side of love. Questions of 'injury, heartbreak, defeat and pathology associated with love,' and its impacts on 'private life and the social structures found in the public realm' are explored in this group show of around 25 artists, which includes South Ho, Huang Jingyuan, Sarah Lai Cheuk Wah, Lee Kit, Dawn Kim, Marge Monko, Pak Sheung Chuen, Magdalen Wong, and Cici Wu.
Flashes of obsession, euphoria, perversion and pain crop up in the exhibition as artists attempt to address that most sought-after state of being that has the power to elevate or destroy. A group of flesh toned works by Sarah Lai, which include oil on canvas and oil on print, and video and laser print on paper, feature abstract close-ups of skin with tattoos and smears of cream or concealing foundation. They are sensual, intimate and familiar, exploring fantasies born on social media platforms, of celebrity obsession and scrutiny of the body. Monko's photograph series 'Studies of Bourgeoisie' (2004–2006) is inspired by photography archives of patients diagnosed with hysteria­ taken in the Hospital of Salpêtrière in Paris, and case studies by Sigmund Freud. Drawing on fashion advertising imagery, Monko restages hysteric episodes, with female bodies in contorted forms.
Exhibition view: Group Exhibition, Crush, Para Site, Hong Kong (15 September–25 November 2018). Courtesy Para Site.
Sparkle! Journey of a City Foot Soldier
Oi!, 12 Oil St, North Point
5 October 2018–6 January 2019
This show is one chapter in a series organised by Oi! under the main title 'Sparkle!, for which eight local artists—Movana Chen, Enoch Cheng, Tang Siu-wa, Jeff Leung, Solomon Yu, Yentl Tong, Anthony Leung Po Shan and Sara Wong—have been invited to stage exhibitions focusing on the link between art and contemporary life.
This seventh exhibition is curated by artist and Para Site co-founder Sara Wong, and includes Francis Alÿs, Gordon Matta-Clark, Lam Tung-pang, Kate Lau, Melissa Cate Christ with Susanne Trumpf, and Fabian Gutscher with Wu Jiaru. The theme is taken from a 1985 novel by Paul Auster, City of Glass, and includes 'artistic and landscape or urban study projects' that 'build a narrative from the perspective of a city walker.' The show includes, among other works, Alÿs' Railings (2004), a film installation that sees Alÿs running a wooden drumstick along the railings of various London squares and streets; and Lam Tung-pang's Diary of The Curiosity Box (Hong Kong)–Hometown Tourist pp.1-10 (2014), a mixed-media installation charting one month that the artist spent living in Hong Kong, his home city, as a tourist—part of a residency organised with Counter Space in Zurich.
Marilyn Minter, Tilt (2018). Enamel on metal. 121.9 x 75.6 x 5.7 cm. Exhibition view: Marilyn Minter, Lehmann Maupin, Hong Kong (30 August–27 October 2018). Courtesy Lehmann Maupin. Photo: Kitmin Lee.
Marilyn Minter
Lehmann Maupin, 407 Pedder Building, 12 Pedder St, Central
30 August- 27 October 2018
Since the 1980s, Marilyn Minter has built a career from creating provocative images of women that challenge, titillate and empower. Borrowing from advertising, fashion editorial and pornography, her exaggerated, cropped, and close-up photographs and hyper-realist paintings of women reveal 'the construction of desire' and subvert the beauty standards and social norms imposed on women. Minter's works often bring up questions of objectification and abjectification of the female body, but also power and control.
This latest series of paintings and photographs plays on the art historical trope of the female bather. Her photographs employ a new dye sublimation printing technology where the image is printed directly on metal, which results in a luminosity across her works. 'We are used to seeing women bathing/grooming all through art history. This is an updated version from a contemporary and female perspective', Minter explains. Lips, hair, faces and bodies of women are seen pressed up against steamy water-beaded glass panels, fierce and confronting, as in Deep Frost (2016), in which the tip of a pink tongue licks the frosted surface. Like the seduction before a slap in the face, the poses of Minter's models may pander to voyeurism, but the viewer is denied accessibility to the women behind the glass, presented fully in control and unashamed of their sexuality. The power resides with them. —[O]