Feature
Six top shows to see in Shanghai this September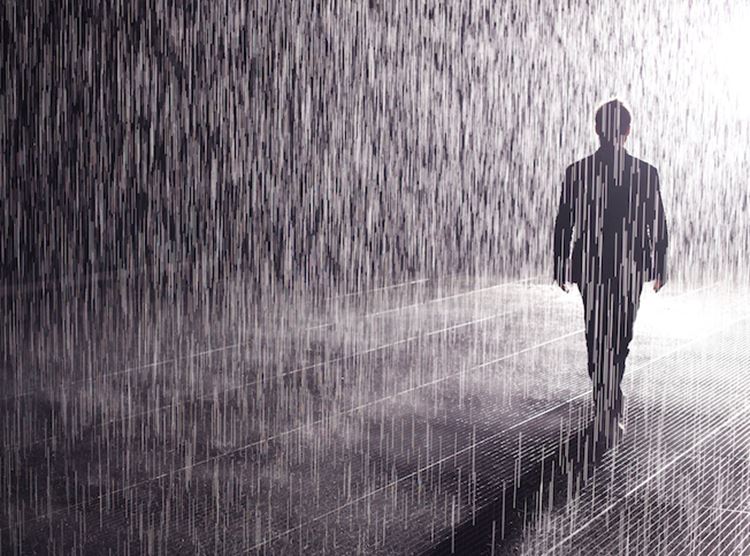 Rain Room by Random International. © Image courtesy of Random International
With the West Bund Art & Design Fair, Photo Shanghai and Art in the City all taking place this month, it's a great time to visit Shanghai. Outside of the fairs, these are the biggest draws.
The Yuz Museum: Featuring Yang Fudong, Secundino Hernández and the Rain Room
Chinese-Indonesian collector Budi Tek's Yuz Museum is a destination in itself, a huge private museum housed in two former aircraft hangars. This month it features a solo exhibition of work by Yang Fudong, Twin Tracks, and Rain Room, a major installation by the artists Random International from the Yuz Collection.
The Rain Room allows audiences to walk through a downpour in an intelligent environment that keeps them from getting wet, as if by magic. It debuted at the Barbican in London and showed at MoMA PS1 in New York, but this is the work's Asia debut, and at 150 square metres this is its largest installation yet.
Twin Tracks features five works by non-narrative film auteur Yang Fudong, including The Colored Sky: New Women II (2014), which is another Asia debut. As if that weren't enough, Spanish painter Secundino Hernández has created monumental paintings over 5 x 3 metres to fill the museum's glass foyer, as well as smaller works in its project room. That exhibition is entitled Entre Primavera y Verano, or Four Seasons Between Spring and Summer.
"Entre Primavera y Verano" continues through 11 October, "Twin Tracks" through 15 November and "Rain Room" through 31 December at the Yuz Museum
Exhibition view, Yang Fudong_, Twin Tracks_, 2015. Image courtesy the artist and Yuz Museum, Shanghai
Neo- Perception: China's New Generation of Women Artists at Pearl Lam Galleries
A group show gathering 24 artists bound by little more than their gender has the potential to be disjointed, and such is the case with Neo-Perception. On the other hand, it makes for a fair-like browsing experience, allowing viewers to skip to the most compelling pieces. In this case, that includes Geng Xue's Mr Sea, a 13 minute stop motion video made using ceramic puppets and produced by Xu Bing. Based on a story by China's famed fabulist Pu Songling, Geng has created a Chinese art house erotic Team America. As in the Danish film Strings, in which marionettes die if their strings are severed, Geng makes her characters' material composition central to their behaviour. In one incredibly sensuous scene, two lovers communicate intimacy not by squeezing flesh but by rapping on each other's porcelain skin, making them chime with pleasure.
"Neo-Perception: China's New Generation of Women Artists" continues at Pearl Lam Galleries through 15 November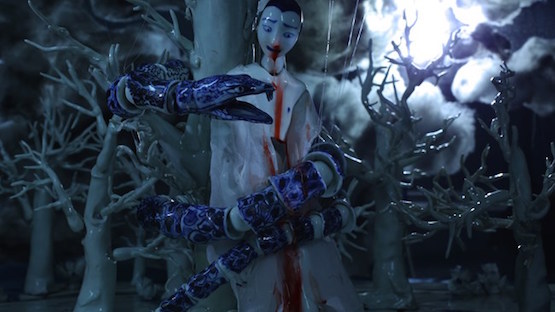 Geng Xue, Mr. Sea, 2014. Video, 13'15". Image courtesy Pearl Lam Galleries, Shanghai
So You Look Like You Got What it Takes II at Art Labor
With every new show, ink brush painter Ying Yefu creates even more astonishing and meticulous works on paper. In So You Look Like You Got What it Takes II Ying continues to pull from martial arts, geology text books and traditional Chinese board games as he expands a visual language that's wholly his own. Based in Xi'an, Ying's work has been acquired by the White Rabbit Gallery, Sydney, among others.
"So You Look Like You Got What it Takes II" continues at Art Labor through 22 September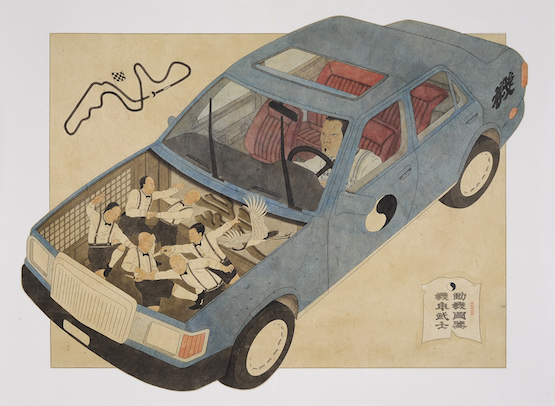 Ying Yefu, Samurai Driving Guide, 2015. Gongbi ink painting on Chinese bast paper. Dimension: H 101 x 139 cm. © Ying Yefu, courtesy ART LABOR Gallery, Shanghai
Playback: Selected Works from the Pierre Huber Films & Videos Collection at OCAT Shanghai
Curator Guido Styger introduces 11 artists—including Elaine Sturtevant, Roman Signer, Li Binyuan and Yoshua Okón—in this new exhibition at Shanghai's pre-eminent video art space. In total 28 works have been chosen from the collection of Pierre Huber, the Swiss gallerist who co-founded the once great SH Contemporary Art Fair, established a prize in the New Media Department of the China Academy of Art, and last year launched the Pierre Huber Art Prize for new media art in collaboration with OCAT Shanghai.
"Playback: Selected Works from the Pierre Huber Films & Videos Collection" opens at OCAT Shanghai on 6 September and continues through 15 November
Li Binyuan, A Portrait, 2012. Video. Color, sound. Dimensions variables. 2'00". Image courtesy the artist and OCAT, Shanghai
Shanghai Sacred at Ray Art Center
British photographer and social anthropologist Liz Hingley exhibits 34 photographs derived from her research into Shanghai's diverse spiritual communities. Subjects include Daoist Monks at Baiyun Temple, a child during Diwali, and a huge statue of a martyr that looks to be swimming through the Longhua Cemetery Lawns. The exhibition is held at Ray Art Center, a non-profit organisation devoted to photographic art.
"Shanghai Sacred" continues at Ray Art Center through 18 October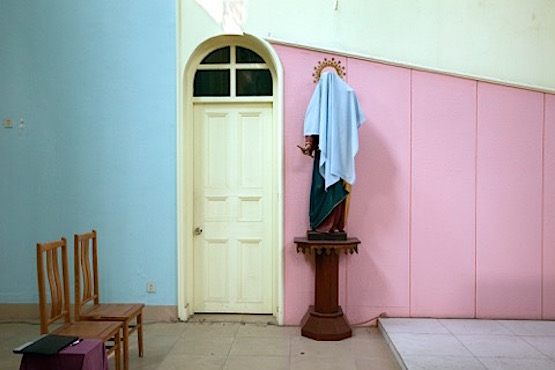 Liz Hingley, Sheshan Seminary chapel (2013). Since the 1870s, the Sheshan Basilica has been the major Catholic pilgrimage site in China. It is located on one of the few hills of Shanghai, with the Sheshan Seminary at its foot. The chapel within the seminary complex is currently closed to visitors.
15 Rooms at the Long Museum
This major exhibition of live art was conceived and curated by Klaus Biesenbach, Director of MoMA PS1, and Hans "Ubiquitous" Ulrich Obrist, co-director of the Serpentine. Fifteen artists have been invited to "activate" a room each. The rooms are designed by architects Herzog & de Meuron and the participants are worth listing in full: Marina Abramović, Dominique Gonzalez-Foerster, Allora & Calzadilla, Joan Jonas, Laura Lima, Bruce Nauman, Otobong Nkanga, Roman Ondák, Yoko Ono, Tino Sehgal, Xu Zhen, Cao Fei, Double Fly, Hu Xiangqian and Zhang Huan. 15 Rooms began as 11 Rooms at the Manchester International Festival in 2011 and grew to 12 Rooms at the International Arts Festival RUHRTRIENALE (2012-14), 13 Rooms at Pier 2/3 in Sydney in 2013 and 14 Rooms at Art Basel last year.
In addition to 15 Rooms, Wang Yuyang's (perhaps premature for a space this size) solo show Wang Yuyang: Tonight I shall meditate on that which I am continues through 16 September.
"15 Rooms" opens at the Long Museum on 25 September.—[O]