Feature
Something Borrowed: The 19Th Biennale Of Sydney Part Ii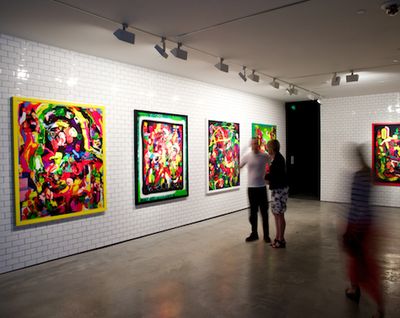 Image: TV Moore, Installation view
The curatorial frame of the 19th Biennale of Sydney, that artistic imagination and desire are the seeds from which art is made, is so transparent it is almost invisible. Juliana Engburg's adjective laden curatorial essay tries to eke out greater substance from the idea that artists have imaginations and are creative but ultimately it is a tale of sound and fury, signifying nothing.
As opposed to Engberg's characterisation of artists as culture genies capable of conjuring whatever they desire by rubbing their hands, there seems to be a large number of artists in this year's Biennale who are critical of what they see as a crisis of cultural production in the 21st Century. They ask not what they desire of the world, but what makes a truthful account of it. Fittingly, for a theme developed from the idea that nothing is original, it is not a new critique. However, as political, historical and economic conditions continue, unsurprisingly, to influence artistic production the 'truth' of the image is still a theme that warrants artistic scrutiny.
This is perhaps no more pertinent than in the durational performance of Chinese artist Yingmei Duan. In Happy Yinmei, 2014, the artist lives in a constructed forest behind a small door inside The Art Gallery of New South Wales for the period of the Biennale. Duan offers personal sentiments, traditional songs and instructions to audiences that enter the forest. Duan has a strange childlike delivery, similar to the synthesized text-to-speech voices of Siri and Microsoft Word. "Do you know this song? It is twenty-five minutes long, please Google it," she says after singing a short verse from a traditional Chinese folk song before receding into a dark corner of the room. The artist's plea to Google a traditional Chinese song implies that one day such things might be relegated to the tribute pages, fan sites and Wikipedia entries of the Internet. Duan seems to be living off the memories of a culture rather than actively being in one, and her elegiac performance is a moving comment on the threat to artistic integrity in China.
Meriç Algün Ringborg's The Library of Unborrowed Books, Section III: SMSA Library' Sydney, 2014, is an installation of all the books from the Sydney Mechanics' School of Arts Library that have never been borrowed. This is the third iteration of this installation and in this most recent context it seems critical of the value system to which art is subjected; though all things may be created equal, once they enter into a cultural hierarchy it is impossible for them to stay that way. The Library of Unborrowed Books initially invites a sort of morbid reflection, as if we are visiting a grave, but the impulse to pick a book from the shelf and read it resurrects these texts from their consigned obscurity. The Turkish born artist often exhibits the small change of culture: visa application forms, second-hand furniture and bureaucratic letters where her name has been misspelled as evidence of the threats bureaucracy poses to her identity.
Collage has long been a way to question the veracity of things, and since the 1970s John Stezaker's work has been critical of cultural production and consumption. In several works shown at the MCA, Stezaker has cut and pasted postcard landscapes onto twentieth century movie star headshots with surgical precision. In one collage the imposed landscape acts as a death mask on the starlet, in another Stezaker has placed a postcard of a cave sideways so the mouth of the cave matches exactly with the curvature of a man's arm, giving him an emaciated limb. Australian artist TV Moore has recently turned to photographic collage, moving away from a practice dominated by performative video, toward bricolage style works that reference Modernist and Abstract Expressionist painters. At the MCA, Moore's 2013 series of psychedelic photographs are hung against a white tiled wall, giving the effect of a late night bathroom hallucination. Photographs such as Future Tramp Super Tramp and Rainbow Cleopatra look like paintings and they are, just not Moore's. The big, unwieldy and loud works contain the signature smears, drips and strokes of de Kooning, Richter and Pollock amongst others. Part homage, part joke, and pure fiction Moore's works merge the traditional mediums of painting and photography until art, identity and authorship blur in a bacchanalian excess.
Grief and fiction are central to these works, language too. But to say they are about or even simply made from the artist's imagination is to deny the strategic way these works were made; through appropriation and collage, both fact-based arts. Instead of being conjured, imagination is borrowed, quoted or assembled from sources that are surplus, forgotten or under threat. By re-using existing materials these artists deny the primacy of the artistic imagination, instead suggesting that something borrowed can say much more than something new. —[O]
Stella Rosa McDonald has a Master of Fine Arts from the University of New South Wales (COFA) and is a writer and artist based in Sydney.