Daniel Buren, Exploded Cabin: Tribute to Oscar Niemeyer, Daniel Buren, April 2015, São Paulo, 2015
During April of this year, and in the wake of a grim first few months of the year—tainted with political tension caused by the re-election of Dilma Rousseff, a hydraulic crisis in São Paulo, an unstable economy and devalued currency—140 galleries from around the world participated in SP-Arte receiving over 23,000 visitors.
Held in the Bienal pavilion designed by Oscar Niemeyer, in Ibirapuera Park in São Paulo, SP-Arte is an event that escapes the convention centre feeling of other fairs and embraces the great architecture that houses it. The fair is also a yearly highlight in the city's cultural calendar. International heavy weights such as Gagosian, White Cube, Lisson Gallery, Marian Goodman, Kurimanzutto and David Zwirner show regularly at the fair, which was inaugurated in 2005.
SP-Arte 2015. Photo: Vinicius Assencio
SP-Arte organisers have confirmed that its 11th edition generated R$140 million [approximately USD40 million] in sales. Only slightly down on last year's figure of R$157 million. Not a bad result considering the surrounding state of affairs. "Our greatest achievement was pulling off the 11th edition of SP-Arte against all the most pessimistic forecasts. It happened in the middle of serious political and economic turbulence in the country, which affects people's hope and optimism. There is currently also a moral and ethical crisis in the country, which is possibly even worse. So there were plenty of non arts-related challenges this year", said Fernanda Feitosa, founder and director of SP-Arte. From the sales made this year, the government will reap circa R$32 million [approximately USD9.4 million] from various taxes and rebates and one wishes that the money would revert into some sort of public education programme for the arts or financing for museums and institutions that receive little government financing, but it's unlikely.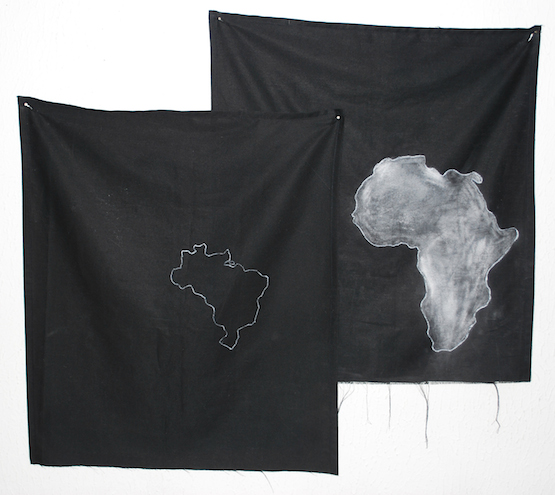 Jaime Lauriano, Êxodo (Exodus), 2015. Dermatograph pencil and white pemba (A type of chalk used in Umbanda ceremonies) on black cotton, 76 x 70 cm. Image courtesy Galeria Leme
Since 2005, SP-Arte has taken over more and more space in Niemeyer's iconic building and today it occupies all of its 25,000 m2. Subdivided into different areas, the first floor was primarily dedicated to modern art and secondary market dealers, while the ground floor held Show Case, an area that gathers young galleries with booths dedicated to up to three artists, and Solo, an area curated by Rodrigo Moura and hosting booths showing only one artist. Pilar Gallery presented an impeccably hung Solo booth dedicated to Montez Magno. Born in 1934, Magno has dedicated himself primarily to abstraction and neo-concrete art through drawing, sculpture and painting. He has come to receive recognition very late in his career. Henrique Miziara, Director of Pilar was thrilled that Magno's work, Maquete de uma Cidade Cúbica [Mock-up of a Cubic City] (1968), was donated by Vera Diniz to the Museum of Modern Art's collection. "In 2013, approximately 20 artworks by Montez Magno were shown at Lisette Lagnado's 33rd Panorama at the Museum of Modern Art, in São Paulo. At that point, the museum demonstrated great interest in acquiring a piece by the artist. Maquete de uma Cidade Cúbica was the first piece made by the artist that originated the Cidades Imaginárias [Imaginary Cities] series. This series spans his entire production, from the end of the 1960s to this day." 


Although the fair's growth in number of participating galleries was steady over the last ten years, there were few newcomers in 2015. Some newcomers did include the Goodman Gallery from Cape Town, Alexander Gray Associates from New York, The Approach from London and Galeria Superfície, a small boutique gallery inaugurated last year in São Paulo that deals in both primary and secondary markets. A partner at Superfície, Daniele Dal Col said that, "despite not participating with Superfície in 2014, my impression is that things were slower than usual this year." Her elegant booth clad in Joaquim Tenreiro furniture, united strong pieces by two artists represented by Superfície in São Paulo: Marcelo Brodsky (Argentina) and Gustavo Speridião (Brazil) and a wall lined with delicate pieces by Mira Schendel (Switzerland born, but Brazilian resident for decades), whose work was exhibited in a solo exhibition at Tate Modern in 2013. "We wanted to unite three distinct generations of artists, from the 60s/80s/00s and draw parallels between their production, presenting the work from a new generation by relating it to the work of generations that have passed. It's in our nature to work this way." Gustavo Speridião, an interesting young Rio-based artist, apart from having works on display at Superfície, also had an entire booth on the ground floor dedicated to his work, hung by Salvador-based dealer, Roberto Alban. Alban also had a Solo booth dedicated to the captivating graphic-based works of Almandrade [an acronym for Antonio Luis Morais Andrade].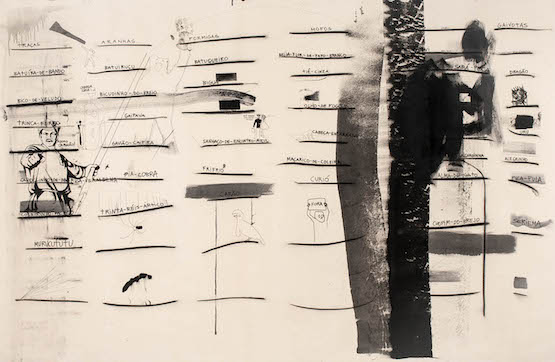 Gustavo Speridião, Os pássaros, 2014. India ink, charcoal, acrylic paint. 212x320cm. Courtesy the artist and Galeria Superfície, São Paulo
From the building's internal iconic sinuous ramp that connects first, second and third floors, a mix of mid-range galleries lined the first half of the second floor. Well-located near the café and access to the ramp, Carbono Galeria, a two-year old multiple editions gallery, was possibly the only booth continually buzzing with visitors intrigued by the gallery's selection of aesthetically seductive pieces, which included artworks by Sarah Morris, Jorge Mayet and a wonderful wooden box filled with two hundred prints by Marina Saleme priced at R$ 20.000 [approximately USD 5.800]. Perhaps this was a sign of the financial times, but it also reflected the presence of young curious collectors at the fair, as well as the gallery's reputation for producing editions of quality in partnership with leading artists.
National and international established galleries' booths were found mainly from the middle of the second floor, by the escalators, to the end of the building. A large Anish Kapoor wall piece marked the location of Lisson Gallery; Olafur Eliasson and Jorge Pardo did the same for Neugerriemschneider. Eduardo Leme, founder of São Paulo based Galeria Leme, showed amongst others, a moon wall piece by Žilvinas Kempinas and a large-scale painting by Ana Elisa Egreja, Sobre as Ondas, which sold within a few hours of the private view to a private collector. Leme commented that, "despite the initial tension instilled because of the devaluation Brazilian currency has suffered in the last few months, sales were made, not like in other years, but in a moderate and linear way." Apart from proclaiming fair sales, Leme was thrilled to have four works by artists he represents donated to institutions: three by young and promising artist Jaime Lauriano; two went to the Pinacoteca, arguably one of Brazil's most prestigious institutions and one to Museu de Arte do Rio, all donated by Cleusa Garfinkel, who also donated Mauro Piva's watercolour Sete Ervas 6 to the same museum. For Leme, SP-Arte is not always the most relevant sales outpost for the gallery, but that is not a problem. "We measure our participation in an art fair not only by our sales, but also by who we sell to, what we sell and if we establish new relationships with collectors. An art fair is more than a space for sales, it is also a space in which to exhibit our programme."
Mauro Piva, Sete ervas 6 (Seven Herbs 6), 2014. Watercolour on paper. 33.6 x 34.9 cm. Image courtesy of Galeria Leme
At the fair there are those galleries who represent artists whose work has a strong conceptual vein or those that require a more educated audience and who see the space of the art fair booth in a unique manner, distinct from those who are focused solely on sales. Jaqueline Martins, owner of the eponymous gallery says, "we always plan a booth according to the conceptual project that orients the gallery. It makes it harder commercially, but I prefer to find it more difficult to sell everything that is in the booth, than to make concessions that will only make me feel uncomfortable." Martins' booth was coherent with her discourse. Works by the collective 3nós3 [1979 - 1981] co-existed with Letícia Parente's Preparação II and IN [both 1976], and works by Debora Bolsoni [2015] and Lais Myrrha [2015]: a mix of video, photography and three dimensional works. "These are the types of relations that are not obvious and that I like; they provoke and reaffirm how current historic works can be and the quality of the contemporary production."
To Daniel Roesler, Director of Galeria Nara Roesler, the most important thing to factor in when selecting pieces to include in their booth is what good quality artworks are available. The booth is planned accordingly. This year, the gallery's large space united works by Lúcia Koch, Vik Muniz, Marcelo Silveira and an entire wall was also dedicated to Tomie Ohtake, who passed away in February this year. Silveira's Só Resto o Cheiro (2005) comprised a series of wooden shelves and 5,000 empty perfume bottles and was selected by the curatorial team of the Bienal do Mercosul led by Gaudêncio Fidelis for the show to be held later this year. Roesler reported that the gallery sold more works this year than last.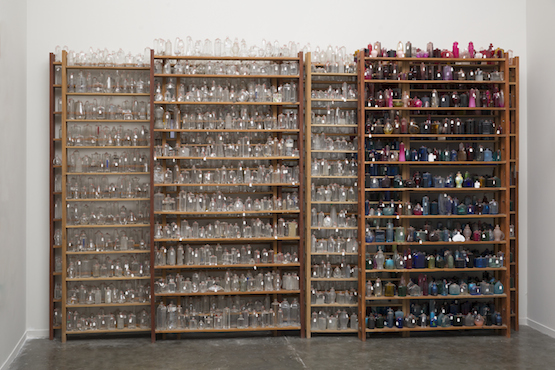 Marcelo Silveira, Only the smell remains, 2005. 5000 numbered bottles of perfume and wooden shelf. 240 x 200 x 80 cm. Courtesy of Galeria Nara Roesler
Roesler also was proud to have two artists participate in the first edition of Open Plan, a new section of the fair dedicated to large-scale work curated by Jacopo Crivelli Visconti. Daniel Buren presented an expanded cabin dedicated to Niemeyer, and Julio Le Parc's Sphère Bleue (2001-2013) was a scintillating presence on the third floor of the Bienal building. Mendes Wood DM, who showed Patrícia Leite's oil on canvas Gruta (2014), wall and floor pieces by Daniel Steegmann Mangrané and ceramics by Betty Woodman in their booth, had Neïl Beloufa's Happiness Bleecher, Communities, Growing Up and Consumption (2014) selected by Visconti for Open Plan.
Julio Le Parc, Sphère bleue, 2001/2013. Transparent blue acrylic sheets 15 x 15 cm, steel thread, aluminum. Image courtesy Galeria Nara Roesler
Parallel to the fair, the city's galleries, institutions and exhibition venues were packed with good shows: Pinacoteca showed Sean Scully's paintings from 1974 to 2015, Piero Manzoni was on show at the Museum of Modern Art and Marina Abramović seemed to be all over town, with a solo show at Galeria Luciana Brito, a retrospective at SESC Pompéia and her works also lined Brito's booth at SP-Arte as well as did it dot other galleries which clearly rode the "Abramović in São Paulo" wave. Jaqueline Martins' group show, Tudo que é sólido desmancha no ar [Everything that is solid is unmade into the air] showcased works by artists she showed at the fair: Laís Myrrha, Debora Bolsoni and Letícia Parente, as well as Ana Mazzei and White Cube brought in the big guns with a solo show of paintings by Anselm Kiefer from The Morgenthau Plan series.
"This edition of the fair exceeded all my expectations, mainly because we managed to fulfil our role and inject dynamism into the art market in amidst so much disbelief and political and economic chaos. The love for art has prevailed! As has the passion of art collectors who have invested in the careers of young artists as well as in consecrated masters. […] International competition has increased significantly and keeping SP-Arte among the 7 main destinations [London, New York, Basel, Miami, Paris and Madrid] for some of the greatest galleries in the world, is a battle!", concludes Feitosa.

So, all in all, despite the dismal current state of things in Brazil, SP-Arte was a hiatus from the grinding daily routine, reaffirming that the art circuit is always a parallel reality in most places where it has a significant market.—[O]