Feature
Spotlight: Frieze week 2017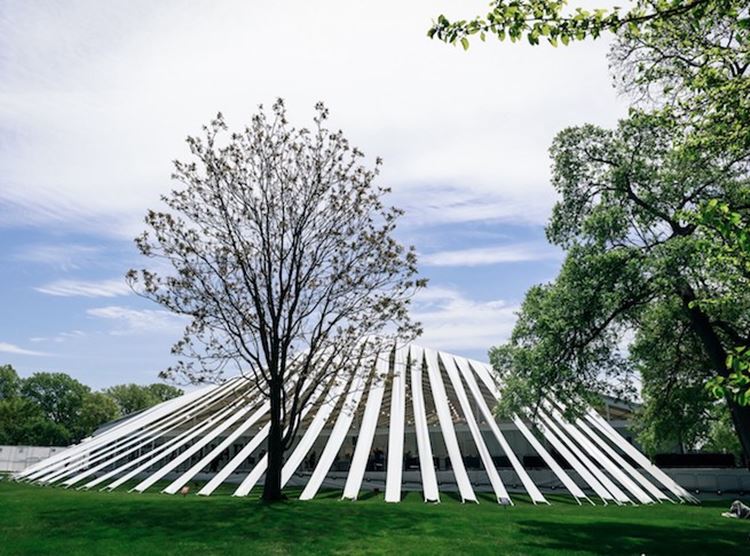 Frieze New York (5–7 May 2017). Courtesy Ocula. Photo: Charles Roussel.
When the New Art Dealers Alliance (NADA) announced they were joining Armory week, everyone assumed New York's Frieze week would be quieter, but this year, felt more frantic than ever. The week, which ran from 3 to 8 May, saw the opening of TEFAF New York's inaugural spring edition (4-8 May 2017) as well as the first BKLYN IMMERSIVE (7-14 May 2017), Spring Break art fair's new curated public art initiative. The opening of Collective Design Fair's fifth annual show (3-7 May 2017) drew art and design collectors downtown, as did the blockbuster openings in Chelsea and the Upper East Side (Rachel Harrison at Greene Naftali, Anselm Kiefer at Gagosian, Felix Gonzalez-Torres at David Zwirner). With everything scattered around the city, collectors and oglers had their work cut out for them.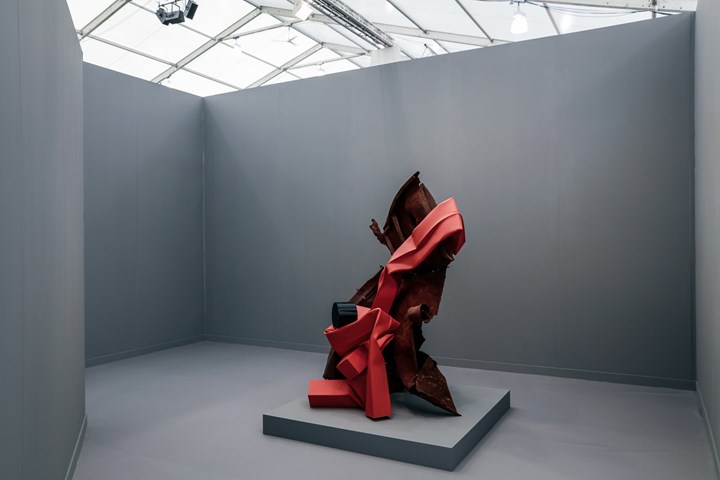 Exhibition view: Carol Bove, David Zwirner, Frieze New York (5–7 May 2017). Courtesy Ocula. Photo: Charles Roussel.
The main attraction still was at Randall's Island where more than 200 galleries gathered under the monumental tent for a shortened week. The opening on Thursday showed the fair still has the power to seal major sales for the blue-chip set. David Zwirner sold out of works by American sculptor Carol Bove, who is representing Switzerland this summer at the Venice Biennale. Lehmann Maupin sold strongly with a booth including three California-based artists: Mary Corse, Liza Lou and Catherine Opie. By the end of the week, the gallery had reported selling two of Lou's canvases for upwards of USD 175,000 each, as well as several of Opie's and Corse's. The crowning jewel might have been at Lisson's booth, where the gallery reported selling a deep red dish by Anish Kapoor for approximately USD 1.5 million.
Exhibition view: Karl Holmqvist, Gavin Brown's enterprise, Frieze New York (5–7 May 2017). Courtesy Ocula. Photo: Charles Roussel.
Located at the ends of aisles, Gavin Brown's enterprise (GBE), Marian Goodman Gallery and Gagosian won for most eye-catching displays. Behemoth Gagosian had dedicated a wall to decades of John Currin drawings, some of which were sketches for his paintings. A favorite included a character sketch for the figurative painter's Thanksgiving (2003). Marian Goodman tapped into spectacle by presenting Anri Sala's Bridges in the Doldrums (2016) a sound installation composed of suspended drums floating in a sawed-off booth. Karl Holmqvist stayed true to self at GBE with an aluminium wrapped booth with black and white paintings that read: 'Hug A Hooker You Know!' and 'Hug A Thug She'll Like It!'. One couldn't help wonder if the whole thing was a thinly-veiled selfie stunt thanks to the throngs that flocked into the booth to stare at their own reflections. Or, perhaps it was just a poetic idea that underestimated the median.
Anri Sala, Bridges in the Doldrums (2016). Exhibition view: Marian Goodman Gallery, Frieze New York (5–7 May 2017). Courtesy Ocula. Photo: Charles Roussel.
It felt like the fair had fewer solo booths this year, but one which stood out on the main floor was Pace's exhibition of New York-based artist Keith Sonnier's neons which felt aligned with their current show of Leo Villareal's light-based installations. The booth glowed with technicolor forms drawing in visitors to take in Sonnier's whimsical abstractions.
Iranian artist Farhad Moshiri's beaded paintings at Dubai-based gallery The Third Line's booth also packed a graphic punch and made the booth unmissable even amongst the annual vernissage chaos. The bright orange and white cartoon figures looked like screen prints until one got close enough to see the thin columns of stacked beads.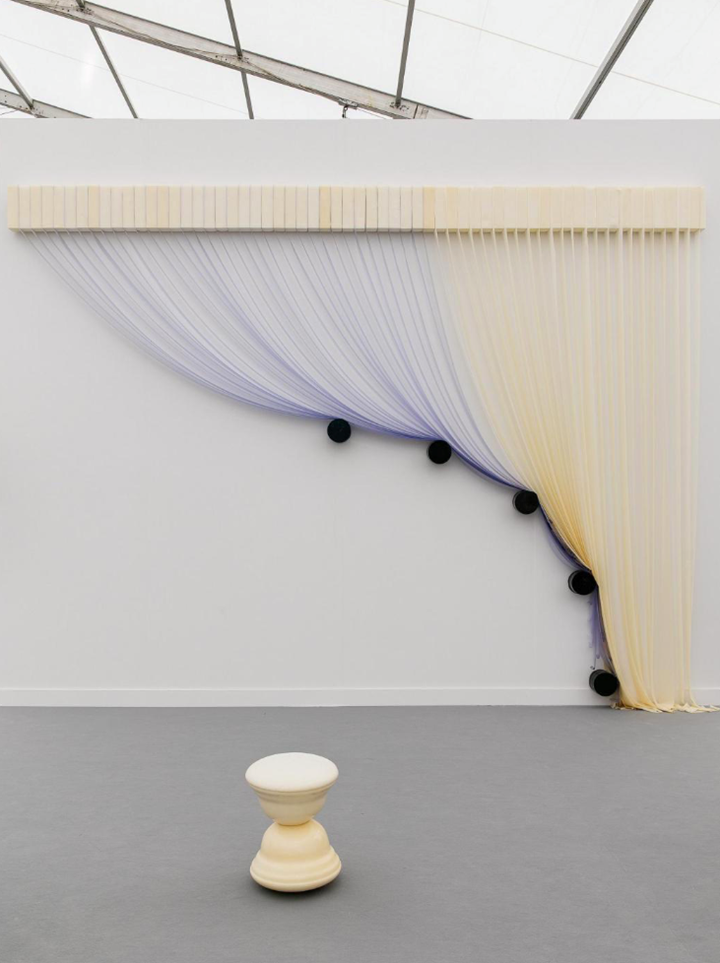 Exhibition view: Eva LeWitt, VI, VII, Frieze New York (5–7 May 2017). Courtesy Frieze.
One of the strongest sections was Frame, a space dedicated to emerging galleries which each dealer must apply to with a single artist's presentation. Oslo gallery, VI, VII exhibited a series of pastel sculptures by Eva LeWitt, the daughter of artist Sol LeWitt. Dealer Esperanza Rosales sold out of the gelatinous-looking fibre sculptures over the course of the four-day fair. New York-based artist Lea Cetera reeled in audiences with a video and sculpture presentation with London-based gallery Southard Reid. Cheeky details included tiny plaques reading 'Today I don't care about the environment', and dummy ice coffees that upon closer inspection resembled fish bowls. New York gallery Bridget Donahue won best in the section, a prize sponsored by Stella Artois, for a salon-style hang of Susan Cianciolo drawings, recipes and collages.
This year's Frieze Projects curated by Cecilia Alemani did not disappoint. Like previous years, the emerging artist spotlight programme gave everyone something to talk about. Ryan McNamara sent masked performers, including Quenton Stuckey and India Salvor Menuez, through the fairgrounds to interact with the throngs and the art on display. The interactive work was the choreographer and performance artist's tribute to Il Teatro delle Mostre, Galleria La Tartaruga's iconic 1950s show and the subject of this year's Frieze tribute to radical art spaces. Rather than keeping his players within the tribute space, McNamara honored radicalism with radicalism and let his players run wild making their movements more reactive than rehearsed.
Dora Budor, MANICOMIO! (2017), Frieze New York (5–7 May 2017). Courtesy the artist.
Celebrity collector Leonardo DiCaprio was everywhere but nowhere this year thanks to artist Dora Budor who sent three impersonators down the aisles to interact with the public. Each played one of DiCaprio's past roles. A The Wolf of Wall Street lookalike with rouged cheeks gathered crowds to sell, sell, sell! His scripted screens could be heard reverberating occasionally through the fair. Catch Me If You Can man walked around briskly, smiling through silver-plated aviators. Mr. Revenant won most uncomfortable costume. Using the absurdity of impersonators, Budor tapped into the theater and confusion of the fair's sale floor. There were other (real) celebrities spotted including Drew Barrymore and Martha Stewart. The masses were curious and the fair stayed full throughout the weekend.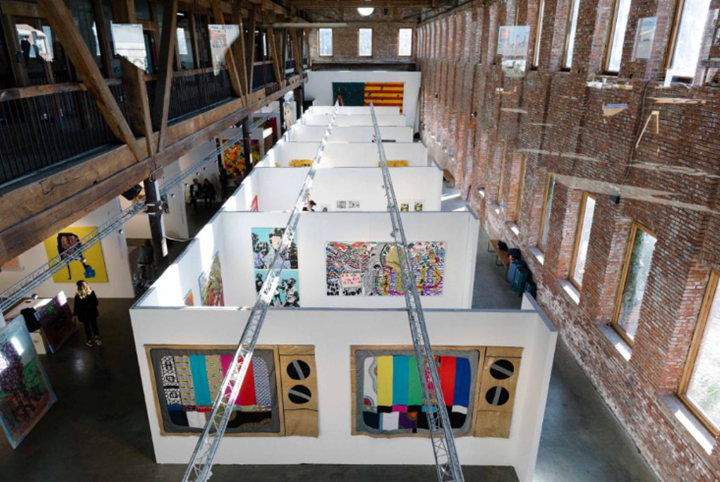 1:54 African Art Fair, New York (5–7 May 2017). Courtesy the fair.
Once you left the island, there was plenty to explore. If you followed the water, you could end up at 1:54 Contemporary African Art Fair at Pioneer Works in Red Hook, Brooklyn. Not far from the industrial piers, the Africa-focused fair set up shop under the high ceilings of Pioneer Work's lofted main floor. The fair felt noticeably fuller this year. The upswing in visitors gave the 20 exhibitors a boost of confidence as did the, perhaps correlated, modern and contemporary African art auction at Sotheby's which followed the fair week and reached approximately USD 3.6 million in sales.
If you sailed around the tip of Manhattan, you'd land at Collective Design Fair where design and art are brought together at the Skylight Clarkson on the Hudson. Highlights at this year's Collective included a brooding booth outfitted with the furniture of Robert Stadler and Isamu Noguchi and an in-situ installation by landscape designer Brook Klausing. The usual suspects, Apparatus Studio and R & Company, presented strong but stay-the-course work. For the former that meant large structural chandeliers, and for the latter it meant table-top ceramics by Katie Stout, a Haas Brothers Mushroom, and impeccably chosen historical works interspersed. A fair frequented by interior designers, Collective has an in-the-know feel that seemed to dominate this year.
Exhibition view: David Zwirner, TEFAF New York Spring (4-8 May 2017). Courtesy Ocula. Photo: Charles Roussel.
TEFAF New York drew in the Upper East Side crowds with their Park Avenue Armory location. Those uber wealthy locals rewarded the exhibitors at the inaugural spring edition with trigger-happy spending. A more traditional, perhaps more conservative, fair than Frieze, TEFAF drew in major secondary market players including Acquavella Galleries, David Zwirner, Hauser and Wirth and Skarstedt. Like the European edition in Maastricht, there were some design galleries in the mix including Demisch Danant and Carpenters Workshop Gallery. Gallerists across the board seemed pleased with the results.
David Zwirner reported selling an impressive assortment of works by American sculptor Ruth Asawa, whose estate they also manage. Like Kasmin, Zwirner showed secondary market works at TEFAF perhaps in expectation of an older audience. By the afternoon of the preview, they had sold 1.5 million dollars of the artist's iconic wire sculptures and drawings. The gallery had announced their representation of her estate in early January.
Exhibition view: Galerie Gmurzynska, TEFAF New York Spring (4–8 May 2017). Courtesy Galerie Gmurzynska.
One of the most impressive presentations at TEFAF was Galerie Gmurzynska who asked French fashion and furniture designer Alexandre de Betak to create a futuristic booth to hold their historical gazing works by blue-chip stalwarts like Christo. The only spectacle to be found on the aisle, the booth felt like a small satellite from Frieze. The worlds, the fairs, were blurring into one. —[O]****