Feature
Staring at the Monster: Against Tired Art World Tropes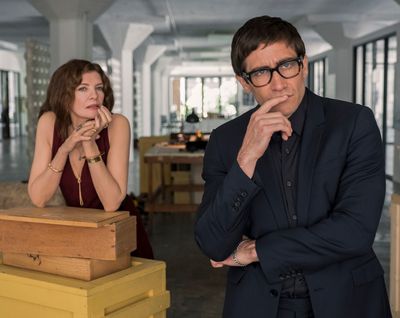 Velvet Buzzsaw. © Netflix.
We know the movie before it begins: the ugly money-corrupt art world rife with scheming dealers, visionary-yet-self-absorbed artists, pretentious and incomprehensible art critics, and smug curators regaled in black. This cast of characters, when it comes to the rare times the art world finds its way into cinematic existence, stands tall as the rule, not the exception. The art world on the big screen is a debased, self-righteous, corrupt, and utterly pretentious wasteland. This reputation of course spawns from reality. One would have to be an actual cardboard vacuous zombie to not take into account that parts of this complex ecology of art-making and selling do mirror this common depiction.
These tawdry cinematic depictions pair well with the pervasive self-hatred of the art world itself. A person's stated disdain for the art world is a dead giveaway for their own conflicted membership. With daily laments about the vast array of art fairs, the inflated prices, the loss of critical theory, the tangible disparities between auction prices, and the actual living wages of most artists, the ironies of this arts ecology stick in the collective craw. And thus, a morose state of resentful perseverance ensues.
Velvet Buzzsaw. © Netflix.
Enter the Netflix Original film released on 1 February of this year, Velvet Buzzsaw, directed by Dan Gilroy and starring Jake Gyllenhaal, Rene Russo, and John Malkovich. The film opens in the sunshine art fair maelstrom of Art Basel Miami Beach, with the camera descending into the packed convention centre. This schlock comedy-slash-supernatural horror film follows the painfully affected art critic Morf Vandewalt (Gyllenhaal) as he saunters Art Basel with gallerists in tow begging for good reviews.
Morf leaves his boyfriend for a fling with friend and gallerist Josephina. Josephina discovers the work of a recently deceased artistic recluse, Vetril Dease, in the apartment next door—an outsider artist whose expressionist paintings are filled with Francis Bacon-style tortured figures that are in fact produced from the tortured blood of the artist himself. When anyone casts their sophisticated eyes upon these works, they descend into a sublime stupor brought on by their fraught allure. This newly discovered, deceased outsider artist becomes an instant success, and with so much work piled up over the years, he is a gold mine as well. There is but one hitch: the artworks are haunted. Thus ensues the horror-camp twist in this plot, as possessed artworks begin to take their bloody revenge on a kaleidoscope of art workers—from the art shipper to the gallerista. The revenge of the outsider artist gains velocity as the film culminates in a series of Friday 13th-style executions enacted by the artworks themselves.
Can this crass and tired cinematic depiction that presents itself as critique—and it was certainly enough of a critique for The Square to win the Palme d'Or at Cannes—really continue to impress? I think not.
By no means does Velvet Buzzsaw profess to be an actual depiction of the art world. Basically, the art world is just the setting for a campy supernatural oddball film. One can almost swallow the abundance of clichés thrown at the arts because it is in the service of the ultimate genre of cardboard characters: horror. The movie follows fast on the heels of the 2017 film The Square, the Palme d'Or-winning film directed by Swedish screenwriter and filmmaker Ruben Östlund: yet another narrative set in the art world where again, with more subtlety, a familiar cast of pretentious curators and wealthy elites demonstrate an incapacity to deal with their inherent contradictions and brutality.
The scene that most captures the energy of The Square takes place during a museum fundraising dinner where performance art transpires as an essential appetizer before the main course. A performance artist takes on the persona of a guttural Neanderthal, beyond speech and reeking of masculine brutality. He lurches monkey-like around a vast ballroom of well-behaved liberal white wealth, pouncing up on tables, knocking dishes and cutlery over and pounding his hairy chest. Small smiles and looks of artistic enjoyment circulate on the crowd's faces until the performance artist attempts to rape one of the guests with the crowd looking on.
Velvet Buzzsaw. © Netflix.
The Square and Velvet Buzzsaw are not unique in trotting out this all-too-familiar narrative. While the number of films and television shows that feature the art world are quite limited, the percentage that gain their traction on this basic premise of the art world's hypocrisy is extensive, with examples such as the 1999 episode of The Simpsons where Homer becomes an art world sensation by attempting to build a barbecue pit, or Julianne Moore possessing the over-the-top affect of a commercial dealer in The Big Lebowski. No one would argue that these examples all play on a comfortable trope, and it is this tendency that I am interested in.
I am not one for reviews of television shows and movies, and frankly I found Velvet Buzzsaw boring and poorly made. There was nothing interesting about it in the slightest, and had it not been for my own interest in the arts, I probably wouldn't have watched it. But what I am interested in is this pernicious and ongoing depiction of the art world that major media loves to sink its teeth into.
Velvet Buzzsaw. © Netflix.
This ongoing dependence on a flat narrative, and the tendency for those who invest in the arts to acquiesce so profoundly to such a lame depiction, presents a tangible dilemma. Can this crass and tired cinematic depiction that presents itself as critique—and it was certainly enough of a critique for The Square to win the Palme d'Or at Cannes—really continue to impress? I think not. Returning to this well of tired clichés surrounding imbalances of power and faux intellectualism reveals the incapacity, on the part of makers and viewers alike, to actually consider a narrative outside the shtick. Cinema, like news media and even political philosophy for that matter, depends on outing corruption because it ultimately masks an inability to image other worlds.
Not that Velvet Buzzsaw ever intended to be aspirational or even ethnographic in any real way. But upon watching this thin flick, I couldn't help but desire a different narrative. Like many of us, I am keenly aware of a vast art world that makes no money, that possesses values that are much more compelling than mere consumerism, and are in fact, worth listening too. Take the incredible cross-disciplinary art-making of ruangrupa in Jakarta, who are impressively curating the next documenta. Their work moves fluidly between community social centre, ecological laboratory, educational resource, contemporary art platform, and urban think tank.
To hate the art world is a tired and corrosive trope.
Or consider the impressive critical postcolonial work of the art collective/social space Beta-Local in San Juan, Puerto Rico: simultaneously an educational centre, a collective of artists, a place to hang out, and a hub for local artists to think through the creation of new forms of thinking and culture-making. Then there is the work of Jonas Staal with Kurdish revolutionaries to build a public parliament in the autonomous region of Rojava in northern Syria (New World Summit—Rojava, 2015–2018).
OK.Pangan, Gudang Sarinah Ekosistem (2017). Courtesy ruangrupa. Photo: OK.Video – ruangrupa.
It is practices like these, with their focus on the production of alternative communities and aesthetics, that I think about as I make my way through yet another art fair, or turn the pages of another advertisement-heavy art magazine—but these practices never seem to find their way onto the big screen. The glitz of cash certainly provides a misleading sense that money is everywhere, yet statistically the fact of the matter is that it is not. Like everyone, artists are bogged down with debt of multiple kinds. They are seeking a value system outside the logic of capital, and they can, on a good day, conjure new forms of being that don't fit into easy classification.
While this kind of depiction is far too interesting for binge-watching, I find myself longing for it as I watch yet another lame representation play out in Hollywood.What about the television in the 1970s, which once depicted the lives of working-class people struggling to make ends meet? Like Taxi, Good Times, and All in the Family, for instance—episodic sitcoms that brought the class and race struggle into American living rooms. Today, film, television, and magazines routinely focus on the lives of the wealthy, from the Kardashians to the Trumps. Even in critique, these looming figures of popular condescension remain a cherished subject. The collective truth of popular culture states that everyone is both an asshole and worthy of our undivided attention.
Democratic Federation of North Syria and Studio Jonas Staal, New World Summit—Rojava (2015–2018), Dêrik, Canton Cizîrê, Rojava. Courtesy Studio Jonas Staal. Photo: Ruben Hamelink.
Rather than see Velvet Buzzsaw as a portrayal of the art world, what this odd film offers is an opportunity for typical alienated revenge. The underlying premise that all is not well in Camelot is not just the plot line for this film, nor is it just the plot line of every other genre, from cops and robber shows to family dramas—it has grown into an overarching political ontology. Rather than focus on the plight of those resisting the conditions being critiqued, meaningless depictions of power become both entertainment and empty release.
To hate the art world is a tired and corrosive trope. Instead, lets locate the elements, gestures, structures, and values we place stock in and elevate those aspects into our own self-produced mythologies. I want a version of Velvet Buzzsaw where a monstrous artwork emerges so compelling that rather than kill corrupt art world luminaries, this demonic figure ignores them altogether, and takes on the task of making profound and mind-altering worlds instead. —[O]