Feature
Suspended Animation: Art Basel Miami Beach 2014
Art Basel in Miami Beach is a curious thing: the world's greatest art party for some, or a bacchanalian spectacle catering to a disconnected elite for others. For the galleries participating in the myriad satellite fairs around it (particularly NADA and Untitled), ABMB is often known simply as "the main fair"——the beacon to which all galleries gravitate. To engage with a fair like ABMB as a spectator——with 267 galleries from 31 countries——is more curious, still: a task that demands a sustained flâneuring through dense mass and white noise so as to extract meaning out of an event that is so often accused of having none.
But when it comes to how we approach an art fair, we always have a choice, and this year there seemed to be a shift in priorities. "I'm not here for the parties——I'm here for the art," one heel-clad VIP proclaimed on the opening day, discarding her party-list FOMO. Is this an indication of ABMB's continuing maturation? The Survey section launched this year, after all, with a focus on art historical projects that included a solo booth showcasing Paul Feeley at Garth Greenan, and an illuminating group show featuring Gina Pane, Rosemarie Castoro, Lenora De Barros and Lydia Okumura at Broadway 1602.
Yet, as is the case with an art fair, every step forward can feel like another step back. What was the impetus for the Survey launch? On the one hand, the function of a fair is educate its patrons. As one gallerist noted in private as we gazed on yet another person taking a selfie in front of Mel Bochner's irreverent canvas BLAH BLAH BLAH at Peter Freeman Inc., the problem with ABMB's party reputation it that no one takes the fair——and its art——seriously.
Mel Bochner, BLAH BLAH BLAH at Peter Freeman Inc.
Survey thus raised the fair's critical game through historical interventions that demanded a different kind of perspective——one that built on what already makes this fair stand out from the other Basels: its ability to use the fair floor to consistently expand the art historical canon, a testament to the Latin American influence on Art Basel's Miami Beach edition. Presentations in the Galleries sector this year included a showcase of minimalism at Dan Galeria (from Hércules Barsotti to Ascânio MMM) and at Maxwell Davidson Gallery (with some remarkable George Rickey kinetic mobiles), not to mention a commemorative booth at Galeria Luisa Strina, celebrating the establishment of the gallery in 1974 during the height of Brazil's military dictatorship and recession.
The other (realist if not cynical) view of an art fair like ABMB is that its main function is to sell art. Here, the launch of Survey (or the inclusion of historical works within gallery booths) could be viewed as but another tactic to fluff contemporary markets while resurrecting those that have been forgotten, or untapped. But regardless of such motives (understandable as they are, given the art fair's purpose, and the need for the art world's practitioners to make a living out of what they do), the illumination of historical practices alongside contemporary movements (which is explored more freely in the eclectic Kabinett sector, showcasing 27 curated exhibitions varying in focus, from Liliana Porter at Ruth Benzacar Galería de Arte and Ivan Serpa at Galerie 1900-2000, to Yan Xing at Galerie Urs Meile and Teresita Fernandez at Lehmann Maupin), resulted in some striking connections. One example at Survey was the spin paintings by Alfons Schilling at Charim Galerie: some of the first of their kind and therefore a precedent to Damien Hirst's own mass-produced versions.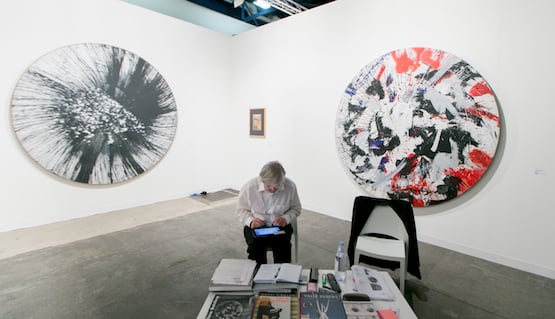 Spin paintings by Alfons Schilling at Charim Galerie
In all, walking around ABMB this year felt like being caught in the balance between past and present, modern and contemporary, good and bad. This made the most discernible trend that emerged out of the din——the mobile——a fitting one, heralded from the start at the entrance to Hall D, where Helly Nahmad presented Alexander Calder's monumental Rouge Triomphant (ca.1959—-63). The Art Newspaper noticed that there were Calders everywhere (at Galeria Guillermo de Osma, Hirschl & Adler, Galería Elvira Gonzalez, Valerie Carberry Gallery, Galería Leandro Navarro and Hammer Galleries). Variations on the theme included Xavier Veilhan's Mobile (Paris) n°1 (2014) at Galerie Perrotin, Haegue Yang's Sonic bell-assemblages at Galerie Chantal Crousel and Kukje/Tina Kim Gallery, Sterling Ruby's SCALE (5167) (2014) at Xavier Hufkens, Guillermo Mora's No consigo, (2011/2014) at Casa Triângulo and Josephine Meckseeper's Lexus Sculpture (2010) at Timothy Taylor.
Alexander Calder, Rouge Triomphant (ca.1959—-63) at Helly Nahmad
A second, subtler thread was the deconstructed canvas: a sense of adding depth to flatness (or more surface to surface). Landau Fine Art presented two Kwang Yung-Chun monochrome "canvases" in blue and yellow, each made from an assemblage of shaped objects wrapped in Korean mulberry paper; Almine Rech brought forth Pablo Rasgado's reconfiguration of material scraps into abstract panels; Imi Knoebel's canonical assemblages were dispersed throughout the fair; Andrea Rosen Gallery showed Josiah McElheny's diptych of hand-formed and polished blue glass presented in a specially produced frames Blue Prism Painting II (2014); and Liza Lou's beaded surfaces at White Cube, Goodman Gallery and Thaddaeus Ropac.
The predominance of such work——and the attempts at transcending the canvas as flat frame——was unsurprising, given that abstraction is a known art fair staple. Some works seemed to comment on this frothy proliferation. The title of Fabian Marcaccio's hand woven grid of green and red_Hope for Real Representation (Intra-Ground #1)_ (2014), said it all, as did the signs presented at Laure Prouvost's booth with MOT International in the Nova sector, one of which read: IDEALLY THIS SIGN WOULD BE DEEPER. These seemed to conjure the same criticisms Christian Viveros-Fauné voiced for artnet on the rise of what Jack Bankowksy called in 2005 "Art Fair Art"——the product of repetitive, recycled tropes that are re-jigged and re-hashed to produce work Viveros-Fauné describes as "light as air."
Sterling Ruby, SCALE (5167), 2014 at Xavier Hufkens
But "art fair work" is never "light" at all, given the context within which such art circulates not to mention the historical trajectories from which such art emerges. As Bankowsky wrote in 2005: "Either all art today is Art Fair Art ... or there is no such thing as Art Fair Art in the first place." Thus, it was fitting that Tom Friedman seemed to meld the two trends of ABMB 2014 together with a large, hanging green styrofoam "rock" at Stephen Friedman, as well as Blue at Luhring Augustine, whose surface Roberta Smith once described as being a bas-relief pileup of objects, trash, and words united by blue paint. Both works demonstrated a kind of suspended animation——a term that also applies to the feeling of being caught in a continuous (and at times incestuous) mixing bowl of styles and tropes; or that sense of moving forward and backwards simultaneously. A feeling of being the ellipsis in Cerith Wyn Evans's 2012 neon at White Cube which read: "Once upon a time ... The End."
Such a frenetic suspension was not limited to the objects on show. Prompted by the encouragement of one of his artists, one gallerist told me he has been thinking about participating in a fair, despite his total aversion to the context. What surprised him most about this development was that an artist was the one who made the suggestion: reflective of the level of potential, exchange, and exposure that occurs during an art fair week. Referring to an increased diversity within the fair space, another dealer observed how the floor is often more populated by curators than collectors these days, recalling artist trio Troika's own mobile offering at Galeria OMR: a deconstructed sphere produced from metal, nylon and wood painted white titled The Sum of All Possibilities.
But within this global sphere, the question of whether the fair space induces heterogeneity or homogenization and encourages true creative potential is still up for furious debate: a stalemate that added another dimension to the taxidermy birds suspended in cubes made from delicately hung `pieces of leaf, seeds, insects, nylon and other materials by Claire Morgan at Karsten Greve. One of these works was aptly titled Clusterfuck, summing up the trend of the year by reflecting on the unbearable lightness of a fair embedded within a market-driven web that weighs so heavily on our consciences because it reflects who we are and where we're going.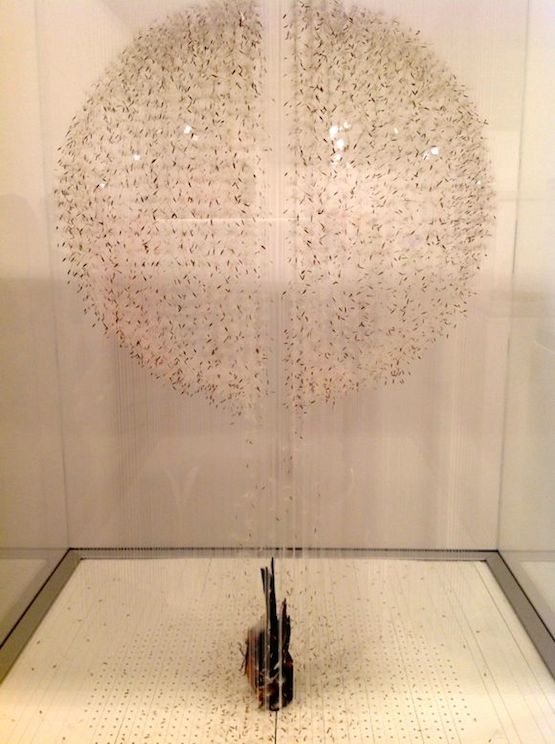 Claire Morgan at Karsten Greve
In this, Damien Hirst's neon at Paul Stolper Gallery showing in the Editions sector, which read, "Schizophrenogenesis," presented a way of thinking about what is happening both inside and outside the fair space, as Mykki Blanco accuses Klaus Biesenbach of institutionalized racism at a party and the reality of art as an ever expanding global business raises tough questions——and challenges——for all involved. These days it's not enough to roll our eyes while bemoaning, "here we go again," as we enter the art fair's halls. Rather, the statement should be a question, ongoing and sustained: where do we go from here? **——[O]
Damien Hirst at Paul Stopler Gallery