Feature
Sydney Contemporary: Bridging the Gap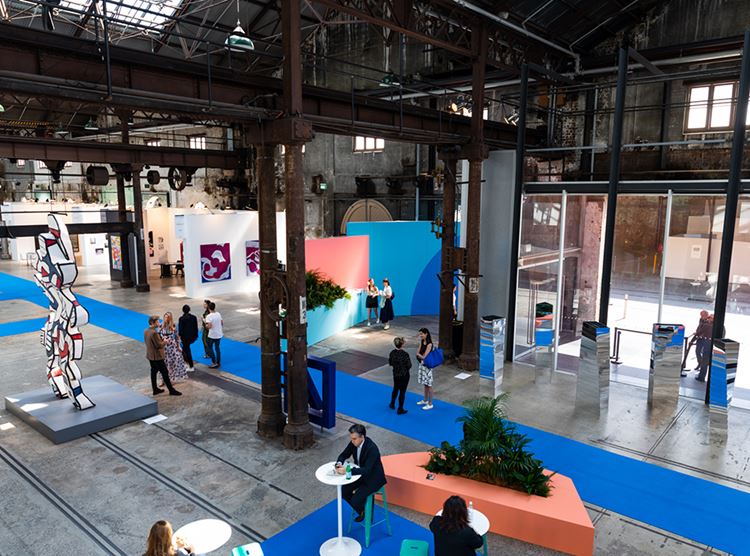 Sydney Contemporary (13–16 September 2018). Courtesy Sydney Contemporary. Photo: Jacquie Manning.
As far as art fair venues go, Sydney Contemporary (13–16 September 2018) has nailed it with Carriageworks, where the fair was once again staged. Formerly a rail yard and now a cultural centre, the space has retained its distinctive 19th-century industrial details, and it offered a striking light-filled backdrop to the fair's crisp white booths, the rows segregated this year by a (slightly jarring) bright blue carpet. The venue is appropriate for what is a very manageably sized event—not too large that quantity becomes overwhelming.
Over 80 galleries participated in the fair's fourth edition—its second annual staging, following the fair's decision to up the ante after initially launching the event biannually in 2013. There were 59 galleries in the main sector, dubbed 'Current Contemporary'; 9 in 'Future Contemporary'; and 19 galleries and studios in 'Paper Contemporary'. In addition, there were 5 artists involved in 'Performance Contemporary' (Lauren Brincat, Michaela Davies, River Lin, Julie-Anne Long and Emily Parsons-Lord), and the programme also included 18 works presented in 'Video Contemporary'. Two hyper-coloured films by Kawita Vatanajyankur from her 'Performing Textiles' series were of particular note in the video sector—Dye (2018) and Shuttle (2018)—in which the artist's body re-enacts the processes involved in manufacturing textiles.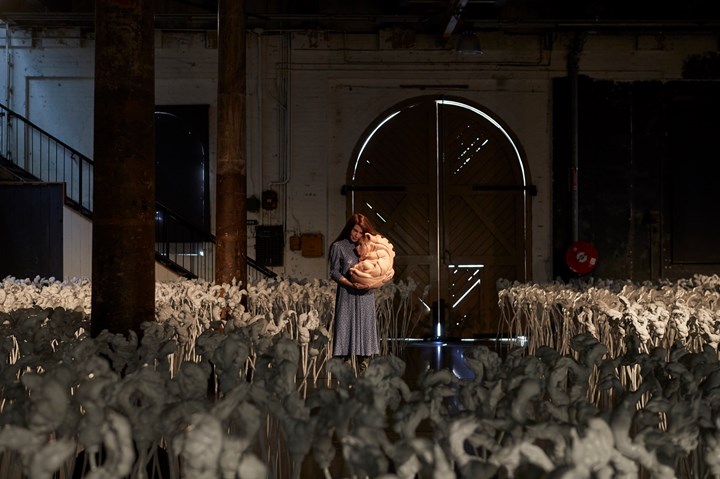 Patricia Piccinini, The Field (2018). Sydney Contemporary (13–16 September 2018). Courtesy Ocula. Photo: Zan Wimberley.
In addition to a special presentation of Patricia Piccinini's vast installation of genetically-modified flowers, in which a life-like figure of a woman stands cradling a hybrid creature like a baby (The Field, 2018), 'Installation Contemporary' presented 24 high quality artworks throughout Carriageworks. Curated by Nina Miall, this sector included pieces such as Japanese collective teamLab's mesmerising two-screen digital work, Gold Waves (2017), and Alex Seton's installation of stacked polyethylene road barriers resembling blocks of marble and gold, entitled The Golden Calf (2018), which referenced a need to consider social and economic barriers, reminding us that art fairs still very much exist in a space of privilege.
Alex Seton, The Golden Calf (2018). Sydney Contemporary (13–16 September 2018). Courtesy Ocula. Photo: Zan Wimberley.
Also forming part of Miall's curatorial were installations by Nyapanyapa Yunupingu, Abdul Abdullah and Brook Andrew. These were situated together with Ron Adams' text-based work, Choices (2016), in a dedicated space that allowed for quiet contemplation within the bustle of the fair. Yunupingu's group of untitled paintings created in 2012 demonstrate an altogether different take on the bark painting tradition practiced in her northeast Arnhem Land, Northern Territory. Created with a paint pen, repetitive marks are rendered on clear acetate plastic.
Abdul Abdullah, Call me by my name (2018). Sydney Contemporary (13–16 September 2018). Courtesy Ocula. Photo: Zan Wimberley.
Abdullah's remarkable Call me by my name (2018) comprises a set of embroideries suspended from a ring, each depicting a frontal portrait of a solemn youngster overlaid with the graphic lines of a smiley emoji, alluding to a reductive form of written language as well as the façades we use to deflect and defend criticism. Brook Andrew—an artist of the Wiradjuri Nation with Celtic ancestry, who was recently announced as artistic director of the 2020 Biennale of Sydney—showed a diptych titled Rainbow across the world I & II (2018), in which archival images and newspaper clippings are overlaid with gestural strokes of paint and in one instance a loop of neon and strips of wood. The work continues Brook's exploration of personal and institutional archives to bring visibility to forgotten stories and upend dominant narratives of the world.
Brook Andrew, Rainbow across the world I & II (2018). Sydney Contemporary (13–16 September 2018). Courtesy Ocula. Photo: Zan Wimberley.
In general, at the fair there was visible representation of and strong work by people of Australia's First Nations, as well as work which addressed the history—and struggles—of Aboriginal and Torres Strait Islander communities. There were a number of booths presenting Indigenious art at the fair, including Melbourne dealer D'Lan Davidson, who according to Australia's Financial Review sold a John Mawurndjul's bark painting entitled Ngalyod–The Rainbow Serpent from 1999 to an offshore buyer for a record AUD140,000—interest perhaps bolstered by the Museum of Contemporary Art Australia's current survey dedicated to the artist entitled I am the old and the new (6 July–23 September 2018). Tim Klingender Fine Art showed Mathaman Marika, an important early bark painter from Yirrkala in Arnhem Land, along with a stunning work of ochre reds, orange and black by Rover (Juluma) Thomas (Frog Hollow Country, 1988), and water dreaming with seated woman (water dreaming at Kalipinypa) (1972)1, a small enamel on composition board by Johnny Warangkula Tjupurrula, 'credited with developing a dotting method that ... was later adopted by other painters, becoming the convention for Western desert painting' . There were solid pieces by Emily Kame Kngwarreye and Yukultji Napangati at Utopia Art Sydney's booth, and works from Yindjibarndi elder Clifton Mack at Chalk Horse.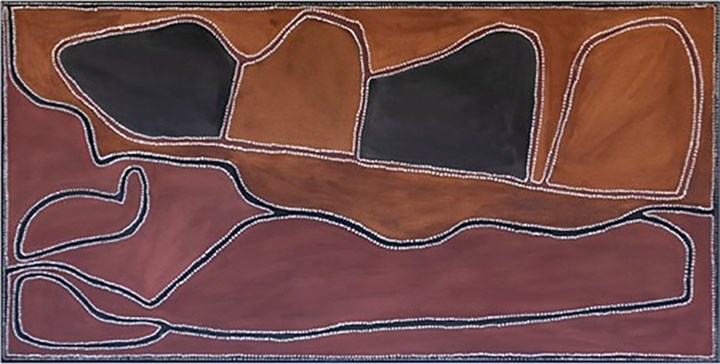 Rover (Juluma) Thomas, Frog Hollow Country (1988). Natural bush pigments and bush gum on canvas, 90 x 180 cm. Courtesy the artist and Tim Klingender Fine Art.
Melbourne-based Blackartprojects, an unusual gallery with no brick-and-mortar exhibition space, showcased works including photographs and videos focused on the subject of fire by Robert Fielding, which reference the artist's Afghan and Western Aranda descent. In Installation Contemporary, Yhonnie Scarce presented a haunting work based on her research into the lingering aftermath of British Atomic testing carried out on Indigenous land during the 1950s and 60s, which features hand-blown glass bush fruits in hospital cribs before a wallpaper printed with an image of graves. Also among the installations was Girringun Aboriginal Art Centre's presentation, Bagu of Girringun (2018) timber figurative sculptures made by artists of the Girringun region of far north Queensland.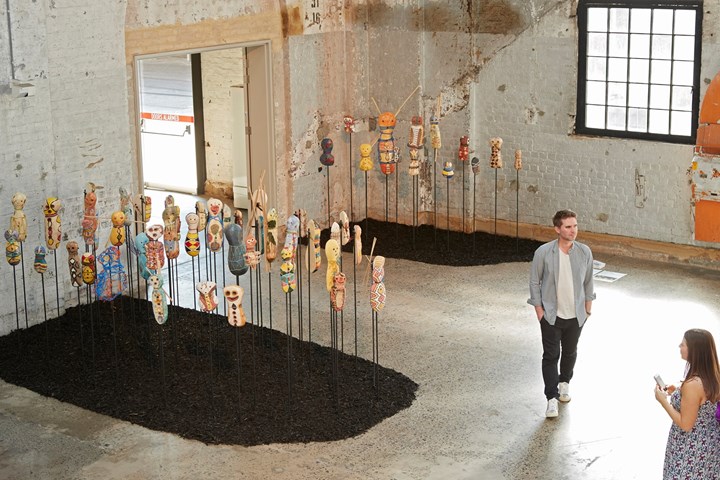 Girringun Aboriginal Art Centre, Bagu of Girringun (2018). Sydney Contemporary (13–16 September 2018). Courtesy Ocula. Photo: Zan Wimberley.
Most of Australia's leading contemporary art galleries were present, all showcasing a good selection of home-grown talent alongside a smattering of international artists. Melbourne-based Tolarno Galleries' slate-grey booth walls provided a dramatic backdrop to large-scale, figurative oil paintings by local star Ben Quilty, which depicted rakish drunken, naked, depraved and gluttonous versions of Santa, overlooking a Christmas tree made from discarded lifejackets placed at the booth's centre. The presentation, titled The Bottom Feeders, expressed arepresentation of male waywardness and depravity, while referencing the global refugee crises. Among sculptures by Glenn Barkley, Ramesh Mario Nithiyendran, Alex Seton and Tim Silver and gestural paintings by Karen Black, Sullivan+Strumpf showed two playful prints by Dawn Ng (Pinball and Missing Things, both 2017) which demonstrated the Singaporean artist's snappy use of text. Also of note were the subtle paintings of Gemma Smith on Sarah Cottier Gallery's stand, which appeared to be composed merely of white paint, but which rewarded more sensitive viewers with muted shades of various colours.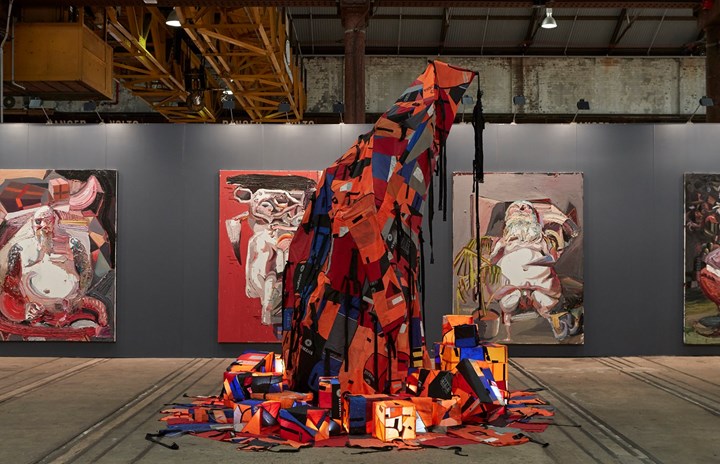 Ben Quilty, Tolarno Galleries, Sydney Contemporary (13–16 September 2018). Courtesy Ocula. Photo: Zan Wimberley.
THIS IS NO FANTASY dianne tanzer + nicola stein also made use of striking colour to highlight their booth, coating one of its walls in blood orange, drawing attention to the photographic work of Nigerian photographer Lakin Ogunbanwo (including a grouping of fashion-inspired images of men in headwear referencing ceremonial traditions), which was presented in the booth alongside an otherwise all Australian line-up including work by Michael Cook and Petrina Hicks.
THIS IS NO FANTASY dianne tanzer + nicola stein, Sydney Contemporary (13–16 September 2018). Courtesy Ocula. Photo: Zan Wimberley.
Among other works, Roslyn Oxley9 Gallery presented Mikala Dwyer's hanging sculpture Wall Necklace (2018), comprised of a steel chain from which hung an assortment of large Perspex shapes as well as bronze and ceramic objects. The Sydney stalwart's booth also included a three-part photographic work (Green Screen Goddess Triptych (Ten Thousand Waves), 2010) from British artist and filmmaker Isaac Julien, as well as a small sculpture (Over the Rainbow, 2015) by New Zealand artist Michael Parekowhai, of a man in an overcoat and bowler hat hung face-forward on the wall. Work by the artist is also currently being presented in a solo show at the gallery's Paddington space (When We Dream, 10 September–12 October 2018).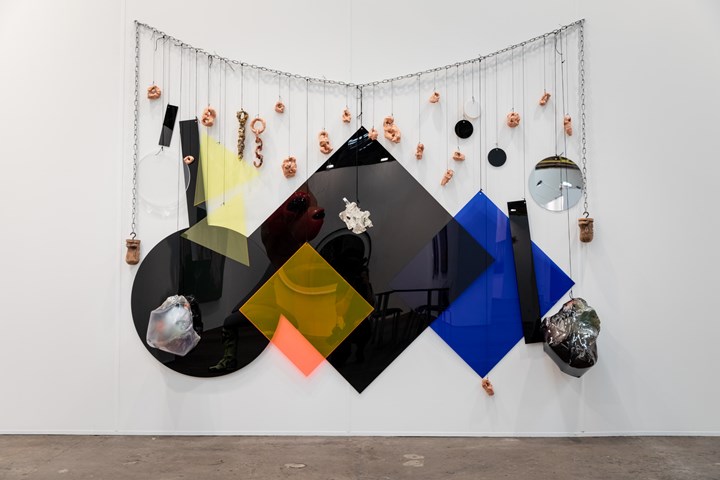 Mikala Dwyer, Wall Necklace (2018). Perspex, acrylic, steel, rope, bronze, ceramic, wood. 220 x 240 cm. Roslyn Oxley9 Gallery, Sydney Contemporary (13–16 September 2018). Courtesy Sydney Contemporary. Photo: Jacquie Manning.
A small offering of off-shore galleries were present at the fair, including Sundaram Tagore Gallery, who presented Edward Burtynsky's photographs of industrial landscapes alongside Miya Ando's meditative metallic paintings. Kyoto-based COHJU Contemporary Art showed two-dimensional and sculptural works by Seishu Niihira, Sayaka Miyata, Koji Shiraya and Shinnosuke Tojo; while Flowers Gallery offered a selection of Scottish artist Ken Currie's unsettling, psychologically-charged painted portraits of mortality and despair. Hailing from Cape Town, SMAC Gallery showed Kate Gottgens' figurative paintings of white South African suburbia.
Edward Burtynsky, Oil Bunkering #2, Niger Delta (2016). Chromogenic colour print, edition of 6122 x 163 cm. Courtesy the artist and Sundaram Tagore Gallery.
Surprisingly, only four galleries showed from across the ditch, with Auckland-based Gow Langsford Gallery and Starkwhite presenting two of the stronger booths at the fair. Spanning an entire wall of Starkwhite's booth was an automated colour-field work by Rebecca Baumann (Automated Colour Field (Variation 8), 2017). Nearby were hyper-real paintings by Michael Zavros, a tongue-in-cheek sculpture by Seung Yul Oh of what appeared to be an empty frame, and kinetic sculptures by historically significant experiential filmmaker and artist Len Lye. Encapsulating the principles of harmonic motions which are central to his practice, Lye's Rotating Harmonic (1959) comprised a steel rod that gyrated in ballerina-like movements; while more delicate and smaller in stature, Roundhead (1961) involved four concentric circles (the smallest of which is said to be based on Lye's first wife, Ann Lye's wedding band) that sit upon a rod and spin at counterpoint to each other to the sound of ambient music.
Len Lye, Roundhead (1961). Authorised reconstruction. Steel, nylon, gold-plated copper with motor and ambient sound; Rebecca Baumann, Automated Colour Field (Variation 8) (2017). 140 clock and archival colour card. 129 x 503 x 9 cm. Edition of 3 plus a/p. Left to right. Sydney Contemporary (13–16 September 2018). Courtesy Ocula. Photo: Zan Wimberley.
Among its big-hitters (including two of Tony Cragg's twisted, column-like forms, and Ugo Rondinone's painted stone-and-steel sculpture black white orange mountain, 2016), Gow Langsford Gallery presented a fair highlight—Colin McCahon's large, un-stretched painting A Handkerchief for St Veronica (1973). McCahon's painting is said to depict the Tasman sea (an inscription on the canvas reads 'Kaipara Flat – Looking West'), and displays much of the New Zealand artist's signature style, namely his interrogation of the New Zealand landscape and elements of spirituality through a modernist lens infused with the use of painted text. The work was previously shown at this year's Art Basel in Hong Kong, raising the question of why an institution or savvy collector has yet to pick it up. That being said, it is unclear whether or not Sydney is the place to spark such interest, as there didn't appear to be many of the country's curators on the ground, something noted by several gallerists, but contradicted in the fair's press statement.
Gow Langsford Gallery, Sydney Contemporary (13–16 September 2018). Courtesy Ocula. Photo: Zan Wimberley.
Discussing the reasons for Pace Gallery's attendance at the fair this year, Whitney Ferrare, senior director of the gallery's Hong Kong space, noted that this was driven by a desire to translate the gallery's long history of interaction with the institutions of Australia into new relationships with private Australasian collectors. In reflection of this intention, Pace presented works by artists who were the subject of recent Australian museum shows in their booth, including James Turrell, who had a retrospective at the National Gallery of Australia, Canberra between 2014 and 2015 and has a permanent Skyspace on view there, David Hockney who had an exhibition dedicated to his prints at the NGA, Canberra between 2017 and 2018, as well as a career retrospective at the National Gallery of Victoria, Melbourne between 2016 and 2017, and Zhang Huan (who presented his monumental work Sydney Buddha at Carriageworks in 2015).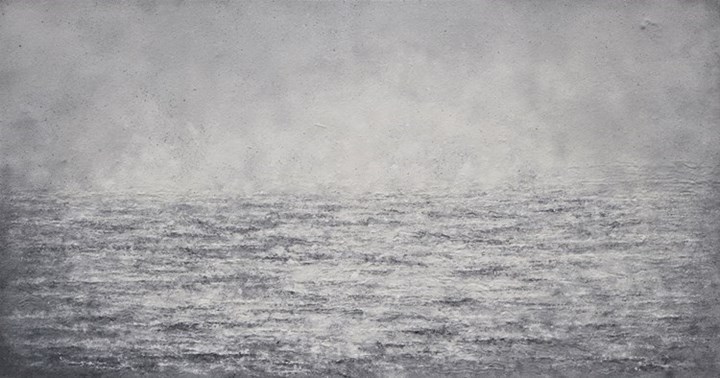 Zhang Huang, Sean No. 12 (2012). Ash on linen 150.2 x 280 cm. © Zhang Huan Studio. Courtesy Pace Gallery.
Although it was reported by the fair that sales exceeded AUD21 million (allowing for a great deal of potential growth when considering the combined wealth of Australia's top ten rich listers is in excess of AUD87 billion), how successful off-shore galleries like Pace might be in placing work by important international artists with Australian collectors remains to be seen. The local audience has a reputation for being notoriously allegiant, conservative, and parochial in their collecting styles. While major public institutions like the Museum of Contemporary Art Australia and non-profit institutions such as Artspace Sydney mount exceptional shows demonstrating a strong engagement with the international community (take, for example, the MCA's current solo show dedicated to Chinese-born artist Sun Xun, 9 July–14 October 2018), the buying public still appears to be lagging. Perhaps this is the gap that Sydney Contemporary is beginning to bridge—it certainly appears to be heading that way.
1 Catalogue text, courtey of Deutscher and Hackett. See: https://www.deutscherandhackett.com/auction/11-aboriginal-oceanic-art-auction/lot/water-dreaming-kalipinya-1972~~