Feature
Sydney Contemporary Wrap
Sydney Contemporary 2015. Photo: © Meg Porteous & Ocula
A marble bench sat out of the front of the Pearl Lam Galleries stand at the Sydney Contemporary art fair last week. Inscribed with Chinese characters, and without a card stating the artist or artwork title, many visitors simply passed it by.
Those who could read the inscription, and those who asked, found out it said: Don't put too much faith in experts. Dealer Pearl Lam had commissioned the work from Jenny Holzer and the truism rang especially sharp on the floor of Sydney Contemporary.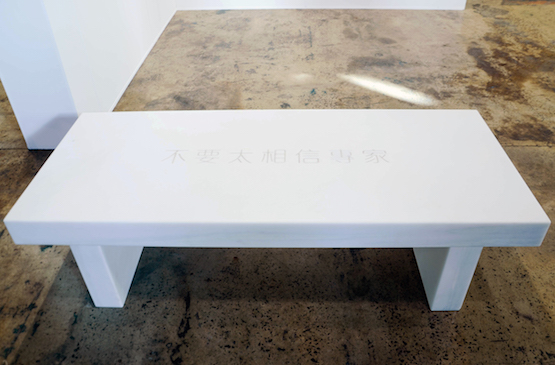 Jenny Holzer at Pearl Lam Galleries. Photo: © Meg Porteous & OculaThe biennial fair launched in 2013 and this was its second outing, running over five days last week. Organisers report sales of over $14 million, with further sales expected in coming weeks. It's a good result for an Australian fair—at the beginning of the global financial crisis in 2008 the Melbourne Art Fair brought in around $12 million.
One of the big changes this year was the decision to stagger the opening nights, with VIPs coming through over Wednesday afternoon and evening, and an opening night party on the Thursday. It was welcomed by dealers, who struggled under the press of crowds at the vernissage last time round (the consequence of a generous VIP ticket handout by fair organisers). It meant the opening was much quieter, but dealers like Marita Smith from Melbourne's Gallerysmith appreciated having the time to "connect with VIPs on a more intimate level".
Ben Quilty at Jan Murphy Gallery. Image courtesy Jan Murphy Gallery, BrisbaneThe relaxed opening meant some had to wait for sales, though not Brisbane's Jan Murphy Gallery. A new series of five large scale paintings by Ben Quilty was snapped up early in proceedings. Taking up a serious amount of wall space, it was one of the standout presentations, along with the double stand of Sullivan+Strumpf from Sydney. One side was dedicated to the painter Karen Black, who has only been exhibiting regularly for a short time but has fast made a name for herself, including through showings at art fairs throughout Asia with a previous dealer. By the end of the fair it was a sell out.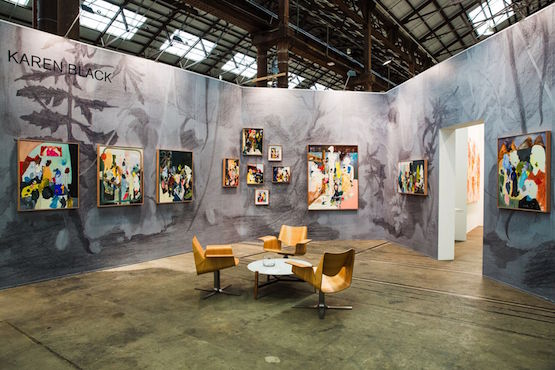 Karen Black at Sullivan+Strumpf. Image courtesy Sullivan+Strumpf, SydneyGunybi Ganambarr's carved poles at Sydney's Annandale Galleries were stunning, and Narelle Jubelin's tiny tapestries at Sydney's The Commercial were quieter but just as beautifully worked. Melbourne's Tolarno Galleries also put together a strong showing of paintings and ceramics by Brendan Huntley—in fact, ceramics were everywhere, and proving popular. Melbourne's Gallerysmith did well with Lynda Draper's lightly coloured works, and Sydney's Utopia sold several pieces by artist and curator Glenn Barkley as well as a young ceramicist Eloise Rankin.
Narelle Jubelin at The Commercial. Image courtesy The Commercial, SydneyThe well-respected art advisers and dealers Justin Miller and Tim Klingender each took stands—something not often seen at Australian art fairs. Both took an eclectic mix of work (ostensibly to show the breadth of their services) but it meant there were some major, older pieces at the fair, including several Indigenous pieces with Klingender, and paintings by Grace Cossington Smith and Sidney Nolan with Miller. Some of the commercial gallery exhibitors also took earlier works, such as Sydney's Watters Gallery, and it added a new dimension to the fair.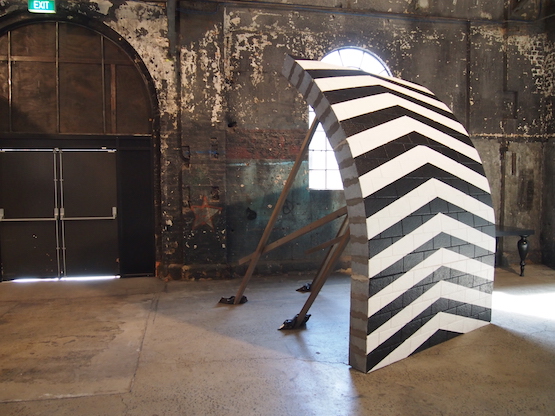 Callum Morton, Monument #24, at Installation Contemporary SectionThere were other developments too. Some new initiatives worked fabulously—such as the series of 18 installations placed around the fair. The team of three curators—Barkley, alongside Holly Williams and Ivan Muñiz Reed—included the sorts of monumental pieces you'd expect, like an enormous archway covered in neon lighting by Gregor Kregar and a bending wall by Callum Morton, but also had some more subtle statements to make, concealing one work by Mylyn Nguyen under a grate in the floor near the entrance, and commissioning Helen Eager to create geometric works on various surfaces around the fair, from staff only doors to glass panels far above eye height, locations effectively hidden through ubiquity.
Helen Eager, Tracks, 2015. Adhesive tape, dimensions variable. Site specific installationSome initiatives needed work. The new Paper Contemporary section—dedicated to prints, that affordable entry point to art collecting—occupied a bunker-like space in Carriageworks, an otherwise remarkable series of old, interconnected train sheds with exposed steel girders and cavernous spaces. The presentation in this space wasn't as professional as elsewhere at the fair, but there were a few gems to be found and sales here seemed brisk in the later stages of the fair. There were a few oddities in terms of stand placements as well, but these were minor issues.
Overall, it's clear to see the fair going from strength to strength. Tim Etchells, owner of Art Fairs Australia which runs Sydney Contemporary, said he hopes to see more galleries from the China and the Asia Pacific region takes stands at the fair in years to come. This year, international representation was not as strong as it could have been, said fair director Barry Keldoulis, because of the proximity to Art Jakarta. It's likely that dates may be tweaked next time around in 2017.
Much of the early marketing around the fair in 2012 and 2013 centred on creating a different identity to the Melbourne Art Fair—which runs in alternate years and was for decades the only fair of standing in Australia. (The effort put into drawing international galleries from the Pacific Rim was one way this played out.) This caution stemmed from the fact Art Fairs Australia had secured the management rights for the Melbourne fair and delivered the 2014 edition. Last month, however, that relationship broke down. Etchells laments the decision, and said he always saw the two fairs as siblings, but it also removes what was effectively a non-compete clause between the two fairs. "We have a different relationship with them now," he said. Add into the mix the emergence of a new small-scale hotel art fair, Spring 1883, which ran during Melbourne Art Fair last year and again in Sydney last week at the same time as Sydney Contemporary, and you have a whole new playing field. This surge of energy around art fairs in Australia will be interesting to watch over the next few years. —[O]