Feature
Sydney Lowdown: Exhibitions to See in 2019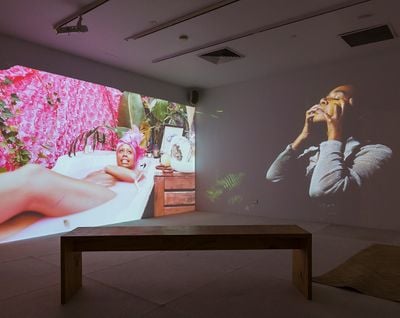 Emele Ugavule, Whispers from my Grandmother's womb (2019). Two-channel film with sound. 15 min. Exhibition view: Marama Dina, Campbelltown Arts Centre, Sydney (17 August–13 October 2019). Photo: Document Photography.
The fifth edition of Sydney Contemporary will take place once again at Carriageworks between 12 and 15 September 2019, with Spring 1883 bringing together a cohort of 27 galleries from across Australia and the region to inhabit rooms at the Establishment Hotel from 11 to 14 September 2019, uniquely presenting contemporary works propped up on windowsills, beds, couches, and baths. Aside from the September fairs, there are incredible exhibitions on view throughout the city this month. Here's a selection of what to see.
Making Art Public: 50 Years of Kaldor Public Art Projects
Art Gallery of New South Wales, Art Gallery Rd
7 September 2019–16 February 2020
Making Art Public: 50 Years of Kaldor Public Art Projects will survey a significant archive of letters, artworks, images, and objects from half a century of Kaldor Public Art Projects at the Art Gallery of New South Wales.
Kaldor's first project was Christo and Jeanne-Claude's Wrapped Coast – One Million Square Feet, Little Bay, Sydney, Australia (1969), which at the time was the largest single artwork ever made. Since then, Kaldor has commissioned 34 international artists to occupy public spaces across Australia, working with artists such as Gilbert & George, Marina Abramović, Jeff Koons, Bill Viola, Asad Raza, John Baldessari, and Tino Sehgal.
Kaldor Public Art Project 1: Christo and Jeanne-Claude, Wrapped Coast – One Million Square Feet, Little Bay, Sydney, Australia (28 October–14 December 1969). Photo: Harry Shunk.
Acclaimed British artist Michael Landy and alumnus of Kaldor Public Art Projects was commissioned to animate Kaldor's archive to reflect on, revisit, and reconstruct these past projects, including a billboard-sized drawing by Landy referencing all 34 projects.
While the ambition and innovation of Kaldor's vision is unprecedented in Australia's history, it's difficult to ignore the disparity of female representation in the archive. The Art Gallery of New South Wales has considered this by staging a significant exhibition titled Here we are (24 August–13 October 2019) featuring new acquisitions by female-identifying artists to the gallery's collection including Louise Bourgeois, Candice Breitz, Katthy Cavaliere, Tracey Emin, and Kimsooja.
Nusra Latif Qureshi, The Inventory of Noble Causes (2019) (detail). Mixed media installation. Dimensions variable. Commissioned by 4A Centre for Contemporary Asian Art. Exhibition view: Strategies of Intent, 4A Centre for Contemporary Asian Art, Sydney (23 August–29 September 2019). Courtesy the artist. Photo: Kai Wasikowski.
Nusra Latif Qureshi: Strategies of Intent
4A Centre for Contemporary Asian Art, 181–187 Hay St, Haymarket
23 August–29 September 2019
Strategies of Intent is Nusra Latif Qureshi's first solo institutional exhibition in Australia. Now based in Melbourne, Qureshi was born in Lahore, Pakistan, and originally trained in the traditional art of Mughal miniature (musaviri) painting. She is known for her exquisitely detailed and technically executed paintings. In this exhibition, however, Qureshi has expanded her focus on material practices including embroidery, digital prints, illustrations, lithographs, and assemblages.
Strategies of Intent presents two decades of the artist's work alongside a series of ambitious new embroideries including Mild Red Steel (2019) that catalogue the history of colonial collections as a means of ownership, reflecting on her ongoing investigation into the tropes and symbolism of power embedded in art history. Qureshi has a distinctly meticulous vernacular practice, which layers appropriated images from colonial photography, patterns from Middle Eastern textiles, silhouettes, and botanical paintings. The exhibition includes some of Queshri's earlier works including the series Accomplished Missions (2012) that depict hands in mid-gesture layered behind silhouettes of figures and plants that are stitched directly into the canvas. The layering of imagery complicates classical methods of storytelling by rearranging fragments of history to construct new narratives.
Heath Franco, Pile Circus (2019). Exhibition view: Valley, Cement Fondu, Sydney (3 August–29 September 2019). Courtesy Cement Fondu.
Heath Franco: Valley
Cement Fondu, 36 Gosbell St, Paddington
3 August–29 September 2019
Valley is an immersive deep dive into the unconscious world of one of Australia's most intriguing contemporary artists, Heath Franco. Predominately working in moving image, Franco's videos depict the artist performing a range of eccentrically costumed characters set within real or hyper-real landscapes.
Valley is a surrealist installation incorporating recent and newly commissioned works by the artist, and is one of his most ambitious projects to date with architecture playing a significant role. Built within the gallery is a large free-standing structure that can be entered through a triangular tunnel (Passage, 2018–2019). Inside is a frenzy of psychedelic colour and energy built from fragments of past works, including carpet, plastic grass, and foliage from BREATHING ROOM: CARPETCELL (2018) where the artist donned his whole body in carpet offcuts while he repeated the sentence, 'I'm not doing anything', and kitsch Americana from video LIFE IS SEXY (2016–2017) shot during a trip to Las Vegas on the Fourth of July. At the centre stands a floor-to-ceiling funeral pyre of every object and costume that Franco has ever used in his performances, including teddy bears, socks, bags, Halloween masks, and an array of fabrics (Pile Circus, 2019). Removed from their context, these objects appear like material remnants of disjointed memories.
Exhibition view: Mel O'Callaghan, Centre of the Centre, Artspace, Sydney (22 August–27 October 2019). Courtesy the artist and Kronenberg Mais Wright, Sydney; Galerie Allen, Paris; Belo Galsterer, Lisbon. Photo: Zan Wimberley.
Centre of the Centre
Artspace Sydney, The Gunnery, 43–51 Cowper Wharf Roadway, Woolloomooloo
22 August–27 October 2019
Australian-born, Paris-based artist Mel O'Callaghan's most ambitious solo exhibition yet draws intrinsic connections between the human body as a site of resistance and the regenerative forces at the depths of the sea through breath, movement, and sound. The three-channel video, Centre of the Centre, plunges the audience to the bottom of the ocean floor to witness the abstract and frenetic energy of deep-sea hydrothermal vents as they continuously breathe new life into the sea. Large-scale glass sculptures have been pushed to their material limits, over-bent and infused with a luminescent glow—a reference to the mountains of black glass seen in the film, altering the audience's perception of the gallery as they move around the architecture of the gallery.
The sculptures double as ritual tools activated by participants who perform choreographed breathing techniques in an attempt to enter a trance-like state. Every element in this work coalesces the physical with the psychological as performers and objects are thrust past their thresholds and encounter forms of ecstatic transformation. O'Callaghan engages with breath as a material form, accumulating and reverberating across video, performance, and sculpture to engender a generous and empathetic form of resilience, regeneration, and collective experience.
Performances during Sydney Contemporary will be held every Friday and Saturday from Wednesday 12 to Saturday 14 September, 2.00pm daily.
Chen Fei, Beyond Satisfaction (2006). Oil on canvas. 280 x 220 cm. Courtesy White Rabbit Gallery.
THEN
White Rabbit Gallery, 30 Balfour St, Chippendale
11 September 2019–26 January 2020
THEN celebrates the tenth anniversary of White Rabbit Gallery, established in 2009 by Judith Neilson, an arts patron and philanthropist. The collection began in the late 1990s with Neilson travelling to China regularly to build her relationship to various contemporary practices. The gallery was opened in Chippendale, through the family's charitable trust, the Neilson Foundation. THEN presents a decade of Neilson's collection, which is now the largest private collection of contemporary Chinese art internationally, containing more than 2,500 works by more than 700 artists including Shi Yong, Sun Xun, Zhao Zhao, Xu Bing, and Chen Wei. The show will include some key important works in the collection, including Bu Hua's Beauty 3 (2008), a cartoonish portrait of a young girl in a school uniform defiantly smoking a cigarette and navigating the surreal landscape of new China, and Chen Wei's stark photographs that painstakingly recreate scenes throughout China's history, both real and imagined, including Phlegm and A Rat's Post Office (both 2008) revealing abandoned rooms and disordered interiors of lounge rooms and prison cells.
Curated in-house by David Williams, the exhibition traverses the gallery chronologically and is staged to reflect on the collection's progression alongside social, cultural, and political shifts over the past decade. THEN plays with a sense of brevity and humour interwoven with darker, more political works, complicating the narrative of contemporary China. Given Neilson's collection is ever-expanding, and she recently collaborated with the National Gallery of Victoria to feature 26 artists in A Fairy Tale in Red Times: Works from the White Rabbit Collection (3 May–6 October 2019), White Rabbit Gallery holds a significant place in the Australian and international contemporary art ecology.
Shaun Gladwell, Allegorical Study/Riding with Death (2007). Hand-coloured etching on arches paper. Courtesy the artist and Anna Schwartz Gallery, Melbourne. © the artist. Photo: Zan Wimberley.
Shaun Gladwell: Pacific Undertow
Museum of Contemporary Art Australia, 140 George St, The Rocks
19 July–7 October 2019
Pacific Undertow is the largest institutional survey exhibition of Sydney- and London-based artist Shaun Gladwell. Gladwell is one of Australia's most renowned contemporary artists, best known for his extensive moving image practice, which often depicts the body in motion. In 2009, he was Australia's representative at the Venice Biennale before he became Australia's official war artist in Afghanistan that same year.
The exhibition spans two decades of practice and incorporates moving image, painting, installation, photography, and recent experiments in Virtual Reality (VR). Despite the variety of media, the exhibition presents a consistent approach to style and a focus on Western art history that is embedded across the breadth of his work. Notably, Gladwell was a semi-professional freestyle skateboarder prior to becoming a well-known contemporary artist. The artist's breakout video Storm Sequence (2000) depicts himself twisting on his board on a concrete ledge overlooking a tumultuous Bondi Beach. The film is slowed down to emphasise his movements and we watch as a storm slowly builds and begins to encroach upon this lone figure who continues to push against the elements.
The full experience of witnessing the exhibition feels inherently bodily—videos are stretched across entire walls and we need to move forwards and backwards to see them in detail. One of the most inventive elements of the exhibition is the inclusion of VR works, inviting us not only to witness but to experience the artist's videos up close.
Margaret Aull, I know a place where we can go... (2019). PVC, totara wood, mother of pearl, bone, 24ct gold leaf, oil, wax. Dimensions variable. Exhibition view: Marama Dina, Campbelltown Arts Centre, Sydney (17 August–13 October 2019). Photo: Document Photography.
Marama Dina
Campbelltown Arts Centre, 1 Art Gallery Rd, Campbelltown
17 August–13 October 2019
Marama Dina is the outcome of a year-long residency project incorporating research, community engagement, and workshops with ongoing work led by creative research collective The Veiqia Project, a Fijian female collective made up of artists, curators, researchers, and academics based in Australia, Hawaii, and New Zealand who are inspired by the traditional practice of Fijian female tattooing.
The show features new commissions by ten artists from across Australia and Aotearoa New Zealand: Margaret Aull, Torika Bolatagici, Donita Vatuinaruku Hulme, Yasbelle Kerkow, Joana Monolagi, Dulcie Stewart, Salote Tawale, Luisa Tora, MC Trey aka Thelma Thomas, and Emele Ugavule. These female-identifying iTaukei (Fijian) artists from across Australia's diaspora have been invited to present alternative ways of looking at dominant Western narratives of Fijian diaspora by empowering cultural knowledge and centring the voices of iTaukei women.
Artists are working across a range of rich and diverse practices, from sculpture to moving image. Dulcie Stewart is an interdisciplinary artist whose practice is informed by her personal history to draw on archival material that explores the complexities of mixed-race experiences in Fiji and the diaspora. Salote Tawale is a Sydney-based artist whose videos and installations engage with the inherent conflict of cultural identity within dominant post-colonial Australia. Luisa Tora is an artist and activist who has a diverse practice that includes jewellery-making and narrative-driven videos concerned with Pacific and queer discourses. Constructed within the exhibition is a vale ni soqo (village meeting house) offering a space where Pasifika communities can gather, learn, and share knowledge.
Exhibition view: Tjungu Palyangku Tjukurpa titutjara kunpu ngaranytja-ku: As we come together we stand strong for our story, Artbank, Sydney (18 July–8 November 2019). Courtesy Artbank.
Tjungu Palyangku Tjukurpa titutjara kunpu ngaranytja-ku: As we come together we stand strong for our story
Artbank, 222 Young St, Waterloo
18 July–8 November 2019
Tjungu Palyangku is the culmination of a two-year project that presents the work of 12 intergenerational artists from the Nyapari community in South Australia, including Teresa Baker, Maringka Baker, Kani Tunkin Baker, and Keith Stevens. The exhibition is held across Artbank's Sydney and Melbourne galleries and incorporates ink drawings, acrylic painting, and moving image. Tjungu Palyangku has been curated by the Tjungu Palya Artists, an Aboriginal owned and operated art centre 450 kilometres south-west of Alice Springs in the Anangu Pitjantjatjara Yankunytjatjara (APY) Lands.
The common thread throughout this exhibition is the depiction of the Tjukaritja, which refers to the Anangu stories of the creation period when ancestral beings created religion, law, and moral systems. Catalysing from a series of expressive ink drawings, the artists explore paintings and videos as a method of storytelling that relates directly to their custodial Countries, forging new forms of collaboration and knowledge exchange, explored through lived experiences. For example, Piltati, Nyarpari munu ilpin (2018) was produced by the Senior Men's Collaborative (Keith Stevens, Ginger Wikilyiri) and depicts three important sites for the Anangu from three different perspectives.
Tjungu Palyangku Tjukurpa titutjara kunpu ngaranytja-ku translates to 'as we come together we stand strong for our story', a salient reminder that these stories are part of a broader conversation about protecting Anangu cultural continuity, ritual, ceremony, and language.—[O]